7 Customer Acquisition Strategies & Tactics
Every business has one core goal: Acquire new customers.
And while it's easy enough to determine that new customers are essential, attracting and converting them is much more difficult.
Today's consumers have many options for almost all of their needs from healthcare to clothing retailers. That's excellent for people who want to make informed buying decisions, but it makes it harder than ever for you to cut through the noise and reach new customers.
Fortunately, digital marketing makes that much more manageable.
Call 888-601-5359 to speak with a strategist about customer acquisition plans from WebFX, or keep reading for seven of the most effective digital strategies you should try to reach more customers for your business.
What are customer acquisition strategies?
Although it's a commonly used term within the marketing industry, a customer acquisition strategy goes beyond one single channel or tactic. It also involves establishing relationships with potential customers, addressing their needs, and providing all of the information they need to make an informed purchasing decision
This means that in most cases, one single ad campaign isn't enough to be considered a customer acquisition strategy. It may bring traffic to your site or grow brand awareness, but unless it directly generates conversions, it isn't driving revenue for your business.
When you focus on customer acquisition instead of specific campaigns, it's typically easier to calculate your customer acquisition costs, or CAC.
So instead of guessing how many leads you've generated or struggling to determine your ROI, you can use real data to answer these questions and make calculated decisions moving forward.
Channels to include in your customer acquisition strategy
Your customer acquisition strategy should have several channels that work in tandem to attract and convert potential customers.
The options today are virtually limitless, but the following seven strategies are effective for businesses in any industry. In fact, they're the channels we've used to grow WebFX into the agency it is today.
So if you're ready to start using new digital marketing channels to attract more customers for your business, these should all have a place in your strategy:
Option 1
Search Engine Optimization (SEO)
Today, a customer acquisition strategy can't succeed without search engine optimization, or SEO.
SEO involves making changes to your site that help it rank in search engine results for relevant keywords. So, for example, if you're a dentist in Harrisburg, PA, you'd want your website to show up in Google search results when a user searches "dentists in Harrisburg PA."
This is different from traditional advertising methods, like TV and radio ads. In these cases, you attempt to reach a broad audience and just hope that someone your ad reaches is in need of your services.
But with SEO, you make it easier for potential customers to find you.
This makes SEO arguably the most effective customer acquisition strategy because it allows you to reach potential customers when they're actively searching for your products or services.
Plus, since the majority of the work you do with SEO takes place on your own website, you don't have to worry about paying ongoing fees to a third party for ad space.
Once you optimize elements of your site, they can continue to bring you traffic and leads for years to come – making SEO the best strategy for long-term revenue.
The only downside of SEO for customer acquisition strategies is that it can take a few months to show results.
Fortunately, the next channel can help you generate leads as you optimize your site.
Even if you've never run a pay-per-click campaign, or PPC, you're probably familiar with what these advertisements look like. The most popular platform today is Google AdWords, and their ads display at the top of Google search results like this: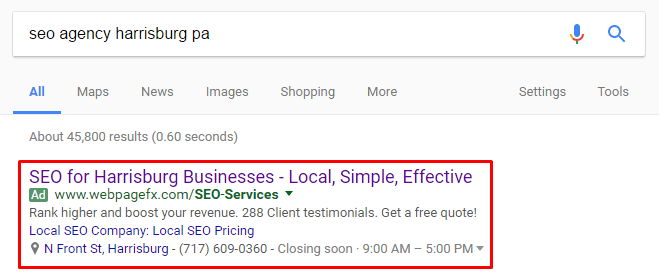 You can run these ads based on specific words and phrases users search, so you can be sure that you're reaching a relevant audience. Plus, as the name implies, you only pay when a user clicks on your ad.
No matter how many users see your ad in search results, you'll never pay a cent until one of them actually visits your website. You also determine in advance how much you're willing to pay for each click, making PPC a budget-friendly option for any business.
These campaigns are popular among businesses of all sizes because they offer complete control over targeting and budget. Plus, they can start attracting traffic as soon as you launch them – meaning that you could generate leads within minutes of creating one.
Option 3
Content Marketing
The above two strategies are effective for bringing traffic to your site, but content marketing is ultimately what helps your new visitors learn more about your business and convert into customers.
It includes all of the text-based informational pages, helpful graphics, blog posts, and videos you have on your site. You can cover almost anything that relates to your industry and inform your potential customers about a topic.
For example, AZ Family Dental added a page to their site to answer common questions about bruxism and provide advice to those who suffer from it: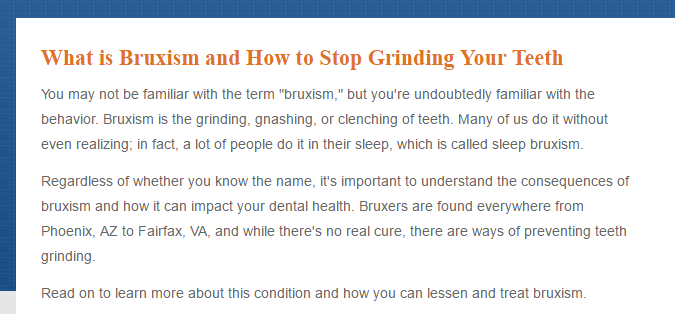 The page is informative and helpful for those looking for ways to stop grinding their teeth. Plus, anyone who finds it as a result of a Google search is probably a potential customer.
If someone struggling with this issue finds the page and is happy with the quality of information provided, they'll be much more comfortable reaching out to AZ Family Dental to treat their problem and possibly become their primary dental care provider.
While topics vary by industry, this strategy can work for any business.
To use it yourself, identify the topics that your customers want to learn about, create helpful content about those topics, and publish it on your site. Providing your potential customers with valuable information is an excellent way to make a great first impression, and it lets them learn about your business on their own time.
This strategy also goes hand-in-hand with SEO because it involves identifying the keywords that your potential customers are searching and creating helpful content about those keywords.
Some of our client Successes
Reaching potential customers with email marketing campaigns requires them to give you permission to send them updates, so it's almost never the first step in making contact with a new lead.
As a result, it's often not thought of as a customer acquisition strategy – but it can be just what you need to stay in contact with potential customers until they're reading to buy.
At WebFX, we send a bi-weekly newsletter with updates on the digital marketing industry and tips for reaching new customers online.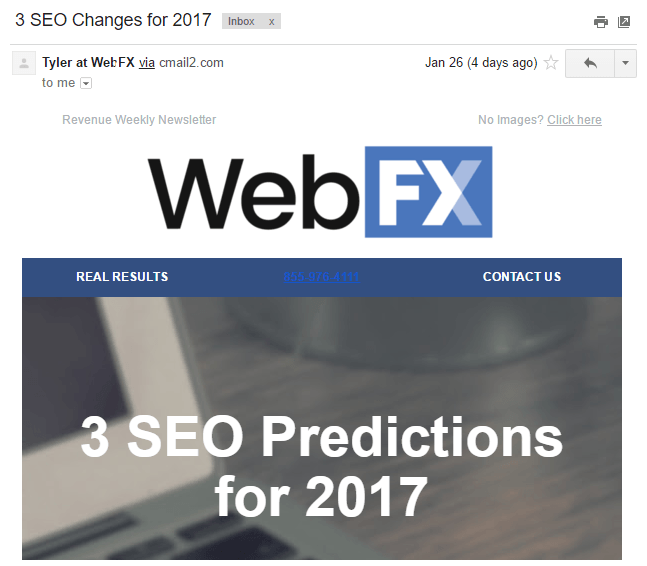 We don't use it to push services on our subscribers – just to provide them with information they can use to improve their marketing strategies.
Much like content marketing, you can use your email newsletters to engage potential customers in a helpful way. Then, when they decide that they're ready to buy, you'll have an advantage over your competitors by already being a trustworthy source of information.
As an added bonus, many email marketing platforms allow you to personalize your messages and content to individual subscribers. So if a site visitor has shown interest in a particular product of service, you can tailor your email to those interests.
And when it comes to generating leads, few strategies are more effective than reaching customers right in their inboxes with information that's tailored to their needs.
Social media platforms like Facebook, Twitter, and Instagram have come a long way in the past few years. Although they started as a way for users to simply keep in touch with family and friends, they've since become invaluable marketing tools.
If you're a B2B company, you may find that LinkedIn is one of the best ways to connect with potential clients, as it was designed from the start as a social media platform for professionals.
You can use all of these platforms to post content that relates to your target audience's interests and engage with them informally to build relationships.
Sometimes, customers will even reach out to companies and brands to share their opinions and voice their concerns. As a result, many of those companies use social media as a customer service tool.
Beyond the free customer engagement, you can also use social media to run targeted ad campaigns for your business.
If you've ever run online campaigns, you're likely familiar with selecting your audience based on age, gender, and location. But with social media platforms, the options are much more advanced.
On Facebook, for example, you can target users based on their interests, while on Twitter, you can advertise to users based on keywords they've included in their tweets. And on LinkedIn, you can target your ads to users based on their industry, job title, and skills.
All of these options make it possible to reach the users who are most likely to be interested in your business and, as a result, get more out of your advertising budget.
Option 6
Customer Referrals
No matter how informative and helpful your content is, potential customers know that it's in your best interest to present your brand in the best light possible.
As a result, they don't always expect you to provide an unbiased evaluation of your own products of services – but they do expect that from other customers.
This may seem like something you have no say in, but a customer referral program can be a great way to encourage your current customers to tell their friends and family about your business. At WebFX, we do this by offering incentives for any relevant referrals.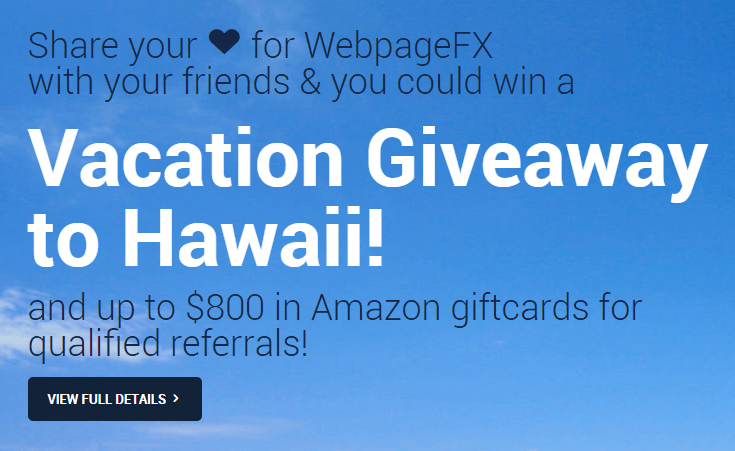 Of course, you don't need to offer incentives to get started with referrals – but they can get your customers excited about spreading the word about your business, which can work wonders for generating new leads.
Option 7
Free Trials & Downloads
No matter who your target audience is, they probably like getting free stuff.
If you're a software provider, a free trial is one of the best possible ways to earn new customers. It gives them a chance to test your product with no commitment and shows them that it's worth the financial investment to continue using.
That being said, software providers aren't the only ones who can benefit from offering their potential customers something for free. In fact, with a little creativity, every business can use this strategy to their advantage.
At WebFX, for example, we have several downloadable guides on our site that help marketers accomplish specific tasks or goals.
One of our most popular is our Beginner's Guide to Keyword Research.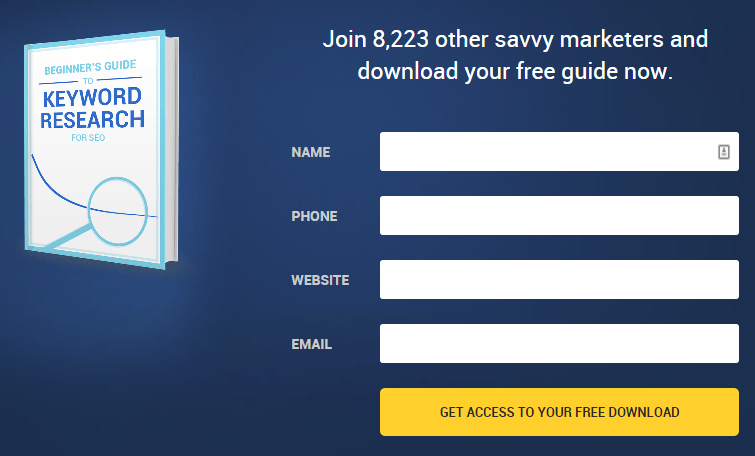 This guide walks readers through the step-by-step process of identifying and selecting keywords for their SEO strategy – an essential part of the process.
In return, all they have to do is provide a few basic pieces of information, like their name and email address.
It's time-intensive to write and publish content that's good enough for customers to give you their contact information, but it's entirely worth the payoff of being able to stay in contact with them and provide them with additional information about your business.
The most difficult part of this strategy is figuring out what your customers want, whether that's checklists, guides, trials, original research, exclusive content, or something else. But once you define what that is, you'll be able to generate leads while simultaneously meeting a specific need.
2 tips for improving your customer acquisition strategy
Your business can use all of the above channels (and more) to get new customers and leads, but success with any of them requires careful planning.
As with any marketing initiative, creating an effective customer acquisition strategy is often a trial and error process for most businesses. But here are two tips to keep in mind as you determine the best ways to reach new customers online.
Tip 1
Focus on the Bigger Picture
It's easy to get caught up on one specific channel, especially if it's good at generating leads for your business. While there's nothing wrong with allocating a bigger portion of your budget to a channel that's already driving results, you can diversify to achieve more.
When you market online, it's easy to integrate different channels and keep in touch with your potential customers on a variety of platforms. You can easily maximize this opportunity.
For example, if a piece of content is converts lots of traffic, use social media and PPC campaigns to attract users to that page.
Or if you identify a topic that your customers seem interested in, create an in-depth guide about it, optimize the download page for that keyword, and use it to build your email subscriber list.
Regardless of the exact methods you use, building out a strong cross-channel strategy is the best way to make the most of each platform. It allows the strengths of one marketing strategy to make up for the shortcomings of another.
Tip 2
Test & Optimize Everything
Once you have your strategy up and running, make it a priority to test and improve as many elements as possible.
One of the content-biggest advantages of digital marketing is the ability to track and monitor how your visitors interact with different parts of your site, and you can use conversion rate optimization to maximize your results with each.
For example, when you're designing landing pages or calls to action, you could create a button to attract attention. You can create multiple versions of the button, then run A/B tests to determine which version produces the best results.
You can also do this with off-site strategies. With PPC campaigns, for example, you should always create at least two variations of each ad. Then, you can monitor them to see which generates more clicks and eliminate the less effective version.
These are just two examples of the many ways you can improve your online strategy, but the options for testing and optimizing your campaigns are limitless. Even the smallest of changes can make an impact, and when you add them all together, they can be the difference between a decent marketing strategy and a great one.
Ready to improve your online customer acquisition strategy?
Reaching and converting new customers is essential to any business, and digital marketing strategies like the ones listed above can be exactly what your company needs to succeed.
However, much like any other marketing initiative, achieving the results you want with digital marketing requires careful strategy and planning.
At WebFX, we have years of experience creating effective Internet marketing and customer acquisition strategies for clients in a variety of industries, and we'd love to do the same for you.
Contact us today for more information and a free quote!
Call 888.449.3239 or contact us online today to see how WebFX can improve your online performance.