4 Steps to Find New Opportunities for Lead Generation
Finding new ways to generate leads for your business is one of the toughest parts of growing a company. It requires research, careful tracking, and an in-depth knowledge of your audience in order to produce the best results.
Thankfully, there's a relatively simple process you can use to find the new growth opportunities that you need. We'll cover what those opportunities look like and how you can capitalize on them for your business's growth.
If you'd like to speak to a specialist about lead generation, you can reach us at 888-601-5359.
Time to Level Up Your Sales
Our long list of services helps you grow every aspect of your business with marketing strategies that are proven to increase bottom-line metrics like revenue and conversions.
In the past 5 years, we've managed more than 12.9 MILLION transactions across our client base.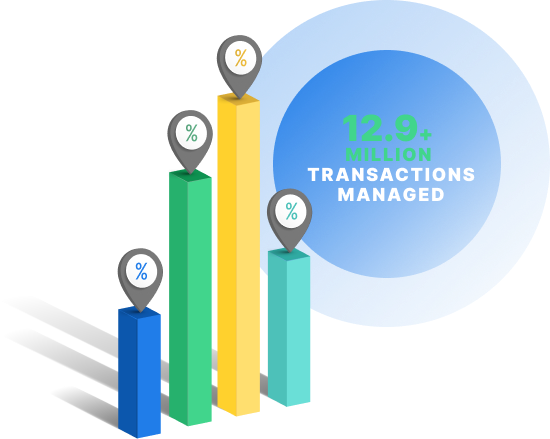 Step #1: Look at your tracking program
The first step to finding new opportunities for lead generation is looking through your tracking program(s). Tracking programs can give you a wealth of important information about your site traffic, users, success of your pages, and more.
For most people, that's Google Analytics, but you can also pull in other programs like BuzzSumo and Ahrefs.
Once you have your tracking program open, it's time to start sorting through the numbers that mean the most to lead generation.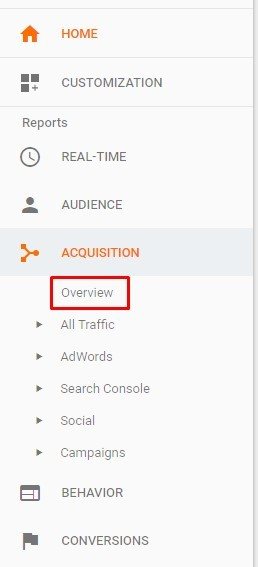 Step #2: Look at your Acquisition history
Acquisition tab > Overview
Acquisition history is a record of how many visitors you got to your site from different channels. Those channels include organic search results, pay-per-click advertising (PPC), social media, email, and more.
Acquisition history is important because it'll show you your strongest and weakest channels for traffic. And while traffic doesn't necessarily mean new leads, it's the starting point for acquiring any new customers.
Keep these numbers in mind as you continue looking at your company's data.
They'll help you decide what channels you want to improve later, whether that's doubling down on a successful search engine optimization (SEO) campaign or creating a new social media account to get more word-of-mouth traffic.
Regardless of what you want to do, the next step will show you more about what you need to do.
Step #3: Look at your Behavior Flow
Behavior tab > Behavior Flow
Behavior Flow is the section of Google Analytics that shows how your visitors move from page to page on your site.
The first column on the left shows the page users most frequently land on. The column to the right shows the most common page after that, and so on with the following columns.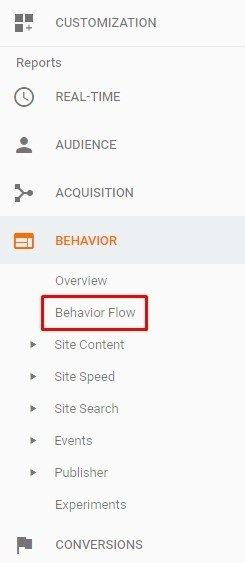 This flow shows you the most popular pages and content on your site. They're the pages that provide the kind of information that your visitors frequently want, and they're relying on you in order to get it.
Comparing this flow to your acquisition numbers tells you both how and why people come to your site. With that information, you can get into the mindset of your customers to understand how they learn about your company and what they want from you.
That tells you what kind of opportunities you have to generate new leads.
If you're a shoe retailer, and you notice tons of people from Facebook flock to your guide about how to size your foot for running shoes, you know that sizing information resonates with your audience.
Similarly, if you have lots of organic traffic going to a page of high-end dress shoes, you know you're working well with customers who have more expensive taste.
You know what content works for your business, and you know how people find that content on a regular basis.
The popular acquisition channels show you how you're making first contact with potential leads, and the behavior flow shows you their journey to converting.
Likewise, if you dig deep enough in Google Analytics, you'll find the pages, content, and topics that don't work with your target demographics.
Now, you have an important choice to make.
Step #4: Double down or improve?
This question is impossible to answer for everyone across the board. Every business is different, and every business will find value in one, the other, or both.
If you want to earn more potential leads from your most powerful acquisition channels, then invest more in the channels that work. So if you're seeing lots of traffic from organic search results, spend even more time optimizing your site so you can have an even stronger presence in search engines.
That'll help your popular pages dominate search results even more, delivering more qualified leads to your site and — eventually — converting them into actual leads.
On the other hand, you could also improve your weaker acquisition channels to diversify your lead-generating portfolio. So if you have a Facebook business page that you haven't updated in four months, you could revisit it, start posting regularly, and interact with your customer base directly.
That'll help build relationships and drive qualified leads to content that you choose, ensuring you can get more leads from more channels for better overall growth.
If you want to do a little of both, you definitely can. Dividing your resources typically means less impressive returns from each option, but it can also be the perfect way to get leads to your business overall.
You can also apply this choice to the content on your site. You can improve the current popular content you have to attract even more attention, and you can cross-promote it on multiple acquisition channels to reach more people than ever before.
You can also create content related to that popular content to expand your site and create multiple high-traffic pages.
And, depending on how most people use your site, you can create more pages oriented toward converting new leads.
Discovering your new lead generation opportunities
Depending on your data, your strategy for lead generation may vary.
For example, a manufacturing lead generation strategy may focus on content marketing and search engine optimization to drive more qualified leads, based on its Google Analytics data. In comparison, an HVAC lead generation strategy may see impressive results from social media advertising.
Check your numbers carefully and compare them against the flow of traffic on your site.
Check out what acquisition channels get lots of traffic, and look at what content converts that traffic into leads.
Then, act on it.
After a few months, you can repeat this process again to get even more leads and beat out your competitors.
We foster and form long-term partnerships so that your business has long-term results.
Over 90% of WebFX clients continue partnering with us into year 2 of their campaign.
Hear from Our Happy Customers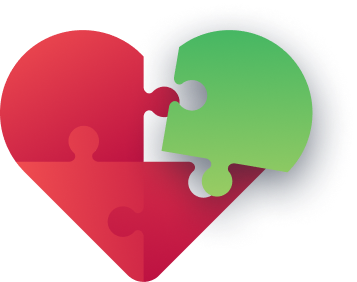 WebFX is a lead generation agency
At WebFX, we've worked in lead generation for years. Our team of talented marketers and award-winning designers know exactly how to find the newest and best ways to get more leads for your business. We've helped hundreds of companies grow by just using the Internet — and now we'll do the same for you!
Contact us to create a comprehensive lead generation strategy for your business!