Web Design Company
Columbus
Get more traffic, leads, and sales from your website with web design services from an experienced Columbus web design agency: WebFX.
With 1000+ sites launched, we make designing, developing, and launching a brand-new (or redesigned) site fast and easy.
Learn more about our custom design services now!
If you want to expand your online reach and earn more revenue, we can help. Contact us online or call 1-614-407-8702 to speak with one of our experts today!
Get a custom quote for your website design project
Keep reading to learn more about our web design services for Columbus, OH. Plus, find out why businesses throughout Ohio choose our Columbus web design agency over others.
Get started with your Columbus, OH web design project
Your website is the foundation to your online success, which is why professional web design and digital marketing strategies like search engine optimization (SEO) are so important to businesses looking to attract more leads and sales through the web.
At WebFX, our Columbus web design and digital marketing solutions help you use the web to power your company's growth. Already, we've helped our clients' businesses use web design and online marketing to earn more than $2 billion in revenue in the past five years.
A few examples of the services our web design company in Columbus, Ohio, offers include:
Learn more about partnering with our full-service agency, which has more than 20 years of experience, 50 web design awards, and 200 in-house team members by contacting us online or calling us at 1-614-407-8702 to speak with an experienced strategist!
Local Success
WebFX has partnered with numerous local businesses in Ohio to help them grow with digital marketing. We've helped to implement campaigns including SEO, PPC, email marketing, and beyond.
Find the perfect Columbus web design services for your business
When it comes to Columbus web design, WebFX is your one-stop shop. As a full-service agency, we featured a dedicated team of web developers, web designers, and professional copywriters, as well as digital marketers, to help your business attract traffic (and revenue) to its site.
With WebFX as your partner for Columbus website design, you can relax and look forward to launching your new website versus trying to coordinate with different agencies for design and development, copywriting, SEO, and more.
Explore our services now to see how our award-winning agency can help:
If you're looking to learn more about partnering with our team, contact us online or give us a ring at 1-614-407-8702!
We don't just want to tell you about the beautiful work we do.
WE WANT TO SHOW YOU
We've built over
Websites in industries like yours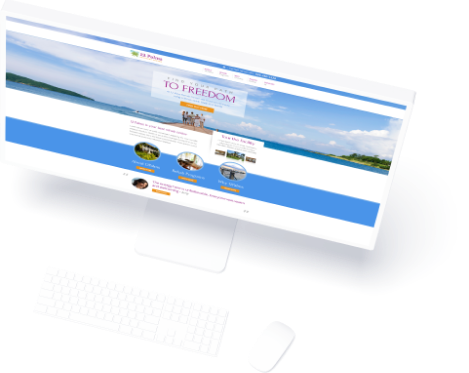 View our past work
How much does website design in Columbus, OH cost?
Use our free cost calculator to estimate your Columbus website design costs instantly:
Use the Website Cost Calculator
For the most accurate pricing estimate, contact us online to speak with an experienced strategist!
Why should I choose WebFX for Columbus web design?
You know you're ready to invest in web design services, but why should you partner with WebFX for your Columbus web design project?
If you want a web design company that will deliver a customized website that engages your audience, look no further than WebFX. Here's why you should partner with our award-winning team of expert website designers.
We can create websites fast
If you don't have a website established or your site needs a desperate overhaul, our team can help you create a website fast. With our program RainmakerFX, we'll have your website up and running in 30 days!
We have a team of experts
When you partner with our web design company in Columbus, OH, you're getting a team of over 200 experts working on your campaign. Our award-winning team of designers know how to create websites that drive valuable results for your campaign.
We will help you create a customized website that is unique to your Columbus business. With over 20 years of experience, you can count on us to create your ideal website.
We know how to drive results
When you partner with a web design company, you want to partner with an expert that knows how to drive results. At WebFX, we know how to drive real results for our clients.
Just ask our clients! Check out our 550+ client testimonials that attest to the awesome results we drive for our clients!
Why do Columbus web design services matter for my business?
Your audience judges your business based on your website's appearance. Many people will discover your Columbus business for the first time through your website. If your website appears outdated, disorganized, or unappealing, what kind of message does that send to your audience?
You want to keep your audience interested and engaged with your site. By investing in your website's design, your audience will remain on your page and learn about your business.
The longer your audience spends on your page, the better it is for your business. They will spend more time getting to know your business, building up brand familiarity, and may even purchase your products or services!
Web design is crucial for keeping engagement up on your site. It will help you continue to attract leads to your page and keep them on it.
How do I create an effective website for my Columbus business?
You know that a good web design will encourage your audience to remain on your page, but what makes a good design?
1. Appearance
Your site's appearance is one of the most important factors to your design. Your audience will judge your site based on its appearance, so you must invest in updating your appearance.
A clean, sleek, and modern website will drive the best results for your Columbus business. It will show your audience that your website is up to date.
There is more to your site's appearance than the design and colors. If you want your site to be visually appealing to your audience, you must invest in responsive design. By implementing responsive design, this will ensure that your website looks good on all devices.
Your audience will access your site from mobile devices and desktop devices. These two devices provide different experiences, so it's important that your website adapts to fit each type of device.
Appearance is just the beginning for creating an impactful website.
2. Navigation
If you want your audience to properly experience your awesome new design, you must integrate a navigation set up that is easy to use.
When your audience comes to your site, they want to find important information fast. If your navigation is disorganized or confusing, your audience won't find the information they need. They will leave your site to find information on a competitor's site.
Keeping your navigation organized and easy to understand will help you keep leads engaged on your page.
3. Visual elements
When your audience visits your site, they don't want to see an abundance of text on your page. You need to break up the text on your page to provide your audience with some relief. Visual elements help you keep your site interesting and engaging for your audience.
You can include photos, infographics, and videos within your website's design. These visual elements will make your site interesting and engaging for your audience.
4. Action
When you have leads on your page that like what they see, they need to know how to take the next step. If you don't guide them to the next step, you miss out on potential leads.
Your audience won't always know how to proceed next after checking out one of your pages of information. You must guide them where you want them to go next.
Integrating call-to-action (CTA) buttons will help you guide your audience towards the next step. These buttons stand out from the rest of the design on your website. Your audiences' eye is drawn to these buttons and makes it easy for them to know how to proceed next.
CTAs are an integral part of your Columbus company's website's design. You must include these buttons if you want to keep leads on your page and progressing towards converting.
Mid-Size Businesses Trust WebFX
Their focus on ROI and their innate ability to communicate this information in a way that I understand has been the missing link with other digital marketing firms that I have used in the past.
Leah Pickard. ABWE

WebFX is a top web design agency in Columbus, OH
WebFX offers numerous Columbus web design plans designed to meet your needs and budget.
Need a new website fast? Don't worry. With our RainmakerFX plans, you can get a custom website in 30 days.
If you're ready to build your customized website for your Columbus business, contact us online or call us today at 1-614-407-8702 to speak with a strategist.
We look forward to helping your business reach new heights!
Ready to get started?
Are you interested in learning more about how your business can use Internet marketing to increase your sales and attract more customers?
Contact us today to speak with a strategist and hear about our custom plans.
Get your FREE Quote now
We're not your typical


Digital Marketing Agency.

Our team is made up of award-winning designers, developers, and Internet marketers. For us, it's not just a job — it's a driving passion. And that passion has led to some of the best work on the web.

Don't take our word for it! We're proud of our many customer testimonials on Clutch. We've earned a 4.9 out of 5 with over 175 ratings.
Driving Digital Revenue For Our 700+ Satisfied Customers