How much does website design in Columbus, OH cost?
Use our free cost calculator to estimate your Columbus website design costs instantly:
For the most accurate pricing estimate, contact us online to speak with an experienced strategist!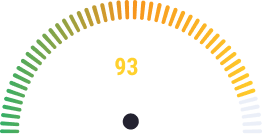 Experience the difference of our real results approach to digital marketing.
93% of customers are extremely satisfied with our results.
(Industry average is 56%)
"WebFX has consistently driven more customers to my business year over year. It continues to climb. I'm very happy!"
CHECK OUT More Testimonials
Why should I choose WebFX for Columbus web design?
You know you're ready to invest in web design services, but why should you partner with WebFX for your Columbus web design project?
If you want a web design company that will deliver a customized website that engages your audience, look no further than WebFX. Here's why you should partner with our award-winning team of expert website designers.
We can create websites fast
If you don't have a website established or your site needs a desperate overhaul, our team can help you create a website fast. With our program RainmakerFX, we'll have your website up and running in 30 days!
We have a team of experts
When you partner with our web design company in Columbus, OH, you're getting a team of over 200 experts working on your campaign. Our award-winning team of designers know how to create websites that drive valuable results for your campaign.
We will help you create a customized website that is unique to your Columbus business. With over 20 years of experience, you can count on us to create your ideal website.
We know how to drive results
When you partner with a web design company, you want to partner with an expert that knows how to drive results. At WebFX, we know how to drive real results for our clients.
Just ask our clients! Check out our 550+ client testimonials that attest to the awesome results we drive for our clients!
Mid-Size Businesses Trust

WebFX

Their focus on ROI and their innate ability to communicate this information in a way that I understand has been the missing link with other digital marketing firms that I have used in the past.
Leah Pickard. ABWE
See The Case Study
Why does web design matter for my Columbus business?
Your audience judges your business based on your website's appearance. Many people will discover your Columbus business for the first time through your website. If your website appears outdated, disorganized, or unappealing, what kind of message does that send to your audience?
You want to keep your audience interested and engaged with your site. By investing in your website's design, your audience will remain on your page and learn about your business.
The longer your audience spends on your page, the better it is for your business. They will spend more time getting to know your business, building up brand familiarity, and may even purchase your products or services!
Web design is crucial for keeping engagement up on your site. It will help you continue to attract leads to your page and keep them on it.

Good agencies have more than 50 testimonials.

Great agencies have more than 100 testimonials.

WebFX

has

500+ glowing client testimonials

.

What does that make us? You decide.

SEE WHAT MAKES US STAND OUT
How do I create an effective website for my Columbus business?
You know that a good web design will encourage your audience to remain on your page, but what makes a good design?
1. Appearance
Your site's appearance is one of the most important factors to your design. Your audience will judge your site based on its appearance, so you must invest in updating your appearance.
A clean, sleek, and modern website will drive the best results for your Columbus business. It will show your audience that your website is up to date.
There is more to your site's appearance than the design and colors. If you want your site to be visually appealing to your audience, you must invest in responsive design. By implementing responsive design, this will ensure that your website looks good on all devices.
Your audience will access your site from mobile devices and desktop devices. These two devices provide different experiences, so it's important that your website adapts to fit each type of device.
Appearance is just the beginning for creating an impactful website.
2. Navigation
If you want your audience to properly experience your awesome new design, you must integrate a navigation set up that is easy to use.
When your audience comes to your site, they want to find important information fast. If your navigation is disorganized or confusing, your audience won't find the information they need. They will leave your site to find information on a competitor's site.
Keeping your navigation organized and easy to understand will help you keep leads engaged on your page.
3. Visual elements
When your audience visits your site, they don't want to see an abundance of text on your page. You need to break up the text on your page to provide your audience with some relief. Visual elements help you keep your site interesting and engaging for your audience.
You can include photos, infographics, and videos within your website's design. These visual elements will make your site interesting and engaging for your audience.
4. Action
When you have leads on your page that like what they see, they need to know how to take the next step. If you don't guide them to the next step, you miss out on potential leads.
Your audience won't always know how to proceed next after checking out one of your pages of information. You must guide them where you want them to go next.
Integrating call-to-action (CTA) buttons will help you guide your audience towards the next step. These buttons stand out from the rest of the design on your website. Your audiences' eye is drawn to these buttons and makes it easy for them to know how to proceed next.
CTAs are an integral part of your Columbus company's website's design. You must include these buttons if you want to keep leads on your page and progressing towards converting.