What Is Off-Page SEO? Your complete Guide to Off-Page Optimization in 2024
What is off-page SEO? Off-page SEO is a type of search engine optimization that uses off-site optimizations to improve a website's or page's rankings in relevant search results. Off-site optimizations occur outside your site and include link building, local citations, and more.
Search engine optimization (SEO) famously consists of multiple qualities, and one of the most important is off-page SEO. Off-page SEO is essential to ranking well in search engines, like backlinks. But what is off-page search engine optimization?
Keep reading to learn:
If you'd like to speak to a specialist about off-page SEO, you can reach us at 888-601-5359.
What is off-page SEO?

Off-page SEO, also known as off-site SEO, describes optimization techniques that can improve your ranking in search engine results pages (SERPs). These techniques, however, happen outside of your site and involve attracting links from other websites, shares on social media, and mentions across the web.
[Video] Off-page SEO: What it is and how to do it
Learn all about off-page search engine optimization, from what it is to how to do it, in this helpful video! You can also get a head start on implementing these strategies with our off-page SEO checklist.
Off-page SEO vs. on-page SEO
Off-page SEO is when your website is mentioned elsewhere on the web, and on-page SEO is the optimization of your website.
Off-page SEO is an effort (such as through social media marketing or influencer marketing) to generate links and ratings, so your site rises in credibility and rank. Off-page SEO is out of your control.
On-page SEO is the optimization of items on your website (such as keyword optimization and internal linking), so you can rank higher for the keywords you target. On-page SEO is within your control.
The most significant difference between on-page and off-page is that Google uses your on-page SEO to measure your page's relevancy and your off-page SEO to measure your page's credibility.
Make sure that you are implementing both strategies. Your on-page SEO is what makes your off-page SEO strategy successful.
Why does off-page SEO matter?
Off-page SEO is tremendously valuable because it tells search engines that your website is important to others on the web. Every link that you receive acts as an endorsement from another source that your website is quality.
This lets external sources act as tie-breakers for websites that have the same quality of on-page SEO so search engines know the best to rank websites on search engine results pages (SERPs).

For example, if we look at two wedding websites with similar content, which site would rank higher?
If the sites use similar on-page SEO strategies, off-page SEO signals can help determine which site ranks higher in search results.
Search engines like Google measure off-page SEO factors, like the number and quality of backlinks to websites.
If one of the wedding websites has more backlinks from reputable sources, while the other site has received zero online mentions, the site with more backlinks (and better online reputation) will likely rank higher.
Using numerous off-page and on-page SEO factors, search engines determine how valuable pages are to searchers' queries and return relevant results accordingly.
Just remember — a page without off-site optimization is like a wedding without invitations. It'll become a no-show.
3 types of links for off-page SEO
Links are a critical component to off-page SEO. Before you start building or earning backlinks, it's essential to understand the different types of links, as well as the factors that influence the equity of a link to your website.
The three types of links include:
Natural Links
A natural link comes to your website naturally.
Your team doesn't take any action or conduct any outreach to earn the link. The person writing that content decided to link to your content, whether because they follow your brand or discovered your content via search.
Either way, they found your content valuable and worth highlighting.
Built Links
A built link comes to your website from outreach.
Your team worked to earn this link, whether by reaching out to webmasters, publishers, or journalists. You may have even promoted the content with an ad campaign, providing it with the exposure that helped people uncover the content.
Even though you built this link, you still created valuable content for users.
Created Links
A created link comes to your website from self-submissions on directories, forums, or press releases.
Your team created this link intentionally and without conducting any outreach. This off-page SEO tactic for link building tends to register as a black-hat SEO practice because search engines look down on this kind of link building tactic.
When building links, focus on natural or built links.
6 factors that influence link value for off-page SEO
You also want to think about the equity or value and authority passed by a link.
While you could attract dozens of low-value links from spammy or untrustworthy websites, they won't help your business rank well in search results. That's why it's essential to focus your off-page SEO link building efforts on trusted websites with excellent link equity.
The six factors that influence the equity passed by a link include: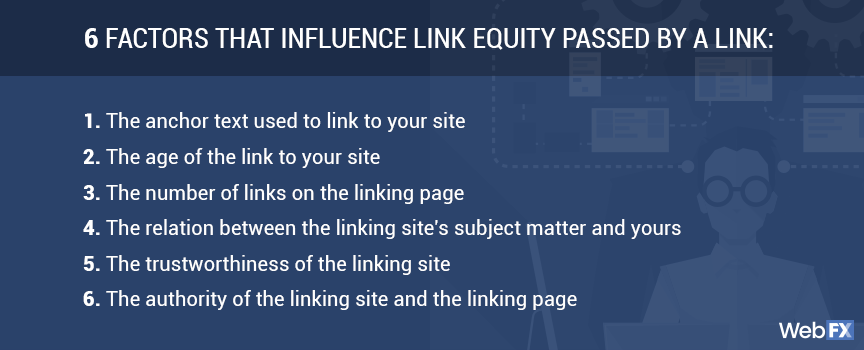 The anchor text used to link to your site
The freshness or age of the link to your site
The number of links on the linking page
The relation between the linking site's subject matter and yours
The trustworthiness of the linking site
The authority of the linking site and the linking page
If you use tools like Ahrefs, SEMrush, and more, you can assess the potential link value of a site.
How to do off-page SEO for your SEO campaign
Now that we've established how important off-page SEO is to a website's success, we can delve into the specifics of how to improve off-page SEO:
1. Link building
The most popular technique of off-page SEO is backlinking, which aims to generate natural links to your page.
Getting reputable websites to link back to your website has two main benefits: driving traffic to your site and helping determine your rank. Links from reputable sites are hugely beneficial to your website.
These benefits occur because links are the primary way to navigate the internet. Links improve your users' experience. With links, your users can easily navigate to other information they find relevant.
Links are also the simplest way to measure the expertise, authority, and trust of a site. That's why Google includes links as a part of search ranking factors.
But how do you convince others to link to you? You can try any (or all) of the following off-page search engine optimization strategies to start.
Join an association. This could be an industry association, or the local Chamber of Commerce. Make sure that your company gets a link on the association's website.
Create quality content. Making high-quality blog posts, infographics, videos, and more are all excellent ways to draw clicks and natural links to your site. Basically, if it's interesting, they will come.
Reach out. Reaching out to journalists and bloggers as possible sources for their writing, or asking them to host something you've created, provides future opportunities for you to earn links to your website.
Share on social media. Promoting your content on social media can help it gain traction. Post appropriate content, like infographics, blog posts, and more, to social media channels. Optimize your posts for discoverability too, like by using hashtags on Twitter.
Some links have more weight than others. For example, links from influencers in your audience's community have much more authority than links from spam sites.
Those high-quality links will tell Google that you've earned the recognition — that your site knows its material — and Google will rank you higher.
To make sure that your off-page SEO strategy is performing up to par, regularly check your backlinks. You can use tools to analyze your and your competitors' backlink profiles. Some of our favorite backlink tools are:
When implementing your off-page SEO strategy, don't just know how to build links, understand why you're building them. You're building them so you can have a more significant presence and reach the people that you think your services and products could help.
What does content have to do with off-page SEO?
You might have all the best off-page techniques in the world, but they won't mean a thing if you don't have quality content. Content is what keeps users on the page, and if it's not valuable to your audience, they won't stick around.
With enough links, you might be generating lots of traffic, but that traffic will never turn into conversions if there is nothing worth looking at on your page. Your content is where you convince your audience that you have all the answers!
If we continue with the wedding analogy, your content is the food at the wedding. It's what keeps your guests around till the end.
So, an essential part of any off-page SEO strategy is to have good content to help catch users when they land on your page.
2. Blogging
Blogging is an excellent way to start generating linkable content for your brand.
There's no other place on the web with a constant stream of long-form content than blogs.
On your blog, your audience can comment and share your content, making it easier to get noticed and start generating natural links and brand mentions.
And with the continuous posts, you'll become a knowledgeable leader in your industry. Your audience will look to you first for information about recent updates and trends, as well as how-to guides and informational articles.
Talk about generating loyalty!
3. Social media marketing
While social media links don't impact rank, social media sites are still some of the best places on the web to generate awareness for your brand.
Brands with a strong presence on social media feel open and approachable, which is something that is becoming increasingly important today for businesses.
If a brand is not easily approachable, not only does it come off as abrasive, its trustworthiness comes into question when users can't easily access information about it.
Instead of appearing as some aloof entity, let your brand come across like a friendly, neighborhood corner store.
You can do that by staying active on social media sites and by starting a blog where you can let your audience get a feel for your brand's flair.
Also, generate content that is relevant and easy to read, and respond positively and sincerely to comments on both your blog and social media pages. Doing this will help your brand feel like a group of people instead of a robot.
4. Influencer marketing
How can off-page SEO influence online opinions?
Because of the emphasis on links as a method of accomplishing off-page SEO, many people tend to assume generating links is the goal of off-page SEO.
The real goal of off-page SEO, however, is to boost ranking so that people can find, contact, and purchase from you. Off-page SEO will create positive engagement with your brand, whether that be through links, reviews, social media, or brand mentions.
Off-page SEO can be tricky, though, because those methods are ones you can't control, not without being considered black-hat, and no one wants to wear a black hat.
There's no surer way to plummet your brand's credibility — or your rank — than with black-hat SEO methods like paying employees to post positive reviews or buying links to your site.
And since you can't control off-page SEO in the same way that you can control the on-page elements of your site, off-page SEO can turn into a frustrating waiting game where all you can do is hope the response from your audience is positive.
If it's negative, reevaluate your SEO strategy. See what's working, tweak what's not.
One of the ways you can combat negative reviews is by:
Implementing changes that will resolve the valid concerns of those negative reviews
Reaching out to your customers, asking them for a review after a purchase
By doing these two things, you'll improve your products and services and generate more reviews.
Reach out to online influencers as well. By having someone well-known endorse your brand, you'll boost your audience's trust like no other.
5. Writing for publications

Writing for external publications is a great way to show that you're an authority in your industry while also promoting your own business's service. This kind of publicity gives you huge potential for attracting customers that otherwise may not have heard of you. Plus, it can give you a portfolio of writing that you can show to other publications to start writing for them, and so on.
6. Social bookmarking
Social bookmarking is the process of submitting your content to sites like StumbleUpon, Tumblr, Reddit, and others. These sites segment their content to appeal to certain niches, which you can use to appeal to customers in the specific demographics that you want to target. Before you submit any content, though, make sure to research the audiences and rules of each site.
You don't want to spam these communities. Instead, you want to offer actual value with your content.
Our digital marketing campaigns impact the metrics that improve your bottom line.
See More Results

WebFX has driven the following results for clients:

$3 billion
In client revenue

7.8 million
Leads for our clients

5.2 million
Client phone calls
WebFX knows off-page SEO
If you're too busy with your company to concentrate on all the factors that go into off-page SEO and measuring your on- and off-page SEO efforts, you should team up with WebFX!
We're a full-service Internet marketing firm with an award-winning team that strives for excellence in every project, no matter how big or small. We know exactly what to do to earn you the exceptional results you need to grow your business and add to your bottom line.
Contact us today to build your business with our off-page SEO services!
How Is Your Website's SEO?
Use our free tool to get your score calculated in under 60 seconds.