Let's face it: social media can be a little baffling when it comes to getting the word out about your business or your products.
You know your customers are out there somewhere, but on the wide open web they can sometimes feel a little difficult to find. You know you should be building up a presence on social media, but on which sites? What does "building up a presence" even mean?
According to Pew Research, 73% of online adults use a social media site, and 42% of them use more than one. Although Facebook is still the reigning champion when it comes to social media, other sites are gaining speed. Just take a look at how social sites grew between 2012 and 2013: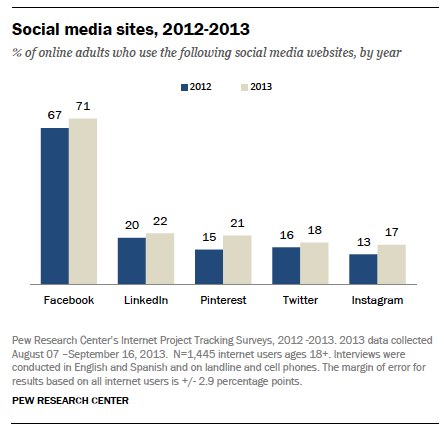 Fortunately, these users tend to flock to social sites in demographically predictable ways – which means that with a good understanding of your customer base, you can almost always start off your social media marketing on the right foot. Here's how to target 73% of online adults with your social media marketing.