You have a great daycare facility that's sure to delight anyone who visits it, so you want to spread the word to more people and let them know. Your newspaper ads and radio spots don't seem to be working for you anymore. So, how can you drive parents to check out your daycare?
With search engine optimization (SEO), of course!
SEO helps you boost your ranking in search results so more relevant leads can find your daycare and learn about the services you offer.
Keep reading to get four tips on how to do SEO for daycares! If you need help launching your SEO campaign, give us a call at 888-601-5359 (or contact us online) to speak with a strategist about our SEO services!
Independent research from Clutch has named WebFX the
top SEO company

in the United States.

Clutch has personally interviewed more than 250 WebFX clients to discuss their experience partnering with us.

Read More Clutch Reviews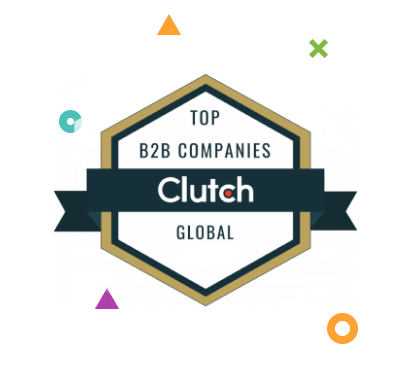 1. Claim your Google Business Profile listing to drive local leads to your daycare

One critical aspect of SEO for daycares is building your local presence. You're going to have parents in the local area that want to use your daycare, so you need to ensure they can find your daycare facility first.
To help your daycare appear in local searches, start by claiming your Google Business Profile listing. This local listing appears in search results when users conduct searches like "Daycare center in Los Angeles" or "daycare near me."
When someone searches for this, they'll see a box at the top of the search results filled with local listings. This feature is known as the local SEO 3-pack.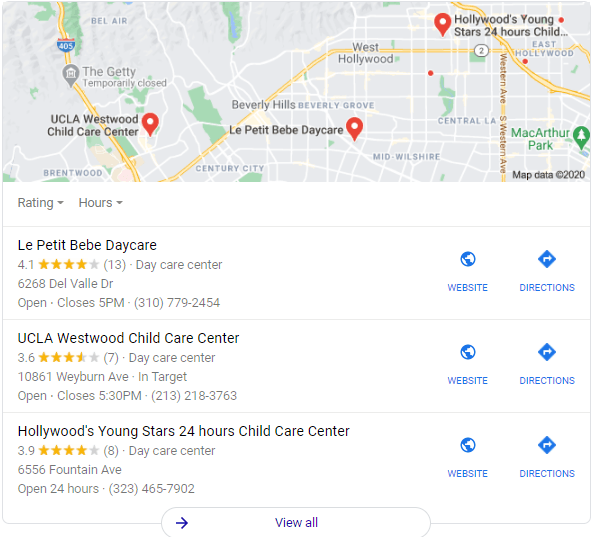 If you claim your local listing, you can appear in this local 3-pack.
So, once you claim your Google Business Profile listing, fill it out. Make sure your name, address, and phone number are correct. You'll also want to add your hours of operation to ensure users get the most critical information from your listing.
Additionally, add a small blurb to your listing to provide your audience with insight into your daycare center.
Lastly, you'll want to add photos to your listing to show parents what it's like in your daycare center. It can help you generate more engagement with your listing, too. Google Business Profile listings with over 100 photos get 1065% more clicks!
If you want to do SEO for childcare centers effectively, claim your local listing and start driving local traffic to your page!

Hear What It's Like to Work With WebFX!

"WebFX has a full team of competent people that work diligently and quickly on our marketing and SEO needs."
Christian School In Pa
2. Integrate key terms on your pages to rank in relevant search results
Another critical component of SEO for daycares is finding relevant keywords to integrate on your site. When users search for a daycare, they use specific terms in the search bar to find what they need. If you want to appear in related searches, you need to optimize your site for the right keywords.
To find relevant terms, conduct keyword research. You can use a keyword research tool like KeywordsFX to help you find the right terms.
So, if you want to appear in searches for "childcare in Los Angeles," you could plug that phrase into a keyword research tool like KeywordsFX and find relevant terms to integrate on to your page.
When you conduct keyword research, focus on long-tail keywords. These keywords contain three or more words, like "daycare centers in Los Angeles" or "daycare for infants."
Long-tail keywords are best for your site because they have a specific and defined search intent. So, when you integrate those keywords on your site, you know people who search those terms are looking for your business.
If someone searches "daycare for infants," you know they're trying to find a daycare for their infant child. On the other hand, if someone searched "daycare" or "infant," there could be dozens of intents behind those searches.
To ensure you drive the most qualified traffic to your site, focus on integrating long-tail keywords throughout your page. Make sure you don't overuse your keywords, though, as it leads to keyword stuffing and negatively impacts your ranking!
3. Write your pages for humans first, search engines second
Whether you're writing copy for your service pages or creating a blog post, you must write for humans first and search engines second. When doing daycare SEO, many businesses make the mistake of creating copywriting filled with jargon to try and rank in search results.
While it may seem like this is a great way to rank for your targeted search results, it's more harmful than helpful.
Search engines can tell, between keyword usage and user behavior, if your pages are relevant to the search results. If people visit your pages and stay on them, it sends a positive signal to Google that your page is relevant to searchers.
You don't need to spam your pages with jargon and keywords to get them to rank. If you create content that focuses on delivering the information your audience wants (with some keywords integrated), your content will perform well in search results.
To help you create human-focused content, here are a few things to check off your list:
If you put your audience first when you create pages for your site, your pages will rank better in search results because you'll deliver a relevant and positive user experience.
4. Focus on building links to increase authority, trust, and traffic
When you do daycare SEO, link building is a critical component of your strategy.
There are two types of links you'll want to focus on for your business:
Internal link: These are links on your pages to other pages on your site.
Backlinks: These are links to your site from a third-party site.
Let's look more in-depth at how you can use these links to improve your daycare's SEO.
Internal links
Internal links enable you to drive people to different pages on your site to keep them engaged.

These links are valuable to your business for two reasons:
Internal links enable people to find more information about a topic you mentioned
Internal links are great for helping you keep leads on your site longer. So, for example, let's say you wrote a blog post about the benefits of daycare. Within this article, you mention the benefit of socialization at daycare.
You have a separate blog post about socialization at daycare, so you choose to link to it on this new blog post. Now, if someone reads your article, they'll see a link on the anchor keyword "socialization at daycare."
If someone wanted to learn more about socialization at daycare, they could click that link and find your article on it. This behavior results in someone staying on your site longer and reading more information on your page.
Internal links enable Google to crawl and index pages on your site
For your pages to appear in search results, Google needs to crawl and index them. If Google hasn't found some of your pages, internal linking can help it discover those pages.
You can link to other pages on your site so that Google can crawl your new page, follow the links, and index these pages. It helps more of your pages appear in search results, so you can drive more traffic for your business.
Backlinks
Backlinks are links to your site from third-party sites. These links help boost your site's trust and authority. If industry authorities link back to your site, it sends a positive signal to Google that your page is relevant and your website is trustworthy.
So, how do you earn backlinks?
The best way to earn backlinks is to create high-quality, industry-relevant content, like blog posts. You can create this content, reach out to industry authorities, and ask them to check it out. If they read it and find it insightful, they may link to it in future content.
When you're trying to earn backlinks, make sure you're getting them from high-quality sources. The number of your backlinks won't matter if the quality is low. It's best to focus on getting backlinks from authorities in the childcare industry to help you earn backlinks that will boost your SEO ranking.
Our digital marketing campaigns impact the metrics that improve your bottom line.
See More Results

WebFX has driven the following results for clients:

$3 billion
In client revenue

7.8 million
Leads for our clients

5.2 million
Client phone calls
Start using SEO for daycares to boost your business online
SEO for childcare centers is an excellent way for you to drive more parents to your daycare — but if you're too busy running your daycare, you might not have the time to dedicate to SEO. That's where WebFX can help.
People trust you to care for their children because you're the experts — so why not trust the SEO experts at WebFX to handle your campaign?
We have over 25 years of experience in creating SEO campaigns that drive results. In the past five years alone, we've driven over $3 billion in sales and over 7.8 million leads for our clients. We can drive results for your daycare center, too.
Ready to launch your daycare SEO plan? Contact us online or call us today at 888-601-5359 to speak with a strategist about our SEO services!
Earn a 20% greater ROI with WebFX