If you're looking to expand your consulting business, you need to make search engine optimization (SEO) part of your strategy.
SEO involves a wide range of tactics that help your website rank better in search results for relevant keywords. When potential clients search those terms, your website will be one of the first things they see. They can then click through to your website, bringing you more leads.
So, how can you get started with SEO for consultants? In this guide, we'll give you six practical tips for growing your consulting firm with SEO. Just keep reading to learn how to get started with consultant SEO!
Want to quickly check your website's SEO? Get a detailed SEO report in less than 60 seconds with our free SEO checker tool!
Looking for an all-in-one SEO audit tool? You've found it.
SEO Checker provides data on key metrics to give you:
Complete SEO score

Content Grade

Site Speed Analysis

and more.
What is SEO for consultants?
SEO for consultants involves a wide range of tactics that help your website rank better in search results for relevant keywords. When potential clients search those terms, your website will be one of the first things they see. They can then click through to your website, bringing you more leads.

Hear What It's Like to Work With WebFX!

"WebFX's services are an incredible asset to our company. As a growing small business with a limited staff, their expertise is invaluable and their transparency gives us peace of mind that our marketing efforts are well looked after."
Consultant Services
What are the benefits of SEO for consultants?
The benefits of SEO for consultants include:
Attract new clients
Build brand awareness
Become an industry thought leader
Essentially, with SEO, your consultant firm can generate qualified traffic that drives revenue.
How to do SEO for consultants in 6 steps
Learn how to do SEO for consultants with this six-step walkthrough:
1. Choose the right keywords
Keywords are a crucial part of any SEO strategy. What are keywords for SEO? They're the terms and phrases that users search when they want to find information.
To succeed with SEO marketing for consultants, you need to determine which keywords your potential clients search. Then, you can target those keywords with your content.
When it comes to consultant SEO, some of your keywords will be terms like "business management consultant" or "best interior decorating consultants."
Many of your keywords, however, will have to do with issues your clients have that you can solve or questions they have that you can answer. For example, if you are a human resources (HR) consultant, one of your keywords might be "how to create a new employee training program."
To find keyword ideas, input some terms relevant to your business into a keyword research tool like KeywordsFX. When you input a term, the tool will provide you with a list of related keywords to consider.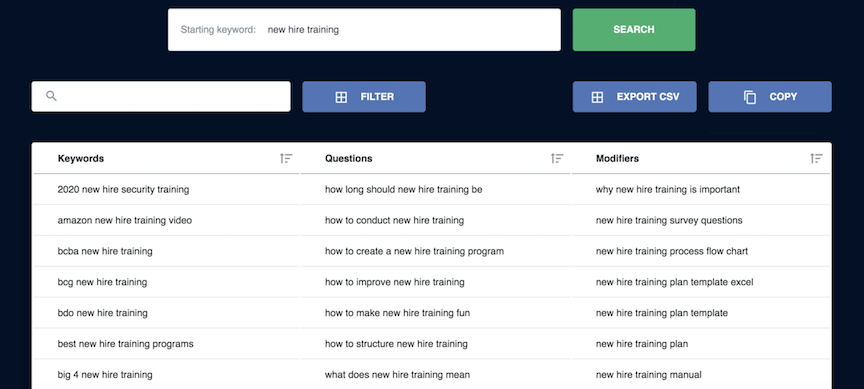 You can also use Google Search Console to see which terms people searched to find your website on Google.
2. Create high-quality content
Once you have your keyword list, you can create content based on those keywords. For that content to rank well, you need to make sure it's high-quality.
One of the best ways to ensure your content is high-quality is to focus on meeting search intent. Search intent is what users wanted to find out or accomplish by conducting a search.
For example, if someone searches "IT consulting pricing," they likely wanted to know how much hiring an IT consultant costs. If someone searches "how to secure your office network," they're looking for a list of tips or steps.
When creating a piece of content, try to meet the intent and answer the question as thoroughly as you can. Google prefers comprehensive content over thin content.
Another way to think about meeting search intent is to try to make the content as useful to the reader as possible. It should provide value to the user, often through practical advice or accurate information.
3. Strategically incorporate your keywords
For a page to rank for its target keyword, you'll need to include that keyword on the page. You'll want to use it throughout your copy, as well as in some specific strategic places.
Using your primary keyword throughout your copy will help both readers and search engines determine the context of your page. Try to use it multiple times, but make sure it sounds natural.
Don't force your keyword into sentences in which it doesn't belong — a technique called keyword stuffing that can lead to lower rankings.
You'll also want to use variations of your main keyword and closely related keywords. For example, if your keyword is "business management consulting pricing," you might also want to use "business management consulting cost."
Some of the other places you'll want to use your target keyword include your:

4. Build links
Backlinks, links to your website from other websites, are an important factor in SEO for consulting firms. The more links you have from authoritative sites, the more authoritative Google believes your site is, which improves your rankings.
You can earn backlinks naturally by creating content that other websites want to link to on their site. Certain types of content, like infographics, original research, and statistics roundups, are especially useful for earning links.
Another way to earn links is through outreach, which involves contacting publishers and requesting links. Say, for instance, you read a blog post that could benefit from including your infographic. You could email the blogger and suggest they add your infographic to their piece with a link back to your site.
5. Establish a presence on social media
Social media is not a direct ranking factor that Google considers when ranking content. A strong social media presence can, however, boost your search engine performance indirectly.
When you and other users share your content on social media, more people see it and your chances of earning links increase. Your social media presence also helps build your brand, potentially encouraging people to click on your website in search results.
To boost your search engine rankings, establish a strong presence on the social media sites your target audience uses and post engaging content regularly. A social media marketing agency can help with this.

6. Provide a positive user experience
If your website offers a good user experience, visitors will likely stick around longer. When people stay on your site longer and visit more pages, this behavior sends a positive signal to Google. It indicates that search engine users found what they were looking for on your website.
So, how can you create a positive user experience? Here are some of the most important factors to consider when it comes to user experience and SEO for consultants:
Web design and layout: Your website's design plays a huge role in creating a positive first impression. Users are also more likely to stay on your site if it's visually appealing. Use a consistent, professional design across your website and make sure the design is user-friendly.
Navigation: Make it easy for users to get around your site and find what they need. If users can't easily find the information they want, they'll likely go elsewhere.
Mobile-friendliness: Today, more than half of website traffic comes from mobile, so your website needs to look good and work correctly on mobile devices. Mobile-friendliness also impacts your search engine rankings. Use responsive design to ensure your site works on all types of devices.
Page load speed: Users expect websites to load quickly. If yours doesn't, they'll likely click back to the search results and try a different site. You can use various page speed optimization tactics, such as compressing your files and reducing redirects, to improve your website's load time.
Independent research from Clutch has named WebFX the
top SEO company

in the United States.

Clutch has personally interviewed more than 250 WebFX clients to discuss their experience partnering with us.

Read More Clutch Reviews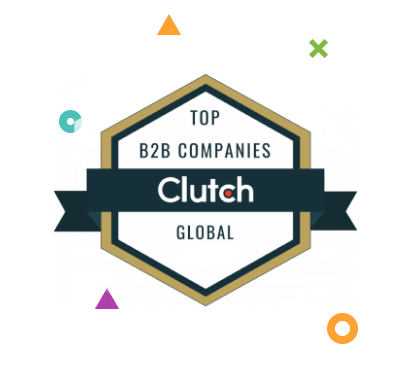 Getting started with SEO for consulting firms
Ready to get started with SEO for consultants? These six tips give you the fundamentals you need to know to start improving your website's search engine performance.
If you want help implementing these tips or taking your SEO strategy beyond the basics, consider working with WebFX. We're an award-winning digital marketing agency with more than 25 years of experience, and we've driven more than $3 billion in sales for our clients over the last five years.
To learn more about how our team of SEO experts can help you grow your consulting firm, request a free quote online or give us a call at 888-601-5359.