Do you find that you're struggling to generate new leads for your telecommunications company?
If so, you're not the only one — 61% of marketers say that lead generation is the most challenging aspect of their work.
But by finding the right strategies to successfully generate leads for your telecommunications company, you can be fast on your way to generating more valuable leads for your business.
Keep reading to learn the top four strategies that will help you generate more valuable leads for your telecommunications company.
P.S. Want the inside scoop on all things marketing? Subscribe to Revenue Weekly to get the latest tips and tricks for marketing your business better!
1. Use pay-per-click (PPC) advertising to reach leads that are likely to convert
First on our list strategies for lead generation for telecoms is pay-per-click (PPC) advertising. PPC ads are paid advertisements that appear at the top of the search results before organic listings.
These paid ads help you reach people who are already looking for your services. Since PPC ads allow you to choose which keywords to target, you can ensure that when a user sees your PPC ad — it's because they're interested in what you have to offer.
Not to mention, since you appear at the top of the search results, people are more likely to notice your ads and click on them. In fact, 46% of page clicks go to the top three PPC ads.
If you want to attract leads that convert, PPC is the strategy for you. These leads are 50% more likely to convert than organic visitors. It's a great strategy for earning more conversion-ready leads for your telecommunications company.
So, how can you start generating leads with PPC advertising?
Find relevant keywords
If you want your PPC ads to perform well, start by finding the right keywords. Keywords determine where your ad appears in search results. For example, your ad will show up when users search for a term that you target with your campaign.
You can conduct keyword research to find relevant terms. Generally, you'll want to focus on long-tail keywords, which contain three or more words. These keywords are more specific, which means that the people who search them know what they want and just need to find it.
As a result, when you rank for long-tail keywords, you're attracting more qualified leads that are ready to convert.
Set your maximum bid
Once you have your keywords selected, you'll set your maximum bid. Your maximum bid is how much you're willing to pay when someone clicks on your ad. This amount is flexible and can be changed as needed.
When it comes to PPC, having long-tail keywords will help you keep your bid low — since long-tail keywords are more specific, they have less competition. As a result, you'll have a lower cost-per-click and be able to earn more clicks with your budget.
Create a separate landing page
When you run a PPC ad, you need to keep your audience focused on the item you advertised. It's critical that once interested users click on your ad, you direct them to a page with relevant information about the product.
Creating a separate, dedicated landing page for your ads will help you keep your audience focused. It will keep them engaged with the product you're selling and encourage them to learn more about what you offer.

Hear What It's Like to Work With WebFX!

"I've trusted WebFX with our SEO and SEM management as I've moved through several companies, each time they've done an outstanding job. Highly recommended (just not to our competitors)."
Technology Services
2. Use social media advertising to reach more targeted leads
If you want to do lead generation for telecommunication companies, you need to include social media advertising as part of your plan. Social media ads are paid advertisements that appear in social media feeds. These ads are tagged with the word "sponsored."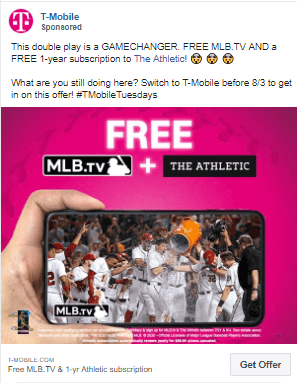 Social media ads are a great way for you to get your telecommunications business in front of new leads. You can reach leads on multiple social platforms, including:
Once you choose your platform(s), you can start creating your ads. Here are some best practices to follow:
Know your target audience
Social media ads offer advanced targeting for your business. You can target people based on demographics, buying habits, and more. This refined targeting means that you need to know who your target audience is so that you advertise to the right people.
Look at your current telecom customers and figure out what characteristics they have in common. Once you have a compiled list of information, you can create buyer personas. Buyer personas are fictional representations of real customers that helps you understand who's in your audience.
So, after you have your buyer persona down, you can create your campaign with them in mind.
Make your ad visually appealing
The appearance of your ad can either entice users to click or entice them to keep scrolling. The goal is to create an ad with such compelling visuals that a user has no choice but to stop what they're doing, click the ad, and learn more about your product. Whether you use a bright photo or a video, there are numerous ways for you to create an engaging ad.
Take this example from T-Mobile: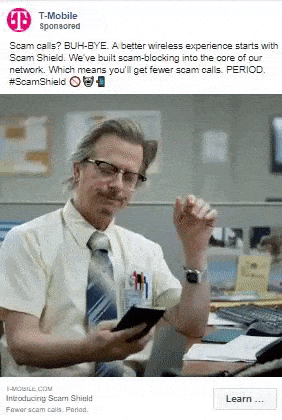 They used high-quality video to catch their audience's attention and get them to engage with their ad. This high-quality visual and story behind the video enables them to hook in their audience, so the audience will stay to see what happens next.
Be aware of ad fatigue
When it comes to running ads on social media, you run the risk of ad fatigue. Ad fatigue occurs when your audience sees your ad so often that they stop engaging with it. As your ad frequency increases, your clicks and conversions decrease.
Keep tabs on how your ads are performing and take note when you see a significant decrease in engagement. If you see a reduction in engagement, swap out the old advertisement for a new one to keep your ad content fresh.
3. Use referral marketing programs to help capture leads that haven't discovered you yet
If you want to generate leads for telecom companies, a referral marketing program is a great option. Referral marketing programs enable you to capture leads interested in your business by using your current customers to gain new customers.
Referral marketing is when you reach out to current customers and ask them to recommend your company to anyone they think would be interested.
You can ask for referrals through strategies like email marketing, social media marketing, and more!
So, how can you create a successful referral marketing program?
Offer an incentive
If you want to generate more interest in your referral marketing program, offer an incentive. An incentive can motivate your current customers to participate.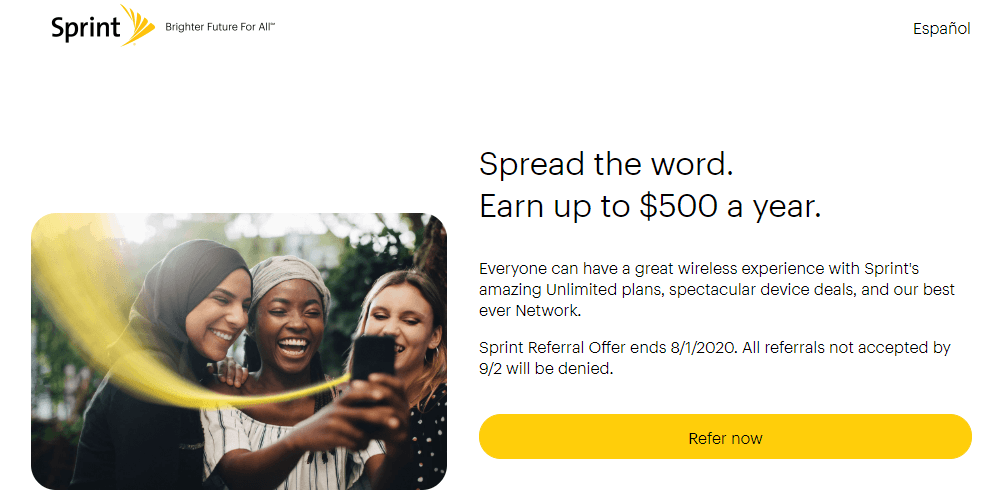 For example, Sprint's referral program, offers up to $500 a year to current customers that refer others to the network. This incentive encourages current Sprint customers to recommend the network to family or friends.
If you want have a successful lead generation campaign for your telecom business and drive the right leads with this strategy, you need to choose a valuable and sensible incentive. You'll also want to consider offering an incentive for both parties — the current customers who refer others, and those who have been referred.
Make it easy to refer
The success of your referral marketing plan relies on how easy you make it for your current customers to refer someone. If it's a long and involved process, users will be less likely to refer their friends and family.
You can make it easy by creating a dedicated page on your website for referring new leads. It can be a simple page that asks users to submit names and emails, or it can be a form in an email that your subscribers fill out directly.
When you make it easy to refer, your current customers are more likely to participate.
Thank people when they refer
If you want your referral program to thrive, don't forget to thank people when they tell others about your business. You want them to know that the referral was meaningful to you, and you appreciate them putting in the effort.
When you thank your customers, you make them feel valued. It will encourage them to continue to recommend your business to others, whether its incentivized or not.
4. Use content marketing to attract leads with valuable information
Another strategy that's part of lead generation for telecommunication companies is content marketing. Content marketing enables you to share your knowledge and expertise with your audience while building trust.
Content comes in numerous forms, including:
Guides
Ebooks
Podcasts
And more
Here are a few tips to help you make content marketing an impactful part of lead generation for telecoms:
Use a variety of formats
When you create content offer it in a variety of formats. Using different content formats keeps your strategy fresh for your audience, and it helps you appeal to users who enjoy consuming content in different ways.
Creating different content formats also allows you to determine what versions your audience likes most. For example, if you notice that your audience engages more with your blogs, you can focus more attention on that strategy.
Focus on industry-relevant topics
You should focus your content on topics related to your industry. While it may seem like a good idea to capitalize on popular or trending topics, it won't drive the right traffic to your site. You'll attract leads interested in the information, but not all the leads will be interested in your telecommunication services.
When you focus on industry-specific content, you drive leads to your page that are interested in your business. It helps you find more qualified leads that you can nurture into sales for your business.
Use a content calendar
A content calendar is a critical component of your content marketing strategy since you need to post content consistently to be successful.
Your content calendar will enable you to keep track of when content is created, edited, and published. It helps you stick to deadlines and ensures you get content out to your audience regularly.
Start lead generation for telecommunication companies today
If you're ready to reach more qualified leads, it's time to develop a plan for lead generation for telecom companies. Now that we've shown you how to generate leads for telecom companies, you can start composing a strategy that works best for your business.
Aren't sure how to create an effective strategy? WebFX is here to help.
We're a full-service digital marketing company that can help you build a lead generation strategy that enables your business to grow. We've driven over 7.8 million leads for our clients in the past five years. You can count on us to drive results for you, too.
Want to get started? Contact us for a free quote or call us today at 888-601-5359 to speak with a strategist about our lead generation services!