Are you looking for new channels to help you expand your reach online?
If so, social media for telecommunications companies may be the next strategy on your list. Social media platforms are a great place to drive new traffic and leads that you can turn into sales for your telecommunications company.
On this page, we'll provide you with six tips for launching a social media strategy for telecom companies.
P.S. Want to learn more about how you can maximize your marketing efforts? Subscribe to Revenue Weekly and join over 200,000 marketers in getting the latest tips and tricks in marketing!
Not happy with your social media engagement?
We've got just the blog post for you.
Read the Blog Post & Watch the Video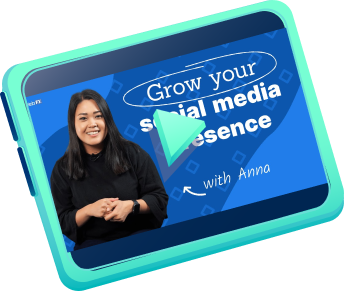 1. Choose the right platforms to reach interested leads
When you develop a social media strategy for telecom companies, you must start by deciding on the right platforms for your business.
You can reach people on numerous platforms, including:
So, how do you find the right platforms for your telecom business?
First, start by defining your target audience. Look at your current customer base and see what your customers have in common. Then, take those characteristics and pull them together to create a buyer persona.
Buyer personas are fictional representations of real customers. These personas help you get a better grasp of who you're targeting, what they like, and what they don't like. You can have multiple buyer personas.
Once you know who's in your target audience, you can look at each platform to see where your target audience spends their time. Look at the demographics from each social media platform to determine who uses different online platforms.
That information will help guide you to social platforms where your audience is likely to spend their time.

Hear What It's Like to Work With WebFX!

"I've trusted WebFX with our SEO and SEM management as I've moved through several companies, each time they've done an outstanding job. Highly recommended (just not to our competitors)."
Technology Services
2. Establish your brand identity to form consistency
When you implement social media for telecoms, you need to have a consistent brand identity. This notion is especially critical for telecom companies if you're operating on multiple social media sites.
Whether someone finds your business on Facebook or Twitter or Instagram, you want to have an established brand identity, so that users immediately recognize your business.
Take T-Mobile as an example. When you visit their Facebook page, you see their bright pink logo as the profile photo and a neon pink and yellow photo as their cover photo.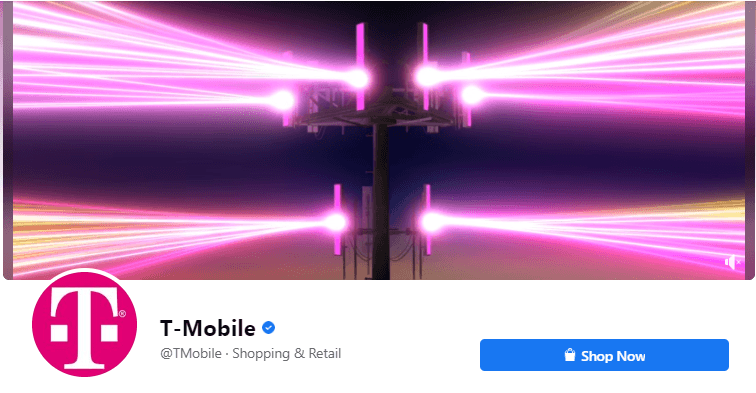 Then, when you visit their Twitter page, you see the same two photos in their respective places.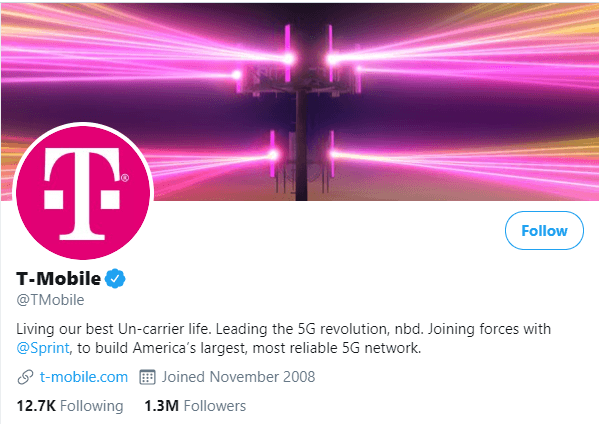 As you can see, the brand identity is consistent across their social media platforms. It makes it easy for people to recognize their brand.
So, you'll want to follow in the same footsteps for your telecommunications company. To be consistent across social media, you'll want to:
Use your logo as your profile photo
Use consistent cover photos across social media platforms (where it applies)
Use the same style of graphics to uphold your brand's unique style
Write social posts with the same tone
3. Share different types of content to keep your audience engaged
As you develop your social media strategy for telecom companies, you must create and share different types of content. You want to keep your content fresh for your audience. Using different types of content will keep your audience interested.
The type of content you post will depend on the platform. Some platforms allow you to post a variety of content, while others are more focused.
You must keep your content diverse, so you can engage different members of your audience. Some people may prefer video content, while others link to see links to blog posts. Offering different content formats makes it easier to get your audience to engage with your content.
In this example from Verizon, you can see they share both photos and video content to their social profile.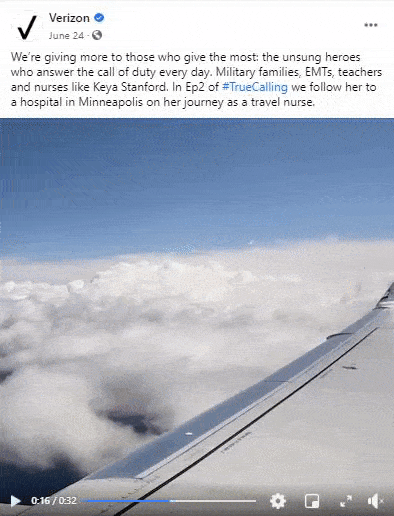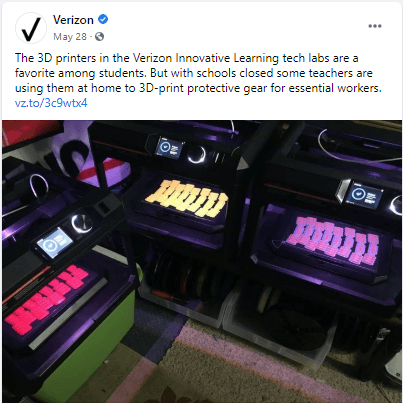 4. Engage with your audience to build a relationship
Social media for telecommunications companies involves building a relationship with your audience. This channel is one of the few places where you can have a direct connection with people interested in your business.
You can take advantage of this direct connection within each social platform by answering direct messages, replying to comments on your posts, and even asking your audience questions.
People will comment on your content — be sure to comment back and engage with them. Even if someone just leaves a positive comment, you can respond by saying thanks. A bit of engagement can go a long way for your audience.
When you engage with your audience, they feel heard and feel like your brand is listening. Not only does it help them get more familiar with your brand, but it builds your brand in a positive light.
5. Troubleshoot problems and be responsive to increase trust
When you build your presence on social media, you'll find that many people will comment on your posts with complaints or issues. If you get these comments, don't ignore them. It's critical to be responsive and try to troubleshoot problems.
Here's a great example from Verizon: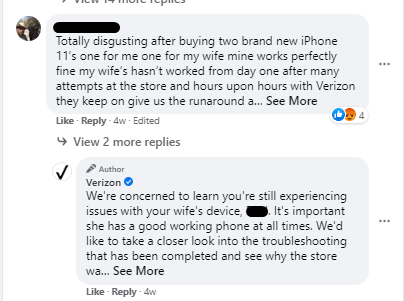 As you can see, someone left a comment on one of their Facebook posts with a complaint. Verizon made sure to comment on the post to try and troubleshoot the issue.
This kind of response is crucial since it shows users that if they have a problem, you'll be responsive and willing to help.
Not only that but being responsive will help you build a positive relationship with your audience.
6. Use social media ads to reach more traffic
When you create your social media strategy for telecom companies, don't forget to include social media ads as part of your plan. Social media ads are paid advertisements that appear in users' newsfeeds.
These ads are an excellent way for you to reach people that haven't discovered your business yet.
To launch a social media ad campaign, you need to start by researching who makes up your target audience. You can consider characteristics like demographics to buying habits to interests. When you know this information, you know who to target with your ad.
Once you know your target audience, you can create your ad content. You'll want to ensure that your ad content is visually appealing and catches your audience's attention in their newsfeed.
By creating social media ads, you can reach new leads and help them discover your telecom business.
Our digital marketing campaigns impact the metrics that improve your bottom line.
See More Results

WebFX has driven the following results for clients:

$3 billion
In client revenue

7.8 million
Leads for our clients

5.2 million
Client phone calls
Get started with social media for telecommunications companies today
Social media is a great opportunity for you to connect with people in your audience and help them get to know your telecommunications company better.
If you aren't sure how to launch a social media campaign for your company, WebFX is here to help.
We have over a decade of experience in creating social media campaigns that enable you to reach more interested leads, get them engaged, and help them choose your business. Our team of over 500+ experts is eager to help you get started!
If you're ready to launch your social media campaign, contact us online or call us today at 888-601-5359 to speak with a strategist about our social media marketing services!