To a certain extent, that's true. Designers and SEOs perform very different tasks, and you shouldn't expect one to do the other's job. However, that doesn't mean the two don't go hand-in-hand and work together. That being said, if you're thinking about having a site designed or redesigned (or doing it yourself), it's important to know how the two fields are related — and what that means for your site. You can contact us online or call 888-601-5359 today to speak with one of our experts!
Or, if you'd like to learn more before you get started, here's what you should know about the complex connection between web design and SEO.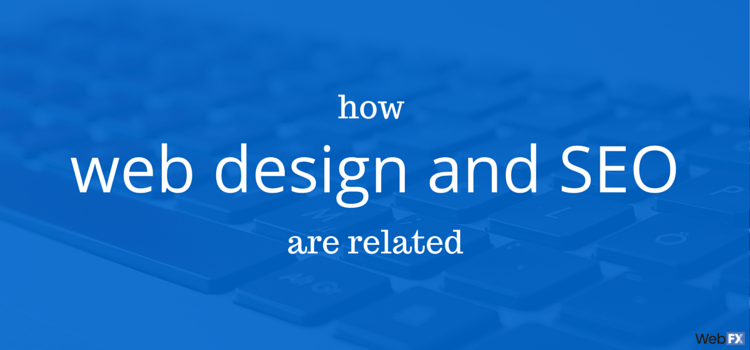 How are web design and SEO related?
Ultimately, the goal of both web design and SEO is to provide users with a great experience. So while designers focus more on the aesthetic components of a site and SEOs focus more on the aspects that help it rank well in search engines, the desired result is the same: A site that gives visitors what they want and helps your business succeed.
In order to provide your visitors with the information they need to become customers, your site needs to be both functional and visually appealing — two qualities that a good designer should be able to achieve. It also needs to be easy for potential customers to find, which is the responsibility of an SEO.
Which is more important—web design or SEO?
Many site owners think that great design can outweigh bad SEO, or vice versa, and want to know which is more important. However, the answer is neither. To put it simply, strong SEO is what draws users to your site, and great design is what keeps them there.
Having a site that is beautiful is useless if no one sees it, and having a site that ranks at the top of search engines won't help you if your poor design makes visitors leave (which, in turn, will hurt your rankings).
How can you make sure that your web design and SEO work together?
Because web design and SEO are so closely related, you need to make sure that they work well with one another. That's why the all-too-common process of hiring a designer to lay out and create a site, then bringing in an SEO as an afterthought should be avoided at all costs.
Both a designer and SEO should be involved the early stages of your project. This will help the designer create a site architecture that is SEO-friendly, and will also provide an opportunity for your SEO to see the intricacies of your site design.
You may think that the best way to ensure that your design and optimization work well together is to hire one individual who does both web design and SEO — but if that's what you're considering, be very careful. Those are two distinct fields, and it's better to hire separate people who are great at each than one person who is mediocre at both.
A better solution is to hire a full-service Internet marketing agency. By allowing an established team of designers, developers, and SEOs to work together on your site, you can be sure not only that the final result will be cohesive, but that each aspect was done by a specialized professional.
Now that you understand the link between web design and SEO (and how to make sure that yours work well together), let's take a look at the specific aspects of your site that are affected by both.
Design
The basic design elements of your site should, of course, be determined by your designer. However, here are a few things they should keep in mind for SEO purposes:
Code
Designers have a few options when it comes to the code they use to render the major design elements of your site. Most stick to HTML and CSS, and for good reason.
While Flash sites may look cool, they are extremely difficult to optimize, and as a result, they don't have great chances of ranking well in search engines. Tell your designer to stay away from Flash, and your SEO will thank you.
Mobile-friendliness
An increasing amount of Internet users browse sites on smartphones and other mobile devices, and your site needs to be accessible to all of them. Not only will this provide a better user experience, but it will also help your chances of ranking well now that mobile-friendliness is a ranking factor for Google.
Partner with Ecommerce masters!
Campaigns managed by WebFX have earned over
TRANSACTIONS IN THE LAST 5 YEARS
Read Case Studies
The best way to address this is with responsive design, which makes your site accessible on all devices and browsers. Responsive design also eliminates the potential for duplicate content, which can happen if you have a separate mobile site.
Readability
While designers may primarily focus on the non-text elements of your site, it's important that they choose fonts and sizes that are easy for your visitors to read.
Also, unless the body copy is being pulled from an existing site (or has been pre-written) and is included with your design specs, your designer should know to leave plenty of space for copy. You'll need lots of informative, optimized content in order to rank well, and a design that only looks good with a few sentences of text will frustrate your SEO.
Images
You may think that copy is the only element of your site that can be optimized, but that's not the case. Your designers should keep a few best practices in mind when uploading images to your site as well.
File names
Your images should all have descriptive, logical file names. Although it may require a little more work than simply leaving them with names like "IMG_0035.jpg", this will help search engines "see" your images and put them into context.
File size
Although large, high quality images are certainly visually appealing, your designer should try to keep file sizes as small as possible. Large files can slow down page load times, which not only provides a poor user experience, but also increases your bounce rate—and damages your rankings.
Alt tags
In addition to their file names, your images should also have optimized alt tags. These descriptions help search engines determine what is being depicted, and users can read it when they mouse over an image.
Alt tags also help visually impaired users (and users whose browsers do not support your files) understand what is being shown, which is important for accessibility reasons.
Site architecture
The amount of influence your designer has over your site architecture will vary depending on how involved you (or your SEO) are in the process, but it plays a huge role in your site's ability to rank. Here's what to keep in mind:
Navigation
Navigation is one of the most important components of a great user experience, and because of that, you should keep it simple. The easier it is for your site visitors to find what they need, the more likely they'll be to convert.
Easy-to-use navigation also lowers the chances that your visitors will get confused and leave your site, which can lower your bounce rate and improve your rankings.
URL structure
Each of your pages should have a descriptive URL that describes the content on the page. Words should be divided by hyphens (NOT underscores), and you can include a few relevant keywords.
URLs with descriptive words (as opposed to random numbers and letters) will help search engines understand your pages, and they will also be easier for your site visitors to remember.
The relationship between web design and SEO is a complex one, but we hope that this page helped make it a little clearer. If you have any questions about how your site does at combining the two, or if you are considering starting a design or redesign project, feel free to contact us! Our talented team of designers, developers, and SEOs is more than happy to assist you in creating a site that is both functional and visually appealing.