Google Penguin Recovery SEO Company: Get Trusted Recovery Services
Have you been hit by Google Penguin update, or at least suspect that you have been? Then you are in need of a Google Penguin SEO strategy. Who better to help you create and implement such a strategy than an award winning SEO company like WebFX?
WebFX can help you recover from what harmed your site's rankings and help get your site ranking again.
Google Penguin penalty recovery can be difficult and time-consuming, but well worth it in the long run. If you've been hit by Google Penguin, call WebFX now, at 888-601-5359 and talk to one of our knowledgeable web strategists about how we can help you.
Time to Level Up Your Sales
Our long list of services helps you grow every aspect of your business with marketing strategies that are proven to increase bottom-line metrics like revenue and conversions.
In the past 5 years, we've managed more than 12.9 MILLION transactions across our client base.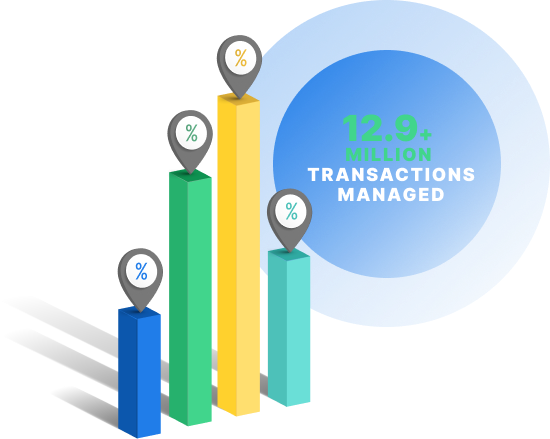 How WebFX can help your website recover lost rankings and quality traffic
From analysis of your backlink profile to removal of links that could be harming your website to Google re-inclusion requests, WebFX is fully equipped to handle the recovery of your once prominent rankings.
Google Penguin is targeted at link spam in efforts to do away with sites that have attempted to manipulate and skew the search results in one's favor, specifically through off-page over optimization tactics that are against Google's guidelines.
WebFX has helped companies in the past that have come to us for SEO services after Google Penguin, or being negatively affected by a major Google algorithmic update, and have continually been able to help our clients once again see their rankings improve and even surpass where they were before.
Google penguin-friendly SEO strategy and link removal services
Whether you have already discovered what links require removal, or you need some help identifying such backlinks, the Internet marketing team at WebFX can help your website and company recover from this series of algorithm updates impacting a significant percentage of search queries.
What's more, our qualified and dependable link building team can help you re-build the trust and authority you lost with Google with quality backlinks that will actually help you, and not hurt you, when Google makes major algorithm changes in the future!
Free Google Penalty recovery guide
Want to know all the secrets to recovering from a Google penalty? Want to try removing Penguin yourself? We'll be happy to share them with you… for free.
Read this free marketing guide to learn how to identify your penalty, take steps to solve it, submit a reconsideration request to Google, and fully recover from your loss of traffic.
Free SEO tools to improve your website
In addition to our Penguin and Google Penalty recovery services and free penalty recovery guide, we also offer a list of more than 250 SEO tools that you can use to improve your website's content, remove spam, and locate quality link opportunities—all things that can help get your site back on top of the search engines again.
To see the list of tools, head over to our marketing guides and start reading. You can sort this list by tool type, so it should be easy to find the tools that can help you with improving your content, tracking down harmful links, and doing everything else needed to improve the quality of your website.
WebFX is a top SEO company
Located in Harrisburg, PA, WebFX is an award-winning SEO company.
Our team of SEO experts knows what it takes to help you recover from Google penalties. And we can help you boost your rankings in search results to reach more customers and earn more revenue online.
Wondering what makes WebFX different? Take a look at these three things that set us apart from other SEO agencies:
1. We offer transparent pricing
At WebFX, we publish our SEO prices online to help you evaluate your options and choose the plan that's right for your business.
We want our clients to know up front what they should expect to pay for our SEO services. And our affordable SEO plans allow us to optimize your website for a fraction of what you would pay another agency.
2. We drive real results
Whether you're looking to increase traffic, boost your rankings in search engines, or earn more revenue online, WebFX can help.
We drive real results for our clients that help their businesses achieve online success. To date, we have driven over $3 billion in sales and over 7.8 million leads for customers. And we want to help you achieve your goals online.
3. We have years of experience
Our SEO experts have years of experience working in the industry. Even before the term "SEO" was developed, we were optimizing websites to appear in the first page of search results.
This experience allows us to optimize sites quicker and more efficiently than other agencies. We're always looking for innovative solutions, and we constantly work to move the SEO industry forward.
LEARN WHO WE ARE
Need help tackling your Google penalties?
If you're not ready to take on the challenge of recovering from Penguin, Panda, or another Google penalty on your own, give us a call at 888-601-5359 or contact us online today. We'll be happy to offer you our professional Google penalty recovery services to get your website ranking again.
How is your website's SEO?
Use our free tool to get your score calculated in under 60 seconds.