How Long Does Search Engine Optimization Take?
If you're looking for ways to reach more customers for your business, you've likely considered search engine optimization, or SEO. But if you're looking to reach and convert them within a set amount of time, you may have been put off by information and statistics about how long SEO takes to produce results.
The truth is, optimizing a site does take a significant amount of time, and seeing results from those changes takes even longer. As a general rule of thumb, you'll begin to notice changes in rankings and traffic around three months.
If you're looking for an immediate solution, this may seem like forever. But considering your ability to attract qualified traffic will increase over time, it's certainly worth the wait.
Call 888-601-5359 to speak with a strategist about SEO services from WebFX, or keep reading to learn more about the results you can expect to see from optimizing your site.
How long does SEO take?
How does search engine optimization work?
In order to understand why SEO takes as long as it does to produce changes in rankings, traffic, and conversions, it's important to know what it involves. When you first hire an SEO professional, here's what they'll do:
Research
Before making a single change on your site, your SEO expert will research your industry, competition, and audience. They'll learn how your potential customers search for your services, which keywords are particularly valuable, and what your competitors are doing on their sites.
Using this information, they'll plan a strategy around the words and long tail phrases that will attract qualified traffic to your site.
On-page optimization
After identifying the appropriate keywords for your business, your SEO professional will optimize the on-page elements on your site for those keywords. The extent of this step depends on the amount of existing content on your site.
Although it's much faster to optimize all the on-page elements on a small site than a large one, sites with little original content will require more work in the next step before seeing results.
Content creation
In addition to optimizing the pages you already have on your site, you'll also need to continuously add new content to improve your rankings in search engines. This practice, called content marketing, not only shows search engines like Google that you regularly update your site, but also gives you the opportunity to target the long tail keywords your SEO contact found during the research stage.
As you create new content, you'll also improve your ability to earn links from reputable sites. This is an extremely important component of SEO, as it shows search engines that your site is also reputable and provides information that other site owners want to share with their visitors.
Search engines crawl your site
Optimizing a site is an ongoing process, and as you do it, search engines will repeatedly "crawl" and re-index your site. Basically, what this means is that as you continue to update and add pages, search engines like Google will take note of those changes and adjust their rankings accordingly.
However, the individual pages aren't all that matter to rankings. Search engines look at your site and its authority as a whole, and in order to rank well, you need to demonstrate that your site has earned a good ranking in search results.
As you build a strong link profile, update your site regularly, and provide a great user experience, you'll continue to climb in the rankings. And although most SEO experts are understandably hesitant to give a concrete time frame of when you can expect to notice significant changes, a typical estimate is 4 to 6 months.
WebFX is a partner businesses trust.
Hear from HydroWorx, who saw a 236% increase in organic sessions with WebFX services.
Watch the Video Testimonial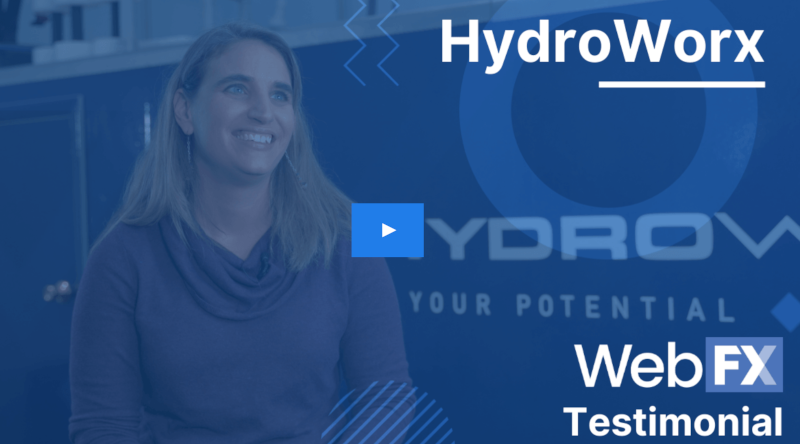 Other factors
In most cases, the work your SEO professional does and the frequency with which search engines crawl your site will be the biggest factors in your rankings. But depending on past SEO work you've done for your site, there may be a few other factors that lengthen (or shorten) the waiting period before you see the results you want.
Increase your revenue with SEO
Today, SEO is an essential part of any marketing strategy. When you partner with WebFX, we'll create a custom SEO plan that's tailored to your needs and goals and can help you get the results you need.
Existing content
If you already have a fairly large site with high quality content, you could already rank decently well. This means that with a few strong title tags, headers, and other minor adjustments, you could see results much more quickly than the average site owner.
But if you have a large site with low quality content, the exact opposite is true. You may think you have an advantage simply by having a lot of pages, but if it's "thin" and doesn't provide value to your visitors, this is actually a negative signal to search engine crawlers.
You can correct this signal over time by adding to and improving your pages, but you can expect it to take a little longer to see the results of your work.
Link profile
Much like content, your existing link profile also plays a role in the amount of time it takes for your site to achieve the rankings you want. If you have links from low quality sites (possibly from disreputable SEO plans in the past), you may need to disavow them before you can rank well.
If, on the other hand, you also have a handful of links from high quality sites, it won't take you as long to see positive results from your optimization.
Google penalties
If you've ever worked with an SEO agency that used "black hat" SEO tactics (or if you've used them yourself), you may have received a penalty from Google. In this case, you have a lot more work to do than the average site owner before you can rank well—and you can also expect a longer waiting period.
That being said, if you do have a penalty, that means you aren't ranking at all for any keywords in Google. The only way to resolve this is to fix the issues and remove anything that is in violation of their policies, and it's best to do that sooner rather than later.
What you can do while you wait for SEO to take effect
Ready to start optimizing your site?
SEO takes time to produce results, but the sooner you start, the sooner you'll achieve them. And if you're looking to improve your rankings, attract more traffic, and reach more customers, WebFX can help.
Contact us today to speak with a strategist about how our team of experienced SEO professionals can create a strategy to help your business succeed.