How Do I Increase Website Traffic in My Area?
Have you ever thought to yourself, "How can I earn more website traffic in my area?"
If you have, this page will help answer your questions. As a local business, it can be hard to find new ways to increase traffic to your website. In this post, we'll discuss three ways that you can increase traffic from your area.
Not sure how to improve your website's traffic? Give us a call today at 888-601-5359 to speak with a skilled strategist.
Let's get started!
Want to learn more about website traffic?
1. Claim your Google Business Profile
When your audience looks for local businesses, they will search on Google. They often type in phrases like "near me" or "in [city]" to find local businesses. When they conduct these searches, a box of Google Business Profile listings appears at the top of the search results.
Your Google Business Profile listing is triggered by people looking for businesses near them. It is crucial to help your business reach local customers. If you want to reach more local customers, you need to complete your Google Business Profile listing.
You can do this by claiming your listing first. Once you claim your listing, you'll want to fill it out completely. It will ask you for vital business information, like your address, contact information, and hours of operation.

Aside from crucial business information, you can add additional details to tell people more about your business. You can set a price range (which is indicated by dollar signs) or the type of food you serve (if you're a restaurant). Google allows you to choose numerous descriptive words for your listing, so leads can learn more about your local business.
In addition, you'll want to add photos to your listing. You'll want to include photos of your products and your business. It will help give your leads a look into your business.
Google Business Profile also allows you to include links in your listing. You can link to relevant blog posts that relate to your business. It's a great opportunity to promote your business more.
Lastly, Google Business Profile enables people to leave reviews about your business. It is important that you manage these reviews and monitor them.
If someone leaves a positive review, thank them for their kind words. For the negative reviews, you'll want to take time to address their issues. People don't expect to see a perfect 5-star rating, but they want to see that you take issues and concerns seriously.
By filling out your Google Business Profile, you'll earn more traffic in your area. It will help you drive more valuable leads to visit your local business.
2. Use paid advertisements
Paid advertisements are a great way to obtain more valuable leads. Pay-per-click (PPC) ads are paid advertisements that appear at the top of the search results. When users conduct searches, they generate a list of paid ads and organic search results.
PPC ads operate on keywords. Users type in keywords into Google to find search results that fit their query best. You need to conduct keyword research to find the right keywords for your PPC ad.
When you conduct keyword research, you want to focus on long-tail keywords. These are keywords that contain three or more words. Long-tail keywords are better for your campaign than short-tail keywords, which only contain one or two words.
Short-tail keywords are too generic for your PPC ad and don't specify user intent. If someone just searches "ice cream," are they looking for the definition, an ice cream place, or how ice cream is made? With a generic search term, it is hard to tell what a user seeks.
In addition, the costs are high for short-tail keywords. Since they are broad, bigger companies will bid on them because they have the money and resources to bid on these generic keywords. Long-tail keywords are more specific, like "ice cream shop in Harrisburg, PA," so the cost per click (CPC) is lower because there is less competition.

If you focus on long-tail keywords, you'll drive better results for your campaign. You'll attract leads that are specifically searching "ice cream shop in Harrisburg, PA." It's a specific keyword that only someone in the Harrisburg area would use, so you know they are a valuable lead for your local business.
Once you select your keywords, you'll bid for your ad's placement. You'll need to set your maximum bid, which is the amount you are willing to pay each time someone clicks on your ad. Your maximum bid is flexible and can be changed at any time.
Your maximum bid and quality score will determine your ads placement. Quality score is based on the ad's relevancy and keyword relevancy. A higher quality score enables you to lower your maximum bid, which enables more clicks for your campaign.
Once you have your placement, you will launch your PPC campaign and start obtaining valuable leads.
PPC is a great way to earn traffic in your area. These ads drive in leads that are the most interested in your business.
In fact, 65% of all high intent searches result in someone clicking on a PPC ad. These are people who know exactly what they want and need to find the right business to fit their needs. By using paid ads, you will drive this valuable traffic to your local business's site.
PPC works great with your budget, too. Whether you want to spend $200 or $2000 on your campaign, you choose the amount that works best for your business's budget. It is important to note, however, that the amount you invest affects your campaign's success.
If you want to drive more traffic from your area, PPC is a great option.
3. Use social media
Social media is a great tool for connecting with your audience. With social media marketing, you can build relationships with local followers and encourage them to purchase.
There are numerous social media platforms you can use, including Facebook, Twitter, Instagram, and LinkedIn. To figure out the right platform for your campaign, you'll need to look at your target audience. You need to select platforms where your target audience frequents the most.
Once you select your platforms, you can start posting content to engage your audience. The type of content will depend upon the platform. Some platforms allow for a variety of content, while others are more restricted.
Platforms like Facebook and Twitter allow for numerous types of content. You can post links, photos, videos, polls, and more. With platforms like Instagram, you can only post photos and videos.
You want to create content that is interesting and engaging for your audience. Get them interested in your local business and encourage them to interact with your content. It's important that you encourage your audience to comment on your posts and share them with their friends and family.
Great content will get your audience to interact with your business. It's a great opportunity to build a connection with them and keep them thinking about your local business.
Social media also enables you to help your audience. They can message your business with questions or concerns. This enables you to answer their questions and respond to their concerns quickly, which can help your business earn more conversions and build a better reputation.

Social media ads
All social media platforms are free to use, but they also offer paid options. You can create paid social media ads to try and reach more interested leads.
Each social media platform offers their own form of paid advertisement. You'll need to investigate your platform to see what type of ads you can create.
With platforms like Facebook, you have more options. Facebook allows you to create photo, video, and carousel ads, amongst other formats. Instagram, on the other hand, only allows for photo and video advertisements.
Social media ads are a great opportunity for you to reach leads that are interested in your business. You can put your ad in front of leads that will like your products. It's a great way to attract more interested leads to your social media page.
Paid social ads are a great way to target local traffic in your area. You can reach local people that are interested in your business. It's a great way to obtain valuable leads that want to learn more about your business.
Through social media, you will earn more traffic in your area. It will help you connect with more valuable leads that you will turn into conversions.
WebFX is a partner businesses trust.
Hear from HydroWorx, who saw a 236% increase in organic sessions with WebFX services.
Watch the Video Testimonial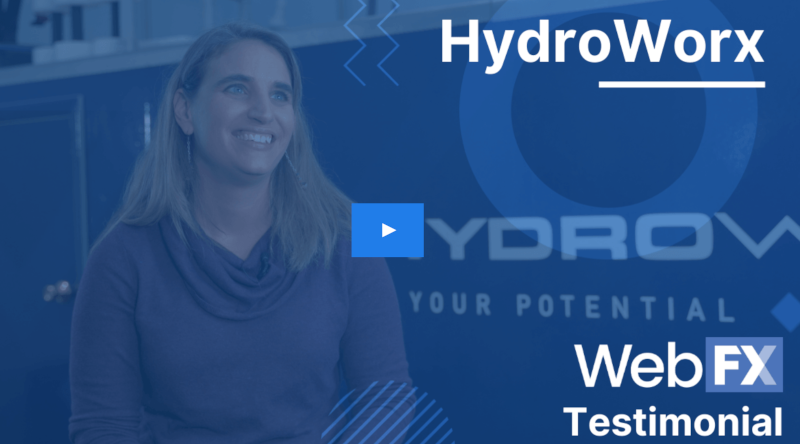 WebFX will help you boost website traffic in your area
When you increase your website's traffic, you earn more valuable leads in your area. This leads to more conversions for your business, which helps your business grow. At WebFX, we know how to create marketing plans that drive more traffic in your area to your website.
Our team of 500+ experts will bring their knowledge and expertise to your campaign. We have over 25 years of experience creating marketing plans that work for our clients. When you partner with us, you get a dedicated team of experts that will create a custom plan that works for your business.
If you want a marketing company that drives results, look no further than WebFX. We've driven over $3 billion in sales and over 7.8 million leads for our clients. Our team focuses on driving success for your business first.
Don't believe us? Just ask our clients! We have over 1020 client testimonials from a variety of industries that attest to the great work we do for our clients.
Earn more traffic in your area today
If you're ready to start earning more traffic in your area, contact us online or call us today at 888-601-5359 to speak with a strategist.
We look forward to helping your business reach new heights!