Did you know that the average user spends 28% of Internet time on social media?
If you haven't started advertising your apartment complex on social media, you're missing an excellent opportunity to reach new tenants for your complex, as well as connect with current residents.
So, if you want to expand into social media for apartments, check out these eight tips for helping you build a presence on social media!
And if you're looking to get more tips and tricks for marketing your business on social media and other platforms, subscribe to Revenue Weekly!
Don't miss our Marketing Manager Insider emails!
Join 200,000 smart marketers and get the month's hottest marketing news and insights delivered straight to your inbox!
Enter your email below:
Inline Subscription Form – CTA 72
"*" indicates required fields
(Don't worry, we'll never share your information!)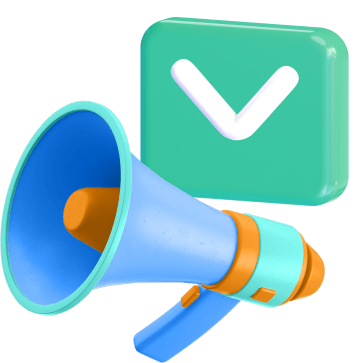 1. Identify the social platforms your audience uses
To do social media marketing for apartments effectively, start by figuring out who you're targeting, so you can choose the right platform. Your audience may not be on every social media platform, so you must figure out where they spend their time, so you can reach them effectively.
To figure out who to target, look at your typical tenet. You'll want to define characteristics like:
Age
Gender
Occupation
Income
Hobbies
Interests
Once you define essential characteristics about your tenets, you can use that information to figure out which platforms they're likely to use. Look at the demographics of social media platforms to determine where your target audience spends most of their time.
You may use more than one platform if you're targeting different types of audiences or if your audience heavily frequents multiple platforms.
Your complex can choose from platforms like:
Determine which platforms work best for your audience and start building a presence on those platforms.

Hear What It's Like to Work With WebFX!

"We were referred to WebFX and have been wowed with their company culture, professionalism and attention to our business needs. It has been a great few months working with them and we look forward to continuing our relationship with them and enhancing our seo!"
Real Estate Agency
2. Go visual with your content
Next on our list of social media ideas for apartments is to go visual with your content. Creating visual content is an excellent way for you to catch your audience's attention and get them to engage with your apartment complex.
You can post numerous types of visual content — the format will depend upon your platform. Try formats like:
Photos
Video
GIFs
Visual content is an opportunity for you to showcase your apartment complex and give a visual insight into what it's like to be at your complex.
Here are some ideas of visual content you can post:
Share a video tour of your apartments
Create an infographic that details the perks of your apartment
Attach a relevant GIF to a text post
Share photos of the inside of your apartments
Share photos of amenities or videos of people using them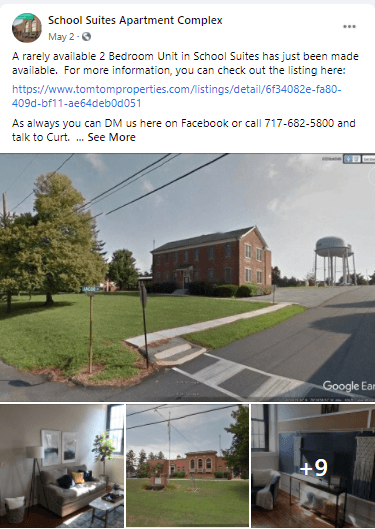 You have numerous great opportunities to share visual content with your audience to get them to engage with your apartment complex.
3. Engage your audience
When you do social media for apartments, you need to engage with your audience. Social media is called "social" for a reason — you're meant to connect and engage with prospective tenants to get them interested in your business.
You can get your prospects to engage by posting polls, asking questions, or creating contests. Your content should entice them to engage and reply to your content.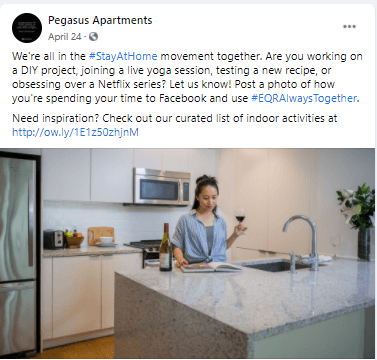 So, for example, you could ask, "What amenity is most important to you?" and see what people say in response. You could ask a broader question, like "What's your favorite part of [city/town where your apartment complex is located]?"
You want to create posts like these to get prospects and tenants to engage with your content.
When people comment on your content, make sure you comment back. You want to foster a relationship with these prospects, and replying to their comment is a great way to do that. Even a simple "That's awesome!" or "Thanks!" can go a long way.
4. Create a community hashtag
When you do social media for apartment communities, a great way to try and boost engagement is to create a community hashtag. Community hashtags can help you curate content about your apartment complex while encouraging current tenants to showcase what it's like to live there.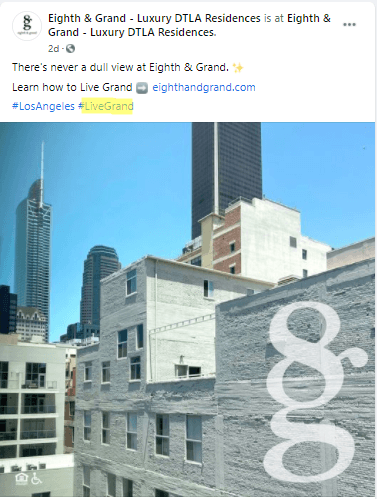 In this example, Eighth & Grand Apartments uses the "#LiveGrand" for their community. It's simple, easy to remember, and aligns with their brand.
When you create a hashtag for your apartment community, you want to take a similar approach. You always want to ensure that your hashtags are easy to remember, so your audience will use them.
You can use branded hashtags in other instances, too. If you're holding events at your apartment complex, you can create a hashtag for those also, like in this example from Pegasus Apartments.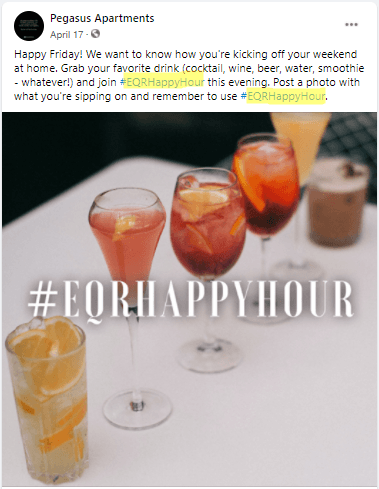 Hashtags are an excellent way for you to get your community involved and get them posting about your apartment complex.
5. Share user-generated content
Along with the use of a community hashtag, you'll want to add user-generated content to your list of social media ideas for apartments. If your current tenants post great content about your complex, you can use that content and promote it on your site.
User-generated content helps provide prospective tenants with insight into your apartment complex. This content can serve as a testimonial about your apartment complex and make prospects feel more confident about choosing your apartments.
Having a community hashtag will help you curate content faster. You can look up the hashtag on your social platform and see what people say about your complex. If it's on a platform like Facebook or Twitter, you can share or retweet the message to your followers.
On a platform like Instagram, you'll want to ask permission to use their photo before posting it on your page, and make sure you give credit back to them!
6. Post resident testimonials
When you do social media for apartments, you want to build your audience's confidence in your complex. A great way to do this is to share resident testimonials on your social profiles.
You can share a video testimonial, photo testimonial with a quote, or a text quote of residents talking about what they love about your complex.
On some platforms, like Facebook, your audience can leave reviews of your complex. If you use Facebook, encourage people to leave reviews on your profile. Also, make sure to check your reviews often and respond to them, whether positive or negative.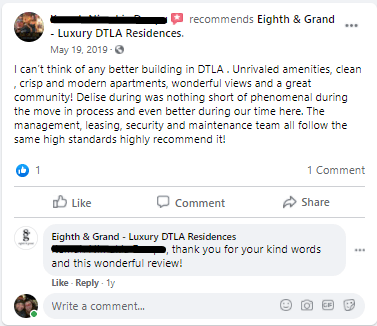 7. Run paid social media advertisements
An important component of social media for apartments is running paid advertisements. Social media ads appear in users' newsfeeds and look like regular content except that they're tagged with the word "sponsored."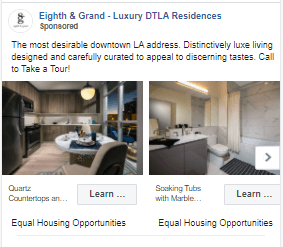 Social media ads are an excellent way for you to reach prospective tenants for your complex. You can put your ads in front of people who haven't discovered your apartment complex yet.
If you run social media ads, make sure you're targeting the right people. You can target different segments within your audience to help you engage people most interested in your complex.
When you run social media ads, you want to ensure that you create ads that stand out in users' newsfeeds. If you use visuals, make sure they're high quality. A grainy or stretched photo won't generate engagement or clicks.
Once you launch your advertising campaign, make sure you keep track of your ad's performance. If your ads aren't performing as well as you like, you can adjust your ad campaign to appeal better to your audience.
8. Highlight special features and amenities
Last on our list of social media ideas for apartments is to talk up your apartment on social. This idea may seem obvious, but it's an important one to note. When you're posting about your apartment complex, don't forget to highlight the remarkable features of your complex.
In this example from Eighth & Grand Apartments, you can see they mention their pet-friendly living.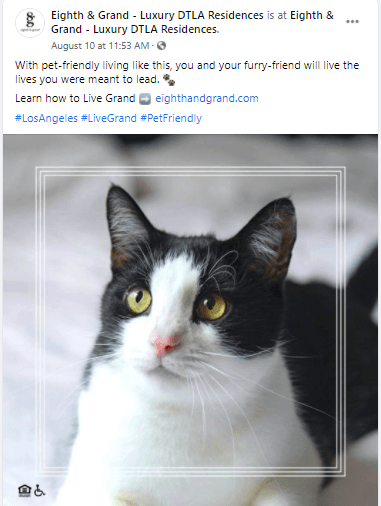 Pet-friendliness is just one of the many features you can highlight. You can highlight features like:
Number of bedrooms
Size of space
Style of space
Parking
Amenities (washer and dryer in-unit, pool, dog park, etc.)
Talking up your apartment can help you get people more engaged on social media, and they'll spend more time learning about your complex.
Get started with social media for apartments
If you're ready to market your apartment complex on social media, now is the time. Social media marketing for apartments is an excellent strategy for you to reach new tenants, engage with them, and nurture these prospects towards choosing your complex.
At WebFX, we have over a decade of experience creating social media campaigns that drive results. We've driven over $3 billion in sales and over 7.8 million leads for our clients in the past five years alone. You can feel confident that we'll help you create a social campaign that helps your business thrive online.
Ready to make your move? Give us a call at 888-601-5359 or contact us online to speak with a strategist about our social media marketing and social media advertising services!
Earn a 20% greater ROI with WebFX