With well over 2 billion Facebook users out there, it's hard to understand why any business would neglect to advertise on the platform. If you're new to the world of advertising your business on Facebook, we've got you covered with the five-ingredient secret sauce that you'll need to promote your business on Facebook.
5 tips for how to market on Facebook
It's important to understand the importance of a Facebook business page, how you can use Facebook for business overall, and how to promote your business using Facebook, but let's start with the good stuff. Read on to learn the secret formula to teach you how to successfully advertise your business on Facebook!
How to advertise your business on Facebook: 2 strategies for boosting engagement
With billions of potential customers on Facebook, it's a missed opportunity to not create a Facebook business page. It can do much more than just connect you with potential customers — your Facebook business page can help you increase website traffic, sell more products, facilitate customer interaction, and even increase your company's revenue year over year.
We'll talk about some more ways that you can promote your business on Facebook later in this post, but first, let's talk about the two things that you can't live without if you want to successfully advertise your business on Facebook. Both ingredients are based on the crux of any successful advertising campaign — human interaction.
1. Post interactive content
All content provides the potential for user interaction, but some kinds of posts work better than others. One way to ensure that you're building a genuine connection with your target audience is to get to know them, and one way to do so is encouraging engagement with interactive posts. When you use interactive posts to get to know your audience, it makes them feel more comfortable with you, too.
This is a genius advertising strategy, since users are much more likely to purchase from you if they feel comfortable and amicable toward you and your brand. It's a win-win Facebook advertising strategy! Check out some of our favorite kinds of interactive posts that can help you interact with your audience, get to know them better, and in the end, advertise your business more effectively on Facebook.
Post industry content and ask followers to comment: It's always beneficial to post content that users will be interested in, and even better if you can get them so interested that they're willing to comment. For example, try sharing the latest industry news, and ask your followers what they think!
Ask questions that users want to answer: When you ask questions that users want to provide answers to, you can interact with them on a deeper level, and learn more about them as customers. For example, if you own a salon, ask your followers what service you'd like to see become available in the next few months. Followers want to answer since they know that it could benefit them in the future if you were to offer that service.
Post polls: One of the best ways to get users to engage with your Facebook business page is by posting a poll. It could pertain to just about anything that has to do with your products or services, or even something a bit more personal. If you sell car parts, for example, you could create a poll asking followers what their first car was.
New product or service announcements: Your customers get excited when they know something new is coming, so share your plans with them! For example, if you run a floral business, and you post a video about the new flowers you'll have available in the spring, ask users what kind of flower they're most excited to purchase.
2. Interact with users
Like we mentioned, one of the best ways to advertise your business on Facebook is to first create a relationship with your audience. When you do so, they feel closer to you as a brand and develop brand loyalty — which is trust in your products, services, and business as a whole. This business-consumer relationship is one of the most important stepping stones to successfully promoting your business using Facebook.
Keep in mind that just as much as you want to hear from your audience, they also want to hear back from you. That's why the second ingredient in our secret sauce is interacting back with your customers. If you post a poll, be sure to share the results with your audience.
Did someone reply to your video about the spring flowers you'll have available? Comment back and share what colors you'll have in the particular flower they're excited for.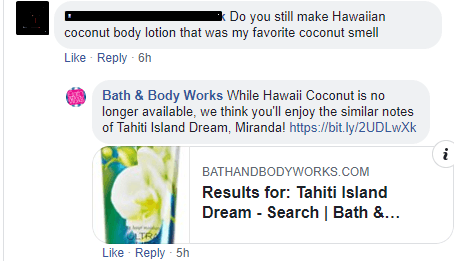 This kind of interaction will forge a bond not only between you and the customer you're directly interacting with, but other users who visit your Facebook business page will see how much you care for your clients by way of interacting directly with them.
Not only is it important to outwardly interact with your target audience, but you should also be sure to answer any messages you get as soon as possible. Many users look at Facebook Messenger as a sort of customer service outlet which allows them to easily contact you with questions and concerns. Don't let those messages fall by the wayside, answer them as soon as possible to show your customers that you care about their satisfaction — no matter how small the issue.
How do these two steps help you advertise your business on Facebook?
You might be wondering how to advertise your business on Facebook with these two simple suggestions — and how they will keep people coming back for more.
Though our two favorite tips aren't glamorous, they're the basis of any successful Facebook marketing campaign. Without building a strong bond with your customers, our other suggestions for marketing on Facebook will fall flat. Speaking of more ways to promote your business using Facebook, let's move on!
3 additional tips for marketing on Facebook
Now that you understand the two most important elements of advertising your business on Facebook, it's time to talk about some other ways you can draw attention to your Facebook page.
1. Link to your social accounts from your website
Your website is the online home of your business. Without a website, it'll be hard to sell your products unless you have a storefront in every state. A web presence allows you to make sales to customers around the world, without the need for a physical storefront.

On your website, you likely have a home page, an about page, and a products or services page, in addition to other informative pages housed in a blog. Unless you have a chatbot on your website, it's unlikely that you use your website directly for communication and interaction with your customers, which is where linking to your social accounts come in. You should make an appoint to link to your Facebook account from your website so that users can get to know the interactive, client-facing side of your business that you exhibit on Facebook.
Although your website contact forms present a great way to get in touch, your activity on Facebook can help users get to know you and your business in a more dynamic way.
2. Opt for Facebook ads
Facebook ads are an extremely effective way to promote your business on Facebook since they target your ideal audience by demographics, interests, and other important characteristics. With this kind of granular targeting, you're able to reach those who are the most interested in your products and services, essentially without lifting a finger. Facebook ads work on a bidding system, which means you'll be bidding against other competitors in your industry to place ads for the keywords that mean most to your business.
However, the best part is, you'll decide exactly how much you spend on ads — and you'll never overspend. You can either manually decide how much you'll spend on each ad, or you can leave it to Facebook to get you the most engagements possible with your allotted budget. No matter how you utilize Facebook ads, they're a great way to advertise your business on the platform.
3. Monitor your engagement
One of the best ways to advertise your business on Facebook is to monitor your results and engagement. This may sound confusing, since monitoring analytics doesn't directly relate to advertising — or does it? The only way to know if your Facebook strategy is working properly is to monitor engagement with your posts.
If you don't, you won't be able to gain insight into what strategies are working and what's not. For example, if you're posting a ton of polls but not getting a ton of interaction, you could be wasting time on a strategy that isn't driving results. It will benefit your Facebook advertising strategy in the long run, and make it more successful if you consistently analyze your campaigns so that you can tweak the elements that are underperforming.
Interested in how to advertise your business on Facebook?
If you're interested in how to get followers on Facebook but aren't sure where to start, that's where the Facebook marketing experts at WebFX come in.
We've been in the business for over a decade and have over 1020 client testimonials to prove just how much our clients love the results that we drive. We provide Facebook advertising services to help businesses in a wide variety of niches successfully promote their business using Facebook, and we can't wait to help your business next. If you'd like to learn more about what we can do for your business through Facebook, feel free to contact us online or give us a call at 888-601-5359!
WebFX Careers
Join our mission to provide industry-leading digital marketing services to businesses around the globe - all while building your personal knowledge and growing as an individual.