With companies earning $8 for every $1 they invest in Google Ads, it's no wonder more businesses have added pay-per-click (PPC) advertising to their digital marketing arsenals. If you want to succeed at Google PPC and conquer the competition, this guide on Google PPC ads is for you. Excited to learn more about Google PPC, what it is, and how much it costs?
Keep reading this 10-minute guide to launching a successful ad campaign on Google. Plus, get a quick walkthrough on how to launch your next campaign! If you're looking for professional help advertising on Google, contact us online for more information!
Whether you need PPC services in Raleigh or PPC in Richmond, we've got you covered.
Bonus Read: Check Out the Answers to the Most Common PPC Questions!
What is Google PPC?
With Google PPC, your business can leverage the popularity of Google and the convenience of PPC advertising to reach and convert your target audience. Via Google Ads, which is Google's advertising platform, you can create ad campaigns that appear in Google search results and affiliate websites. Below, you can see an example of an ad from Google.

Where can you advertise with Google PPC ads?
If your company invests in Google PPC ads, you can advertise on two channels:
Google Display Network
With the Google Display Network, your business can reach, attract, and convert members of your target audience with engaging images and compelling copy. Plus, your ads can appear on desktops, laptops, tablets, and smartphones. Ads created for the Google Display Network can appear in the following locations:
YouTube
Affiliate websites
Gmail
Mobile apps
Below, you can see an example of a Google Display Network ad:

Companies like advertising on the Google Display Network for a few reasons, including:
Images: Visuals are powerful. They can help you convey an idea or emotion in an instant, plus capture the attention of people browsing the Internet. That's why companies like to use display ads for Google PPC.
Remarketing: People shop in-the-moment and everyday distractions, like a phone call, can cause them to put their shopping on pause. With remarketing, however, your business can reconnect with these users, reminding them about your product or service.
Targeting: Advertise on the Google Display Network and your business can reach shoppers in different stages of the buying funnel. For example, your landscaping company could create an ad that appeals to brand-new homeowners, before they even begin searching for your services.
If you advertise on the Google Display Network, you can also take advantage of these ad types:
Image: Advertises your business with static or animated images.
Video: Promotes your company with a video across YouTube.
Responsive: Allows Google to optimize your ad copy, images, and logo for performance.
For the best results, your business can experiment with each of these PPC options for Google.
Google Search Network
With the Google Search Network, your company targets shoppers as they search Google and browse the search results of websites in the Search Network. The Search Network includes Google and non-Google sites, also known as search partners. Like the Google Display Network, your ads can appear on desktops, laptops, tablets, and mobile devices.

Ads for the Google Search Network can appear in the following locations:
Google Search
Google Play
Google Shopping
Google Maps
Google Video
Search partner sites
A few reasons businesses choose the Google Search Network for advertising include:
Versatility: When you use Google PPC on the Google Search Network, you have access to a variety of ad types. You can promote your business with a basic text ad, highlight your product with a shopping ad, or use an image ad to catch the attention of Internet users.
Targeting: Companies also like the Google Search Network for Google PPC ads because you can target shoppers at the moment. They're looking for emergency plumbing services, for example, or a pair of dress shoes and your ad delivers on their expectations and wants.
Placements: Compared to the Google Display Network, the Google Search Network provides your business with a significant amount of real estate. You can advertise on Google Maps, for example, which is a massive advantage for brick-and-mortar stores.
If you use the Google Search Network, you can create a few types of Google PPC ads, including:
Depending on your business, you may find one ad type offers better performance than another. For example, if your company provides services, rather than products, you won't see much use for shopping ads. Instead, you may try text ads.
In most cases, companies use the Google Display Network and the Google Search Network. Not sold? Check out our blog post covering 5 dynamic search ad benefits.
How much do ads on Google cost?
With PPC on Google, you have complete control over your advertising budget.

Whether you're looking to spend $500 or $2000 per month, your company decides. This is a distinct advantage over traditional advertising, which often requires your business to invest a specific amount. For example, if you want to purchase a billboard, the billboard company sets the price.
While you can spend what you want on Google PPC, your industry can set a benchmark for your ad budget. A competitive industry, for instance, may force your business to invest an additional $200 per month on your campaign. Even if you launched a top-notch ad campaign, a low budget and bid could cost your business valuable placements in search results.
For example, instead of appearing at the top of search results, your ad may display at the bottom. If you're looking for pricing guidance when it comes to Google PPC, most small-to-midsize businesses (SMBs) spend $9000 to $10,000 per month on PPC. Keep in mind that this total goes beyond Google advertising.
It can also include ad spends for other search networks, like Bing.
Why use Google PPC ads?
Investing in Google PPC ads can offer your business multiple advantages, including:
Prime real estate in search results
Ads from the Google Search Network get the best spot in search results on Google. That's why more than 45 percent of clicks go to the first three Google PPC ads in search results. With this prime real estate, your business can reach and convert your target audience, which translates to more sales and revenue.
Access to millions of users
Google dominates the search market.
It's the preferred choice for millions of users worldwide, which is why companies like to use Google PPC for online advertising. Whether your business uses the Google Search Network or Google Display Network, you can reach a substantial part of your target market.
Advanced targeting technology
The targeting capabilities of Google PPC ads is unreal. Whether you're looking to reach users with a specific interest, like fly fishing, or within a specific demographic, like 65 or older, you can do it with Google Ads.
A few additional targeting options available with Google PPC include:
Location
Topics
Parental status
Habits
With these targeting options, your business can reach your ideal client with ease.
Cost-effective advertising option
Google Ads is also profitable for many companies. It offers an impressive return on investment (ROI) of $8 for every $1 invested. In comparison, other platforms for PPC advertising provide an average ROI of $2 for every $1 spent.
Companion to SEO
If you're investing in Google PPC, your company should also consider search engine optimization (SEO).
With SEO, you improve your organic ranking in search results by optimizing your website for not only search engines but also users.
For example, a landscaping company may create a page on its website for residential services. They want this page to appear in search results for residential landscaping, so they optimize that page for keywords and user expectations related to that search.
SEO is the perfect companion to PPC for a few reasons:
Apply your PPC data, like keywords, to your SEO strategy
Lower your PPC costs by dominating the organic search results
Maximize your online visibility by appearing in paid and organic search results
If you haven't considered SEO before, check our free SEO guide!
5 steps for launching your next Google PPC campaign
Excited to use Google Ads? Learn how to launch your next Google PPC campaign in five steps:
1. Research keywords
While you can target more than keywords with Google PPC ads, like interests, it's common for many businesses to focus on keyword targeting. Whether your team focuses on keywords or interests, these factors will cause your ad to trigger. For example, if you target the keyword, "emergency plumbing services," your ad will trigger when someone searches for that phrase on Google.
If you target that keyword, plus locations within a 15-mile radius of your shop, then your ad will only appear when people use that search term in that vicinity. This response causes Google to begin an auction, which determines your ad's position and your cost-per-click (CPC). Your placement depends on your bid and Ad Rank.
If you want to learn more about the ad auction process, browse our overview of PPC auctions. When it comes to researching keywords for your ad campaign, you can use a few tools, including:
You can also browse your social media, as well as industry forums, to see how your target audience phrases their questions or concerns. This research can also expose some opportunities for your content marketing strategy.
2. Create ad campaigns and ad groups
Next, your business can create your ad campaigns and ad groups. For reference, a campaign can feature multiple ad groups. The campaign covers a general topic, while the ad group targets a specific topic.
As an example, you may have a campaign for sneakers and then two ad groups for yellow sneakers and red sneakers. For the best Google Ads campaign management, you want to follow best practices for account hierarchy.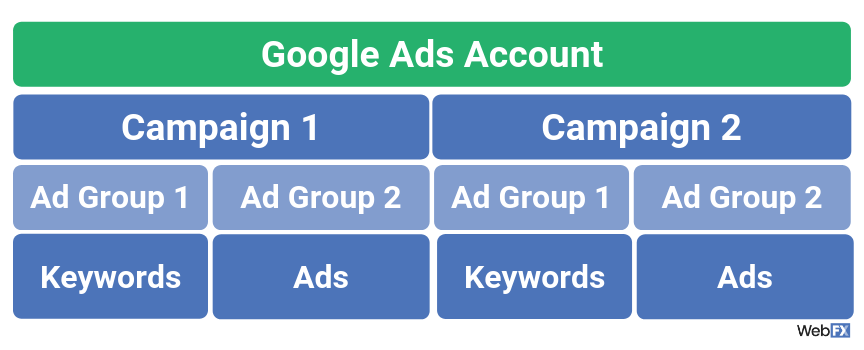 3. Set a budget and a bid
When you create your ad campaign, as well as ad groups, you need to supply a budget and a bid.
Budget: You set your monthly budget at the campaign level. It's what your company's willing to spend (at most) on your campaign. When you enter your campaign budget, remember that this budget gets divided between all your ad groups.
Bid: You create a maximum bid for every ad group. It's what your company's willing to pay for someone to click on your ad. Depending on your Google PPC ad, you can bid for someone to convert, rather than to click on your ad.
Like other aspects of Google PPC, you can change your bid and budget at any time.
4. Write ad copy
Depending on your business, you may write your ad copy before or after creating your ad campaign and ad groups. For many companies, it's easier to develop your ad copy before and then copy-and-paste it into your ads. Ad copy includes a headline and a description.
When you create your ad copy, remember to check the character limits for your Google PPC ads. In most cases, headlines can have a maximum of 30 characters while descriptions can have a maximum of 90 characters. If you're creating a video or image ad, upload your images and videos too.
5. Launch your campaign
After proofreading your copy and double-checking your ad's targeting, you can launch your campaign. Before your ads appear across the Google Display Network or Google Search Network, it undergoes a review by Google. Once approved, your ads start displaying online.
While you can launch and leave your Google PPC ads, it's best practice to optimize and proactively manage your campaign. Review your campaign and ad group data on a routine basis. Look for trends and then make updates, like to your ad copy, landing page, or targeting.
With this proactive approach, you can make the most of Google PPC.
Want to become an expert at Google PPC ads?
With our industry-trusted newsletter, you can learn everything about Google Ads. From the latest ad types to the newest strategies, our newsletter keeps you and your team up-to-date. Sign up today to start receiving expert guidance on Google PPC ads!
For professional help with Google PPC, trust WebFX. With more than 25 years of experience, plus hundreds of successful ad campaigns, we can help your business earn more from your Google PPC ads. Browse our PPC services to learn more today!
Or contact us online to chat with a strategist!
How is your website's SEO?
Use our free tool to get your score calculated in under 60 seconds.
Get posts by email
Join 200,000 marketing managers and subscribe to Revenue Weekly!
"*" indicates required fields
WebFX Careers
Join our mission to provide industry-leading digital marketing services to businesses around the globe - all while building your personal knowledge and growing as an individual.