Are you running a large site and struggling to rank for competitive, high-value keywords? Your SEO strategy should be tailored to your business's needs, so if your site has lots of pages, and traditional SEO tactics aren't meeting your requirements, it may be time to upgrade to enterprise search engine optimization (SEO). In this post, we'll go over the basics of enterprise SEO, including the definition of enterprise SEO, what strategies it includes, its potential benefits, and how to tell if enterprise SEO is right for your company.
WebFX is an experienced enterprise SEO agency, and we've generated more than $2.4 billion in revenue for our clients in the last five years. Contact us or keep reading to learn more!
Looking for an all-in-one SEO audit tool? You've found it.
SEO Checker provides data on key metrics to give you:
Complete SEO score
Content Grade
Site Speed Analysis
and more.
What is SEO?
SEO is a collection of strategies that help your site rank higher in search engines for relevant keywords.

It involves making your site easier for search engines to understand as well as improving the overall quality of your website.
Some examples of SEO tactics include:
Bonus Read: Why using a mobile SEO checker is crucial
What is enterprise SEO?
So, what is enterprise SEO, and how does it compare to other SEO services? Enterprise SEO is similar to standard SEO at its core, but it involves goals and strategies tailored to the needs of enterprise sites. Enterprise sites are those with a large number of pages — often 1000 or more.
They often belong to larger corporations, but not always. A mid-sized company that offers a wide range of products may have a site with lots of pages, while a large corporation with a more limited offering may need comparatively fewer pages. With enterprise SEO, it's more about the size of your site and your SEO needs than the size of your company.
Enterprise SEO uses a more aggressive approach than traditional SEO. It usually involves targeting highly competitive keywords, whereas traditional SEO is more likely to focus on low-competition — but still high-value — keywords. The keywords that enterprise SEO strategies target also often have high search volume.
Search volume refers to the total number of times people searched the term in a given period, usually a month. These high-competition, high-search-volume keywords are often short-tail keywords, rather than long-tail keywords. Here's a quick look at the differences between these two types of keywords:
Short-tail keywords are one word or just a few words long. They are more general than long-tail keywords and typically have higher search volume and more competition. "Scuba diving" is an example of a short-tail keyword.
Long-tail keywords are longer and more specific. They tend to have lower search volume and competition. "Best scuba diving in Florida" is an example of a long-tail keyword.
Here's a report from Ahrefs on the keyword "scuba diving." This short-tail keyword has a keyword difficulty of 48 and is considered hard to rank for in the top 10 search results. Its search volume is 28,000.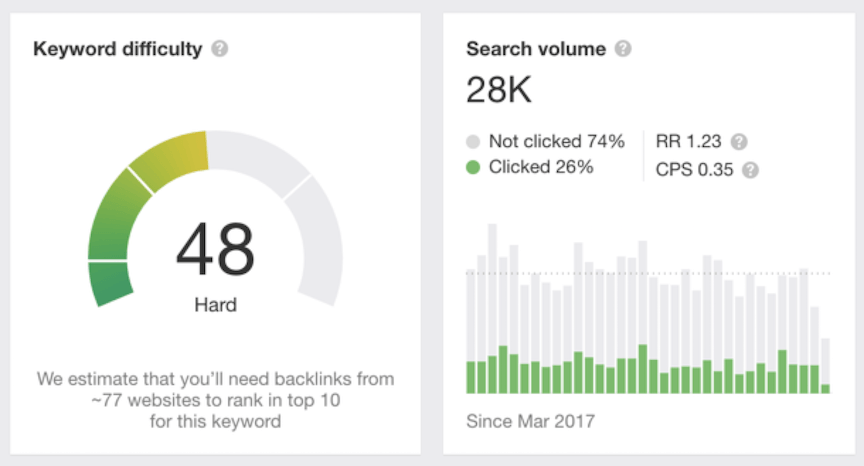 And here's the same report for the long-tail keyword "best scuba diving in Florida." This keyword is much easier to rank for and has a keyword difficulty of six. Its search volume is just 250.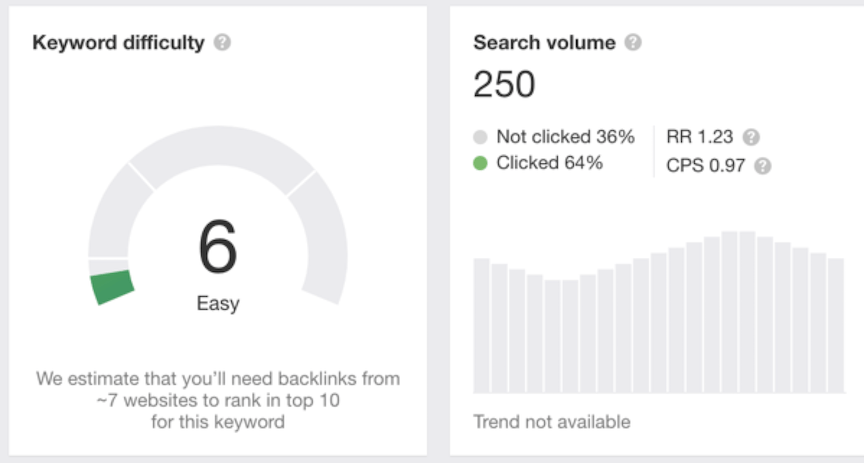 Because enterprise SEO targets high-value, high-competition keywords, it involves advanced tactics and larger investments than traditional SEO.
Enterprise SEO services often start at around $11,500 per month and can cost upwards of $21,500 per month for more extensive services. To sum up, enterprise SEO:
Is often used for websites with a large number of pages
Involves targeting short-tail, high-competition, high-search-volume keywords
Requires advanced SEO tactics and a larger financial investment
Are enterprise SEO services right for your company?
If you run an enterprise site, you may already rank for lots of low-competition, long-tail keywords. At this point, the best way to improve your search rankings and grow your business may be to target highly competitive short-tail keywords. When you rank well for these kinds of keywords, you can truly dominate the search results for your industry and take your business growth to the next level.
To gain traffic and leads from these keywords, you need to rank high up in the results since 95% of search traffic goes to the first page of results. Enterprise SEO can help you get there. How do you know if your company is ready to invest in enterprise SEO services?
Look for the following signs:
Your website has many pages
Your website ranks for many long-tail keywords
Your company would benefit from ranking for competitive short-tail keywords
What do enterprise SEO strategies include?
Although enterprise SEO strategies typically focus on different keywords than standard SEO services, they use many of the same tactics and processes. At WebFX, we use a six-step approach to SEO that we call the R.O.C.K.E.T. approach.
The steps of the R.O.C.K.E.T. approach are:
Research: Research forms the foundation of our SEO strategies. We start with in-depth research on your competition and a thorough analysis of your website to uncover opportunities.
Optimize: We then begin optimizing your online presence, starting with the most high-impact opportunities. Examples of optimization opportunities include your page titles, meta descriptions, site usability, and website architecture.
Content: We also plan, create, and promote high-quality content for your site that's designed to generate traffic and conversions.
Keywords: Conducting extensive keyword research is another crucial step in the process. We conduct a competitor keyword analysis, complete a keyword mapping report, and implement advanced rank tracking.
Earned media and links: We also help your content earn shares, earn mentions of your business in the press, and develop and execute viral marketing campaigns for your brand.
Testing: We'll also conduct comprehensive conversion rate testing and optimization and return on interest (ROI) tracking.
Our enterprise SEO services also include the following:
Custom strategy: We'll develop an enterprise SEO strategy tailored to your business's needs.
Universal SEO: Our SEO services include optimization of all elements of your website, including video, images, news, and maps.
Analytics and reporting: You'll get access to advanced analytics and regular, transparent reporting. You'll receive monthly reports and may also receive weekly updates, depending on your plan.
Dedicated account team: You'll have a dedicated team of five or more members developing, implementing, and reporting on your enterprise SEO strategy.
A social media strategy: Social media plays a crucial role in helping you build your brand and connect with your audience. We also offer social media strategy creation and implementation as part of our enterprise SEO services.
We're a full-service digital marketing agency, so we also offer a variety of additional services that can support your enterprise SEO strategy. The services we offer include:
Bonus reading: On-page SEO checker
Work with an experienced enterprise SEO agency
WebFX is an experienced enterprise SEO agency that focuses on getting results. We've generated $2.4 billion in revenue for our clients over the last five years and have a client retention rate of nearly 100 percent. We can create an enterprise SEO strategy that's tailored to your business's requirements, and take the work out of SEO by implementing the strategy for you.
We'll also keep you up to date with regular, transparent reporting. To learn more about SEO, explore our free resources. Or, contact us to speak with a strategist about how our enterprise SEO services can benefit your business.
WebFX Careers
Join our mission to provide industry-leading digital marketing services to businesses around the globe - all while building your personal knowledge and growing as an individual.