6 Steps That'll Help You Submit a Site to Google News
Google News is quickly becoming a one-stop shop for many Internet users. It allows searchers to see the latest headlines or select the stories they want by topic and news source.
As a site owner, it's also a great place to ramp up your PR and content strategies.
For many companies, chatter and name recognition are as important as sales and revenue. One may even lead to the other. That's why public relations and content marketing are so important in the age of digital marketing, and why sites like Google News have become increasingly valuable.
Like other content channels, though, Google News has certain standards you have to follow if you want your content to appear there. Comply with these requirements and enjoy all the benefits of a result in Google News.
If you'd like to speak to a specialist, you can reach us at 888-601-5359.
Our digital marketing campaigns impact the metrics that improve your bottom line.
See More Results

WebFX has driven the following results for clients:

$3 billion
In client revenue

7.8 million
Leads for our clients

5.2 million
Client phone calls
Submitting your site
Submitting your site to Google News doesn't have to be a difficult process! Follow our six steps below!
1. Follow Google's guidelines
Your website is one of thousands that's trying to get exposure on Google. With so much content coming in, the site doesn't have time to deal with pages that don't meet all of their requirements.
You don't want to run the risk of your site being rejected because you didn't follow the rules, so make sure each page of your site conforms to the guidelines set by Google News.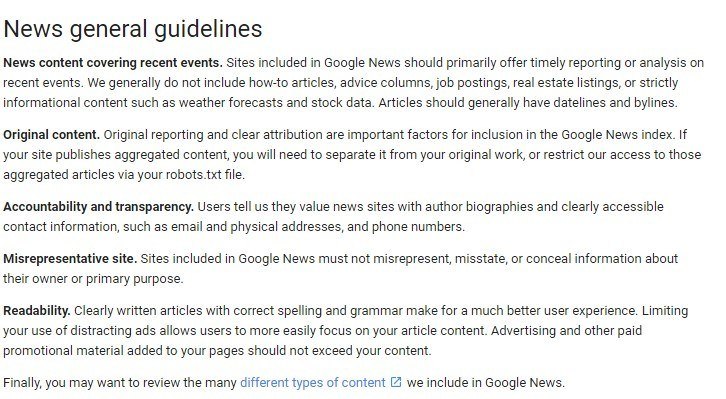 Once you're sure the content is valuable and presented objectively, it's ready for the next step.
2. Use the proper formatting
Your site may have lots of multimedia content, but Google News can't read all of it. It can "read" the text accompanying a video or an infographic, but it can't comprehend the content itself.
Right now, text is the only format that search engine crawlers understand, so make sure your most newsworthy content has plenty of it. Format your content the way you would any other web page. Don't use frames or other non-readable formats.
If you really feel like multimedia content is newsworthy, include title and header tags that provide an idea of what the multimedia content covers. Then, write a full description of what the video is about so that Google can accurately deliver it to searchers.
3. Create readable URLs
Google looks at the whole page for clues about its quality and relevance. The URL is one of the first places it looks. If the URLs on your site are comprised of random characters, Google won't be able to make sense of them.
Create unique URLs for each page so that Google and other search engines can more easily understand their content.
Look at the URL of a recent news story, for example, and you'll see it mirrors the article's title almost exactly. Instances of "the" and "and" may be removed, but the rest is the same.
Treat your pages the same way. Think of a title that will catch the attention of readers and Google News, and make that title your URL. Take your time with this step, because once you create the URL, it could cause problems if you change it later.
4. Create a sitemap
Google News doesn't explicitly ban sites that don't have sitemaps, but your job is simpler when you have one. A sitemap makes it easier for the search engines to crawl, index and categorize content, and this speeds up the process of getting your site submitted to Google and in front of readers.
To get the full benefits of a sitemap, though, you need to follow the protocols to a tee. Only include the pages that feature original content—submitting syndicated content could get you banned. Also, limit the task to only the most recent news. Anything older than two days isn't news anymore, and Google News will respond accordingly.
5. Optimize every page
Google News presents the most recent headlines, but it also lets visitors customize their feeds, so they only see news from their preferred categories and search parameters. In other words, your content is as searchable as your site is on search engines, so each page submitted to Google News needs to be optimized in the same way.
Make your headlines scannable by search engines with the most relevant keywords and phrases for your target audience. This increases the chances of your articles appearing, whether people are scanning the headlines or searching on their own terms.
6. Provide contact information
Every news article must contain a byline if it's going to stand a chance of being considered newsworthy. The same is true for Google News stories. To prove your content's validity—and invite further inquiry—include contact information with each story.
Bylined articles should include a short bio at the end, including professional achievements and an email address. For every other piece of content, a Contact Us page in your site will do. These pages usually include an address, phone number and email.
Want to increase your site's visibility online?
Getting your site listed in Google News can do wonders for brand awareness, website traffic and even search engine rankings. But before you can reap these benefits, you have to know how to submit a site to Google News. These tips will get you off to a good start and increase your brand's visibility.
Google News isn't the only way to increase online visibility. If you're looking to increase site traffic and attract more customers online, WebFX can help. Contact us today to discuss your company's goals with a strategist!
How Is Your Website's SEO?
Use our free tool to get your score calculated in under 60 seconds.