Facebook Paid Advertising: How to Create a Stellar Facebook Ad
Facebook has over 2.3 billion monthly active users. With this many people engaging on their platform, it creates an excellent opportunity for you to reach people interested in your business. Facebook paid advertising is an excellent option for your business to capture new leads.
On this page, we'll discuss how to create a Facebook ad and four advertising tips to help you with your campaigns. To learn more about Facebook advertising, call us today at 888-601-5359 to learn about our Facebook advertising packages.
How to create a Facebook ad
Facebook paid advertising is an easy strategy to use for your business since you can create and manage your Facebook ads through the Facebook Ads manager. Let's look at the steps you'll take to create your social media ad.
ORGANIC OR PAID FACEBOOK ADVERTISING? SEE WHAT THE EXPERTS SAY
1. Choose your objective
The first step to running a Facebook ad requires choosing your objective. Your campaign must have a goal or focus in mind.
Facebook offers numerous ad objectives, including:
Increase brand awareness
Increase reach
Generate leads
Obtain app installs
Increase traffic on your site or app
Increase engagement
Video views
Earn sales
You can select any of these objectives to guide your campaign.
In the example below, the purpose of the Yelp ad is to get users to sign up to use Yelp for their business.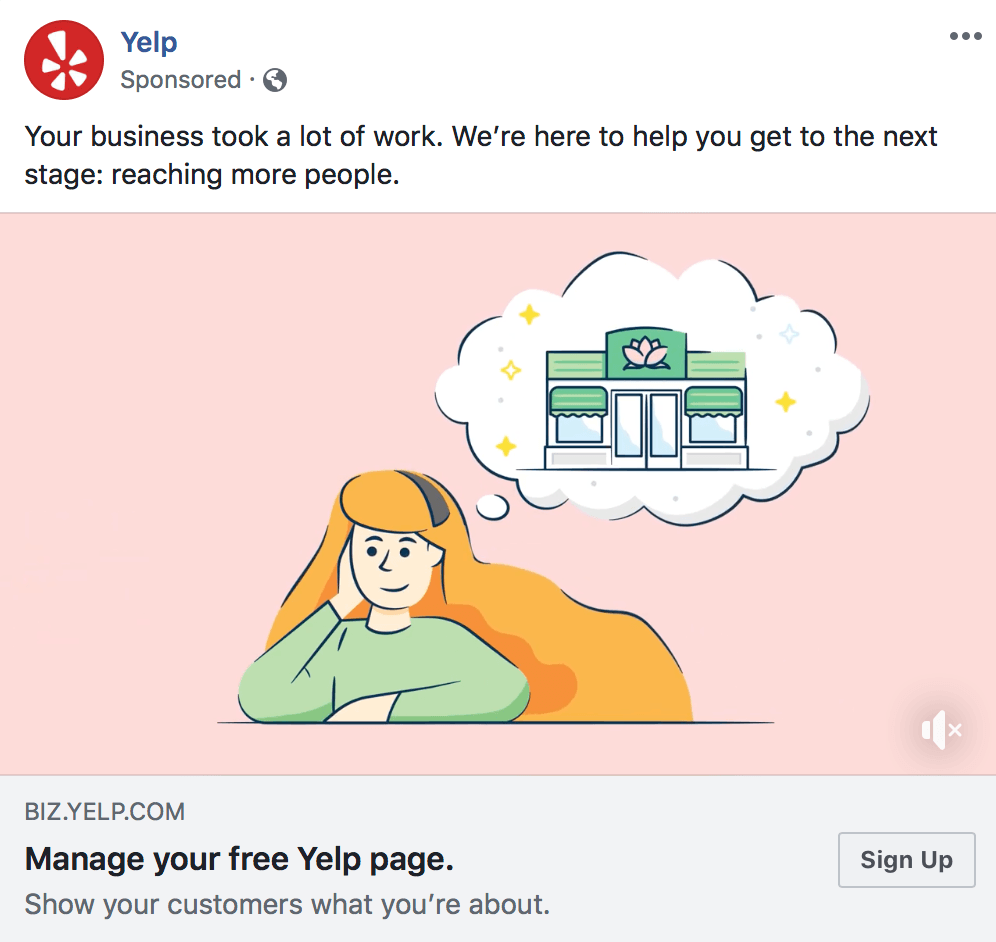 2. Set your target audience
Your target audience is crucial to your campaign's success since they're the users that are most interested in your products and services, and most likely to convert by clicking your Facebook ads.
Facebook has great targeting features for advertising. You can target people based on:
Demographics
Interests
Behavior
Location
With specific targeting perimeters, you can reach leads more precisely. It allows you to take a more focused approach to your advertising campaign and only focus on those who are most likely to click your ads.
3. Determine your budget
Your budget is an essential part of your campaign, and if you don't set one from the beginning, you can find your business in financial trouble.
Facebook gives you the option to set a daily or lifetime budget and allows you to choose how long you want your ad to run.
Let's say you're having a sale all week and want to advertise it to potential customers. You want to ensure that different people see your ad every day and come into your store or click on your website. In this scenario, a daily budget would be best for your advertising campaign.
A daily budget ensures that you only spend a certain amount each day. Once you hit your daily limit, your ad isn't visible until the next day.
If you opt for a lifetime budget, you may end up spending your entire budget at the beginning of the week. In the scenario mentioned above, a daily budget would work better to ensure people see your sale throughout the week.
The type of budget depends upon what you want to achieve with your campaign. Regardless of whether you choose a daily or a lifetime budget, Facebook's ad platform won't allow you to overspend. This setup helps you stay within your budget to get the most leads for your business.
4. Decide on your ad format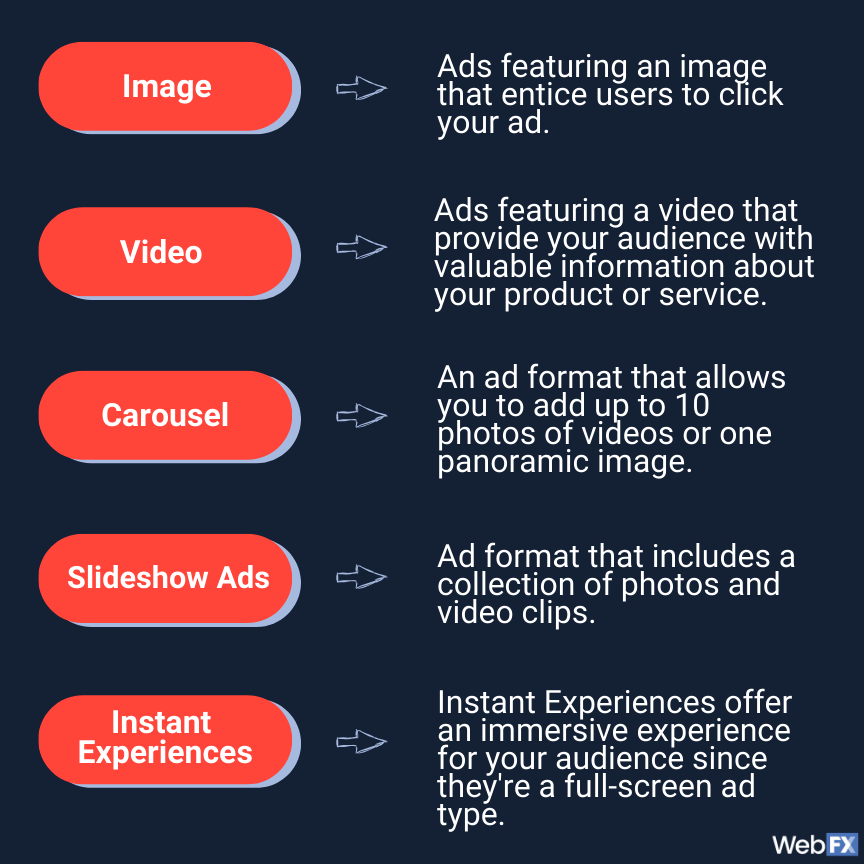 After you set your budget, you'll choose your ad format. There are numerous types of Facebook ads to get your audience engaged on your page.
Let's take a look at the different format options for advertising on Facebook:
Image: Image ads are the most straightforward ad format for advertising on Facebook. You use a visually engaging photo to get people to check out your ad.
Video: Videos are a common way to advertise on Facebook. You create short videos that provide your audience with valuable information in an engaging format.
Carousel: Carousel ads enable you to add up to 10 photos or videos in your ad. You can create one panoramic image over these cards, or you can use multiple pictures and videos.
Slideshow ads: Slideshow ads include a short video with a collection of photos and video clips. These ads load easily, making them a great choice since they're visible to users with any type of Internet connection.
Instant Experiences: Instant Experiences offer an immersive ad experience for your audience. These full-screen ads provide an in-depth ad experience.
You'll want to choose an ad format that enables you to provide enough information for your audience and get them to engage on your page.
5. Choose ad placement
Once you've chosen your ad format, you'll select your ad placement. The easiest option is to use automatic placement, where Facebook will decide the best placement for your ad.
If you want to choose your ad placement on your own, you'll first need to decide on the devices where you want your ad to appear. You can choose to advertise on mobile, desktop, or both.
Next, you'll choose the platform. With Facebook, you can advertise on their platform, Instagram, through the Audience Network, and Messenger.
6. Submit your ad
Once you have all your information set, you'll submit your ad. After submitting your ad, it goes to auction. Auctions take place each time there's an opportunity to show an advertisement to someone in your target audience.
So, how do you win an auction?
To win an auction, you must have the highest total value with your ad. Facebook calculates your value based on your bid amount, the likelihood someone interacts with your ad, and ad quality.
If you want to win an ad auction, you must create a high-quality ad that engages your audience.
7. Run your ads and monitor them
Once you win an auction, it's time to monitor your ad's performance. It's crucial to monitor their performance, so you know if your ads drive the results you desire.
When you track your ads, you can look at different metrics of engagement. You can track clicks, conversions, and more. By monitoring these metrics, you'll understand how your audience engages with your ad, so you can improve your ad campaign.
BONUS READING: WHY WE THINK SIMON COWELL CRACKED THE CODE TO FACEBOOK MARKETING
4 tips on how to create an impactful Facebook ad
Now that you know how to start running a Facebook ad, let's look at four tips that will help you use Facebook paid advertising successfully.
1. Use high-quality visuals
The majority of Facebook ads use some form of a visual. Whether it's a photo or video, you need to put some time and thought into the visual element displayed on your ad. If you want to catch your audience's interest and get them to engage with your ad, you should always use high-quality visuals.
People don't want to see blurry or pixelated photos. If your photos aren't high-quality, your audience won't engage with your ad. The same process applies to your videos.
In the example below, Hello Fresh uses a high-quality image of their food that makes their ad irresistible to food lovers.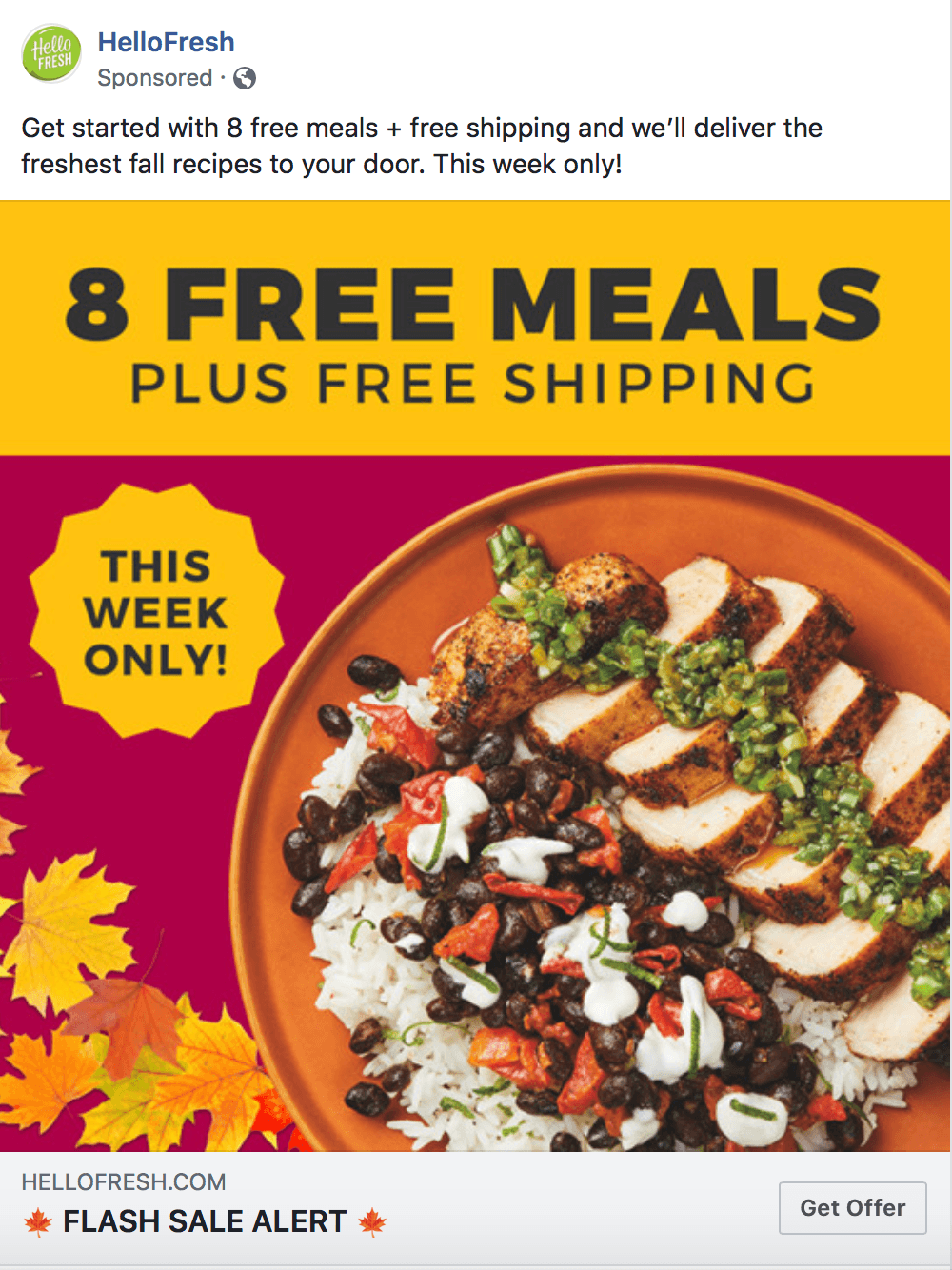 2. Test your ads
The first version of your ad won't always be the best. It's vital that you continuously test different versions of your ad to drive the best results.
When you test your ad, test one element at a time. You'll obtain more unambiguous results when you focus on individual aspects of your ad, rather than testing multiple items at once. It helps you see how each change directly affects your ad.
Testing your ad ensures that you put out the best advertisement for your business. It will help you get more out of your Facebook advertising campaign.
3. Use the Facebook pixel for remarketing to leads
The Facebook Pixel is one of the most helpful tools you can use for your advertising campaign. Many people will visit your site and learn about your products or services, but don't convert. Instead of losing these leads, you can use Facebook Pixel to create ads that appeal to them.
The Facebook pixel is a tiny piece of code you place on your website. When visitors visit your site, the pixel collects necessary information about them and records their search behavior. Later, they see an ad from your business.
It's an excellent opportunity for you to reengage leads with products or services that interest them. The Facebook pixel will help you remarket to leads and get them to consider buying your products or services again.
4. Avoid ad fatigue by switching up your ads
The biggest mistake companies make regards to ad fatigue. When you run the same ad for an extended period, your audience can get tired of seeing the same ad repeatedly. Ad fatigue can occur if your audience doesn't like your ad and keeps seeing it, but many companies neglect to change their ads.
When you're advertising on Facebook, keep a close look at your metrics. If leads aren't engaging with your ad, cycle out that ad, and try another different ad. You can also try showing the ad to a different group of people to see if it resonates better with them.
If you have a successful ad, keep track of the engagement on it. When the engagement starts to decline, it's a sign that your audience is experiencing ad fatigue. It's a good time to cycle that ad out and try a different ad.
WebFX is a partner businesses trust.
Hear from HydroWorx, who saw a 236% increase in organic sessions with WebFX services.
Watch the Video Testimonial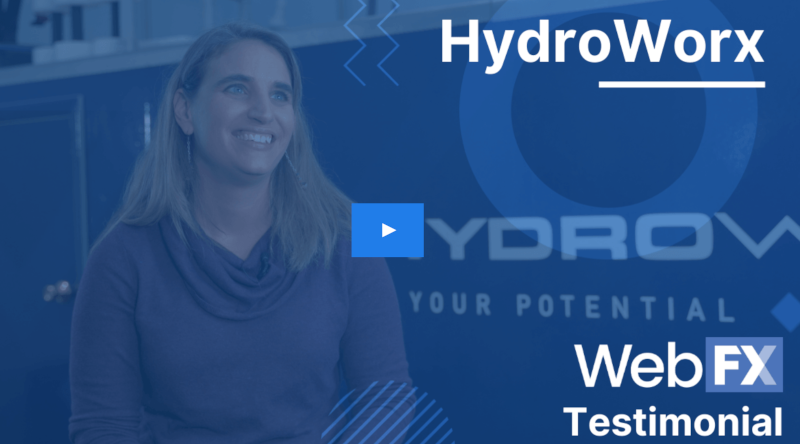 Start using Facebook ads for your business today
Facebook paid advertising will help you reach people that engage on Facebook's platform. With different types of Facebook ads at your disposal, you can create engaging and exciting ads for your business.
If you don't know how to get started with Facebook advertising, WebFX can help. With decades of experience, we're experts on Facebook paid advertising. We'll help you create engaging and interesting ads that help you attract leads and grow your business.
Ready to start using Facebook paid advertising for your business? Contact us online or call us today at 888-601-5359 to speak with a strategist about our Facebook advertising plans.