8 Website Analytics Metrics You Need to Track for Success
One of the best aspects of digital marketing is the ability to track your success. Whether you're running a PPC campaign or managing an email marketing strategy, you can track and measure your success in granular detail. This lets you understand what's working and what's not, which enables you to make changes that improve your results.
When it comes to your website, you can use tools like Google Analytics to monitor how users interact with your pages. You can see how they're finding your site, which pages they're visiting, what kinds of actions they're taking, and more.
This information is extremely valuable but can be overwhelming even for experienced users. Gaining real insight requires sorting through the noise and identifying the metrics and statistics that are most important for your business.
On this page, we'll discuss the most significant metrics to monitor in order to improve your website and your overall marketing results.
If you'd like to speak with an expert, feel free to give us a call at 888-601-5359 — or keep reading to learn more about the eight metrics you should be tracking to make the most of your marketing strategy.
Time to Level Up Your Sales
Our long list of services helps you grow every aspect of your business with marketing strategies that are proven to increase bottom-line metrics like revenue and conversions.
In the past 5 years, we've managed more than 12.9 MILLION transactions across our client base.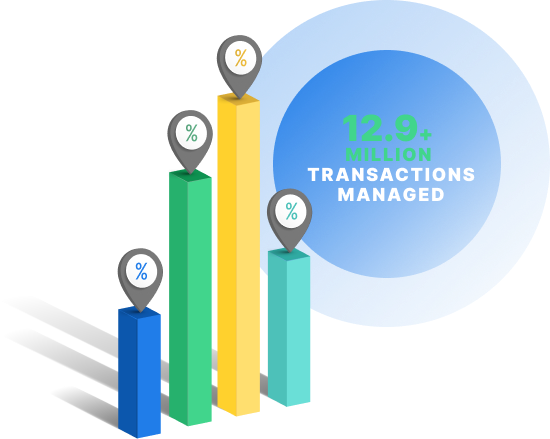 1. Traffic (Audience)
One of the easiest site speed metrics to measure is your site's traffic. And although it certainly shouldn't be the only metric you measure, it can provide an at-a-glance look at how your digital marketing strategy is performing.
Google Analytics can help you understand your site's visitors in a few different ways, so it's important to understand the distinctions in order to make the most of this information.
Sessions
One of your traffic analytics you'll want to look at is your number of sessions. This is a number that indicates how many individual people visit your site.
This number is important for numerous reasons. It helps you see the size of your audience and can serve as a basic indicator of how many users you're reaching.
As you improve your digital marketing strategy and run new campaigns, your number of sessions can give you a rough idea of your results. At the very least, an increase in unique visitors shows that you're improving your online visibility and attracting more users to your site.
This is an easy way to see if your marketing campaigns are generating clicks and traffic, and enables you to build on methods that work and scrap the ones that aren't effective.
% New sessions
Not every session represents a user visiting your site for the first time. This is because many individual users will visit your site multiple times.
Your return visitors are likely interested in your products, but many of them still may not have converted. Monitoring these users can give you insight on the kinds of content that brings them back to your site and encourages them to learn more about your company.
This will help you better understand your audience and as a result, create better marketing campaigns.
2. Acquisition
Beyond simply monitoring your traffic, Analytics gives you the ability to see where that traffic comes from. The Acquisition tab will tell you how your visitors are finding your site.
There are a few different ways for users to find you online.
Direct
"Direct" traffic in Analytics is often misunderstood. There are numerous sources that attribute to your direct traffic.
The most commonly known way is users coming to your website by typing the URL into their web browser or clicking their bookmark. Many repeat customers will directly type in your URL because they are familiar with it. However, this isn't the only way you obtain direct traffic.
Direct traffic also stems from users going from a secure page (HTTPS) to a non-secure page (HTTP). The referral data is not transferred when someone visits the site, so it appears to be direct traffic instead of referral traffic.
You can also obtain direct traffic from a broken tracking code. If there is a broken tracking code on one page and a user clicks on a link that refers to your page, it becomes a self referral. This is due to the broken tracking code not tracking the page the user came from to get to your page.
Other methods, such as improper redirection, non-web documents, and "dark social" can attribute to your direct traffic. The important part to remember is that direct traffic stems from more than just someone typing in the URL to your site.
Organic search
If a user is searching for a particular product or service, they will often use a search engine like Google. They'll enter a few words in the search bar, then visit the site that appears to most closely match their needs.
The "Organic search" metric in Analytics shows you how many visitors found your site this way. If you want to increase this number, you can use search engine optimization (SEO) to boost your website's rankings and gain more traffic.
Referral
"Referral" traffic includes all of your visitors that arrived on your site after clicking a link on another site.
These sources are often other websites that refer or link to one of your pages. These are places, other than your website, where visitors find a link to your website and visit.
If there is a particular outside source that is driving in a lot of your traffic, there is an opportunity to build a relationship with that site. This could bring in more traffic and leads to your website.
When you know where your traffic is coming from, you can understand which sites are the most effective for drawing in traffic. You will be able to put more effort into building a relationship with those sites in order to increase the traffic on your site. It will also help you understand your audience better so you can adapt to them.
3. Average session duration
Session duration tells you how long, on average, visitors spend on your site. This is an important metric for helping you evaluate pages and improve your site.
You can use this metric to see which pages have a long user duration. These pages often include elements that keep users on the page. This is an opportunity for you to evaluate these pages to see what keeps users on them.
This metric enables you to also see which pages users leave quickly. When users leave pages quickly, it is a good indication that there are changes that need to be made on that page. You can see what elements are missing or if there is anything on the site that could potentially drive people away.
This metric is important because it helps you see which pages are successful at keeping users on and which ones are not. You can take elements from the successful pages and implement them on the other pages. It will enable you to make your pages more engaging and keep visitors on them longer.
4. Site content
You can see which pages on your site attract the most traffic by navigating to Behavior > Site Content > All Pages. This shows you which pages on your site are performing the best in terms of traffic.
When you identify which pages and topics are most important to your visitors, you can improve those pages to provide an even better experience and encourage visitors to convert.
These pages are also a good indication of the kinds of content you should be publishing more of. You can analyze these pages, see what's working well, then use that information to improve pages that may not get as much traffic.
5. Bounce rate
If a user visits one of your pages, then returns to the search results instead of visiting another page, this is considered a "bounce" Your "bounce rate," then, represents the percentage of people who leave instead of staying on your site to learn more about your company.
If the majority of your visitors leave your site after one page, this signals that your site isn't effective at convincing users to stay and engage with your content. This could be due to a variety of factors.
It could be your content, a lack of links to related content, or a user experience issue. You'll want to address these issues in order to to keep your bounce rate low. You want your site to be effective at keeping users engaged and moving them closer to becoming customers.
6. Exit rate
Though they may seem similar, bounce rate and exit rate are two different metrics. Your exit rate is based on people visiting multiple pages and then leaving your website. This is different from bounce rate because while a bounce is immediate, an exit occurs after users progressively look through pages.
Exits aren't necessarily a bad thing. It isn't unusual, or bad, to have a high exit rate on a 'purchase confirmation' page. This indicates that people left because they were finished making a purchase — so they already converted.
Looking at your exit rate on individual pages can help you identify holes in your sales funnel. A high exit rate on an unusual page could indicate that there are problems on that page that discourage users from staying and converting. If this page is part of the progression towards conversion, it is absolutely essential to fix.
7. Conversion rate
Conversion rate is arguably the most important metric on any site. Your conversion rate shows you how many of your visitors are taking actions that move them closer to becoming customers or clients.
A conversion may be a purchase, but there are other behaviors that can also be conversions — especially if you aren't an ecommerce business. For example, newsletter signups, quote requests, and contact form submissions are all valuable on-site actions.
You'll need to set up your target conversions as goals in Analytics, and once you do, you'll be able to see which of your pages are most effective at driving those conversions. You can also monitor how your conversion rate changes over time.
If you run a new campaign or test a new strategy, for example, you'll be able to determine whether it's attracting qualified visitors that take action on your site. This will help you assess not just the quantity of visitors you attract, but also the quality.
8. Page value
Page value is an important metric to monitor through Analytics. This metric tells you how much your page is worth when it is included in a session.
So, how does this work?
To start, when you are comparing pages, it is important that you compare similar pages. If you try to compare the worth of a blog page to a pricing page, it won't do your business any good because these pages will perform differently. You want to compare pages that serve the same purpose in order to understand which ones have more value.
When people visit certain pages on your site, they may or may not convert. This may be the fourth page they visited as they looked through your site. You'll need to look at the number of unique page views and how much each view was worth.
Once you have those numbers, you'll multiple them together to get your actual page value. So, if you have 550 unique page views worth $0.60 each, the page would be worth $330. This indicates the value of that page and how much money it can generate for your business.
It is important to know the page value so you can see which pages perform the best for your site. If you have pages that are worth more, you can put more effort into making them better so that you can increase the value of that page. Once you increase the value of the page, you'll increase the number of conversions for your business.
Let WebFX help you track your success
It can be overwhelming to look at all these metrics and use them to gain actionable insights for your website. But if you want to get more value from Analytics, WebFX can help. We're a full-service digital marketing agency and we have years of experience using Analytics to monitor and improve our clients' sites.
When you partner with us, we'll get you set up with Google Analytics tracking. We provide monthly reporting, where you can see things such as your data analysis, review your site speed, and set up your goals and events. Our team will provide recommendations for helping you take advantage of your site's traffic.
We'll help you understand your data and use it to your advantage. We provide you with insights that go beyond the basic statistics and help you apply those insights to your website
Our team is dedicated to helping you succeed with your Google Analytics consulting plan. To date, we've driven over $3 billion in sales and over 7.8 million leads for our clients. Our success stems from focusing on making your campaign bring your business results.
Get started today!
If you're ready to start using Analytics to improve your digital marketing results, contact us online or call 888-601-5359 to speak with a strategist! We can't wait to hear from you!
Earn a 20% greater ROI with WebFX