Content Optimization in – Optimizing Your Content for SEO
Content optimization is a building block for a traffic-attracting website that keeps visitors coming back for more. The best content that will attract consistent traffic to your website is beneficial, informational, and fulfills the user's search intent.
What is content optimization?
Content optimization is the process of making sure your content has the right keywords, multimedia, and other elements to show up in search engines.
When doing content optimization for SEO, you're not only looking for keywords that will help your website's pages show up for relevant searches, but you're also making sure what you're writing and optimizing matches the search intent of the SERPs (search engine results pages).
Search intent refers to what exactly a user wants to learn when they type a specific keyword into a search engine like Google, and with optimized content, you can be sure that your content informs readers in all the right ways.
What you will be able to do with optimized content is ensure that you target keywords that mean the most to your industry, attract high-quality potential leads to your website, and inform them on topics that interest them.
The end goals of content optimization, which we'll expand on later in this content optimization guide, are to improve your search engine ranking, increase revenue for your business, and become an authority in your field.
If all of that sounds like a tall order to fill, don't worry — we'll go over everything you need to know about a successful content optimization campaign on this page.
If you'd like to speak with a content optimization specialist before reading on, you can reach us at 888-601-5359.
Otherwise, keep reading to learn more about content optimization, its benefits, how it works, and how you can do so for your own company.
Why content optimization matters: An SEO Overview
One of the main reasons you should optimize your content is for SEO, or search engine optimization purposes.
SEO is known as one of the most powerful Internet marketing strategies available today, because it helps your website to attract exponential traffic, convert visitors, and make more revenue for your business.
How does SEO work?
SEO is a process that improves your website so that it ranks higher in search engine results pages, which in turn, drives more traffic to your website. The more users you have coming to your website, the more people will learn about your products or services, and the more people you'll have the opportunity to convert into paying customers.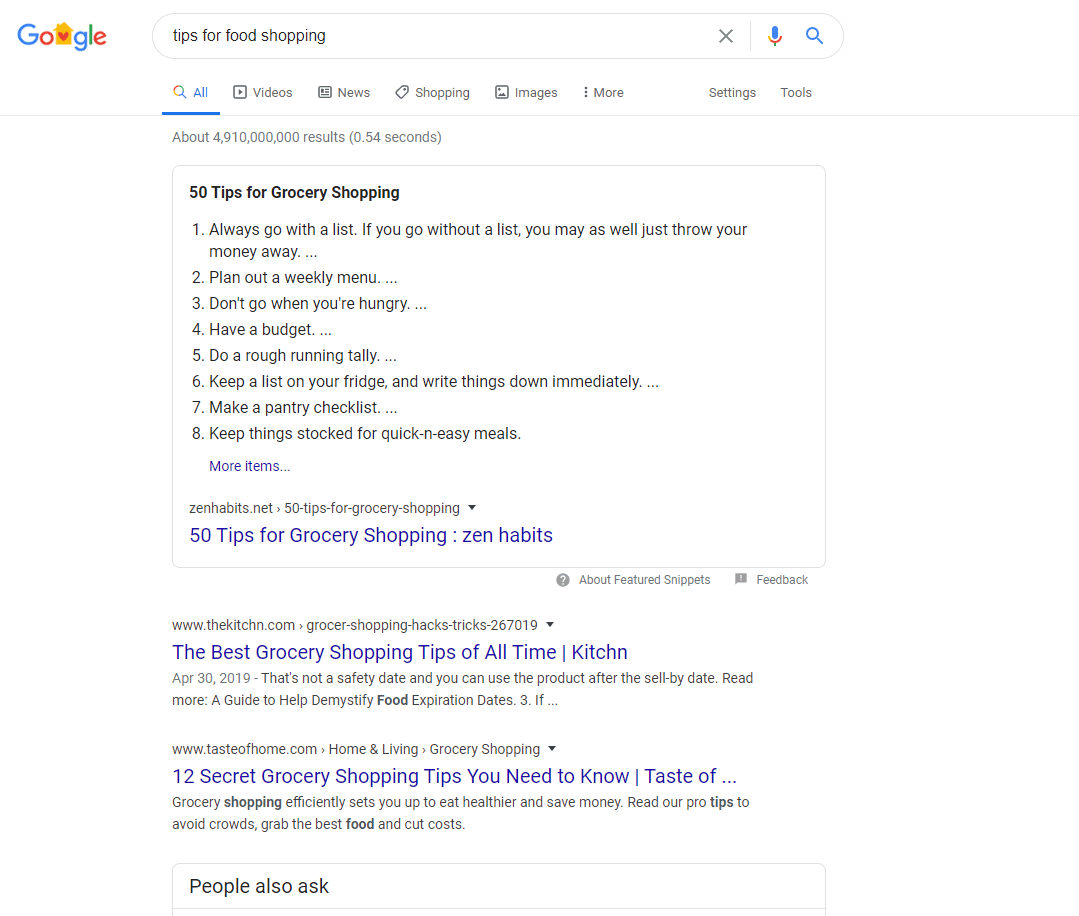 So, how does content optimization tie in with SEO?
The process of SEO actually starts with creating informative, beneficial content since it's that content that will rank in search engine results pages.
Without strong content creation, there won't be anything for search engines like Google to rank — so how will you show up in results pages? You won't! It's only by way of content that Google will be able to rank you in results pages since your content is what users click when they want to learn more about a topic.
In short, optimized content is key to SEO, and other SEO strategies like internal linking, strong navigation, and the addition of multimedia on your site work hand-in-hand with content to make a result-driving mix.
Understanding SEO and how it works is crucial to understanding why content optimization is necessary, so here's a brief outline of other SEO tactics that work together with content optimization:
Creating a strong internal linking structure: When you create a strong internal linking structure, it means that you link to other pages on your website within your content. In doing so, you essentially provide Google with a roadmap of how to get around your website. It also allows Google to find and index all of your pages more quickly, which means they can serve them to the right people in results pages.
Creating a simple navigation on your site: When you create a strong navigation, it means that you provide users with a guide to get around your site. Navigation usually appears at the top of your website pages, and it allows users to find the content they're looking for quickly and easily.
Adding multimedia: When you add multimedia to your content, it makes it more easily digestible for users, since they won't have to look at a huge wall of text. Multimedia includes things like images, graphics, infographics, videos, and music. If you make videos on YouTube, for example, you can add those to your content.

Targeting important keywords: Targeting keywords is another important SEO strategy that allows you to really hone in on your specific audience. When you target specific keywords in your content, you better inform Google on what your page is about, which allows Google to serve your pages to the right audience.
To learn more about SEO and different SEO strategies, check out our video, SEO for beginners!
To wrap up, a huge part of SEO is the process of creating optimized content for your website, and a huge part of optimizing your content has to do with SEO strategies.
SEO and content optimization go hand-in-hand, and are necessary for the success of the other.
The goals of content optimization for SEO
In this section, we'll talk about the overarching goals of SEO optimized content:
1. Rank in top search results with your SEO optimized content
As we mentioned in the last section, one of the goals of SEO, and content optimization, is to get your website pages to the top of search results.
When your pages live at the top of results pages, they'll get far more clicks than results that appear on the second and third pages, and even half way down the first page.
Your placement in search engine results pages is an extremely important part of getting users to visit your site. The closer to the top your website appears, the better — and the farther down the page it appears, the less chance you have of getting users to click on your content and visit your site.
In fact, 95% of all search traffic goes to page-one results, and the first result gets nearly 33% of clicks.
If the percentage of clicks declines a whopping 62% from position one to position two, your hypothesis that it only gets worse the farther you appear down the page is correct.
The second page spot receives 17.6% of traffic, and the seventh position result sees only 3.5% of clicks.
These figures show just how important it is to rank highly in results pages to ensure that your content gets as many clicks as possible.
Optimizing your content can even allow you to earn the coveted "position zero", or a "featured snippet" spot in search results, which is the box of info that you'll see above organic search results. The format of featured snippets can range from a video to a numbered list, or even a table.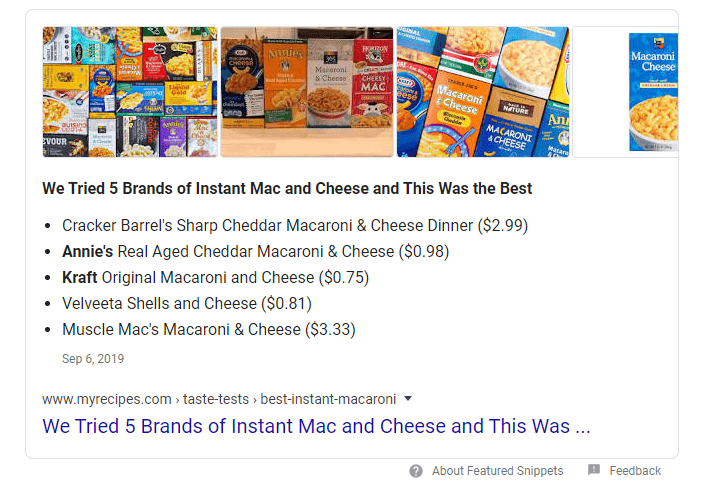 This spot takes up a ton of real estate on the page, which makes it a great place for your content— but you won't be able to earn it without content optimization.
If you're worried about ranking highly, don't worry, that's where content optimization comes in!
2. Inform your visitors with your optimized content
Another goal of content optimization is to inform your visitors.
This is super important since Google can tell by the number of clicks to your website, how long users stay on your page, and how many users return — how beneficial your content actually is.

For example, if your content gets a ton of clicks, and users stay on your site long enough to browse the information you have available, Google picks up that your content is informative, since users care to read it.
The goal of informing your visitors is to be the only resource they need to read on any given topic. Your information should be easy to digest, and answer questions that users may have.
3. Become an authority in your field through your content
Creating beneficial, informational content lends itself to becoming an authority in your field, which is one of the ultimate goals of creating content.
You want to prove repeatedly to your audience that you're well-informed in topics related to your industry, and establish yourself as a leader.
This takes time and hard work, and to become an authority in your field, you have to consistently create and post optimized content for users.
4. Increase revenue with SEO optimized content
Perhaps the end-all-be-all goal of content optimization is to increase revenue for your business.
It may be hard to believe that simply creating content and optimizing it can increase revenue for your company, but it's absolutely true. In fact, creating content is crucial to the expansion and improvement of your company.
Like we mentioned before, content is what ranks in search results. Without a high volume of content on your website, what will Google rank?
You want to provide optimized content about many different topics in your industry, so that users know they can come to your website for answers, information, and most importantly, high-quality products and services.
With optimized content, you can teach users about your company, teach them about your products and services, and inform them about why you're the best choice in your industry.
When you do so with your content, you'll see an uptick in customers, conversions, and eventually, your total revenue will begin to increase.
6 website content optimization steps: The SEO content optimization process
If the goals of content optimization align with the goals you have for your company, it's time to talk about how exactly you can optimize your content to see your goals come to fruition.
Here are the steps to optimizing your website content to promote increased traffic, customers, and revenue.
Step 1: Do extensive keyword research
Keyword research is critical to optimizing your content, and it's our recommended first step since you can't craft the perfect content unless you know exactly what keyword you want to target.
Let's say you own a clothing store that provides maternity clothes to expecting mothers. You currently have a page that is geared toward the materials that you use in your clothing, but you aren't targeting any keyword specifically.
This is a huge mistake, and could keep your page from ranking highly in search results!
To optimize this page, keyword research can help.
First, think of a few keywords that you think would work well on the page. This could be anything from "cotton maternity clothing," to "breathable fabric for maternity clothing."
You'll want to plug these keywords into a tool like KeywordsFX to determine the competition of those keywords (who else is competing to rank for them), and the volume (how many people search for this keyword) to determine which keywords you should target.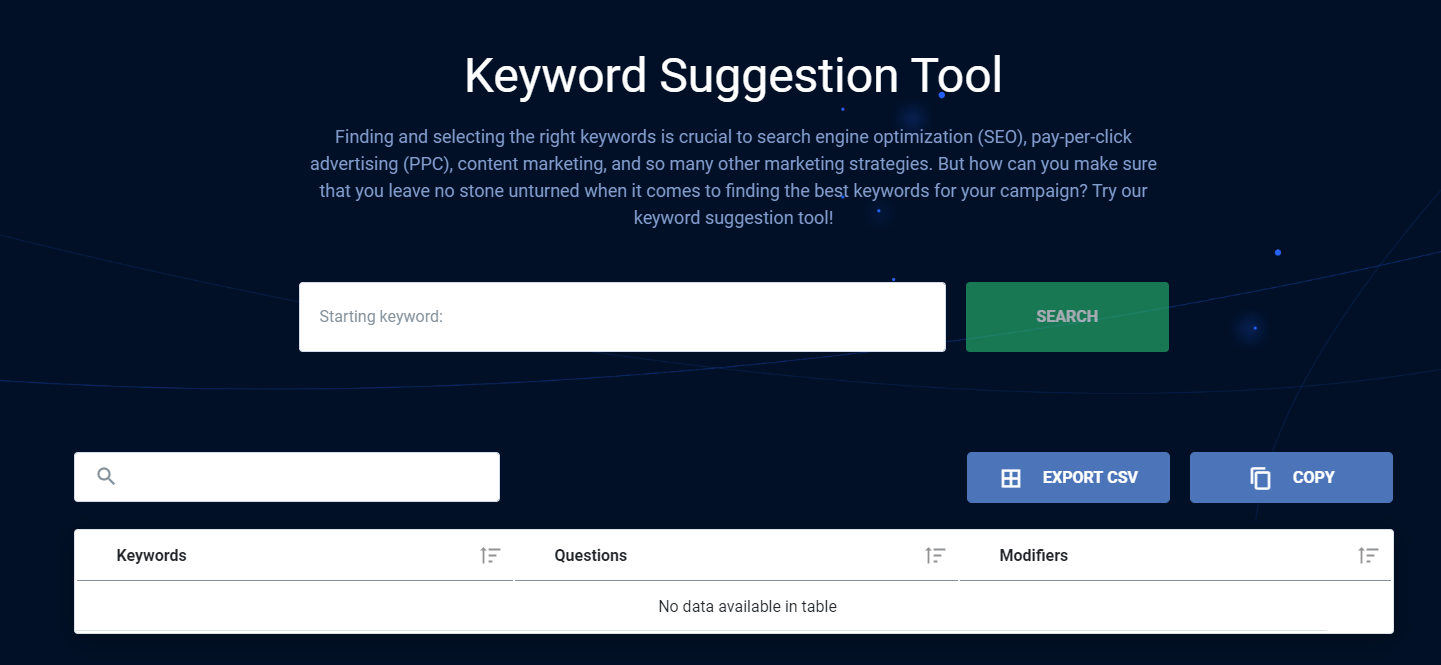 When you enter a keyword you like, you'll also see a long list of similar keywords that could be great options to rank for as well.
This will help you determine what keywords are the best options to target on the page.
After choosing what keywords you want to use, move to step two.
Step 2: Implement target keywords
Now that you've chosen keywords that will help you target your ideal audience and boost your content's SEO, it's time to implement them on your page.
When you implement this keyword (or keywords), it's important that you don't put it in places that sound unnatural. This is known as keyword stuffing, and instead of helping you rank higher in results pages, it can actually lead to a penalization from Google.
Instead, you'll want to implement the keyword where it feels natural.
Not only should you include your target keyword in the body content, but you should also find a good home for your keyword in headings and sub-headings.
This will let Google know that you mean business when it comes to this keyword, and that you provide great information on the topic.
Step 3: Check spelling and punctuation
Nothing makes your website look more unreliable than spelling and grammar mistakes.
When is the last time you saw your favorite, high authority website sport a spelling or grammar mistake? Okay, it happens! But not very often. This is because high-authority websites check, double check, and triple check their content before it goes live — and you should too!
Use a spell checker before your page goes live, or if your page is already on your website, you can use a Chrome extension like the Language Tool to check for spelling and grammar mistakes.
Step 4: Add multimedia to keep visitors engaged
Nothing is worse than scrolling through a page of 1,000 words with no graphic in sight. When we read long walls of text, we tend to become bored and unengaged with the content — which is where multimedia comes in.
Adding multimedia is a huge part of content optimization because it helps keep users on your pages for longer (since they're engaged), and offers graphic information on the topic.
For example, if you posted a 600-word page on the material of your maternity clothes, the page would be much better served if you added some photos of your clothing, or the materials used to make them.
This also allows users to see your products and not just read about them, which could help move them along in the sales process.
Multimedia refers to photos, graphics, infographics, videos, and even music, and any combination is great for optimizing your content.
Step 5: Create an internal linking structure
Internal linking is when you link to another page on your site from your content.
This is important because it lets Google know about other pages on your site and allows Google to index those pages quicker.
When your pages are indexed, it means that Google knows about them, and they have the opportunity to show up in search results.
By providing links to other pages on your site, you also offer users more additional information about your business, products, and services. They can follow the links throughout your website to learn more, which keeps them on your website for longer — this sends a positive signal to Google.
Step 6: Optimize your title tag and meta description
Title tags and meta descriptions are a part of content that people often forget about.
Title tags are what users will see when your content shows up in results pages, and the meta descriptions are the short description that see under the hyperlink.

Google considers both when ranking your pages, so it's important to include your target keywords here as well.
Some other important things to include in title tags are:
Numbers
Dates
Colorful adjectives
"X reasons why…"
"X things you…"
"This is how…"
"How to make…"
"The X most…"
All of these title tags catch users' eyes and entice them to click on your result in results pages.
How do you know if you need content optimization?
Luckily, it's pretty easy to tell if your content should use some optimization.
Check out these red flags that can tell you if your content could benefit from optimization!
Your content doesn't rank in results pages: If you're hard-pressed to find your content on the first page of search results, or even the second or third, your content could majorly benefit from optimization. By optimizing your content with the right keywords, you'll soon see your page ranking for those key terms.
Your pages rank low on the first page of results, or on the second page: We like to call this "low-hanging fruit." In other words, pages that are already ranking, just not well, are great candidates for content optimization because we can more easily increase their ranking with a little optimization. Something as simple as adding a key term in some title tags, or even adding some copy can help you jump up a few spots in search results.
Your content doesn't target any keywords: If your content is a little bit random in terms of what keywords it targets, content optimization could really help. With content optimization, you'll be able to hone in on specific keywords that are beneficial to your industry. Instead of trying to rank for a ton of random keywords, you'll be able to rank really high for a few important keywords.
Do you want to optimize your content, but aren't sure where to start?
If you're interested in all the benefits that content optimization has to offer, but aren't sure how to make your goals a reality, WebFX can help.
We're a full-service Internet marketing agency that can help with not only content optimization, but a successful, effective SEO campaign as well.
We've been able to drive over $3 billion in sales and over 7.8 million leads for our clients across many industries, and for business ranging from small coffee shops to large enterprise companies.
At WebFX, we know that no two businesses are alike, which is why we create custom campaigns for all of our clients.
We'll first get to know your company and your industry. We want to know what you sell or provide to your customers, what your business goals are, who your competition is, and what kind of services you're looking for.
From there, we'll do extensive research on your competitors to learn and understand even more of your industry so that we can properly target them with your optimized content.
We'll ask you about content you already have and how its performing, and we'll also make recommendations about how to move forward with your custom campaign.
In addition to both content optimization, content marketing, and SEO, WebFX likes options. That's why we offer the following services as well:
And much more.
We've been in business for over 25 years, and we know what works, which is why we offer top-of-the-line digital marketing solutions for your business.
We have over 1020+ client testimonials, and an extensive award cabinet that we've built up over the years.
If you're interested in content optimization, and need an agency that can help you improve your search engine rankings, WebFX can help. We're headquartered in Harrisburg, PA, but have offices in numerous states.
If you'd like to speak with a specialist, you can reach us at 888-601-5359, or you can contact us online today for a free quote, and to learn more about how WebFX can help your business grow with content optimization!