Social Media

How to Boost Sales and Build Loyalty With Instagram Shoppable Stickers
How to Boost Sales and Build Loyalty With Instagram Shoppable Stickers
8 minute read
Sarah Berry is a Google Analytics-certified Web Marketing Consultant at WebFX. She's written over 400 articles on digital marketing, covering topics like SEO, CRO, and Amazon. When she isn't polishing her Time Magazine Person of the Year Award, she's spending time with her flock of ducks.
With more than 300 million people using Instagram Stories, it's safe to say that it's a popular feature of the social media platform. That's why Instagram has expanded Instagram Stories to include shoppable stickers, which make it seamless for users to purchase products from their favorite brands. Want to learn how to use shoppable stickers on Instagram to drive sales and build customer loyalty?
Keep reading!
Not happy with your social media engagement?
We've got just the blog post for you.
Read the Blog Post & Watch the Video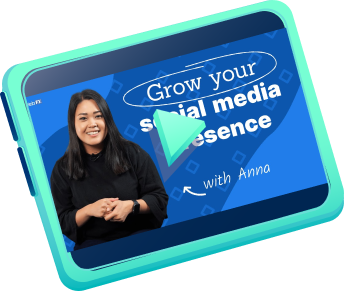 What are shoppable stickers on Instagram?
An Instagram shoppable sticker is an Instagram Stories tag that's available to businesses with 10,000 or more followers. A shoppable sticker allows users to view the name, price, and description of a product — and it displays as a shopping bag on pictures and videos.

7 tips for driving sales and loyalty with Instagram shoppable stickers
Now that we know what shoppable stickers are on Instagram, let's move onto how we can use them to drive sales for your company, as well as build your customer loyalty.
If you're already familiar with Instagram Stories, you can probably start implementing these tips today! Let's look at seven strategies to boost sales and customer loyalty with Instagram shoppable stickers:
1. Promote a lifestyle
On Instagram, you're selling a lifestyle that appeals to your target audience. If you're a cabinet manufacturer, for example, you may advertise a lifestyle that focuses on the suburban family or the upscale apartment complex. While you emphasize that lifestyle and audience in your photo captions, you say it through your photos.
If you're targeting families in the suburbs, for instance, your Instagram Stories may include videos or photos of families in the kitchen. If you're connecting with apartment developers, though, you may feature sleek kitchens with a view of a city's skyline. By emphasizing your target audience through your Instagram Story, as well as regular posts, you're narrowing your audience to the consumers you want.
That can help you maximize the success of your marketing campaign on Instagram.
2. Tag products with multiple stickers

To provide businesses some variety, Instagram offers a few shoppable sticker options, including:
A white bag with a blue outline
A white bag with a blue outline, plus the product name
While you're welcomed to use the same sticker style for all your product promotions on Instagram Stories, it helps if you tag your product with two stickers — one to highlight your product's name and one to highlight your product's for-sale status. This strategy depends on the size of your product, however. If you're selling a pair of sunglasses, two shoppable stickers will overwhelm the picture.
For cabinetry, though, two stickers can work well. By spacing them apart, you can keep the quality of your photo intact, but also provide valuable information to your audience. For smaller products, work around their size by adding multiple images to your Instagram Story.
Due to the temporary nature of Instagram Stories — they expire 24 hours after upload — stickers with your product's name, as well as a link to its product page, keep potential clients up-to-date about your products. They also keep your company at the forefront of their minds. That way, when they're ready to shop, it's your website they visit and your team they contact.
When you think about that on a mass scale, that translates to a substantial amount of revenue, which helps your company grow.
3. Highlight products in new ways

For many businesses, it's easy to take and upload a product photo to Instagram. For users, however, that approach can become boring and too sales-orientated fast. That's why you need to discover creative ways to showcase your products.
A few ways you can engage users, plus highlight your products with shoppable stickers, include:
Provide a behind-the-scenes look at your product development
Create a teaser and reveal for your latest product line
Offer a flash sale or limited offer through an exclusive code
Host a product demonstration or how-to guide with an influencer
Launch a product giveaway or contest
Start a partnership with a related brand
While these activities do require coordination and cooperation with multiple team members, they're worth the investment. They let you educate and engage users, but also share the unique selling points of your products — and even your company. As social media is a go-to platform for brand awareness and consumer engagement, that's critical.
If you only spent your time advertising, versus interacting, you'd earn a less-than-stellar reputation from consumers, which can impact your bottom line.
4. Partner with market influencers

With the rise of social media, influencer marketing has become a vital part of digital marketing campaigns — especially ones aimed at improving brand awareness and trust. In fact, more than 80 percent of marketers see results with influencer marketing. Why?
Consumers trust and respect influencers. By partnering with an influencer that's popular in your market — and with your target audience — you can generate more interest in your brand and products. Plus, an influencer can direct their followers to your website by including shoppable stickers on their Instagram Story.
That's immense, as more than 90 percent of shoppers trust an individual's recommendation over a brand's recommendation. That translates to not only more sales but also more brand awareness, which can lead to more followers and engagement on your posts. In addition, you can start to build customer loyalty, which can lead to an even busier season.
5. Use branded and popular hashtags
Another proven strategy for improving the success of your Instagram Story — and the products you highlight with shoppable stickers — focuses on hashtags. On Instagram, users can follow their favorite hashtags, which gives you the chance to reach more customers. Before you start adding hashtags to your Instagram Story, it's important to know that your post may not reach users following that hashtag.
The reason is that Instagram only features Instagram Stories that have a certain level of engagement and quality when it comes to hashtag follows. While your Instagram Story may not earn a feature for a hashtag, it's worth including them. Make sure, however, that you keep your hashtags to a minimum.
You don't want them to crowd your images or videos — or detract from your shoppable stickers.
6. Play with different content formats

Instagram, as well as other social media platforms, are excellent for keeping your brand top-of-mind with consumers. It's essential, however, that you keep your target audience excited for your posts, especially when it comes to time-sensitive Instagram Stories. That's why you want to vary your content, which can add some spice to your shoppable stickers.
Sure, you're already sharing videos and images on your Instagram Story, but how about switching it up with a Boomerang? With these mini videos, which are similar to gifs, you can entertain users in whole new ways. As an example, if you were a cabinet manufacturer, you could create a Boomerang — shoppable stickers included — that shows-off the turntable storage space of a cabinet.
You could even go a step further and partner with a tupperware company, which could supply containers to fill that space. For inspiration, you can always check out @boomerangfrominstagram.
7. Share user-created content
How else can you build customer loyalty and drive purchases? User-generated content. Give a shout-out to people that have already bought your product.
If you spot customers sharing pictures, videos, or Boomerangs of your product, ask them if you can re-share their content on your Instagram Story. If they're happy to share their posts, you can include an Instagram shoppable sticker when you re-post their image or video to your Instagram Story. That lets you highlight your product, as well as the satisfaction of your customer.
Plus, it ties into the power of word-of-mouth recommendations. In an instant, your followers see that other people love your product — so much that they posted about it — and that can persuade consumers to choose your brand. It also builds loyalty with the customer you feature, as you reached out and asked permission to use their content.
In the exchange, you also probably thanked them for choosing your product and noted how it made your team's day — if you didn't, make sure you do next time.
Ready to learn more about building loyalty and driving sales on Instagram?
As one of the most popular social media platforms, Instagram offers companies of all sizes an immense opportunity to reach new consumers and build relationships with existing ones. To learn more about what Instagram has to offer, check out our guide on how to use Instagram for marketing, and how to analyze your Instagram campaign! Wanna learn more about Instagram marketing services from WebFX?
Give us a call at 888-601-5359!
Sarah Berry is a Google Analytics-certified

Web Marketing Consultant at WebFX

. She's written over 400 articles on digital marketing, covering topics like SEO, CRO, and Amazon. When she isn't polishing her Time Magazine Person of the Year Award, she's spending time with her flock of ducks.

WebFX is a full-service marketing agency with 1000+ client reviews and a 4.9-star rating on Clutch! Find out how our expert team and revenue-accelerating tech can drive results for you! Learn more
Twitter and Facebook Status Generator
Finding engaging social media content for your business can be difficult. Use our tool to quickly find ideas and post directly to your page.
Give Me an Idea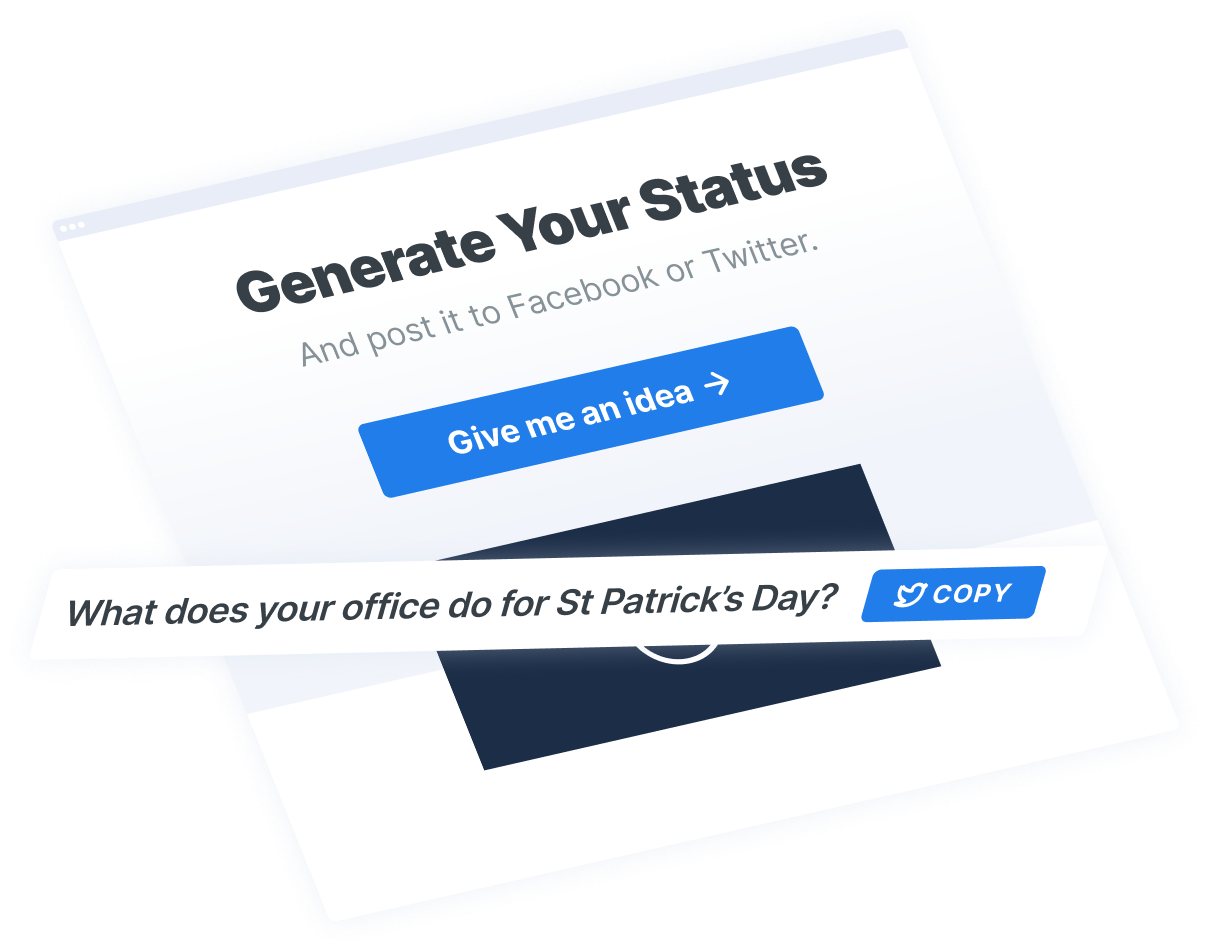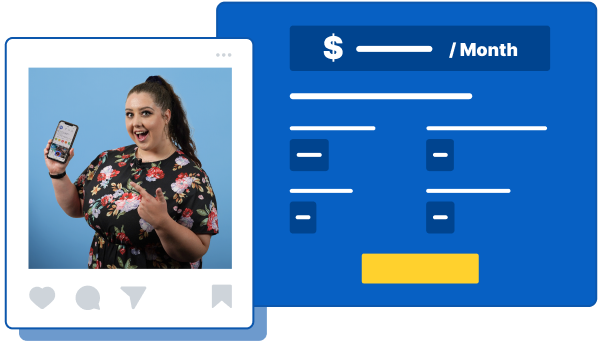 Twitter and Facebook Status Generator
Finding engaging social media content for your business can be difficult. Use our tool to quickly find ideas and post directly to your page.
Give Me an Idea