If you're trying to grow your business, digital marketing is a proven tool for manufacturers.
The manufacturing industry has a higher number of openings, but not enough talent to fulfill those openings. With digital marketing, you can build better awareness of manufacturing and your business to help attract more talent and clients.
To get started, you need manufacturing marketing ideas to help you reach valuable leads on the Internet.
On this page, we'll provide you with 14 effective marketing ideas for manufacturers that help you build a strong online presence. If you need help generating marketing ideas that work for your business, call us today at 888-601-5359 to speak with a strategist about setting up a digital marketing campaign.
Our digital marketing campaigns impact the metrics that improve your bottom line.
See More Results

WebFX has driven the following results for clients:

$3 billion
In client revenue

7.8 million
Leads for our clients

5.2 million
Client phone calls
1. Conduct an audience analysis to understand your audience better
Before you dive into your marketing campaign in-depth, analyze your audience.
If you want to have an effective marketing campaign, you must know your audience well. By conducting an audience analysis, you'll have better insight into who makes up your audience and what they want from your business.
When you complete an audience analysis, you get to know your audience.
You should know basic information, like demographic information, socioeconomic status, hobbies, and interests. In addition, you also need to learn what drives your audience to look for solutions, such as pain points and motivation.
With an audience analysis, you'll know what buyers want from your manufacturing business. It's a valuable industrial marketing strategy to improve your campaign and help it reach the people that need your company and its services.
One of the best ways to learn more about your audience is to use a customer relationship management (CRM) platform. A CRM for manufacturing enables you to track and analyze valuable data about your prospects and current customers with little to no effort on your part.
Conducting an audience analysis is one of the most effective marketing ideas for manufacturers. When you know your audience better, you create a stronger manufacturing marketing strategy.

Hear What It's Like to Work With WebFX!

"Working with your team has been amazing! Creating a new website with SEO and starting a SEM campaign is intimidating but you have made each step completely manageable and even easy! The regular reports and personal contact during and after the project was complete has been greatly appreciated – above and beyond. It's hard to find that level of service with other companies. From start to finish, the management of the project was a very organized, well-thought process that was seamless for our company."
Manufacturer In Pennsylvania
2. Boost your website's ranking with search engine optimization (SEO)
A great marketing idea for manufacturing companies is search engine optimization (SEO). SEO is the process of improving your website's ranking in search results to help drive more valuable traffic to your site.
If you want searchers to find your company, you must optimize your site to get to the first page of search results. This is because 75 percent of people don't go past the first page of search results.
You can optimize your site for SEO by choosing the right keywords. Keywords help your website appear in relevant search results.
When you conduct keyword research, focus on long-tail keywords. These keywords contain three or more words, such as "textile companies in Harrisburg, PA." Long-tail keywords are specific, so they drive better traffic to your website.
Aside from keyword selection, other optimizations will help improve your ranking. These include improving page speed, optimizing images, and creating content to help you rank better in search results and reach your target buyer.
SEO drives results for companies. In fact, Reynolds Building Solutions experienced a 43 percent organic traffic increase year over year after using our SEO services. It's this kind of growth that drives results!
3. Use pay-per-click (PPC) advertising to obtain valuable manufacturing leads
Pay-per-click (PPC) advertising is one of the best (and fastest) ways for your manufacturing business capture high-value leads. It's also cost-effective, offering an average return on investment (ROI) of $2 for every $1 spent.
PPC ads are paid advertisements that appear at the top of search results when users conduct searches. These listings are tagged with the word "ad" to indicate paid content. PPC ads can also appear on websites partnered with companies like Google.
Similar to SEO, PPC operates on keywords.
Keywords play a crucial role in PPC because they determine where your ad appears, as well as how much you pay for every click. Generic keywords, like "clothing" or "tools," will have a higher cost-per-click (CPC) than a keyword like "manufacturing companies in Harrisburg, PA."
Once you have your long-tail keywords selected, you will place your bid or the maximum amount you're willing to pay for a click. It's vital that you know your keywords' worth so you can bid an amount that is competitive but reasonable. Then, you launch your campaign.
PPC is one of the best marketing ideas for manufacturers looking to obtain valuable leads.
In fact, 65 percent of all high-intent searches result in someone clicking on a PPC ad. If you want to attract leads ready to convert, use PPC ads as an integral part of your industrial marketing strategy.
4. Use website design to keep leads on your page
No matter what type of marketing idea for manufacturers you use, all your campaigns circle back to your website. Your site is the heart of your digital marketing strategy. It's essential that you put time and effort into developing a user-friendly site for your audience.
Your audience will judge your business based on your website. If you want to make a positive first impression, you must invest in your website's design. A quality website design will go a long way to making a positive impression on your audience.
You want to build a modern, clean, and simple website. A quality website makes it easy for your audience to use and to find information.
Your website is also a reflection of your business.
You want to convey your company's style and values into your website to help leads get a better sense of your manufacturing company. An integral part of an industrial digital marketing strategy is showcasing your unique brand.
Color scheme
Choose colors that reflect your business. It's vital that you have a consistent color scheme on your website to build better brand recognition with your audience.
Colors have a powerful impact on a user's ability to recall and recognize a business. If you think of a company like McDonald's, the yellow and red color scheme is iconic and easily recognizable. You want to have a similar effect with your brand.
Navigation
Create navigation that is easy for your audience to use. If they can find information on your website without hassle, they're more likely to stay on your site longer. This means they'll spend more time getting to know your business and services.
By investing in your website's design, you will drive more leads to your page and keep them engaged on your site longer.
Web design also impacts other strategies you use, too. It can affect your SEO ranking and your PPC landing pages because well-designed pages keep leads on your page longer.
Essentially, if you're putting money into SEO and PPC campaigns, but not your web design, your campaigns won't reach their full potential. Adding web design to the mix allows you to get the most out of your SEO and PPC campaigns.
5. Humanize your brand to appeal to your audience better
A big part of marketing your brand online is building a connection with your audience.
Your business-to-business (B2B) company may be working with other businesses, but at the end of the day, you're working with people. Humanizing your brand allows you to build a better connection with your audience and secure new clients.
When you look at marketing ideas for manufacturers, many focus on how to market your business, but they rarely talk about the way you market your business.
It's important to remember that you're talking to people.
You're appealing to the decision-maker of another company. Whether it's the CEO, CFO, or a Logistics Coordinator, you're talking to a person. In many cases, you're trying to persuade multiple people, as B2B sales depend on the opinion of seven to twelve people.
While these seven to twelve people may have differing opinions, there is one thing they agree on: They want to partner with a B2B company that they like and feel they can trust.
If you humanize your brand right, you'll appeal to every one of the decision makers, regardless of whether they're the CEO or CFO.
People don't want to partner with a cold and distant corporation. They want interaction and to feel connected with your business and your team.
When you market your business, focus on the human side of your company. See how you can appeal to your audience and their emotions. Build a connection with them to build a better relationship with these leads.
So, how can you humanize your brand? Let's look at a few ways:
Show off your staff with photos of your team
Send appreciation letters, swag, or other items to welcome new clients
Make your content fun, exciting, and professional — don't always be stiff and formal
Be transparent about your company and your story
Show your audience behind-the-scenes photos
6. Use industry-related content to drive leads to your page
Content marketing is one of the most impactful digital marketing strategies you can use to grow your business. In fact, companies that use content marketing see six times more conversions than organizations that don't.
When you create content, you share your knowledge and expertise with your audience. You attract people to your page by providing them with the information they need.
What's great about digital marketing for manufacturers is that you can use several different content types. This includes blogs, videos, infographics, and ebooks. These are all great mediums for sharing valuable knowledge with your audience.
When you create content, focus on industry-specific topics. Talk about how manufacturing works, or list some of the latest manufacturing trends. You can use keywords to help you find topics that interest your audience. You want to keep your content industry-specific to ensure you're attracting qualified leads too.
Once these leads find your content, they'll take the time to check out your business. They'll get familiar with your company and get to know you and your services better. They may not convert right away, but they will remember your business when they need you.
7. Engage your audience through social media
Social media marketing is a valuable tool for helping your business engage prospective leads. It's one of the few methods where you can personally connect with your audience online and in real-time.
There are numerous social media sites you can use, including:
Facebook
Twitter
Instagram
LinkedIn
Pinterest
You'll need to pay attention to which networks your audience frequents the most.
That way, you can focus your industrial marketing strategy on those networks. Platforms like LinkedIn are great for B2B manufacturers because it is a professional networking website, with 80 percent of B2B social media leads coming from LinkedIn.
Once you have your social platform selected, you can start engaging prospective leads. Depending on the platform, you can post content like photos, videos, links to content, polls, and more.
You want to share content valuable to your audience. Your content should be exciting and engaging, so leads will not only interact more with your social page but also share your content with people in your industry.
In addition to posting on social media, you can also run paid social ads, too. These ads allow you to reach prospects that haven't found your manufacturing business yet. It's a great way to obtain new leads for your company.
If you're looking for a great marketing idea for manufacturers to add to your list, social media is an excellent option. It will help you connect better with leads interested in your manufacturing business.
8. Send engaging emails to nurture high-value leads
Another great marketing idea for manufacturers is email marketing. Aside from social media marketing, email marketing is one of the only other strategies that allow you to connect with your audience directly.
To start using email marketing, you need a list of subscribers. The best way to get subscribers is through your website. You can easily create an email sign-up bar to encourage leads to join your email list.
Don't pay for email lists. While there may be a few prospective leads from these lists, most of the people aren't looking for a manufacturer. They will block your emails, or the emails will end up in spam.
It's better to stick to obtaining emails organically because you know these leads are interested in your business. Once you have this list, you can start sending valuable information to your subscribers.
To do email effectively, you must segment your audience list.
People want to hear from your business for different reasons. You don't want to bog them down with irrelevant information. By segmenting your audience, you'll provide your subscribers with the information they want most.
Email marketing is an excellent strategy for building engagement and interest in your company. With email, you have the potential to earn $44 for every $1 spent, making it one of the most cost-effective marketing ideas for manufacturers.
9. Get involved in community events to connect with local leads
If you want to get your business in front of more people, taking an active role in your local community can help. Building your reputation in your community can get local companies, as well as national and international ones, to trust your brand.
When your community holds events, consider getting involved with them. Whether it's a basket raffle or a community fair, you can contribute to local events by sponsoring them or donating items to get your brand name out there.
Once you take an active role in your community, people will get exposed to your brand. You never know who will appear at these events! It could end up being someone involved in a B2B company that's looking for a manufacturing business like yours.
If you get involved in local events, you can market them online, too.
You can share posts on your social media pages or in your emails to help promote the event and your involvement. It's a great way to build a reputation with your audience and show them how you care for your community. Not to mention, it humanizes your brand.
Getting involved in local events puts your brand in a positive light. You'll make your brand feel more human and help your audience (no matter where they are) connect with your business better.
10. Invest in marketing tools to make your campaign more manageable
When you're running a multitude of campaigns for your industrial marketing strategy, it's challenging to keep track of them all. By using marketing tools, you'll help your business and your campaigns stay organized.
There is a multitude of tools you can use for different types of campaigns.
For instance, programs like MarketingCloudFX allow you to manage your marketing campaigns better. You can learn about your audience, personalize your content strategy, manage reviews, tracks leads and calls, and more.
You can also use free tools like KeywordsFX to find relevant keywords for your campaigns. These types of tools are excellent for compiling relevant keywords you can use on your campaigns.
As another example, MyEmailFX allows you to create, send, and monitor your email marketing campaign. You can segment your subscribers to help you create a more effective campaign, as well as monitor that effectiveness.
There are also more fundamental tools, like Grammarly, that help you review your content for spelling mistakes, grammar errors, and more. All these tools play a crucial role in helping you create a better campaign.
These are just a few of the many tools you can use to manage campaigns for your business.
11. Use recruitment marketing to reach better candidates
A big problem in the manufacturing industry is too many open spots and not enough talent. It can put you into a tricky position of trying to figure out how to fill those open positions to keep up with product demand.
With recruitment marketing, you can reach better candidates. This marketing strategy allows you to build your brand and help potential employees get familiar with it.
You can create content to help potential candidates learn about your business and get to know your brand. It's an excellent way for you to tell your audience about your company and help them learn more about what you do.
It's also beneficial to create a strategy to post jobs on job boards. Many people use sites like Indeed, ZipRecruiter, and LinkedIn to find jobs. You can post your job descriptions on these sites and optimize your postings to help more people discover your job openings.
You can also run paid ads on these job boards, too. Indeed and LinkedIn both allow you to run sponsored job posts so candidates can find your listings first.
Recruitment marketing is a great asset to your digital marketing campaign. It will help you find more qualified candidates to fulfill your open positions.
12. Use account-based marketing to secure high-value leads and contracts
If you want to effectively reach companies that want to partner with your manufacturing company, this strategy is for you. When you're looking at digital marketing for manufacturers, you want to ensure that account-based marketing is part of your plan.
With account-based marketing, you target specific accounts within a market and create a personalized campaign to resonate with those accounts. You base your marketing message on who you're targeting, which helps you create a more effective campaign for your business.
Account-based marketing allows you to acquire high-value customers by creating a specific advertising campaign targeted to that potential client. These campaigns are personalized for these accounts, which makes them more likely to engage with your content.
When you use account-based marketing, you can also align your sales and marketing better. Since you're in the mindset of targeting specific accounts, you focus more on how to target them and bring them to your company.
Overall, account-based marketing is a valuable marketing idea for manufacturers. It allows you to focus better on obtaining accounts that will want to work with your manufacturing company.
13. Use video marketing to engage your audience and provide valuable information
Video marketing is one of the best marketing ideas for manufacturers in terms of spreading information and increasing engagement. This method allows you to present information to your audience in an interesting and engaging format.
When you create videos, you'll experience the tremendous impact it has on your audience.
Just look at some of these video marketing impacts:
Including a video on your landing page can increase conversions by up to 80 percent
Integrating the word "video" in your email subject line can decrease unsubscribe rates by 26 percent
90 percent of customers say that video helps them decide whether or not to purchase a product
Videos have a substantial impact on your audience. People are continually searching for videos and watching them. YouTube is the second largest search engine in the world, right next to Google!
You can create any video that you think will resonate with your audience. Whether it's client testimonials, videos of your products, or a tour of your facility, video marketing allows you to get your message across in a visual and engaging format.
By creating videos, you can engage your audience and provide them with relevant information they need in a format that is interesting and appealing to them. It's one of the best marketing ideas for manufacturers because it helps you attract leads to your page and engage them.
14. Use geofencing advertising to reach companies at different locations
Geofencing advertising is a valuable marketing tool to help you reach your clients in different locations. Geofencing is a location-based digital marketing tool that allows you to advertise to a user in a specific location.
When you use geofencing, you set up a "fence" around a defined area. Whenever someone enters that "fence," they become a part of a remarketing audience. Your manufacturing company can then create an advertising campaign that targets that audience.
As a manufacturing business, you can target trade shows or conferences, for example.
If you're looking for a way to capitalize on your digital marketing strategy for manufacturers, geofencing is a great way to make your industrial marketing strategy better. You'll reach more leads that are looking for the right manufacturing company for their business.
Don't miss our Marketing Manager Insider emails!
Join 200,000 smart marketers and get the month's hottest marketing news and insights delivered straight to your inbox!
Enter your email below:
Inline Subscription Form – CTA 72
"*" indicates required fields
(Don't worry, we'll never share your information!)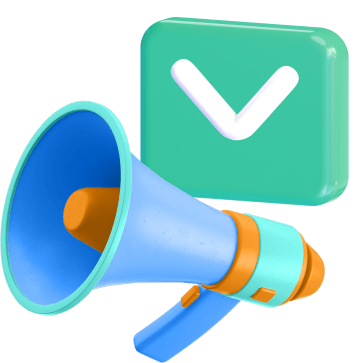 Put your industrial marketing strategy into action
When you compile a list of marketing ideas for manufacturers, you have an excellent starting point for shaping your industrial digital marketing strategy. Digital marketing is an excellent opportunity for you to grow your business online and reach valuable leads.
At WebFX, we have over 25 years of experience creating digital marketing campaigns that drive effective results for our clients. We know how to create campaigns that help our clients grow their businesses.
If you're looking to start obtaining more B2B leads for your manufacturing company, contact us online to see how we can help you develop a valuable marketing strategy.