When someone is thinking about buying a boat, the first thing they likely do is open up Google or another search engine.
When the search engine returns the results of their search, what is the first thing these future boat-owners see? Is it your business or one of your competitors?
If you're not ranking near the top of the search engine results pages (SERPs) for the terms potential customers are searching, you're likely losing business to competitors.
A smart boat dealer search engine optimization (SEO) strategy can help you rise to the top of SERPs and bring in more customers. To help you get started with SEO for boat dealers, in this guide, we'll give you seven essential elements to include in your boat dealer SEO strategy.
Our team of digital marketing experts can create and implement a custom, results-driving SEO strategy for your business. Call us at 888-601-5359 or request a free quote to get started.
Independent research from Clutch has named WebFX the
top SEO company

in the United States.

Clutch has personally interviewed more than 250 WebFX clients to discuss their experience partnering with us.

Read More Clutch Reviews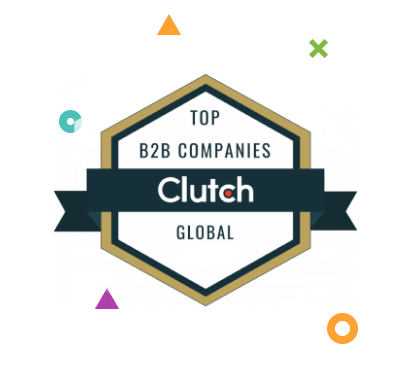 The importance of local SEO for boat dealers
SEO is a digital marketing method that encompasses a wide array of tactics for improving your search engine rankings and driving qualified traffic to your site from search.
There are several types of SEO. The most important for the majority of boat dealers is local SEO.
Local SEO focuses on reaching users who are in your geographic area. If you run a local boat dealership, these are the users you want to reach since they are the ones who will come to your location and potentially make a purchase.

Hear What It's Like to Work With WebFX!

"SEO is a complicated concept, and is, very frequently, a moving target. I think WebFX have done a great job at explaining our goals and how we're going to meet them."
Boat Manufacturer
Essential elements to include in your boat dealer SEO strategy
So, how do you get started with SEO for boat dealers? Let's dive into the most essential elements to include in your boat dealer SEO strategy.
1. Make sure search engines can crawl and index your website
For your website to show up in search results, search engines like Google need to be able to crawl and index it.
Crawling refers to how Google finds pages. Once Google crawls a page, it adds it to its index — a massive database of online content — so that it can show the pages in search results.
How can you make sure your content is crawlable and indexable? Go to Google and search "site:yourwebsite.com." This will show you the pages from your website Google has in its index.
For example, if you search "site:marinemax.com," you'll see that Google has indexed about 11,300 pages from the site.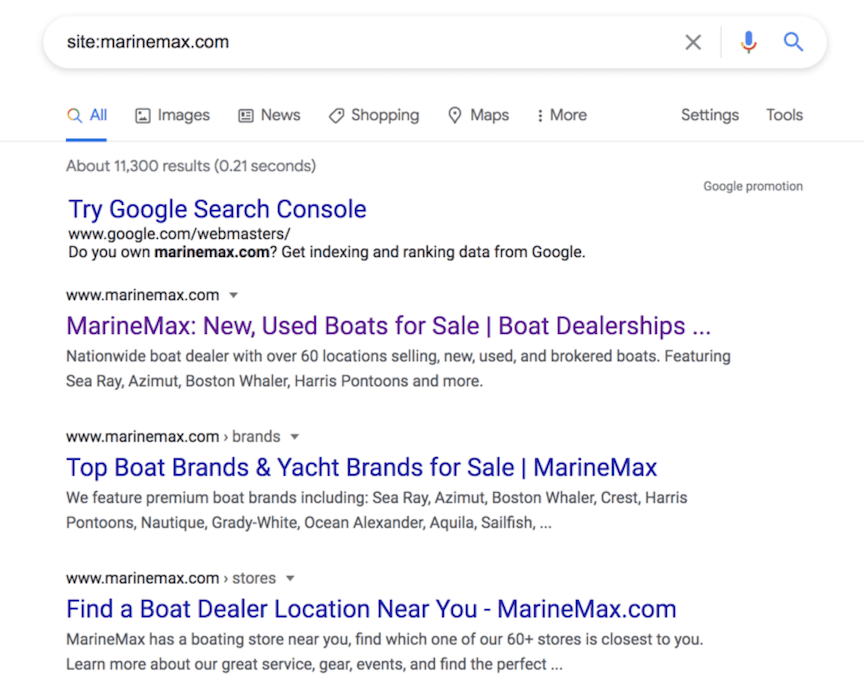 A more accurate way to check your crawlability and indexability is to use Google Search Console. Log into your GSC account or create one if you don't have one. Then, you can see crawlability and indexability information in the 'Coverage' report.
If Google is not indexing the pages you want it to index, check the following:
Do you link to the page from somewhere else on your site?
Is your txt file blocking crawlers from accessing the page?
Are users required to log in to see the page?
Is the text on the page in a non-text format like an image file?
2. Claim and complete your Google My Business profile
Google Business Profile (GBP) — Google's directory of businesses — is a key element in local SEO.
GBP helps users find information about your business. It also provides the information that populates Google Maps and the local 3-packs, like the one below, that display near the top of many local searches.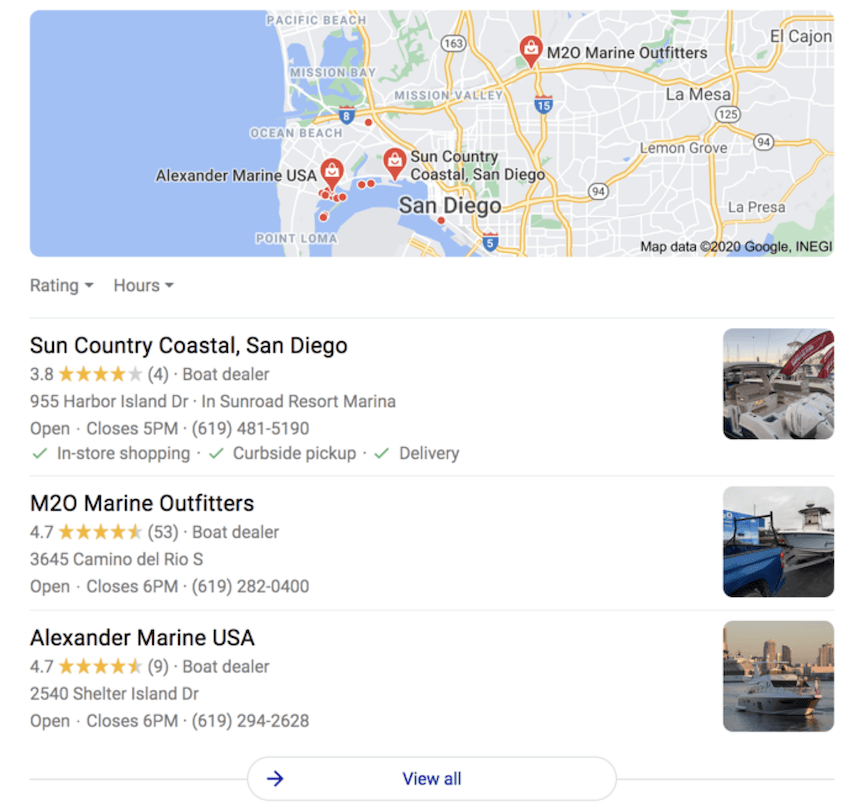 To manage your GBP, you'll need to claim your listing if it already exists. To do this, click on "Claim this business" on Google Maps.
If no listing exists, you can sign in to Google Business Profile using your Google account and create one.
Then, fill out your business's information completely and accurately. Also, add photos and a brief description of your business. Include some facts about what makes your business unique in your description.
3. Add your business's information to other directories
You'll also want to add your business's information to other online directories in addition to GBP, such as:
Bing Places for Business
Facebook
Yellow Pages
The Better Business Bureau
And more
Adding your business to these directories gives you more chances to show up in search results. If these directories rank, your business's name may show up in the description. People can also find your business by clicking through to the directory site.
Like with GBP, make sure you fill out your information completely and accurately, add photos, and provide a brief description.
You can use a local listing management tool like LocalFX to manage multiple listings at once and make the process more efficient.
4. Perform keyword research
A fundamental part of SEO, whether it's local SEO, SEO for boat dealers, or any other type, is keywords.
Keywords are the terms that users search on Google and other search engines. To succeed in SEO for boat dealers, you need to determine which keywords your customers use and optimize your pages for those keywords so that you can rank for them.
For boat dealers, many of your keywords will have a locational element to them, such as "boat dealers in [your city]."
It's also useful to target long-tail keywords, which are longer and more specific than short-tail keywords. Long-tail keywords are easier to rank for and reach a more precisely targeted audience. "Pontoon boats for sale in Pennsylvania" is an example of a long-tail keyword. "Boats" is a short-tail keyword.
To come up with keyword ideas, try the following:
5. Create content and optimize your pages
Once you have a list of keywords, you can create content based on those keywords. This content can include blog posts, infographics, videos, and more.
When you create content based on a keyword, think about what the user wants when performing the search. Then, try to meet that need.
For example, if someone searches "best type of boat for fishing," they want information about the best boats for fishing. To meet this need, you could create a blog post about the topic.
In the title of your page, as well as in the meta description, headings, and throughout the copy, try to use the phrase "best type of boat for fishing." Don't overuse the phrase, though, or use it unnaturally, as this can make your page hard to read and lead to lower rankings.
6. Earn links to your website
Backlinks are another important element in SEO. Backlinks are links from other sites to yours, and Google uses them to determine site authority. Getting more links from more reputable sites can improve your rankings.
One of the best ways to earn links is to create content that other people want to link to in their content. For example, if you create an interesting infographic or video about the best fishing boats, a fishing enthusiast may want to share it on their blog.
You can also take a local approach to getting links. Host, sponsor, or participate in a local event, and you may earn links from event organizers, other event participants, and local news organizations.
If you write content featuring other local businesses, you may earn links from them, giving a boost to both of your companies.
7. Ensure your website is well-designed and easy to use
You'll also want to ensure your website has a professional design and is easy to use. If users land on your website, and it looks unprofessional or is frustrating to use, they may click away.
If users quickly leave your website or avoid visiting it, this sends a signal to Google that your website isn't meeting users' needs. Google wants to rank high-quality websites in its SERPs, so poor site performance can lead to lower rankings.
To improve your website's quality and rankings, make sure it:
Has a professional design style that's consistent throughout the site
Is easy to use and navigate
Is responsive, which ensures it works well on various kinds of devices
Is secure
Maximize the results of your boat dealer SEO with WebFX
You can take steps to improve your website's SEO on your own, but if you want to get the maximum return, the best option is to work with a professional SEO agency.
When you work with WebFX, we'll take the time to understand your needs and goals, create a custom strategy for you, implement that strategy, track and share our results, and continually refine our tactics.
We've been rated the world's top SEO agency by Clutch, and over the last five years, we've generated 7,839,684 leads and $3,021,182,299 in sales for our clients. We focus on results, and we can get results for your business.
To get started, call us at 888-601-5359 or request a free quote online to learn more about our SEO services.