If you want to generate more leads for your window and door company, search engine optimization (SEO) is an excellent place to start.
When homeowners need to replace the windows or doors in their house, Google is one of the first places they'll look. After all, how often have you recognized the need for a service provider and searched for companies near you?
If you want your business to appear in the search results when homeowners look for local contractors, you need to invest in SEO for window and door companies.
At WebFX, we provide expert SEO services for window and door contractors like you. Learn more about our services now, or if you'd like to read more about what SEO is and how a robust SEO strategy will help grow your business, keep reading!
These are real SEO results driven for a WebFX client.
You're next.
Learn More About SEO Services


260%
increase in organic revenue

198%
increase in organic transactions
150%
increase in organic traffic

3872%
increase in sessions from SEO
What is SEO for window and door companies?
SEO is the process of optimizing your site to appear higher in the search results when users search for terms relevant to your business. To accomplish this goal, you'll need to understand what your audience searches for, provide valuable content to them, and know how search engines rank pages.
Search engines exist to help users find the information they need. To that end, search engines want to ensure they're placing the most valuable and relevant pages at the top of the results anytime someone searches for something. As a result, they rank each page according to a series of factors, including:
Content relevancy
The website domain's authority, which isn't an official ranking factor but helps site owners predict and improve their page rankings
At first glance, that list might seem short and simple, but each of those factors includes many optimizations. For example, helping search engines see your content as relevant includes:
Knowing the search terms people use for topics related to your business
Understanding what those searchers hope to find
Creating valuable content that answers the search intent
Incorporating keywords naturally throughout your content
And more
Meanwhile, user experience means ensuring your window and door website:
Domain authority may not be an official ranking factor for search engines, but spending time improving your domain authority can help you achieve better rankings. Increasing your domain authority focuses on building links back to your site from other pages.
Reading that information can make window and door SEO seem complex, but when you partner with an expert SEO agency like WebFX, we'll handle the process for you.
With our expertise, you can trust us to optimize your site so you can spend more time communicating with homeowners and installing stunning windows and doors.
Learn how we increased traffic by over 40%, and conversions by over 100% for an ecommerce client.
Read the Case Study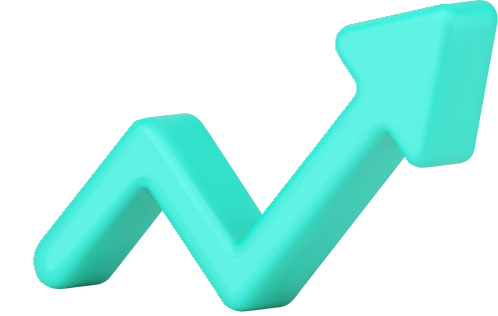 Why should your company invest in window and door SEO?
SEO for window and door contractors is well worth the investment. A robust SEO strategy for window and door companies brings the following benefits:
7 SEO tips for window and door companies
Are you ready to take advantage of these benefits and grow your business? To do SEO for window and door contractors, follow these optimization tips:
1. Choose the right keywords for window and door contractors
A strong SEO strategy requires understanding your industry and the keywords your target audience uses to find companies like yours.
Example keywords for window and door contractors could include:
Window replacement and repair [city name]
Window replacement contractors [city name]
Window replacement cost calculator
Door installation companies [city name]
Door installation guide
You can find keywords with keyword research tools like KeywordsFX. You'll want to focus on longer keywords, also called long-tail keywords, because these terms have less competition and a clearer search intent.
Pro tip: Type in a potential keyword and look at the People Also Ask and Related Searches sections in Google for long-tail keyword ideas.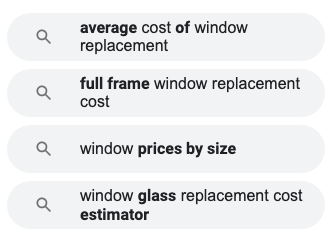 2. Create valuable content for your target customers
Once you've determined the most strategic keywords to target, create content for each that answers the searchers' question.
For example, with "door installation guide," the search results focus on step-by-step instructions for installing doors.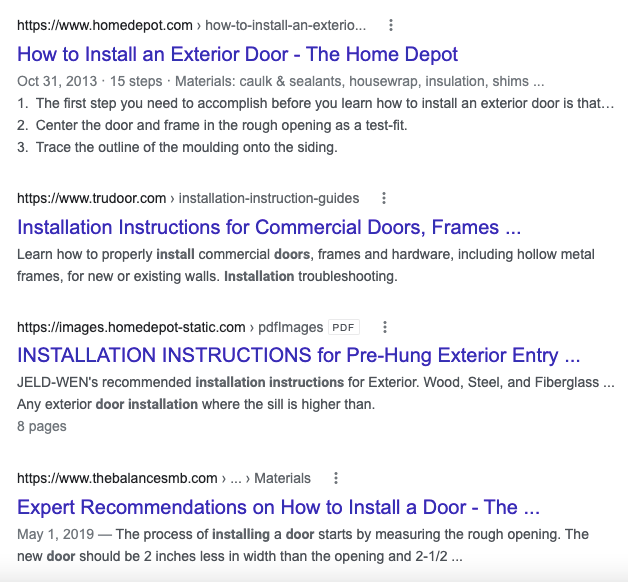 You might create a blog post that answers this intent by writing an easy-to-follow how-to, complete with pictures and a video.
You'll want to find ways to communicate unique value with your content. Can you make the guide easier to follow? How about providing more informative pictures for each step? To land above the existing pages, you'll need content that adds more value or answers the search intent better.
3. Incorporate keywords into your content
As you create your content, look for opportunities to naturally include your target keyword. A few key places to incorporate it are:
Your page's title
Your introduction
Subheadings
The body of your page
When incorporating keywords, ensure you don't overstuff your terms. Prioritize natural writing and readability over including your keyword repetitively.
4. Employ responsive design
Mobile-friendliness is a top SEO ranking factor because many searchers use their phones to find information online. If you want to make your site mobile-friendly, invest in responsive design.
While some websites might have a mobile and desktop version, responsive design automatically adjusts your site's content according to the user's device. As a result, this technique is more cost-effective and efficient for your business.
Especially for locally-oriented companies like yours, mobile-friendliness is paramount. Many users do local searches on their phones, so ensure your window and door website functions well for these searchers.
5. Invest in technical SEO
While keyword research and content are paramount to any window and door SEO strategy, many user experience factors rely on technical SEO. Additionally, search engine bots must be able to crawl your site to evaluate its SEO factors and determine its rank.
Technical SEO for window and door companies includes:
6. Build off-page SEO
Remember the SEO ranking factor related to domain authority? Domain authority is one of the main off-page SEO factors that tell search engines you're an expert window and door contractor.
Off-page SEO focuses on building links back to your site from other pages. The more of these backlinks your site receives — assuming they're relevant and you earn them through proper link-building techniques — the more authoritative you seem to search engines.
For example, relevant backlinks for your window and door company might include online home renovation magazines and local directories.
7. Focus on local SEO for nearby searchers
As you engage in these SEO tips for window and door companies, prioritize local SEO factors. People who need new windows and doors will look for contractors near them, and local SEO helps you reach these customers.
With local SEO, you should:
Claim your Google Business Profile
Make your location and contact information clear on your site
Manage your local citations, or any other places online that mention your company and location
Our SEO services for window and door companies
If you want to partner with SEO experts to leverage these tips and help your site rank higher in search engines, you've come to the right place. At WebFX, our SEO services for window and door companies include:
Keyword research and on-page SEO
Google Business Profile optimization
Link-building strategies for off-page SEO
And more!
We firmly believe digital marketing isn't one-size-fits-all. That's why we always customize our services to your industry and company's needs. Our approach begins with thorough research into your industry and competitive landscape, so we build the right strategy for your business.
Grow your business with professional SEO for window and door companies
Ready to grow your window and door company with professional SEO services? WebFX is a do-it-for-me SEO agency with 25+ years of experience and over 500 digital marketing experts ready to help.
We'll take the burden off your shoulders and drive real results with our data-backed SEO strategies. We've generated 7.8 million leads and $3 billion in revenue for our 1000+ clients, including companies in the home services industry like you.
Ready to see the results roll in from your SEO strategy? Call us at 888-601-5359 or request a free proposal online today!
Earn a 20% greater ROI with WebFX