You're not the only company vying for a government contract, so you need to invest in B2G marketing and the strategies that will put your name in front of the government agencies searching for businesses like yours.
Enter pay-per-click (PPC) advertising.
PPC advertising is an excellent strategy for putting your business-to-government (B2G) business at the top of search results. Running PPC ads enables you to gain more visibility, boost brand awareness, and increase viable leads for your business.
But how do you launch a successful B2G PPC strategy?
On this page, we'll provide you with six tips for doing PPC for B2G companies. Keep reading to learn more!
If you find you need help getting your PPC strategy launched, WebFX has a team of over 500+ marketing experts ready to lend you a hand. Contact us online or call us today at 888-601-5359 to speak with a strategist about PPC services from our Google Premier Partner agency!
Our digital marketing campaigns impact the metrics that improve your bottom line.
See More Results

WebFX has driven the following results for clients:

$3 billion
In client revenue

7.8 million
Leads for our clients

5.2 million
Client phone calls
B2G PPC tip #1: Find relevant keywords to help your ads appear in the right results
To launch PPC for B2G companies successfully, start by identifying the right keywords for your ads. When people search for government contractors, they're using specific terms to help them find the right company, so you want to ensure you're using relevant keywords for your ads.
You can find relevant keywords by conducting keyword research. You can use a Google keyword research tool like KeywordsFX to help you find the best terms for your ad. Just type in your topic or phrase into KeywordsFX to find a related term.
For example, let's say you sell cloud software. You may plug in a phrase like "cloud software for government" to see what keywords turn up. You can find keyword suggestions like "government cloud providers" that may be relevant for your ads.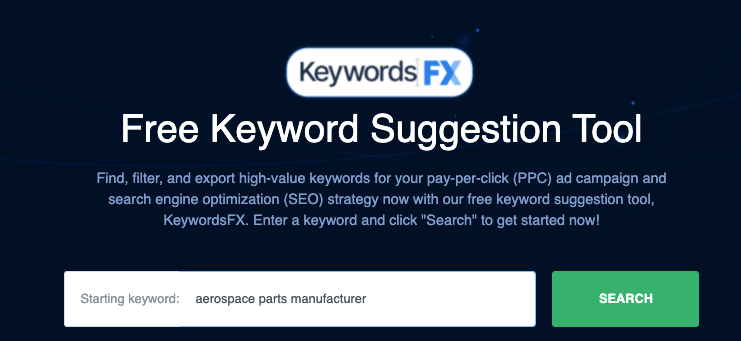 If you want to drive the best results with your PPC ads, focus on long-tail keywords. Long-tail keywords contain three or more words and are highly specific. If someone searches a term like "cloud software for government," you know what they're hoping to find.
These keywords are best for your B2G PPC ads for two reasons:
Quality: You attract a more qualified audience because they're searching with specific keywords.
Cost: Fewer companies bid on the keywords because they're specific, which means you can get more clicks for your budget.
Finding the right long-tail keywords will set your PPC ads on the path towards earning your business more contracts.
B2G PPC tip #2: Create relevant ad copy that draws people to click
If you want to do PPC for government contracting businesses successfully, you must create compelling and relevant ad copy. Your ad copy is what users see in search results.

Provide information that entices searchers to click on your ads and learn more about your contracting business.
When you craft your ad copy, offer information relevant to the keyword you're targeting. For example, if you're targeting "solar energy services," ensure your ad copy talks about your solar energy services and not something else.
To take your ad copy to the next level, consider using ad extensions. Ad extensions enable you to provide searchers with more information about the services you provide. They can decide whether someone clicks on your ad or passes by you.

You can use multiple ad extensions, including:
Location extensions
Call extensions
Sitelinks extensions
Message extensions
By creating compelling ad copy with ad extensions, you can entice more people to click on your B2G PPC ads and learn about what you offer.
B2G PPC tip #3: Create a custom landing page to keep visitors focused
When you do PPC for government contractors, it's critical that you keep them engaged once leads click on your ad. Many people will find your listing relevant and opt to click on it –– you don't want to drop the ball by having a subpar or irrelevant landing page.
Creating a custom landing page is critical to keeping prospects engaged after they click.
You can provide them with more helpful and relevant information about what they saw in your ad copy. It enables your visitors to stay focused on what's important to them and why they clicked in the first place.
Imagine if you ran an ad for government cloud software only to drive people to your business's homepage. Your visitors would immediately feel lost and confused, and they may not take the time to search your site for the information.
Instead, you could create a custom landing page that provides your audience with all the information they need on your government cloud software. It would keep your audience engaged and interested in learning more.
To help you create a quality landing page, keep these best practices in mind:
Integrate your target keywords throughout the page to show relevancy
Use high-quality visuals to catch your audience's eye
Use branded colors to help build brand association
Have a prominent call to action (CTA) button to guide users to the next step
Eliminate distracting elements (i.e., navigation bar)
B2G PPC tip #4: Use negative keywords to help save your business money
When you do PPC for government contractors, you know a critical component to your success are your keywords. Targeting the right keywords puts your business in front of qualified leads looking for your services.
Though, there is a chance your ads can appear in searches for similar but unrelated searches.
For example, if you're targeting the keyword "software development solutions," your ad may appear in searches for "cheap software development solutions."
Even though your services aren't "cheap," your ad keeps appearing in these searches. You keep driving traffic that leaves your landing page because your services aren't what they deem "cheap." Now, you're wasting your budget on leads that aren't relevant.
So, what's the solution?
Negative keywords, of course!
With negative keywords, you can prevent your ads from appearing in search results unrelated to your brand.
In this case, you could add "cheap" to your list of negative keywords to ensure you don't appear for "cheap software development solutions" but still appear for "software development solutions."
Creating a list of negative keywords will help refine where your ad can appear, so you put more of your budget towards leads looking for your products or services.
B2G PPC tip #5: Test your ads to put out the best version
When doing PPC for B2G companies, you'll learn that there's always room to improve your PPC ads. You can always tweak your ads to deliver a more relevant experience that garners increased clicks and leads.
When you create your ads, conduct A/B testing to see what resonates with your audience better. A/B testing enables you to change one element at a time to see how that small change impacts your ad performance.
You can test elements like your:
Ad extensions
Ad copy
Landing page heading
Landing page copy
Landing page images
By testing each element, you can help create an improved ad campaign that drives better results for your business.
B2G PPC tip #6: Monitor your ad progress to make changes that drive better results
Last on our list of tips for doing PPC for government contracting is to monitor your ad progress. PPC isn't a set it and forget it type of strategy. You need to continually watch how your ads perform, so you can improve them.
You can track your ad performance through Google Analytics. Within Google Analytics, you can see valuable data, like impressions, clickthrough rate (CTR), and conversions. This data can help you determine if your ads are driving results or need improvement.
If you find some of your ads are underperforming, you can make changes to help them perform better. A/B testing can help you determine where to adjust your ads to improve performance.
Time to Level Up Your Sales
Our long list of services helps you grow every aspect of your business with marketing strategies that are proven to increase bottom-line metrics like revenue and conversions.
In the past 5 years, we've managed more than 12.9 MILLION transactions across our client base.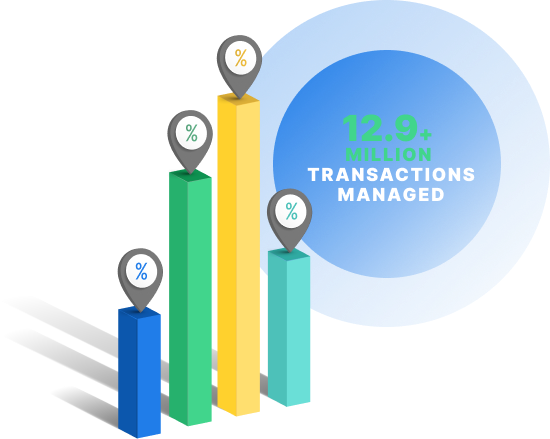 Need help with PPC for B2G companies?
PPC is an excellent strategy for helping your business reach more qualified leads that can turn into contracts for your company. But if you're feeling overwhelmed with creating a PPC strategy for your business, WebFX can help.
We have a team of over 500+ skilled Google Ads certified experts that can help you craft a B2G PPC campaign that drives results. In the past five years alone, we've driven over $3 billion in revenue and over 7.8 million leads for our clients.
You can feel confident we'll drive results for your business, too.
Ready to reach more qualified leads for your B2G company? Contact us online or call us today at 888-601-5359 to speak with a strategist about our PPC services!