When government officials look for contractors, they turn to search engines like Google to help them find the right ones. If you want these searchers to find your business-to-government (B2G) business when they're looking for a contractor, you must use search engine optimization (SEO).
SEO for B2G companies is an excellent strategy to help increase your visibility in search results and attract more government officials to your business. But how do you add SEO to your B2G marketing plan?
On this page, we'll cover four tips for starting with SEO for government contracting. And if you need more help setting up your B2G SEO strategy, WebFX has a team of over 500+ marketing experts that can help. Contact us online or call us today at 888-601-5359 to speak with a strategist about our SEO services!
Learn how we increased traffic by over 40%, and conversions by over 100% for an ecommerce client.
Read the Case Study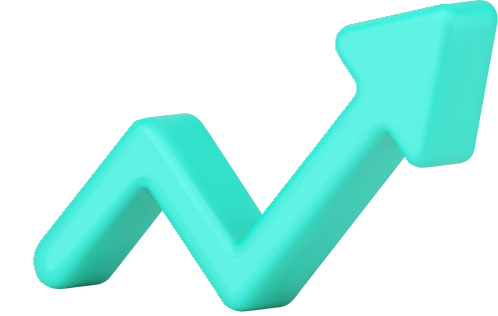 4 tips to launch your B2G SEO strategy
If you need guidance on SEO for government contracting, keep reading to get four tips that will help you launch your strategy!
1. Identify relevant keywords to rank in the right search results
If you want to get started with SEO for government contractors, start by identifying relevant keywords for your website. When government officials look for a contractor, they search keywords on Google to help them find the right company.
To get your business in front of these valuable government leads, you must optimize your pages for relevant key terms.
You can find appropriate terms for your site by doing keyword research. There are numerous keyword research tools you can use to help you find the right terms, like KeywordsFX.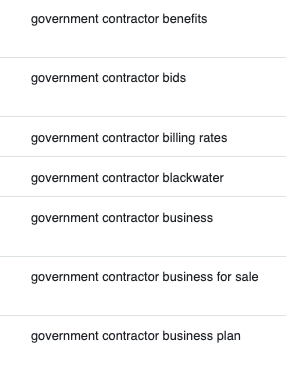 You'll type your starting keyword into the tool and generate a list of suggested relevant keywords. You can comb through the list and pull keywords most relevant to your page.
When you conduct keyword research, you generally want to focus on long-tail keywords. Long-tail keywords contain three or more words, like "aerospace parts manufacturer." These keywords are more specific, so you know you'll reach government officials who need your services.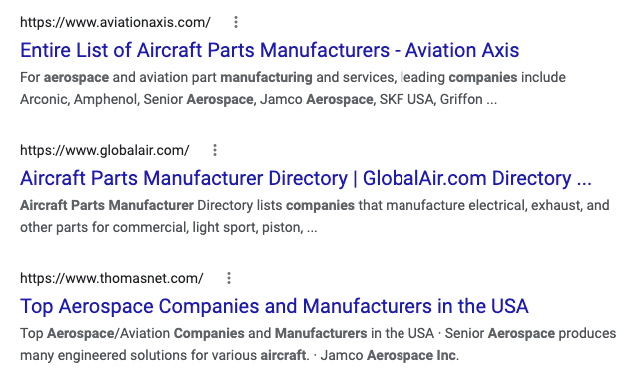 Once you identify the right keywords for your business, you'll integrate them into your site. You can add keywords to your:
2. Create content to help drive qualified traffic to your site
When you do SEO for government contracting, your goal is to drive relevant traffic to your site. But how do you get people to visit your business? By creating content, of course!
Content marketing and SEO are critical to use in conjunction with one another. Content gives you something to rank in search results, while SEO helps your content rank. So, if you want to boost traffic to your site, you must create content.
There are multiple types of content you can use in your B2G SEO strategy, including:
Blogs, in particular, are great for helping your business rank in search results.
When you create content, you'll want to keep it focused on your industry. For example, if you're an aerospace parts manufacturer, you'd want to focus on creating content that's focused on aerospace.
Focusing on industry content ensures that you drive qualified traffic to your site interested in what you offer.
Another thing to consider when you create your content is the search intent for your topic. The search intent is what users want to find when they search keywords. You can see what's already ranking in search results to get an idea of the search intent.
So, for example, if someone searches the word "spaceship," what kind of content do they hope to find? Are they looking for content about the latest space missions? The anatomy of a spaceship? The answer to this question would be the search intent — and getting it right is critical to the success of your content.
Once you know what to write, you can start creating your content. You'll want to ensure that you integrate your keywords throughout your content to help it rank in search results.
Aside from creating great content, you must create content often for your efforts to be effective. Routinely creating content ensures that you consistently provide new information and creating new opportunities for government officials to find your business.
You can use a content marketing calendar to help you plan when to create, edit, and publish your content.
3. Improve your site load time to keep prospects on your website
With SEO for B2G companies, a critical component to helping you rank in search results is having a fast-loading site. People don't want to wait for your site to load to get important information – especially government officials with busy schedules.
Google doesn't want to deliver slow-loading sites to users either, so it tends to rank sites higher that load faster. So, if you want to do SEO for government contractors right, start improving your site's load time.
You can see how fast your site currently loads by using a tool like Google PageSpeed Insights. If you plug your site's URL into this tool, you'll get a deep analysis of how your site currently loads for people who visit.

Google PageSpeed Insights will also provide you with tips for how you can improve your site load time. Some common ways to improve site load time include:
Reducing redirects
Compress image files
Enable browser caching
Minimize HTTP requests
Use a content distribution network (CDN)
When you improve your site load time, you deliver a better experience for your visitors, which keeps them engaged longer. As a result, you'll not only keep leads learning about your business longer, but you'll also improve your site's ranking to drive even more leads for your business — due to positive dwell time, time on page, and bounce rate metrics.
4. Optimize for mobile to deliver a positive experience on all devices
Not everyone searches for information on their computers. Many people use desktops, laptops, and smartphones to find B2G contractors. When you do SEO for B2G companies, you must ensure that you have a mobile-optimized site.
You need to have a mobile-friendly website to ensure your site performs effectively on smaller devices and provides a frustration-free experience for your audience. Not to mention, Google uses a mobile-first index, so having a mobile-friendly site impacts your ability to rank in search.
To deliver a mobile version of your website, integrate responsive design. Responsive design enables your site to adapt to whatever device your audience users. Your site will scale to the user's screen to ensure they can browse your site with ease.
Without integrating responsive design, your audience will browse the desktop version of your site on their device. You'll risk losing these contract opportunities because people will get frustrated constantly zooming in and out to look at your site.
By making your site mobile-friendly, you'll have a better chance of ranking higher in search results and driving more qualified government officials to your business's website.
Independent research from Clutch has named WebFX the
top SEO company

in the United States.

Clutch has personally interviewed more than 250 WebFX clients to discuss their experience partnering with us.

Read More Clutch Reviews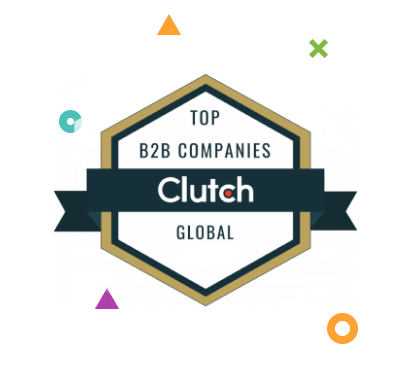 Need help with SEO for B2G companies?
Developing a B2G SEO strategy is no small feat. SEO is an intricate strategy that takes time to develop and even more time to maintain. When you're busy running your business, you may not have the time to dedicate to running your SEO campaign –– that's where WebFX can help.
As the top-rated SEO company by Clutch, we're a trusted partner for building SEO campaigns that drive results. In the past five years alone, we've driven over 7.8 million leads and over 5.2 million phone calls for our clients. We'll develop a custom SEO strategy that helps you earn more contracts for your business.
Ready to experience more online growth? Contact us online or call us today at 888-601-5359 to speak with a strategist about our SEO services!
Earn a 20% greater ROI with WebFX