9 Signs You Need Professional SEO Help
When people search keywords and phrases related to your business in search engines like Google, does your website appear at the top of results?
If not, you're missing out on qualified leads and revenue for your business — especially since 75 percent of people don't click beyond the first page of results. Fortunately, search engine optimization (SEO) helps you boost your search rankings and reach more customers.
For many small and medium-sized businesses (SMBs), implementing SEO seems daunting. If you're looking for professional SEO help from an award-winning agency, you came to the right place.
On this page, we'll take a look at nine signs your website needs professional SEO help and how SEO services from WebFX can skyrocket your rankings and revenue.
Ready to talk with a strategist now? Give us a call at 888-601-5359, or contact us online to learn more.
What is SEO?
Before determining if your site needs SEO help, it's important to understand what SEO is and how it benefits your business.
SEO refers to numerous strategies designed to increase your organic search rankings. These strategies include:
Creating comprehensive, in-depth content to target keywords related to your business
Improving your page speed to prevent people from bouncing or leaving your site
Streamlining your site's navigation to help leads find the information they need
Cleaning up your site's code and technical elements to keep it running at peak performance
Earning backlinks from reputable sites to position yourself as an authority in your field
And much more!
These strategies are extremely important for improving your rankings, but they just scrape the surface when it comes to Google's algorithm, which the tech giant updates consistently. For an in-depth look at Google's 200+ ranking factors, check out our helpful blog post.

All of these strategies are extremely valuable since they focus on boosting your site's rankings in search engine results pages (SERPs). When your business ranks at the top of results, more people can find and contact your business — and ultimately, you'll see an uptick in leads and revenue.
Keep in mind that SEO isn't a set-it-and-forget-it strategy, which means it'll take some time to see results. However, the results you see can change your business, so be patient!
Does my website need SEO? 9 signs it's time to call the experts
Now that you understand how SEO works and why it's important, let's take a look at nine signs your site needs professional SEO help.
1. Your site doesn't appear in SERPs for your most valuable keywords
When determining if your site needs SEO help, you'll first want to check if your website ranks for keywords and phrases that are valuable to your business.
For example, if you provide construction equipment rentals, you'll want your business to appear at the top of results when people search "construction rentals in [your location]."
If your site doesn't rank in the top three search results, it's a sign that you need SEO help.
Maybe backhoe rentals are your greatest source of revenue. If so, your site should appear at the top of SERPs when people in your area search for backhoe rentals. If it doesn't, investing in professional SEO help will allow you to capture and convert more leads.
Not sure what keywords and phrases are most valuable for your business?
Check out our video guide for conducting keyword research.
Identifying your most valuable keywords and determining if your site ranks for those terms will help you to decide if you need SEO help.
2. Your website doesn't get much traffic
After you establish where your site ranks in SERPs, you'll want to evaluate your organic website traffic — the number of visits your site receives from people who click your organic search listings.
To do this, you'll want to enable Google Analytics on your site. Then, you can analyze your site's organic traffic by:
Navigating to the Acquisition tab in Google Analytics
Clicking on "Overview" to see a breakdown of top channels
Clicking "Organic Search" to evaluate the percentage of site traffic that comes from organic search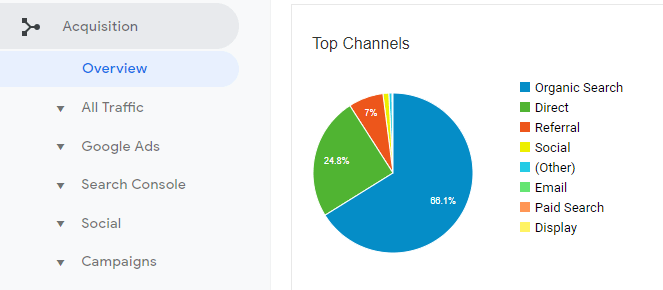 If organic search isn't a top traffic driver for your site, it's time to consider SEO help for your website.
3. Your traffic doesn't convert
You'll also want to pay attention to the number of conversions you receive from organic search.
If people visit your site but don't convert, investing in SEO can earn you more conversions and customers.
Following the steps outlined above, click the "Organic Search" overview in Google Analytics and take a look at the percentage of traffic that converts from organic search.
If your conversion rate is low, you might need to adjust your keyword targeting strategy to reach more qualified leads — people who are most likely to purchase from your business.
SEO strategies help you improve the content on your website to help visitors find the information they need and ultimately contact you or purchase.
An SEO expert can help you diagnose conversion problems and make necessary optimizations to earn more sales and revenue.
4. Your site isn't mobile responsive
Today, nearly 60 percent of online searches come from mobile devices.

Even if your site ranks in search results, you risk losing valuable leads and revenue if it isn't mobile responsive.
To ensure that every user has a positive experience on your site, regardless of the device they use to access it, you need to ensure that it's responsive. Not sure how your site displays on mobile devices?
Check out Google's mobile-friendly test tool. If you don't like what you see, investing in SEO help can allow you to create a site that not only ranks in search results, but also encourages clicks and conversions.
5. Your site isn't HTTPS secured
In 2018, Google started labeling non-HTTPS sites as "Not secure" in browsers.
If you want customers to feel secure and comfortable browsing your site, you need to ensure that it features a "secure sockets layer" or SSL certificate. Sites with SSL certificates appear with closed padlock icons next to their URLs and include "https" vs. "http" in the URLs.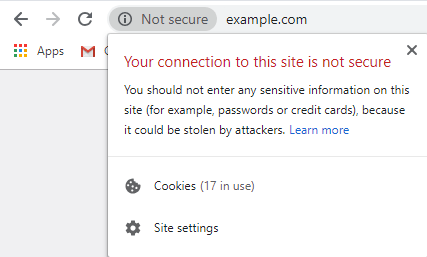 Essentially, SSL protects your customer's sensitive information processed by your site.
While Google officially announced HTTPS as a ranking signal in 2014, it's more important than ever since 30 percent of first page Google results use HTTPS.
If your site isn't HTTPS secured, it's time to consider professional help to improve your SEO.
6. You don't use content marketing
If you want to rank at the top of search results, you need to create in-depth, comprehensive content.
Search engines like Google want to display valuable content that answers or matches users' search queries, and if your site doesn't provide that content, you'll want to invest in SEO help.
Remember those valuable keywords you identified earlier? Content marketing allows you to create informative pages related to your most important keywords and phrases.
Not only does content marketing boost your rankings in search results, it helps leads learn more about your business and find the information they need to take the next step in the purchase journey.
Search engines and visitors alike love fresh content, so you'll want to keep your site content updated on a regular basis. It's important to remember that content marketing, like SEO, isn't a set-it-and-forget-it strategy. If you want to see results from content marketing, you need to stick to a consistent content creation plan.
7. Your site has technical problems
You'll also want to consider SEO help if your site experiences technical problems.
In addition to streamlining your site's code, you'll want to consider the following technical SEO elements.
Site speed
Did you know that 40% of users will hit the back button if your website takes longer than three seconds to load?
Google confirmed page speed as a ranking factor, so if you want to see higher rankings, it's time invest in SEO help to speed up your site. Not sure if your site speed is up to par?
Start by testing your speed with Google's PageSpeed Insights tool.

If you're not happy with the results, don't worry. WebFX offers page speed optimization services to ensure your site loads quickly and efficiently.
Duplicate content
Duplicate content appears on your site in more than one place, and it creates problems for search engines and site owners. For example, if you have two pages that target "construction rentals in [your location]" and they contain nearly identical content, you have duplicate content on your site.
When your site includes duplicate content, search engines struggle to identify which version(s) of the content to index and display in search results. This dilutes the visibility of the pages since search engines choose one version to display.
If your site contains duplicate content, you risk incurring penalties from Google, and you could experience temporary de-indexing.
You can use multiple approaches for dealing with duplicate content including:
Using the rel="canonical" tag to note the "preferred" version of a page
Using 301 redirects to point duplicate content to a single location.
For more in-depth information on how duplicate content impacts SEO, check out this helpful article.
In the meantime, you'll want to seek professional SEO help to address duplicate content on your website.
Robots.txt
The robots.txt file alerts search bots to areas of your website you don't want crawled or indexed. Thought the robots.txt file is helpful for blocking areas of your site from appearing in search results, you need to be extremely careful to avoid a site-wide block.

If you want to learn more about how to effectively use robots.txt, consult an SEO agency like WebFX for help.
XML sitemap
The blueprint for your website, an XML sitemap helps to ensure search engine crawlers don't miss anything when indexing your site.
An XML sitemap speeds up the indexing process of your site and it's important if you want Google's index to accurately reflect your site content.
If you need help creating an XML sitemap and submitting it to Google via your Search console account, it's time to consider SEO help.
For more technical SEO guidance, check out our technical SEO checklist for beginners.
8. Your site provides a bad user experience (UX)
In order to rank at the top of search results, your site needs to provide a positive user experience (UX) for visitors.
Major UX components like your site's navigation and architecture play a crucial role in the information search process for visitors. If people can't find the information they want on your site quickly and easily, they'll waste no time hitting the back button to return to the SERPs.
Since Google considers dwell time when ranking websites, it's important for your site to provide a positive UX to keep people engaged and active on your site.
In addition to streamlining your navigation, adding visual elements like photos and videos is a great way to boost your site's UX appeal.
Without a positive UX, you won't rank at the top of SERPs, so you'll want to consult an SEO expert if your site's UX is less than desirable.
9. Your site doesn't have many backlinks
Search engines like Google consider the number and quality of backlinks pointing to your site when ranking it in search results.
When your site receives links from other authority sites, Google views those links as "votes" in favor of your site and its positive reputation. In other words, earning backlinks from reputable sites shows search engines that you're an authority in your field — and they will rank you higher in search results.
Tools like Ahrefs allow you to analyze your site's backlinks. If you want to improve SEO by earning more relevant backlinks, SEO services can help.
5 Tips to Find the Best SEO Company
Join Bill Craig, president of WebFX, as he looks at the five questions you should ask yourself before committing to an SEO partner.
3 tips for finding SEO help
If you made it this far and you're ready to invest in professional SEO help, we have some tips to help you get started.
When choosing an SEO agency:
1. Make sure they practice what they preach
When looking for SEO help, you'll want to make sure the agency practices what it preaches.
When you search "top/best seo services in [location]," does the agency appear? If an agency has problems ranking for services they provide, there's a good chance they won't help you achieve the SEO results you deserve.
Do your research, and make sure the agency you hire ranks at the top of the SERPs for SEO services.
2. Don't fall for "cheap" SEO services
You'll also want to be wary of companies that advertise "cheap" SEO services.
When it comes to SEO, and any digital marketing strategy for that matter, you often get what you pay for in terms of results.
While SEO services don't need to break the bank, you want to invest in quality services that boost your rankings and earn the best possible ROI.
WebFX offers transparent SEO pricing so you can evaluate your options and choose a plan that works best for your business.
3. Review their portfolio, case studies, and testimonials
Finally, before making a decision, you'll want to review their portfolio, case studies, and testimonials.
You want to work with an SEO agency that drives impressive results — and reviewing these elements allows you to get an idea of the results they've earned for clients.
If you notice less-than-stellar results or feedback, it's a major red flag, and you'll likely want to choose another agency.
SEO services from WebFX
An award-winning SEO agency, WebFX offers custom SEO services to fit your business goals and budget.
In addition to our traditional SEO services, we also offer SEO help for:
Check out an overview of our SEO plans and pricing below.
In the last five years, we generated $1.5 billion in revenue for our clients and earned them more than 4.6 million leads.
Don't take our word for it, though! Take a look at more than 400 testimonials from our raving clients.
Get started with professional SEO help today!
Ready for some professional help with your SEO?
Check out our award-winning SEO services and SEO pricing. If you like what you see, give us a call at 888-601-5359, or contact us online to speak with a strategist.
We're excited to help you drive results with a custom SEO campaign!
Call 888-601-5359 or contact us online today to see how WebFX can improve your online performance.