7 Tips for Commercial Web Design
When you build your digital marketing presence, one of the first things you do is construct your website. Your website is the heart of your digital marketing plan, and it's often the first impression someone gets of your business.
It is important that you invest in web design to keep leads engaged on your page.
On this page, we'll discuss seven tips to help you create a design that works for your commercial business. If you need help creating a website that drives results, call us today at 888-256-9448 to speak with a strategist.
We don't just want to tell you about the beautiful work we do
We Want to Show You!
We've built over a thousand
Websites in industries like yours
View Our Past Work
1. Make it mobile-friendly
Mobile-friendliness is a very important part of your website's design. Many leads access your website from mobile devices. You need to ensure that you provide them with a great experience.
The best way to ensure that your website is mobile-friendly is to use responsive design. A responsive design ensures that your website adapts to whatever device your audience is using. Whether it's a cell phone, tablet, or computer, your website will adapt to those devices to provide users with a great experience.
So, why is mobile-friendliness and responsive design so important?
Think about how a website looks on your computer. The Internet browser fills the screen and you can see all the navigation bars. Now imagine that you shrink that same exact browser down to the size of your cell phone screen, without making any adjustments.
It would be extremely difficult for a mobile user to use a desktop designed site. The links are too small, and it requires a lot of zooming in and out. Users can never get the full experience of the site because they will have to constantly zoom in and out to look at different parts.
By making your website mobile friendly, you are providing every lead with a positive experience on your site, regardless of the device they use.
2. Use calls to action (CTAs) on your pages
Many businesses neglect to use calls to action (CTAs) on their pages. CTAs are an important part of your pages because they tell a user how to take the next step. Your leads may want to act and not know how, so a CTA helps guide them towards the next step.
You can use CTAs to accomplish numerous types of goals. Most companies use CTAs to encourage users to make a purchase or to call their business. You can also use CTAs to get leads to download content or sign up for emails.
It is important that you use CTAs on many of your pages. You can customize each CTA to fulfill a certain action. It may be more suitable to try to get leads to sign up for an email on one page than to move straight to making a purchase.
You can incorporate these CTA buttons into your design. You'll want to make them stand out from your design, so users can see them. This makes it easier for users to see how to proceed next.
By incorporating CTAs into your design, you will help more leads convert.
3. Include visual elements
Visual elements are an important part of your website's design. You want to keep your audience engaged, so you need to include elements that will catch their interest and keep them on your page. One of the best ways to do that is by incorporating visual elements.
There are numerous types of visual elements you can include in your design. You can use photos, infographics, or videos to spice up your pages.
These elements are very effective on your pages. They break up all the text on your page, which helps readers digest the information better. Many people are visual learners, so it is a great opportunity to help them see different aspects of your business.
You can focus on various subjects for your visual elements. These elements are great for giving your audience a visual perception of your staff, your company, and your products. Pictures and videos can have a powerful impact on how your audience views your commercial business.
When you incorporate visual elements into your design, you keep leads engaged on your page, which means you can work on nurturing those leads. These elements also help earn you business conversions. In fact, 90% of people said that videos help them decide whether or not to purchase a product.
Visual elements, like videos, have the power to impact your audience and nudge them towards conversion. By incorporating these elements, you will keep your audience on your page longer and keep them engaged. This will lead to more conversions for your business.
If you want to create a web design that engages your audience, you need to include visual elements in your design.
4. Tell customers what you'll do for them
A partner of web design is copywriting. When you have your website's design created, you need text on the pages. The information on the pages is just as important as the design.
When you are creating your website's design, it is important that you focus on what you can do for your customers. Many businesses make the mistake of focusing on what they do, rather than how it will benefit their customers.
If someone is checking out your commercial business, they want to know how your business will help them. What do you have to offer them? What are the benefits of choosing your business?
This is something important to remember as you design your website. You need to design a website that is for your customers. You want them to engage on your page and convert.
When you structure your website, think of all the ways you can showcase the benefits of your business. Are there are photos or videos that will help them understand? If there are, these are great elements to include in your website's design to convince your leads to choose your commercial business.
As you create your website's design, make sure that you focus on creating a website that shows your customers what you can do for them.
5. Make it easy to buy
When leads come to your site, you want them to make a purchase. The overall goal is to earn conversions for your business. If you want leads to convert, you need to make it easy for them to buy.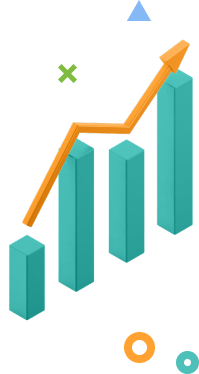 Time To Level Up Your Sales
Our long list of services helps you make waves in your industry and increase metrics that matter most – like sales.
IN THE PAST
5 YEARS

, WE'VE MANAGED MORE THAN 11.5 MILLION TRANSACTIONS ACROSS OUR CLIENT BASE. Get a Proposal!
As you design your commercial website, you want to create a site that makes purchasing easy. You don't want your leads to go through too many steps or change pages too often. It is best to create a simple and easy checkout process.
On your product pages, you'll want to incorporate a button that allows leads to quickly add something to their cart. They shouldn't have to click on the product to add it to their cart. This will provide your leads with a better shopping experience.
You'll also want to make is possible for your leads to hover over an image and get information about it, without having to click on it. This enables leads to see if they want a product and add it to their cart, without going back and forth in their browser.
By making the shopping experience easy, you will see more conversions for your commercial business.
6. Include contact buttons on every page
Leads are going to check out various pages on your site. They may stumble across information and have questions. You need to make it easy for them to contact your business and resolve those questions.
Some leads may not find your contact page. They may not want to leave the page they are on because they have a question about the product on that page.
To make this process easier, you'll want to include contact buttons in the header or footer of every page. This enables leads to find your information quickly and efficiently.
You don't want to miss out on sales because leads can't figure out how to contact your business. By implementing a contact information button, leads can get a pop-up window of information that helps them contact your business.
Even if you don't want to use a contact button, you can simply place a phone number in the header or footer. You can encourage leads to contact that number with questions. It is a simple and easy way to help leads get in touch with your business, so you can help them convert.
By creating contact buttons, you will earn more conversions for your business.
7. Keep your pages organized
Many businesses want to share as much information as possible with their audience. They cram all this information on to one long page, but it ends up being a mess. This makes it difficult for users to digest the information.
It is important that you keep your pages clean, so users can have a positive experience on your site. If you have numerous photos, videos, and blocks of text that aren't organized, it will be difficult for users to engage with your page.
There are numerous ways you can organize your page to keep it clean.
One way is to break up the text on your page. To help readers digest information easier, break up blocks of text into paragraphs with three to four sentences. This enables your readers to make in the information easier and quicker.
You'll also want to break up sections with headings. If users need to skip through pages, this enables them to find the right section with the information they are seeking.
As for your visual elements, make sure that they are all the same size on your page. This will build a consistency with your visual elements and make your pages appear cleaner.
Lastly, make sure that you are using the same font across all pages. This will build consistency and make your website clean. It will look more professional and put together when you use the same font for all headings, subheadings, and body text.
When your page is organized, users can navigate your website easier. They can browse your products and check out your company without being bombarded by an abundance of information. This helps them focus on what your company can do for them and the products that they need.
When you have a page that is more organized, your leads will remain on your page longer. This will lead to more conversions for your commercial business.
WebFX is a top commercial web design company
Your website's design is an important part of your business. If you're looking for a great web design company, look no further than WebFX. We're a full-service digital marketing company that has experience creating customized websites for commercial businesses.
We have a team of 150+ experts that are dedicated to your campaign. Our award-winning team of designers will help you create a website that fits your commercial business.
If you're looking for results, we know how to bring them. To date, we've driven over $2.4 billion in sales and over 6.3 million leads for our clients. We focus on putting our clients' success first.
Our clients love the work we do, too. We have over 550 client testimonials from a variety of industries. Check them out to see what it's like to work with a top web design company like WebFX!
Get started today
If you're ready to start earning more leads and conversions by building your ideal website, contact us online or call us today at 888-256-9448 to speak with a strategist.
We look forward to taking your commercial business to new heights!