8 Qualities of a Great Web Designer
When you're in the market for a web designer, finding one that's compatible with your business can take a long time. Your business is unique, and that means you need a specific designer to make your company look good online.
However, there are some tried-and-true ways that you can find the web designer that works for your needs. By judging potential designers based on these eight qualities, you're sure to find the one that works for you.
If you'd like to speak to a specialist about web design, you can reach us at 888-601-5359.
Don't forget, whether you need web design services in Richmond, or a web designer in Tampa, WebFX has you covered.
Time to Level Up Your Sales
Our long list of services helps you grow every aspect of your business with marketing strategies that are proven to increase bottom-line metrics like revenue and conversions.
In the past 5 years, we've managed more than 12.9 MILLION transactions across our client base.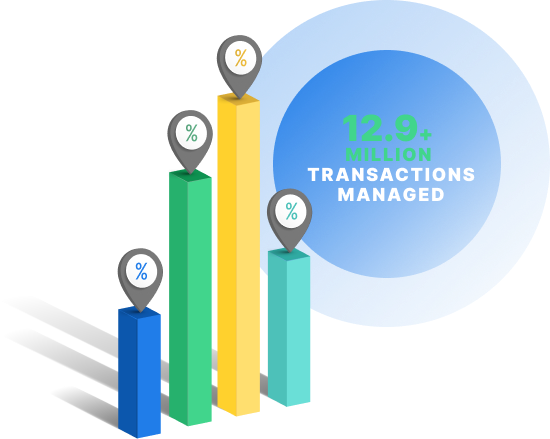 8 qualities of a web designer that will work effectively for you
Now, let's talk about what characteristics you should look for in a web design agency. In our book, these are the most important.
#1: Experience in your industry
This is a good beginning point because it quickly eliminates web designers that you don't want to use. When a web designer has experience in your industry, it means they're familiar with what you consider to be important. While their experience may vary, even a single project with a business similar to yours can make a web designer a potential candidate.
You could also go with web designers who don't know your industry, but the whole design process could take longer with the planning, back-and-forth, editing, and more. In general, using a designer who's worked with businesses like yours is just easier.
#2: Appropriate pricing
This goes right to the heart of the matter — what does a designer charge for their services? The price to hire a web designer varies wildly, depending on a huge range of factors, including their location.
The key to finding agreeable pricing is to set your budget before you start looking for designers. Then you just have to stick to your budget. Every designer needs to prove they're worth what you pay, but that goes double for designers that ask for more than you've budgeted.
#3: Knowledge, methods, and strategies
Regardless of how you found a web designer, it's important to ask about their knowledge, methodology, and overall strategy when they're creating a website. If they have a hard time explaining any of those qualities, you could have a hard time working with them.
On the other hand, if they can quickly and succinctly answer your questions on these issues, then they most likely know what they're doing. The people who can tell you what they know, how they operate, and how they set goals are also the people who can methodically work to improve your website.
#4: An expansive portfolio
While it's sometimes fine to hire a start-up web designer, it's also a gamble. New web designers may have talent, but they don't have a track record or experience. With that in mind, it's generally smarter to hire a web designer that can show you a detailed portfolio of their experiences with past clients.
Portfolios don't have to be flashy — they can just be a collection of different links that show you what the designer can do. This also gives you the chance to ask the designer why they chose to lay out a website they way they did, or what they wanted to achieve with a certain design. Overall, a portfolio can tell you a lot about a designer, and an impressive collection of past work is a good sign that a designer is a good fit for your needs.
#5: The extent of their services
If you're looking at web design firms, it's possible that they do more than just create websites. They may also make content, work in SEO, run social media marketing campaigns, and more, all of which are perfect complements to your web design needs. If that's the case, they may also have packages you can choose to get a more holistic approach to creating a strong web presence for your company.
If you're using a solo web designer, you probably don't have many options aside from the overall look and layout of your website. SEO, development, social media marketing, and other disciplines don't often come with one designer since they're all so different and elaborate. When you choose a solo freelancer, you almost always get what's on the box — web design.
#6: A reasonable contract
To start work with a web designer, you'll have to sign a contract. But that's the kind of thing that you want to read before you sign it. Get a copy as soon as you can when you're interviewing web designers, and read it carefully.
Contracts should stipulate payment, deliverables, contingencies in case of unforeseen problems, refunds, and more. It's a good idea to have your lawyer read through the contract to ensure you're protected, especially in the event that your site isn't made to your specifications.
#7: Website maintenance
Some web designers offer continued services for website maintenance to keep your site functioning properly as you use it. Similarly, you may be able to maintain your website yourself, if you have the time and know-how.
Either way, it's important to know what to expect after your website is created. Most of the time, freelance or agency web designers only make your website, and then it's up to you to do anything else. In rare cases, you may find agencies that offer an affordable maintenance plan.
#8: Your confidence
At the end of the day, nobody knows your business better than you do. That means your confidence is the ultimate decision-maker for any web designer. If a candidate sounds like a good fit, think it over and consider how much you trust them. If you have any misgivings, don't go forward — it's better to spend your money on a designer that you can trust instead of taking a risk with your company's finances.
We don't want to tell you about the work we do, we want to SHOW you.
View Our Portfolio

We've built over
Websites
in a variety of industries.
WebFX knows how to design and maintain websites
At WebFX, we know all the ins and outs of web design, and our talented team of designers can give you a unique, tailored website that you can use to promote your brand. We don't use any templates either, so you can be sure your website will be a one-of-a-kind experience for your customers. Whether you want to grow an ecommerce business or increase the number of leads your business receives each day, using a well-designed website can help your company grow.
Do you want to impress your customers from the moment they look up your company? Contact us today to create a specialized web design plan just for your business!