What is ecommerce SEO?
Ecommerce SEO is a set of optimization techniques that enable your website to rank higher in search results. SEO for ecommerce enables you to appear in more relevant search results, which enables you to drive more traffic, leads, and sales to grow your store online.

Why does SEO matter for ecommerce?
Now that you have the answer to "what is ecommerce SEO," you're probably wondering why it matters. Why should you invest in an ecommerce SEO strategy?
Here are four reasons why SEO matters for ecommerce:
You help people discover your brand: If someone isn't familiar with your brand, ecommerce SEO is a great way to help them discover your brand. You appear in more search results, which helps more people discover your brand.

You help more people find your products: People actively search for products your ecommerce business offers. By investing in ecommerce SEO, you help increase product visibility and brand recognition.

You provide a better experience for your audience: Investing in ecommerce SEO enables you to provide a better user experience for your audience. You must optimize your site to rank higher in search results, which in turn helps you provide a better experience for your audience. A more positive user experience leads to positive brand association and increased sales.

You increase sales: When leads find your products in search, they take the time to check them out and see if it's a good fit. By ranking in relevant search results, you attract leads more likely to turn into sales for your business.
12 great ecommerce SEO strategies for your online store
Now that you have answers to "what is ecommerce SEO," and "why does SEO matter for ecommerce," it's time to dive in and get started! Check out these 12 ecommerce SEO best practices to boost visibility for your online store!
1. Perform keyword research to rank in relevant search results
The first step to your ecommerce SEO strategy is keyword research.
Keywords are the terms that your ecommerce shoppers search for when using a search engine to find relevant products. For example, if someone wanted to find seashell décor, they may search "bathroom seashell décor."
Your keywords help your products appear in front of your shoppers. Search engines, like Google, use keywords to determine your page's relevancy in search results. So, it's critical that you choose the right keywords for your product pages so you can appear in relevent search results.
To research keywords for ecommerce, start by searching your product types to see what additional keywords you can generate. You'll want to use a keyword research tool, like KeywordsFX, to find relevant terms.
So, for example, let's search "seashell décor" in a keyword research tool.

From this search, you can get a list of keyword ideas you can use on your product pages. So, for example, if "seashell décor for bathroom" is relevant to your product page, you can use that as a keyword on your page.
As you conduct keyword research, you'll want to stick to long-tail keywords. Long-tail keywords contain three or more words and are very specific. These keywords help you drive more relevant leads for your business.
Generally, you want to stick to long-tail keywords because they drive more qualified traffic.
While some short-tail keywords, keywords that contain one or two words, can work well for your business, they generally have a lot of competition. Not to mention, it can be difficult to know what someone wants if the search short-tail keywords.
Take "seashells," for example. Does the searcher want to know what a seashell is, how to identify seashells, or to buy seashells? It's hard to tell based on this keyword.
But if someone searches "queen size seashell pattern comforter," you know exactly what they want to find.
As you can see, the search intent with long-tail keywords is much clearer than with short-tail keywords. Long-tail keywords are also more niche than short-tail keywords because they're more specific in what the searcher wants to know. So, to nail your ecommerce SEO strategy, still to longer key terms.
2. Create helpful content
After you select a primary keyword and a handful of related keywords, you'll want to get working on your content marketing strategy for ecommerce. Content helps you rank in different search results and drive more relevant traffic to your page.
To get started with creating content, you need to drum up topics. Stick to industry related topics that help you drive relevant traffic to your page. You can then find relevant keywords to integrate into your content.
To create impactful content:
Incorporate your target keywords: Let your audience know exactly what they're looking at by including your keywords throughout your page. You want your keywords to sound natural, so avoid stuffing in too many keywords.

Match the search intent: When you create content, make sure your content matches the search intent. Take your keywords and search to see what other companies write about a topic. It will help you create content that matches the search intent better, so you can rank in the results.

Format your content properly: Content that ranks is conversational. It presents information in a clear, easy-to-understand manner. Avoid using an excessive amount of technical and industry terms to make your content approachable.

Make it easy to skim: You want shoppers to quickly find the information they're looking for when they land on your site. Make sure that your content is easily scannable. Break up your pages with short paragraphs, bulleted lists, and headings so shoppers can scan to find the information they need.
Learn digital marketing insights from the WebFX experts
Our library of free guides can help you plan your next digital marketing strategy.
Download a FREE E-Book!

3. Produce click-worthy title tags
Title tags are the first thing your audience sees in the search results when they come across your listing.

Title tags are an essential aspect of SEO for ecommerce sites because along, with keywords, Google uses title tags to determine the context of your page. They're a direct ranking factor for Google.
For every page on your site, you'll want to spend a few minutes brainstorming title tags. You'll want something enticing that encourages shoppers to click on your result.
More importantly, though, you'll want to place your primary keyword right at the beginning of your title tag. Searchers tend to read just the first few words of your title, so you want to let them know right away what they're looking at.
Including your keywords in your title tag also improves your content's rankability.
As you optimize title tags, make sure you stay within the character limit. You only have 60 characters for your title tag, so you'll want to try and stick to title tags that are about 55 characters to give yourself some wiggle room. Otherwise, you risk your tag getting cut off.

4. Craft eye-catching meta descriptions
Meta descriptions appear underneath your title tags in search. They give a brief description (around 160characters) of what shoppers will find when they visit your page.

Meta descriptions play an important role in providing shoppers with information about of your page and getting them to click on your link. Enticing meta descriptions will drive traffic to your online store.
Don't forget to include your target keywords in your description. It will help both Google and searchers understand that your page is relevant to the search results.
5. Generate user-friendly URLs
You can improve your online store's accessibility by incorporating user-friendly URLs for all your pages.
Rather than a confusing string of random letters and numbers, it's better for your customers if you use your page's keywords to provide context to your page and help users remember your URL better.
If your site contains categories or folders that your pages fall into, you can include those in your URL as well. Your customers will have another way of keeping track of where they are on your site.
exampleurl.com/store/products/coastal-decor/silver-sea-fan-accent.html
This URL has a clear hierarchial structure that users can follow easily. They'll also be more likely to remember this path than something like this:
Exampleurl.com/store/products/category8390-3/44jg930294.html
A clear URL structure will help you rank better in search results and provide better context for your audience.
6. Enhance your site architecture
As an ecommerce site, you have hundreds of pages on your site. From your category pages to individual product pages, you have a lot of pages to keep organized. When performing SEO for ecommerce sites, it's essential to have a solid architecture that promotes ease of navigation for your customers.
For your site's architecture:
Keep it organized: The most important thing when it comes to architecture is that it's organized and follows a logical path. When you have an organized path, it makes it easy for users to backtrack without pressing the back arrow. Use navigational breadcrumbs to help your stay organized.

Keep it scalable:As an online store, you'll add new pages as you add new products and create content. Your site's architecture must be able to handle the new additions while keeping its integrity as a simple architecture. Have a systematic organization of categories that allow you to add new product pages easily.
When creating a site structure, you want to design with your customers in mind. Take a second to review your site structure and determine how easy it is to find pages on your site. And if you don't already, add a search bar function so your customers can easily search for products.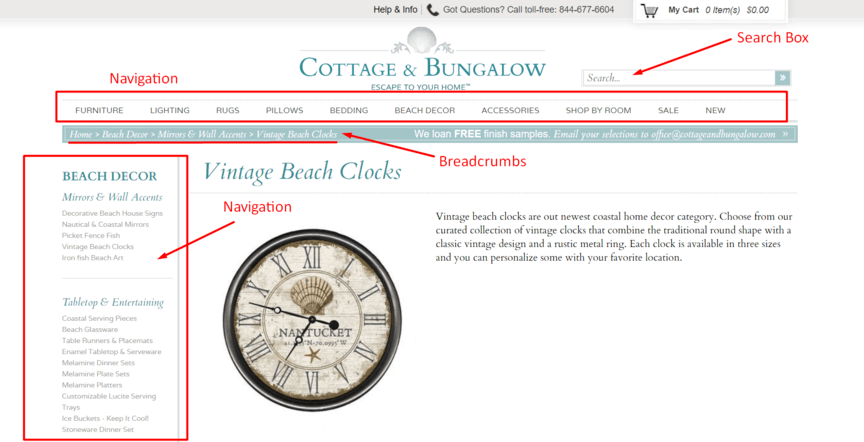 7. Optimize your images for search
As an ecommerce business, you provide your shoppers with an abundance of images to help them get a visual perception of your product. As a result, your pages can get heavy and slow down because you have so many image files on your site.
A slow site is detrimental to your SEO because Google only wants to deliver fast-loading site to searchers so they can get information quickly.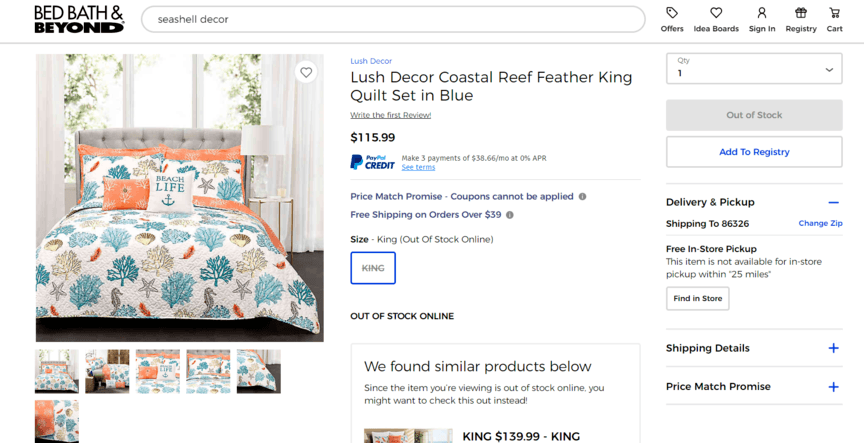 To help you keep your images from weighing down your site, use image compression tools, like Kracken.io, to make your image file sizes smaller. It will help keep your images from bogging down your site.
Using lossy compression can help you save several kilobytes (even megabytes) per image while still looking fabulous on your page.
In addition to compressing your images, you'll also want to add alt text to your images to help you rank in search results.
Alt text appears when an image doesn't load properly or when a shopper uses an assistive software like a screen reader. When you add alt text, you create an opportunity for you to integrate your keywords on your page and rank in search results.
So, instead of having your alt text say "coral image," you can have descriptive alt text that says:
A white comforter with blue coral and starfish. The underside of the blanket is coral color with white coral reefs on it. The coral reef quilt set is on a king-sized bed with matching pillow cases.
So, if you were ranking for "coral reef quilt set," this alt text would provide a great description while seamlessly integrating your core keyword.
Partner with
Ecommerce

masters!

Campaigns managed by WebFX have earned over
TRANSACTIONS IN THE LAST 5 YEARS
Read the Case Studies
8. Improve your ecommerce site's page speed
Your store's page speed is incredibly important to keep as fast as possible. Why?
If you can increase how fast your website loads by just one second, it can increase your conversions by as much as 7%.
Additionally, websites that load within five seconds earn 70% longer user sessions and a 35% lower bounce rate. Slow ecommerce stores run the risk of losing potential customers.
If you want to know how fast your site currently loads, you can check your load time with Google's PageSpeed Insights tool.
Aside from compressing images, as we mentioned before, you can improve your page speed by:
Hosting videos on third-party platforms like Wistia or YouTube
Compressing heavy Javascript, CSS, and HTML files
Cleaning up your code and removing unnecessary elements
Checking your server configuration
Enabling browser caching for faster load times
Reducing the number of redirects
If you feel overwhelmed trying to make these changes on your own, you can invest in page speed optimization services from a digital marketing company.
9. Integrate responsive design for a better shopping experience
Over 70% of consumers shop on a smartphone. If you don't have an ecommerce website that's responsive to mobile devices, you won't rank in search results.
Google now uses mobile-first indexing to rank sites in search results, which means they look at the mobile version of your site to rank your website in search. If you don't have a mobile-friendly website, you'll fall behind your competitors with mobile-optimized sites.
By using responsive design, you enable your website to adapt to whatever device your audience uses. It ensures a positive experience for your audience, whether they're on a smartphone or tablet.
With good responsive design, each element on your site — your text, images and videos, navigation, etc. — scales, and the layout shifts, so your page looks flawless no matter what device your visitors use.
Using a fluid grid in your site's code
Designing elements for both mouse and touchscreen
Choosing elements that provide the best experience to include on smaller screens
Trying out predesigned responsive layouts
You can test how mobile-friendly your site is using Google's Mobile-Friendly Test tool.
And if you need help adding responsive design to your store, check out our awesome responsive design services!
10. Highlight your products with schema markup
Schema markup is code that you include in your HTML that adds features such as product reviews, prices, and stock to your results.
Google chooses whether to add the elements to your result in search pages, but with schema markup in place, there's a good chance that those features will show.

When shoppers can see this information directly in search, they'll be more engaged and can make more informed decisions during their researching process.
Schema markup also boosts your ecommerce SEO because it helps Google understand your page better. This scheme helps becauseit enables you to identify yourself as an online entity (including your name, URL, and phone number), as well as establish what products you sell.
11. Start backlinking
Backlinks are links to your site from other sites. Backlinks are valuable to your ecommerce SEO strategy because they can bring a significant boost in traffic and help you improve your site's trust and authority.
Search engines view backlinks as endorsements, so it's important that you earn credible and valuable backlinks to your site.
So let's say that you sell coastal décor.
If a popular interior design blog wrote a blog called "Beach Décor Must-Haves for Your Home" and linked to one of your product pages, it's serving as an endorsement that readers should buy your product. When their audience reads their post, people will start heading over to your product page to check it out and potentially purchase.
You want to earn an abundance of backlinks to help improve your site's authority.
To build a link building strategy:
Create engaging content that will get sites to link to your page
Build up a presence on social media to boost your brand's visibility
Create sharable videos
Inform other sites of broken links and provide one of your pages they can link to instead
Invite industry authorities to check out your content
12. Secure your ecommerce site
Site security is an absolute must for ecommerce sites, and there's a big push in ecommerce SEO for users' private information to be under tight lock and key.
As an ecommerce store, you'll need to encrypt the data you receive from your customers. Your audience wants to feel secure when they input their credit card information and address. You need to secure your site to ensure that customers will keep shopping on your page.
You can do that by applying for a secure sockets layer (SSL) certificate.
An SSL certificate encrypts the data on your site so people with malicious intent can't read it. It also adds HTTPS (as opposed to the unsecure HTTP) before your site's domain name.
Secure sites will outrank unsecure sites, so it's important that you secure your website to improve your ecommerce SEO strategy.
Find a trusted ecommerce SEO partner in WebFX
Want to focus more on running your online store without having to worry about monitoring and managing your SEO campaign?
If so, you can get the best of both worlds by partnering with an experienced ecommerce SEO agency. As one of the best SEO companies in the world, WebFX is more than qualified to boost your ecommerce store's traffic to new heights.
With our ecommerce SEO services, we'll help you optimize your product pages, blog posts, and more to drive more traffic to your page. When you partner with us, you can count on our team of over 300 experts to help you create an ecommerce SEO strategy that works.
Request a free quote online or call us at 888-601-5359 to get started!