As the global environmental testing industry continues to expand, consumers now have more options when looking for a reputable company to do their analysis and testing. That's where pay-per-click (PPC) advertising can help your company stand out and acquire an edge in this competitive industry.
When done correctly, PPC for environmental testing companies can be a fast and straightforward approach to reaching potential clients and connecting with them when they look for environmental testing services online.
Want to learn more? Continue reading to discover the best PPC strategies for environmental testing companies and how to get started.
Here's a brief outline of the topics we'll discuss:
Want to boost website traffic or lead generation? WebFX provides technologically advanced PPC services for environmental testing companies that will aid in achieving your goals, measuring your success, and increasing your return on investment (ROI).
Contact us online to chat with a knowledgeable PPC strategist about how our PPC services can maximize your profits.
What is PPC for environmental testing companies?
PPC for environmental testing companies is an online advertising technique to drive traffic to websites that offer environmental testing services. With PPC advertising, the company only pays the publisher (such as Google, Bing, or any social network) if and when a potential client clicks on their ad.
Search engine advertising is one of the most common types of PPC, where you may buy visibility in the sponsored links at the top of search results. This method is only effective if your company's offering is relevant to a user's search query.
Therefore, you should bid on keywords your target audience searches for online. For example, by bidding on keywords like "best environmental testing services," you can deliver a clear message while ensuring that all your ad landing pages are relevant.
Why employ PPC for environmental testing companies?
PPC ads instantly drive businesses to the top of the search engine result pages (SERPs), where more than 46% of clicks go to the top three paid ad spots. For this reason, PPC for environmental testing companies is essential for faster results.
For every dollar a business invests in Google Ads, it receives back $2. In that case, PPC advertising can be a fast and profitable approach to promoting your environmental testing services to new prospects.
In addition, 79% of businesses mention PPC as a critical factor in their success. In light of these findings, it is clear that PPC advertising is essential for your environmental testing company if you want to keep up with the competition.
Traffic attracted through PPC advertising yields 50% more conversions than organic advertising.
Are you leveraging PPC in your marketing efforts? Let's get started.
View the Guide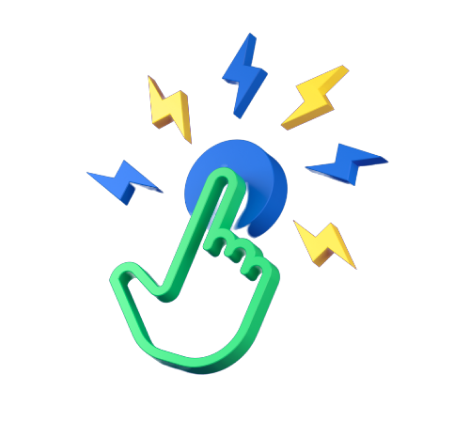 Top 5 PPC strategies for environmental testing companies
Here are the five best PPC strategies for environmental testing companies you can use to attract qualified leads to your website:
1. Focus more on mobile-friendly landing pages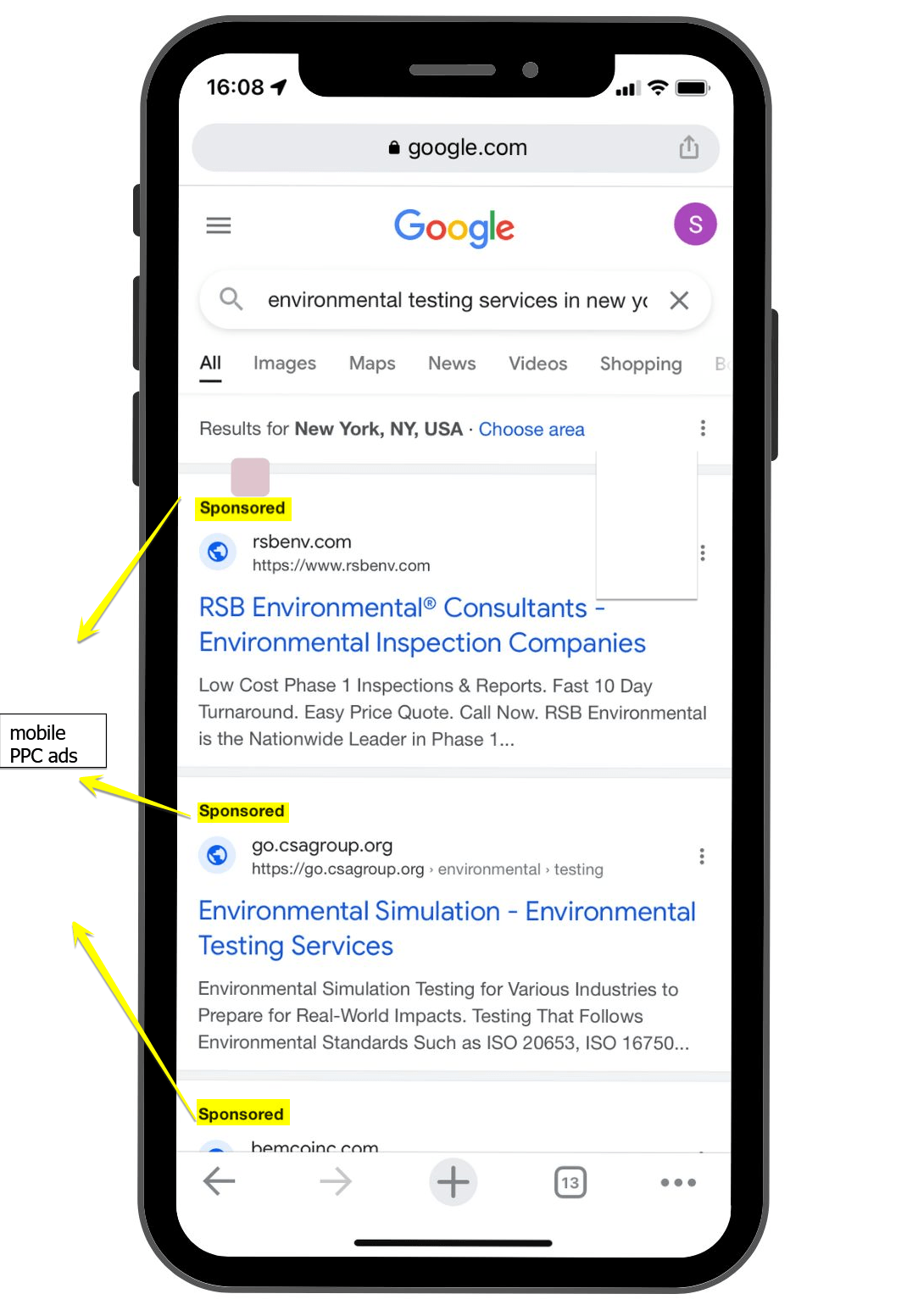 Since Google's indexing algorithm prioritizes mobile-friendly sites, it's best to improve user experience by optimizing your landing page and main website for mobile users.
If users view your ads on their mobile devices but are redirected to a non-mobile-friendly landing page, they likely won't convert. In addition, it may harm the Quality Score of your ad, negatively impacting your PPC ad's position in the search engine results.
Also, it's best to leverage mobile-specific PPC advertising strategies to stay up with the ever-evolving preferences of your clients.
With most of your clientele being other businesses and government organizations, there is a greater likelihood that a new or existing customer will notice an ad on their mobile device than through more conventional channels.
Questioning the quality of your SMB's PPC performance?
Get your FREE PPC audit from WebFX today!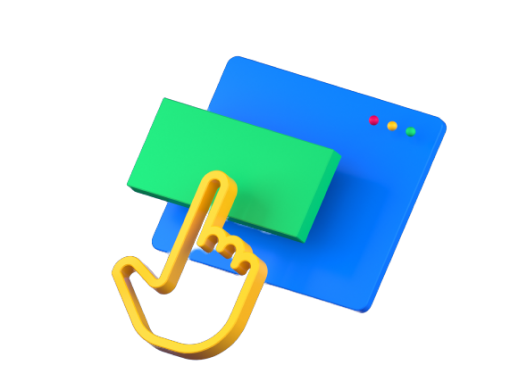 2. Take advantage of impression share metrics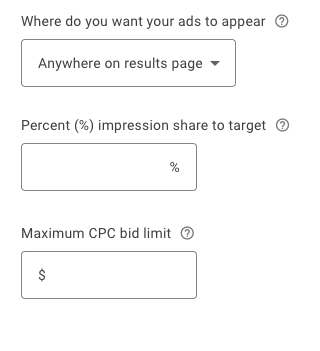 Impression share metrics reveal how your environmental testing ad performs in comparison to others. This measure is computed by dividing the number of impressions your advertisement received by the number of impressions it was qualified to get.
There are several techniques to analyze impression share, but here are the two primary ways that can help your ad position improve:
Search absolute top impression share: The ratio of the number of times people viewed your ad in the first ad position compared to the number of impressions you could have received.
Search top impression share: Impressions at the top position (anywhere above organic search results) against your ad's projected impressions in the top location.
If you have a firm grasp on how ad placement work on search results, you'll be more equipped to pinpoint the source of poor campaign results and make informed decisions about improving your bids and the overall quality of your environmental testing ads.
If you want to maximize your return on ad spend (ROAS), for instance, it is helpful to know what share of top-quality impressions your advertisements are receiving.
The "search absolute top impression share" and the "search top impression share" in search results are practical measures of how likely Google will display your ads in high-traffic positions.
Furthermore, you can easily understand the reasons behind a keyword's low performance by using impression data.
The level of detail provided by the breakdown of impression share lost due to budget or rank makes it clear what has to be adjusted to raise an ad's position on the results page.
3. Perform conversion rate optimization (CRO)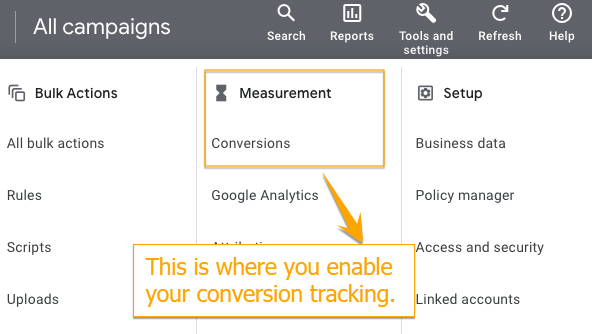 Conversion rate optimization (CRO) is an excellent tactic for minimizing cost per conversion rates and maximizing ROI from your advertising efforts. Using this method, you can keep the total cost of your conversions to an absolute minimum.
CRO typically entails optimizing aspects of your PPC ad for maximum conversions so that more users will take the desired action, such as buying a service or signing up for a newsletter.
CRO can include:
Adjusting your ad copy
Integrating media files (such as images and videos)
Adding effective CTAs and extensions
Performing CRO can help you understand how to encourage and remove barriers to action among website visitors. Then, armed with that knowledge, you can tweak your site so that people can convert with minimal effort.
Plus, for even better insights, you can track your conversions in Google Ads to see how many visitors' clicks convert into sales, signups, and other key actions on your site.
4. Remarketing lists for search ads
Remarketing is a highly effective tactic if you want to tailor your ad to the interests of returning visitors. It allows you to reconnect with visitors who left your site without acquiring any environmental testing services.
Google Ads provides a few options for targeting previous site visitors with your current ads. Using "tracking cookies," Google can identify users who have already visited your website and display your PPC ads to them when they search.
If you would like to learn more about this practice, check out the article "How to Boost Conversion Rates With Remarketing" from the WebFX PPC resource hub for marketers for further clarification on the subject.
5. Add call extensions

With a call extension, potential clients can contact you immediately after seeing your advertisements. 70% of smartphone users who search also make a call using the click-to-call option.
You can use a call extension to get more users to contact you after seeing your ad in the search results.
Plus, you can easily track the number of calls generated by your PPC ads through your dedicated phone number in your ad CTAs. This way, you get a clear picture of your ROI.
When it comes to PPC marketing, this tactic is among the most effective means of increasing sales for local companies.
Use our proprietary keyword research tool, KeywordsFX, to help you find high-quality keywords for content and PPC campaigns. Identify Top Keywords for Free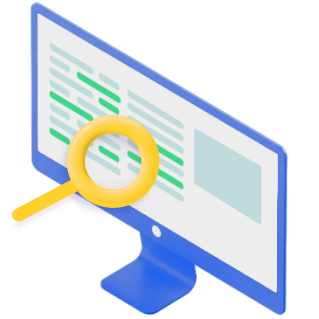 Partner with an agency that specializes in PPC for environmental testing companies
PPC advertising is the most effective method for gaining a competitive edge by getting in front of your target audience when they're already searching for environmental testing services.
At WebFX, we offer PPC services for environmental testing companies, which include creating custom PPC campaigns that boost conversions and generate revenue.
Plus, with the help of MarketingCloudFX — our exclusive platform for accelerating sales for clients — your company's PPC efforts can improve by as much as 20%.
Ready to get started? Contact us online or call us at 888-601-5359 to chat with a PPC expert about increasing traffic, driving more leads, and generating more revenue with PPC ads.
Earn a 20% greater ROI with WebFX