What Is B2C Social Media Marketing?
What is B2C social media marketing? B2C social media marketing is the use of social media by business-to-consumer brands to generate brand awareness, online engagement, and even sales. Keep reading to learn more about B2C social media marketing's meaning!
When you market your B2C company online, it's crucial to do it on platforms that grant you access to a large and relevant audience. That makes social media a perfect advertising venue for your business. Read on to learn more about B2C social media marketing!
Why learn B2C social media marketing's definition? Read on.
Charles is looking for a new laptop but having trouble deciding on one to get. Procrastinating, he logs into Facebook to scroll through his feed for a bit — but then, right there in his feed, he sees a post about your company's newest laptop. After reading the post, Charles follows it to your site, where he decides to buy.
In the above example, the post Charles saw was an excellent example of B2C social media marketing. Whatever you do sell, you can use social media to help you promote it.
What is B2C social media marketing, though? What goes into a B2C social media strategy? We'll answer both of those questions below, so read on to learn more.
Then subscribe to Revenue Weekly — our email newsletter — for more digital marketing tips from the agency with over a decade of experience!
Meet WebFX:
Your world-class, tech-enabled marketing agency with over 1.6 million hours of combined expertise.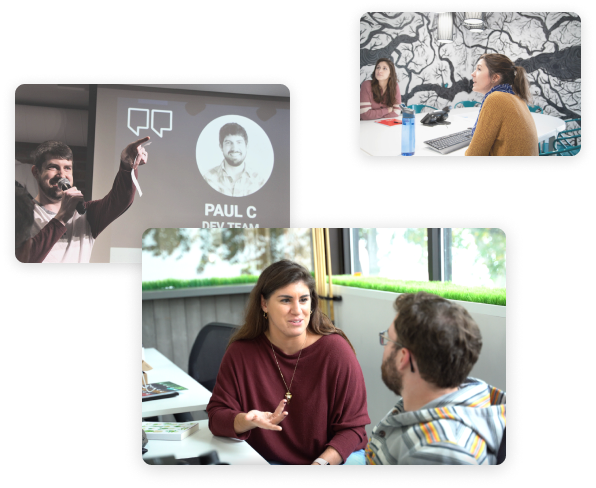 What is B2C social media marketing?
B2C social media marketing is a digital marketing strategy that focuses on promoting your business-to-consumer (B2C) company on social media platforms. The goal is to get your posts into people's feeds and engage users, so you can familiarize people with your business and draw them to your site.
What is social media marketing?
Social media marketing mainly consists of posting engaging content on your page. Some of that content can be informational, or it can be more sales-focused. The point, though, is to post engaging content frequently enough to keep users interested.
Not all your content has to be organic, either. You can also run paid social media ads, where you pay to promote some of your posts in users' feeds. Those ads lead users to landing pages where they're encouraged to convert.
What is the difference between B2C social media marketing and B2B social media marketing?
The difference between B2C social media marketing and B2B social media marketing is the user. In B2C social media marketing, the user is a business-to-consumer brand. In B2B social media marketing, the user is a business-to-business (B2B) brand.
Why do you need social media for B2C marketing?
Now that you know B2C social media marketing's meaning, what is it that makes social media beneficial to your marketing?
To start with, social media offers connection to a vast audience. An astounding 74% of people now follow brands on social media, and what's more, they spend plenty of time there — the average user spends 33% of their Internet time on social media.
Social media gives you a unique outlet for interacting directly with your audience, which we'll come back to later. No other marketing strategy allows you to promote your business quite as casually or creatively.
8 pro B2C social media tips
Now that we've covered the basics of social media for B2C companies, let's look at some expert B2C social media tips for improving your campaigns. Social media has the potential to be an excellent strategy, but only if you know how to make the most of it.
Here are eight tips for improving your B2C social media strategy!
1. Choose the right platforms
The first thing you need to do when beginning a social media campaign is to decide which platforms you want to use. In today's world, there are many prominent social media networks you can market through, including:
Look at who your target audience is, and then spend some time researching which platforms that audience spends the most time on. The answer will tell you which platforms should be your focus.
Consequently, it might not be advantageous to devote time to marketing on all of the above platforms. In fact, you may only want to market on one. It just depends on where you'll be able to find your target audience.
2. Post engaging content
Once you've set up your social media page, it's time to start posting content. You want to post information that will attract users, so it's a good idea to seek out topics about your business or industry that you can talk about on your social media.
Infographics are a great type of material to post, as they provide helpful information and people can skim them. The same goes for videos, which are excellent for catching users' eyes when they show up in their feeds.
You can also share blog posts from your website on topics related to your industry. Blogs are a great way to send users back to your website, where they can become leads or convert.
3. Interact with your audience
One of the aspects that sets social media apart from other forms of marketing is that it allows for interpersonal interaction. Most marketing is one-way — you send promotions or information to users or put ads in front of them to get them to listen.
Social media, however, works both ways. Not only do you share content, but you also listen to what users say in response to that content.
Keep a close eye on what users say and use it as an opportunity to improve your marketing, brand, and products or services. When people comment on your posts or mention you in their own, take the time to respond. Answer any questions people ask you.
When you engage directly with your audience, they feel heard, giving them a much stronger sense of loyalty toward your brand that will ultimately foster conversions.
4. Run contests and promotions
If there's one surefire way to bring people to your page, it's to offer them the chance to win something for free. That's why it's a good idea to run contests every so often through your social media.
These contests can take whatever form you like. Maybe users have to participate in an elaborate photo contest to win, or maybe all they have to do is enter a name drawing. You may put up a gift basket or one of your top products as a prize.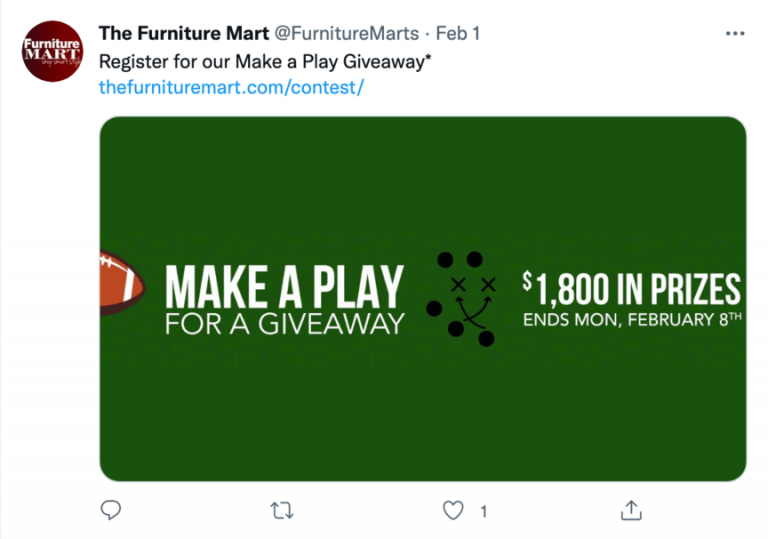 Whatever the structure of the contest, people will love having the opportunity to win something, and they'll flock to your page to participate. Even once the contest is over, many of them will stick around to learn more about your brand.
5. Share reviews and testimonials
When you talk yourself up on social media — or in any of your marketing — people will tend to take it with a grain of salt. When your customers are praising you, it sends a whole different message.
That's why it's a great idea to share reviews and testimonials on social media, so your audience can see what customers like about you. One route is to post testimonials directly on your page, which you can gather by asking your customers to submit feedback about you.
You can also look for posts people make about you, and when you find positive ones, you can repost them from your page to give them more visibility.
6. Identify with the local community
Major corporations like Apple and Amazon must contend with the fact that they're marketing to a worldwide audience, which means they tend to come off as out of touch with the community.
Your business, however, has no such restraints. You're local to a particular area, meaning you have the advantage of knowing your community well — and you should own that on your social media.
By identifying with your local community on social media, you can gain stronger loyalty from the people in that area. Someone may not identify much with a corporation based thousands of miles away, but they'll have a lot more love for a business that shows up to community events.
Look for opportunities to engage with the local community, and be sure to share it on social media whenever you do. That could mean anything from sponsoring local sports teams to participating in fairs.
7. Schedule your posts
If you want to keep people engaged with your B2C social media strategy, you need to post consistently.
It's up to you exactly how often you post — it could be multiple times a day or only once every two or three days. It all depends on what your audience wants. Test out different frequencies to find what drives the most engagement.
However frequently you post, though, be consistent with it. If you get into a routine of posting twice a week, don't suddenly go a month without posting.
To help you stay consistent, schedule your posts in advance. You can do that using a social media calendar, which you can set up in a platform like Buffer or Hootsuite. With a calendar, you can create your posts in advance and schedule them to go live at certain times.
It allows you to have a continuous flow of content even on days when you don't have time to create new posts!
8. Target specific audiences with paid ads
As we established earlier, organic posts aren't the only way to market yourself on social media. You can also use paid social media ads, which will appear right in users' social media feeds.
The reason these paid ads are advantageous is that they let you reach people who haven't discovered your page. You can target your ads toward specific demographics, including:
Age
Gender
Occupation
Location
And more!
By targeting the demographics that make up your ideal audience, you'll reach more relevant people on social media through your paid ads. That will ultimately lead to more conversions and higher revenue!
WebFX is a partner businesses trust.
Hear from HydroWorx, who saw a 236% increase in organic sessions with WebFX services.
Watch the Video Testimonial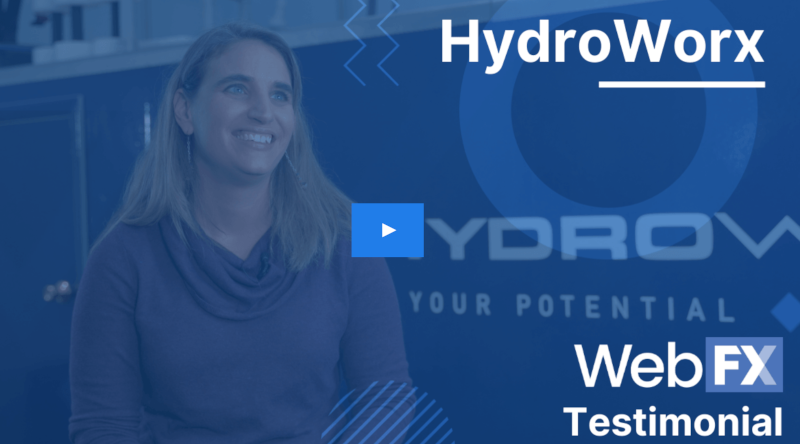 You know B2C social media marketing's meaning, now master it
Ready to start driving results for your company through social media marketing? WebFX would love to help you! We've earned over 1020 client testimonials speaking to our expertise, and we can't wait to apply that expertise to your campaigns.
With our B2C social media marketing services, you'll get help implementing all the B2C social media tips listed above and more. You'll even get a dedicated account representative to serve as your primary point of contact with us throughout the process!
To get started with our B2C social media agency, just call 888-601-5359 or contact us online today!