Are you looking to grow your business on social media? If so, social media marketing videos are a great way to do it. Social media videos are an engaging and creative way to deliver information to your audience.
On this page, we'll tell you why you should start using social media marketing videos and provide you with five tips for nailing your videos for social media marketing. To stay up to date on the latest social media marketing video trends and tips, subscribe to Revenue Weekly!
Why you need social media videos for business
Videos have skyrocketed as one of the most popular forms of content on the web. If you aren't using social media marketing videos, you're missing a prime opportunity to engage your audience.
Here are some stats that show the impact of using videos in your overall marketing strategy:
So, what do these stats mean in the context of videos for social media marketing?
Videos drive conversions: People are more likely to buy after watching a video. Videos provide users with information that convinces them to purchase your product or service, shows them the details of a product up close and personal, and even makes them feel more informed.
Videos increase brand awareness: Videos help more people get familiar with your brand. Your video style and inclusion of the logo help you build brand awareness with your audience. Additionally, if you use the same person or character in all your videos, people will recognize it's from your business immediately.
Videos help you reach new leads: Since videos are so shareable, people can pass your video content on to friends and family, or easily share it on their social profile. This ease of sharing helps you increase your brand exposure and obtain new leads— without spending a dime!.
5 tips for doing social media marketing videos right
If you're sold on using videos in your social strategy, check out these five social media video best practices!
1. Experiment with video lengths
When you create videos, you must experiment with the length. People have short attention spans, so creating extremely long videos can be difficult for engagement. Ideally, your videos should be somewhere between 20-90 seconds.
The length of your video will depend upon your platform and your audience.
Depending on platform
On Facebook, you can create videos that are one to two minutes. People expect longer videos on Facebook since the platform started emphasizing video content. With the addition of the "Watch" section to Facebook's platform, video consumption is encouraged, and as a result, so is video making.
With platforms like Twitter, however, shorter videos work better. Since Twitter's platform is structured for rapid scrolling and short messages (only 280 characters per tweet!), shorter videos perform better on this platform.
Depending on the audience
In addition to the platform, you will need to look at your audience. You may find that your audience likes shorter or longer videos than the average video time for each platform.
Your audience may enjoy short, 30-second videos over two-minute videos. They may even enjoy videos for longer than two minutes! Take Tasty as an example.
Many of their recipe videos are longer than two minutes, but they're constructed in a way that entices their audience to continue watching through the end. They create videos that offer multiple ways to use a product or a combination of recipes that fit into a specific category, like "5 Recipes for Vegans" or "13 Kid-Friendly Recipes."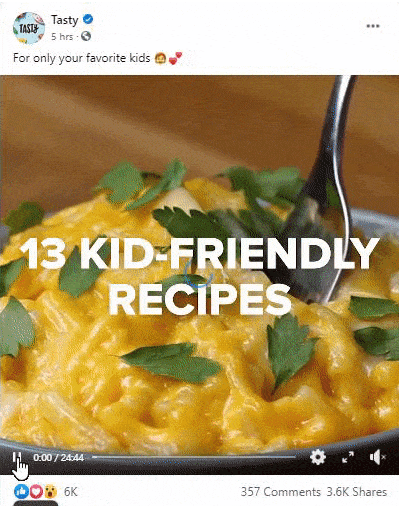 Even though this video is nearly 25 minutes long, it still has over 3000 shares! This long video content works for Tasty and its audience, but it might not work for other companies.
That's why experimenting with the length will help you determine what works best for both your platform and audience.
2. Catch your audience's attention right away
Social media videos for business require catching your audience's attention immediately. Humans only have an eight-second attention span, so if you want to catch their attention, you need to do it immediately. Many videos autoplay as users scroll past them.
This means that users will glimpse at your videos for a moment — making it even more important to make the beginning of your video interesting so your audience will stop scrolling. Tasty does a great job of catching their audiences' attention right away. Not only do their titles tell users exactly what to expect, but they use eye-catching footage of food to entice users to watch.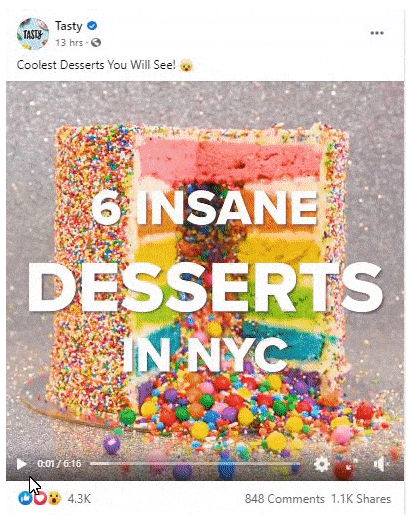 This tip is one of the most important social media video best practices because it can affect whether your audience keeps watching your video or continues scrolling. Get creative and make a compelling opening for your video to help you get people to stick around.
3. Use native video content
When you create social media marketing videos, you must post them directly to the platform. Posting to the platform is known as native video content because it's posted directly to the platform instead of posting a link from a video host, like YouTube. It's best to stick to native video content because you can track your video's performance better.
You'll get better insights into how your audience engages with your video content and be able to track in the platform where you post it. Additionally, you keep your audience on the social platform where you post your video. For example, if you post a link to your video content, it will take them away from your social profile to a website like YouTube.
Linking to an outside website may discourage people from watching your video because they don't want to leave your social profile. Stick to native video content if you want to do videos for social media marketing right.
4. Use emotion and storytelling to engage your audience
If you want to create compelling videos that engage your audience, try using emotion and storytelling to attract your audience to your posts. Emotions help people relate to your company and your brand as a whole. Since everyone experiences happiness, sadness, joy, and fear, for example, you can engage a wide range of users by including those human feelings in your video.
Target has a great example of a video they created that appealed to their audience.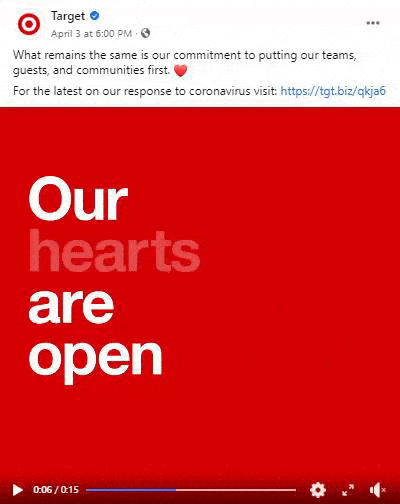 During the Coronavirus pandemic, they created a short, heartfelt video message to let their customers know they were there for them. It was an emotional appeal of reassurance for people who were feeling unsure about what was to come next.
Storytelling can help you keep your audience engaged, too. If you start with a compelling story, you'll tempt your audience to stick around to see what happens by the end. For example, Hallmark created a storytelling video to market their cards.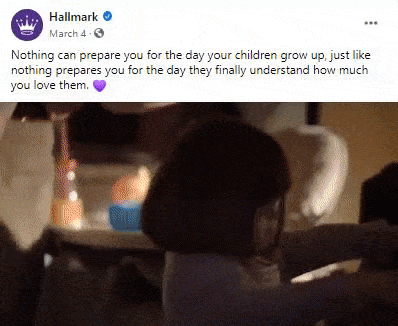 In this social media video, the content focuses on a Mom experiencing the "last" moments with her kids before they grow up. It goes through multiple events, like the last time she holds her child on her hip or the last time her children greet her at the door. For each "last" moment, the children progressively get older and grow up until they're adults with their children.
It isn't until they have their children that they realize how much the mom loved them, and they ultimately choose to express that through a Hallmark card. It's a compelling story that tugs at the heartstrings of parents. It tells the story of the children growing up fast and acts as a great example of using storytelling as video content.
5. Try different types of videos
When you're creating social media videos for business, you must try creating different types of videos. You don't want to create the same type of video every time. Otherwise, you may bore your audience.
So, what does this mean? Let's go back to Tasty. Imagine that every video they created was just recipes that focused on chicken.
After a while, their audience would get tired of seeing the same kind of video repeatedly. Instead, Tasty posts a variety of different videos. From single recipes to recipes for each day of the week to videos of chefs making recipes, Tasty keeps their content fresh and exciting for their audience.
With your video, you'll want to try a variety of different video concepts. Some ideas include:
Promo videos
Demo videos
Interview with employees
Event videos
How-to video
Testimonials
And more
Try a variety of formats and see what sticks with your audience!
Start creating compelling social media marketing videos today
When you create videos for social media marketing, you open the door for engagement opportunities. Your audience wants video content, so it's an excellent opportunity for you to deliver it to them. But if you're worried you don't have the time to dedicate to building social media marketing videos, WebFX can help.
We have a team of over 200 video marketing experts that can help you create compelling social videos. We'll help you create custom videos that catch your audience's attention and gets them to engage with your business. In addition, we offer a wide range of social media management services that can help you appeal to your target audience on a variety of platforms.
We can help you advertise on the following social platforms with engaging social media videos:
If you're ready to create video content that boosts engagement, contact us online or call us today at 888-601-5359 to speak with a strategist about our video marketing services!
WebFX Careers
Join our mission to provide industry-leading digital marketing services to businesses around the globe - all while building your personal knowledge and growing as an individual.