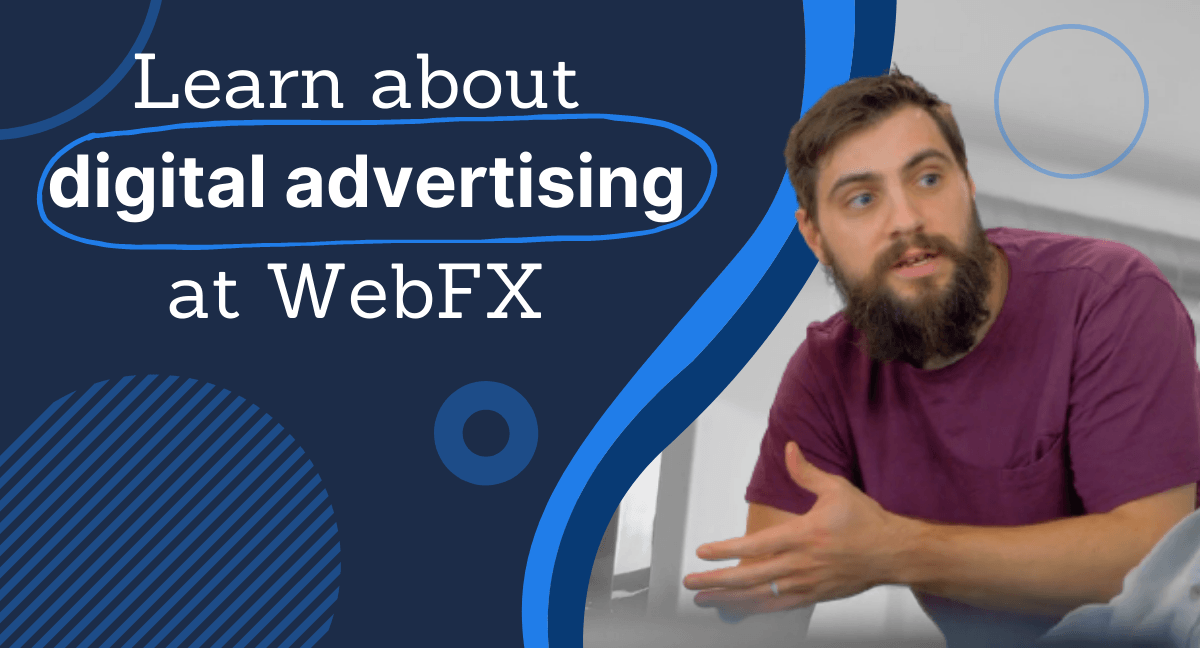 Did you know that users who click on a paid advertisement in Google are 50% more likely to buy a product than those who click on an organic Google search result? That means that pay-per-click (PPC) advertising is a fantastic strategy to market your business on Google.
PPC for construction companies is a great way to draw in fresh clients who are looking for a contractor through Google. With a well-designed campaign, you can capture relevant traffic right at the top of the search results and drive conversions.
But if you're struggling to achieve superior results with your construction PPC, you don't have to do it alone. WebFX offers a full range of PPC services, and we can help you kick your marketing into gear today.
Read on to learn more, and then partner with our team of over 500 experts to get started. Just call 888-601-5359 or contact us online today!
PPC for construction companies: What it is and how it works
If you're unfamiliar with PPC, the first question you might ask is: What is PPC for construction companies?
PPC is a digital marketing strategy that involves displaying ads for your construction company at the top of Google search results. These ads look like organic search results, save for the "Ad" label in the top corner.

You can launch construction PPC ads through Google Ads. The first step after creating a Google Ads account is to come up with a list of keywords for your ads to target. Once you identify your keywords, you'll set your bid amount.
Your bid amount tells Google how much you're willing to pay for clicks on your ads for a given keyword.
Whenever someone searches for a keyword, Google displays ads for that keyword based on:
Bid amount
Quality score (Google's assessment of an ad campaign's overall quality)
The bidders with the best combination of high bid amount and high quality score will get their ads displayed at the top of search results for users to find and click.
Hear What It's Like to Work With WebFX!

"We were looking for a forward-thinking but down to earth SEO company to partner with. Not only were we looking to build a long term business relationship but we needed them to understand our needs as a small company. And WebFX met all of that criteria. Our experience has been unparalleled; from the sales team who made the drive to our office to meet us in person to our Internet Marketer who has been an absolute joy to work with. They are completely transparent about their services and they take the time to explain everything which not only sets them apart from every other SEO company we have worked with but we also feel like we're taking something away from our interactions with the staff at WebFX. We are exited to see where this year will take us knowing that we have such a great support system with their company."
Home Contractor
PPC services from WebFX: What to expect
If you're having a hard time getting the most out of your construction PPC, WebFX can give you a hand. When you partner with us, you'll get help optimizing many aspects of your campaigns.
Here are five of the biggest features of our PPC services!
1. Keyword research
Before you can start building out your PPC campaigns, you first must plan out which keywords you're targeting. Keyword research can be an overwhelming process, which is why we offer keyword research as part of our PPC services.
Through our research, we'll determine the most optimal keywords for your business to use. We'll look at the types of keywords that will attract the most relevant users — those most likely to convert — and analyze the search volume for each keyword.
The benefit of this process is that we'll be able to draw more potential customers to your site that are more likely to use your services. Keywords with high search volume bring in more traffic, and higher relevance means higher likelihood of conversions.
On top of finding regular keywords for your business, we'll also draw up a list of negative keywords — that is, keywords for which you want Google to avoid showing your ads. That will help ensure you drive the most relevant possible traffic.
2. Landing page design
With your keywords chosen and bid amount set, the next thing you have to do is craft your ad copy and landing page. WebFX has an award-winning design team that can help you craft landing pages that drive more conversions for your business.
When we design your landing pages, we'll design them to capture users' attention and get them to engage. From eye-catching visuals to draw prospects in to crafting a single, click worthy call to action (CTA) that encourages them to convert, we know how to craft landing pages that delight your prospects.
3. Audience targeting
Keywords aren't your only option for focusing your ads on a particular audience. We can help you further hone the relevance of the people you reach with custom audiences, which allow you to directly target specific groups of users.
With custom audiences, you can select specific demographic characteristics to target, including the following:
Age
Gender
Occupation
Location
At WebFX, we can help you create custom audiences based on your current client base.
By targeting the right custom audiences, you'll have a better shot at reaching people who are most likely to respond positively to your ads. As a result, you'll attract more qualified leads that turn into conversions for your business.
4. Remarketing
With PPC services from WebFX, we can help you target people who showed a previous interest in your construction company through the use of remarketing lists for search ads (RLSA).
RLSA is a Google Ads feature that allows you to target people who have visited your website previously. Google tracks which users visit specific pages on your site and targets your ads to those users.
WebFX can help you set up this feature for your PPC campaigns. When your ads are directed to people who have already expressed an interest in your services, they'll be much more likely to convert, and your campaigns will see far greater success in the long run.
5. Ad monitoring
Construction company PPC doesn't end when you first launch your ads. In fact, that's only the start. You must consistently monitor the progress of your campaigns to see what works and what doesn't.
We know you don't have time to sit and look at Google Ads metrics all day, though, so WebFX can help you do that. We'll keep a close watch on key metrics like click-through rate (CTR) and conversion rate to see how your ads are performing.
For ads that are underperforming, we'll help you pause or reoptimize them to drive better results. We'll also provide you with weekly and monthly reports on how your ads are performing.
Let WebFX help propel your construction company PPC
Did you know that PPC ads can boost your brand awareness by over 80%? With construction marketing statistics like that, an effective PPC campaign has the potential to drive tons of leads and conversions for your company.
Want to earn more leads for your construction company? WebFX has been propelling companies' marketing for over 25 years, so we know what it takes to craft a successful PPC campaign that helps your construction company earn more clients.
Our PPC services include everything you need to launch a successful campaign, from keyword research to landing page design. You'll also receive a dedicated account representative to keep you up to date on everything we do for your PPC.
Just call us at 888-601-5359 or contact us online to get started today!