7 Elements You Need to Do Web Design for Furniture Stores Successfully
Whether you are a brick-and-mortar furniture store expanding your online reach or an ecommerce site looking to drive more traffic, your website plays an essential role in creating a seamless customer experience. That's why it's critical to build a functional and beautiful website to keep customers engaged.
Investing in web design for furniture stores in your key to creating a better website experience. As you blend aesthetics with function in your web design, you will attract and impress your online visitors, turning them into customers.
Keep reading to discover seven essential elements for doing furniture store web design effectively!
And if you need help creating a better website for your furniture store, the experts at WebFX can give you a hand. Our team of over 500 web design experts know how to craft websites that drive the results you desire. Contact us online or call us today at 888-601-5359 to speak with a strategist about our web design services!
We'll help you create a website that stands out.
"WebFX has been instrumental in helping us develop a new website, allowing us to be a leader in our industry."
Learn More About Our Web Design Services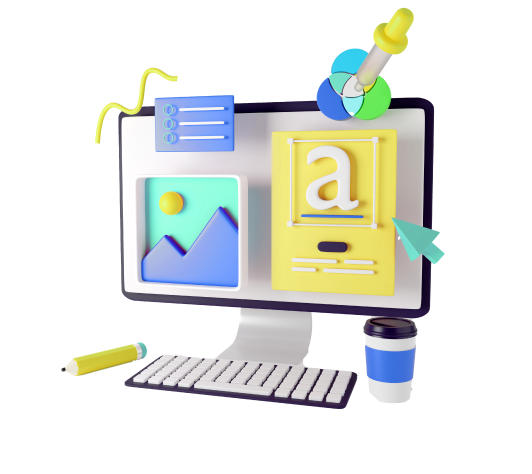 7 must-have elements to do web design for furniture stores right
To create memorable first impressions for your visitors, you need to have an aesthetically pleasing and functional web design. Check out these seven key elements for building an effective website design for furniture stores!
1. Simplistic layout
When you do web design for furniture stores, it's important that you have a simplistic web design. A common misconception about web design is that you have to have a website that's flashy or over the top. Truthfully, a simplistic and clean web design will lead to more success for your furniture store.

Keeping your website's layout simple will help your visitors focus on essential information and move toward making a purchase. Don't clutter your website's design with too many graphics, images, and other design elements, as it can make your website feel too busy.
You'll also want to use plenty of white space throughout your design. White space will keep your website from getting too cluttered and overwhelming for your audience.
2. Intuitive navigation
A key component of web design for furniture stores is creating an intuitive navigation. The easier your website is to navigate, the longer your visitors will stay, browsing and eventually purchasing a product or contacting you.
When you create your navigation, use broad headings to organize your pages. You can then use subcategory headings to organize more of your pages.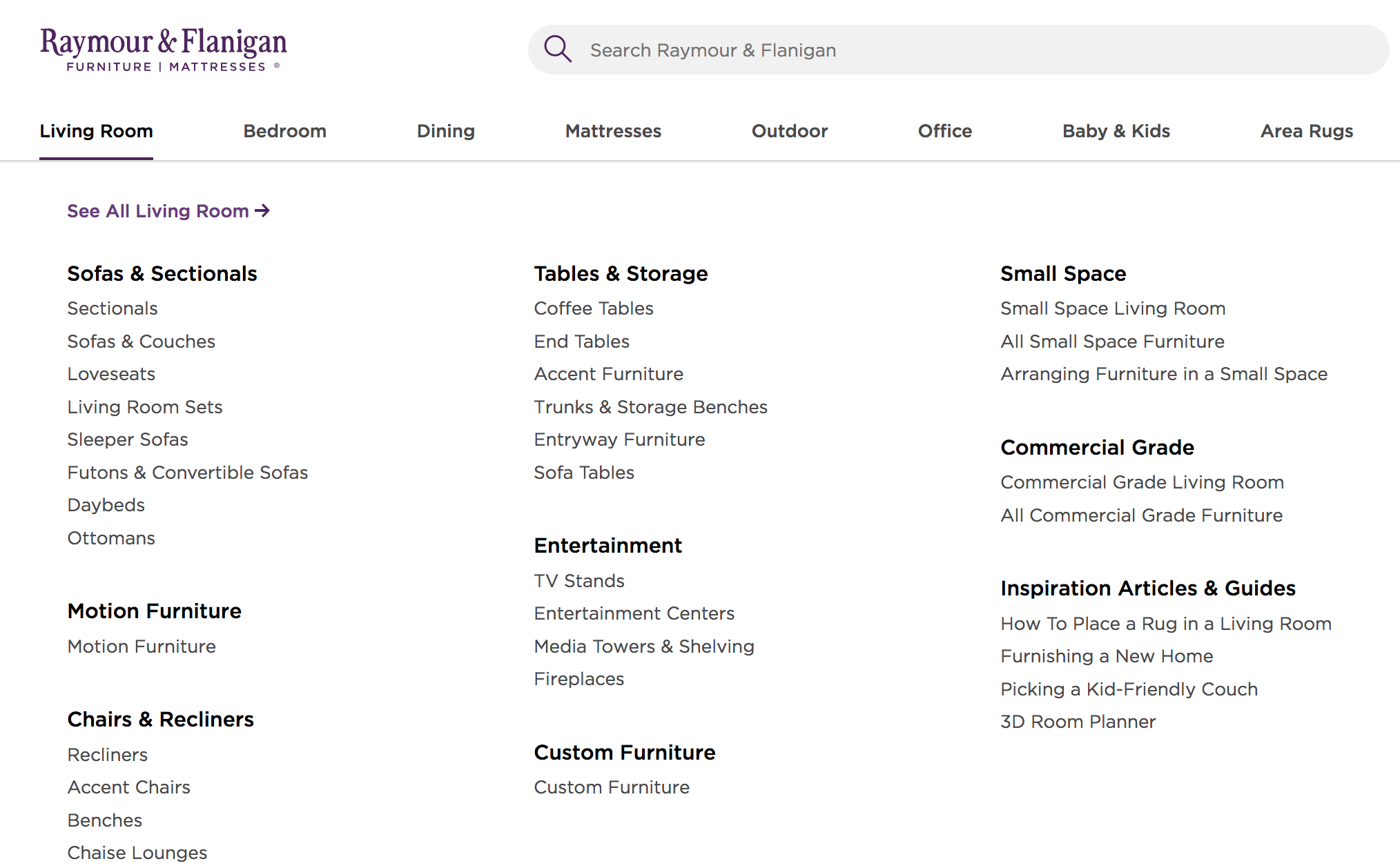 Additionally, you'll want to add a search bar to your navigation. Adding a search bar enables shoppers to find what they need quickly.
By integrating an intuitive navigation bar into your website, you'll create a smooth browsing experience for your audience.
3. On-brand colors
Another critical aspect of furniture store web design is your color scheme. Many people immediately recognize businesses based on their color scheme. Many of your website visitors will associate your website's look with your brand identity and product quality, so select colors that best emphasize the image you want to create for your business.
Bold or soft, vibrant or muted, your website's colors will set the tone for your customers' shopping experience.

Choose a color scheme with three to four colors at most, keeping it minimalistic. A simple and cohesive palette will demonstrate your professionalism and reliability, building trust among your visitors.
4. High-quality media
With web design for furniture stores, you want to ensure you include visuals as part of your design. Visual elements, like photos, videos, and graphics, help to add appeal to your website and make it engaging.
The quality of your images and videos is essential to customer satisfaction. People use your product photos to help them decide if your product is a good fit for their needs. Take professional, high-quality photos of your inventory, including multiple angles and zooming options for your visitors' convenience.
Videos are also a valuable asset to your website. This visual element will encourage more engagement with your website and help your visitors gain the information they need to make informed decisions. Videos are also great for showing how to use a product and giving a lot of information about products in a short period of time.
Adding high-quality media to your website helps make it more engaging and visually appealing for your audience. Your visuals will break up the text on your pages and provide relief for readers' eyes. It's an effective way to create a more engaging website that keeps shoppers checking out your furniture.
5. Helpful content
Another critical aspect of web design for furniture stores is creating helpful content. While your design is a key component of your website, people ultimately come to your website to get information. It's important that you put helpful information on your website for your audience.
Strategically crafted content will attract visitors to your website and convince them to stay and browse. A few content areas to give special attention to include:
Product descriptions:

Write short, impactful descriptions that give your customers the information they need.

Testimonials:

Displaying positive reviews of your business will help build trust among your customers.

FAQs:

Web design is all about improving the customer experience, so including an FAQ section will help you meet that goal.

Blog posts:

Including keywords and writing about useful topics will drive more traffic to your website.
When you create content, focus on make it easy to read and digest. Using bulleted lists and short paragraphs will make it easy for shoppers to get the information they need from your pages.
6. Clear calls to action (CTA) buttons
When people shop on your furniture store website, they may find something they like and not know how to proceed next. That's why creating clear call to action (CTA) buttons are a must-have for furniture store web design.
These CTAs direct your customers to specific actions, webpages, and information, helping them along their purchasing journey. It's critical that you integrate CTA buttons within your design to help guide prospects to complete certain actions.

Use colors, fonts, and other design elements to draw attention to your calls to action so your customers easily recognize the next step they should take. Whether you want them to learn about your financing program or add to their cart, your CTAs will help guide prospects closer to conversion.
7. Responsive design
Many of your customers may visit your website on their smartphone, while others may use a tablet or laptop. Since users use different devices to view your products, it's important that you make responsive design a priority when doing web design for furniture stores.
Responsive design ensures your website adapts to any device to provide a consistent, seamless experience. Your website will adapt to fit the screen of whatever device your audience uses. As a result, everyone, no matter what device they use, will have a positive experience browsing your website.
WebFX knows web design for furniture stores
If you're ready to build an attractive and functional web design, WebFX can help! We've already launched over 1600 websites for our clients, so we know what it takes to launch a successful website for your furniture store.
Our team of experts knows how to craft websites that drive results. In the past five years, we've driven over $3 billion in revenue and over 7.8 million leads for our clients.
If you're ready to ramp up your revenue, contact us online or call us today at 888-601-5359 to speak with a strategist about our web design services!
Increase your leads, sales, and revenue with digital marketing
Find Us Driving Revenue Nationwide