How to Do an Enterprise SEO Audit: 15 Things to Check
Search engine optimization (SEO) — a collection of strategies aimed at helping your site rank in search engine results for relevant terms — is crucial for growing your website's traffic. Organic search now drives more than half of all website traffic.
What's more, organic traffic captures more than 40 percent of revenue.
To get started with SEO, you have to know where your site stands concerning optimization and search rankings. How can you figure that out? With an enterprise SEO audit.
At WebFX, we offer a full suite of digital marketing services, including enterprise SEO audits. We also provide a free SEO checker tool to help you get started with evaluating your SEO. Check out the tool or contact us to learn more.
What is an enterprise SEO audit?
An enterprise SEO audit is an in-depth evaluation of the factors impacting the search rankings of a large website. It involves assessing elements of your site that affect your rankings, as well as examining your SEO strategy.
Once your audit is complete, you'll have a list of what SEO tactics are working well and which areas you can improve upon.
The difference between a standard SEO audit and an enterprise-level SEO audit is the size of the website. Enterprise websites are especially large and typically have more than 1,000 pages, making the audit process more extensive.
How to do an enterprise SEO audit
The three main steps of conducting an enterprise SEO audit are:
Creating an SEO audit checklist of all the factors you need to evaluate
Carefully assessing each SEO factor
Creating a plan for implementing improvements based on the results of the audit
An SEO audit tool such as our SEO Checker can help you start the audit process or complete a quick audit. For a more in-depth report, invest in a professional enterprise SEO audit.
At WebFX, our full audit process takes 30 to 45 days, depending on the plan. During this time, we thoroughly assess your website and provide recommendations for improvements.
At the end of the process, we'll provide you with a full enterprise SEO audit report, which includes more details about the audit's results and potential improvements. We can then help you implement changes if needed.
What does an enterprise-level SEO audit include?
An enterprise SEO audit looks at many factors. After all, Google considers more than 200 factors when ranking pages in search.
Below are some of the most important elements your enterprise-level SEO audit should include. You can use this list as an SEO audit checklist.
1. Keyword targeting
The keywords you target are an integral part of your SEO strategy. As part of your SEO audit, make sure that you're targeting keywords that bring qualified leads to your site.
Your keywords should be terms that qualified leads search when looking for information about your industry, company, products, or services. They should also have sufficient search volume — a measure of the number of people searching a given term.
As an enterprise website, you'll likely be targeting mostly short-tail keywords, which are more general and contain just a few words. While these keywords are harder to rank for, they can bring in lots of qualified traffic.
2. Keyword use
Your enterprise SEO audit checklist should also include checking that you're using keywords appropriately on your site. Make sure you're not missing out on keyword opportunities but aren't stuffing keywords in unnaturally either.
You should include your target keyword in the body copy of your pages. Ideally, each will have several instances of the target keyword, including one in the first 100 words of the copy. You may also want to check that your pages include related keywords.
3. Indexed pages
As part of your SEO audit, make sure that Google is indexing your pages. If Google doesn't index a page, it won't show up in search results.
An error might cause a page not to be indexed, or if the page is new, Google may not have found it yet.
You can check for indexing errors with our SEO Checker and the Index Coverage report in Google Search Console.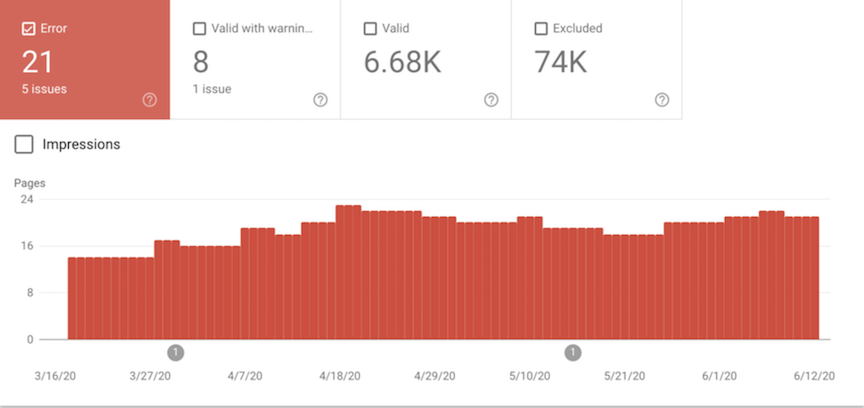 If the issue is that Google hasn't found your page yet, you can submit it to Google.
4. URLs
Your URLs help both search engines and users understand about the context of your page. Google uses them to help determine where your page will appear in search results.
To make sure your URLs are SEO-friendly, check for the following.
Your URLs should accurately describe the contents of the page. Avoid default URLs, which are often random strings of letters and numbers.
Include the main keyword you want to rank for in your URL.
Your URLs should be no longer than five words.
Use hyphens to separate words. Don't use any other special characters.
Use only lowercase letters.
5. Title tags
Title tags identify your page's titles. They tell search engines and users what your page is about and are displayed prominently on search engine results pages (SERPs).
Here's how a title tag displays in a Google SERP:

Check that every page on your site has a unique title tag that briefly and accurately describes the content of the page. Your title tag should be less than 60 characters long and contain your target keyword for the page.
6. Meta description tags
Meta descriptions are brief descriptions of your page's content that appear on SERPs and help convince users to click through to your page.
Here's an example:

Your meta descriptions help users and search engines understand your page's content. Google also sometimes uses them for featured snippets.
Each page on your site should have a unique meta description that briefly describes what the page is about. Your descriptions should be no more than 155 characters long and contain your target keyword.
7. Headings
Headings help organize your content and describe the contents of your page.
The H1 tag is the primary tag and functions similarly to the title, as it describes the main topic of your page. Your H1 will, however, appear on your page rather than on SERPs.
You might also want to include H2s, H3s, H4s, and other header tags to organize your content.
An enterprise SEO audit should involve making sure every page has an H1 tag and possibly other tags. Try to include keywords in your headings while maintaining readability.
8. Links
The quantity and quality of links to your site play a significant role in how well your site ranks.
The more links from unique domains you have and the more authoritative those domains are, the better your backlink profile is. A strong backlink profile can lead to better rankings.
You can check your backlinks using tools like our SEO Checker tool, Ahrefs, and Google Search Console.
9. Mobile-friendliness
More than half of all website traffic comes from mobile, and Google now prioritizes the mobile versions of websites when indexing them. Because of this, your website needs to be mobile-friendly.
You can use responsive web design to help make your site mobile-friendly. Responsive design enables your website to adjust to the device on which someone views it. That way, it works correctly and looks great whether someone views it on a laptop, smartphone, or tablet.
In addition to our SEO Checker tool, you can check whether a page is mobile-friendly with Google's Mobile-Friendly Test tool.
10. Site speed
A slow website creates a poor user experience, and 83% of users expect pages to load in three seconds or less. If yours doesn't, they may abandon it for a faster one.
Because of this, Google uses page speed as a ranking factor. So, a slow site can hurt your rankings.
You can check your page speed with our SEO Checker tool and Google's PageSpeed Insights Tool.
11. Images
Including images in your content makes it more aesthetically appealing and can help explain concepts to visitors.
Images can also help with SEO if they're optimized.
Your image filenames should be short and descriptive and include keywords, if they make sense for the image. Separate the words in your filenames with hyphens. For example, for the image below, blue-sky-with-clouds.jpeg is a much better filename than IMG_00001.jpeg.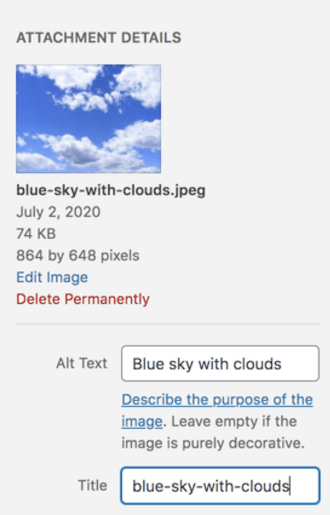 Your images should also have alt tags, which search engines use to understand images. Your tags should briefly describe your image and include keywords, if possible. A good alt tag for the image above would be "blue sky with clouds."
12. Robots.txt file
Robots.txt files tell search engine crawlers which pages and files it can and cannot request from your site.
Your enterprise SEO audit should include checking your site's robots.txt file to make sure it is giving Google the right information. If you accidentally tell Google not to a crawl a page in your robots.txt file, it could prevent that page from showing up in search results.
Also, keep in mind that robots.txt files are not a reliable method of keeping pages containing sensitive information out of Google. Instead, use a noindex directive or password protection for these pages.
13. Security
Your website should have a Secure Sockets Layer (SSL) certificate, which gives your site the Hyper Text Transfer Protocol Secure (HTTPS) designation. You'll see the padlock symbol in the address bar when on your website if it's secure.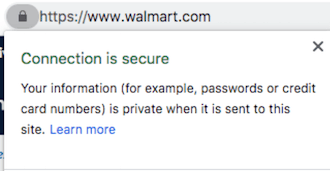 Keeping your site secure in this way helps build trust with users and may also improve your rankings.
14. Sitemap
An enterprise SEO audit should include checking whether your website has an up-to-date sitemap. An XML sitemap helps search engine crawlers find pages on your site and index them.
Sitemaps are especially important for enterprise sites since having a high number of pages makes it more likely that Google will miss some of them.
15. Content quality
Quality content is the foundation of any website and is essential to ranking well. Make sure the content on each page is unique and provides value to visitors.
If you find a page that doesn't provide value, remove it or update it so that it's more useful to your audience.
If you find duplicate content on your site, remove it or use canonical tags to indicate which version of a page is the original.
These are some of the most important factors to evaluate during an enterprise-level SEO audit, but they're not the only ones you can check. Since Google uses more than 200 ranking factors, there's a lot that can influence your rankings. Checking the above elements, though, will get you off to a good start.
Independent research from Clutch has named WebFX the
top SEO company

in the United States.

Clutch has personally interviewed more than 250 WebFX clients to discuss their experience partnering with us.

Read More Clutch Reviews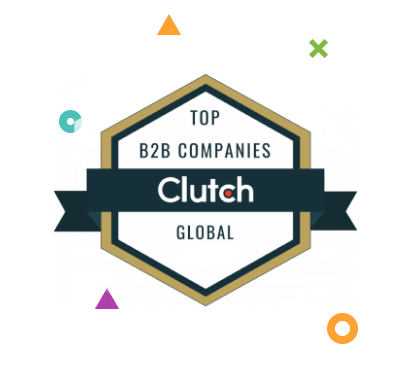 How often should you conduct enterprise SEO audits?
SEO audits should be more than just a one-time thing
You should continuously monitor your rankings by working with an SEO agency or using tools like Google Analytics, Google Search Console, and MarketingCloudFX.
You'll also want to conduct a more in-depth audit periodically. According to a survey by Search Engine Journal, the most popular interval for auditing a website is every six months.
If you make significant changes to your site, conduct an additional SEO audit.
How much does an enterprise SEO audit cost?
The price of an SEO audit varies depending on how many pages your site has and which services you choose. Typically, a professional SEO audit costs somewhere between $650 and $14,000.
Owners of enterprise websites will usually pay closer to the higher end since their sites are larger.
Most SEO agencies include an SEO audit with their enterprise SEO services. Opting for full SEO services can help you get more value from your SEO audit.
Fixing problems uncovered during your audit
SEO audits are an essential part of an enterprise SEO strategy, but they won't improve your rankings on their own.
To make the most of your audit, you need to take advantage of the opportunities for improvement your audit revealed.
Be sure to go through your audit report carefully and make the recommended changes. A professional SEO company like WebFX can help you make the necessary improvements.
Enterprise SEO audit services from WebFX
SEO audits are an essential part of any SEO strategy. They tell you where your site stands and reveal opportunities for improving your site's performance in search engines.
At WebFX, we provide enterprise SEO audit services, as well as a full range of other enterprise SEO services, including strategy development, keyword research, copywriting, technical updates, and regular reporting.
We've been named the world's top SEO agency by Clutch, and our work has generated more than $3 billion for our clients over the last five years.
To get a free SEO report for your website, try our SEO Checker tool. To learn more about our enterprise SEO audit services and other SEO services, contact us today.
How Is Your Website's SEO?
Use our free tool to get your score calculated in under 60 seconds.