8 Proven Enterprise SEO Strategies for Your Company
Search engine optimization (SEO) at the enterprise level introduces a range of challenges, as well as opportunities. You have more competition, but also access to a much larger audience, which can help your company drive a significant amount of sales (and even growth) in a short amount of time.
What enterprise SEO strategies can help get you there, though? A few, including:
Voice search
Outreach
Featured snippets
Progressive web apps
And more
Keep reading to learn about the eight best strategies for enterprise SEO, plus get actionable advice for incorporating these techniques into your business. If you need professional help, contact WebFX. We bring decades of experience to enterprise-level SEO and feature some of the best SEOs in the industry.
Contact us online or call us at 888-601-5359 to chat with a strategist one-on-one today!
1. Adopt voice SEO
With more than one billion voice searches happening each month, voice search is a massive area of opportunity for enterprises. Many companies, however, aren't rushing to use voice search engine optimization, which makes becoming an early adopter of this strategy even more valuable.
Why use voice SEO for enterprise SEO?
Even though many businesses aren't in a hurry to incorporate voice SEO into their strategy, studies show that voice search offers immense opportunity. Among users, for example, it's gaining fast adoption, and it's quickly becoming a medium for making purchases, phone calls, and more.
For perspective, here are a few findings that emphasize the value of voice search:
Adding voice search to your enterprise SEO strategy now will help your business get a step ahead of the competition. Plus, voice SEO coordinates with enterprise SEO. Most of the optimizations you will make, like optimizing content for featured snippets, will support and expand your existing strategy.
How do I use voice SEO for an enterprise SEO strategy?
Making voice SEO a part of your enterprise SEO strategy is a smart decision. If you want to get started with this technique, you can take a few different steps. For the best results, however, start with optimizing existing content for voice search, then move on to creating new, voice-optimized content.
Streamline your voice search optimization by focusing on content with:
A local search intent
A featured snippet
You want to look at pages with a local search intent because most voice searches carry a local search intent. Right now, for example, more than 55% of people use voice search to find businesses in the nearby area.
Content that targets keywords with a featured snippet is also critical because 60% of voice answers come from featured snippets. While you can focus on keywords without featured snippets, the most value will come from keywords with featured snippets.
Once you've compiled a list of pages to optimize for voice search, follow these steps:
Review your content's answers to different featured snippets
Revise your answers to less than 30 words, if possible
Write your answers at the ninth-grade reading level
Make your content longform, with 2000 or more words
These optimizations will make your content more competitive for featured snippets and voice search results. They'll also help your overall optimizations, which can result in higher search result rankings and organic traffic.
If you're looking to track your results from voice search optimization, prepare for a challenge.
Google, for example, does not disclose traffic, impressions, or clicks from voice searches in Google Analytics or Google Search Console. You can, however, monitor your overall traffic and number of featured snippets to determine whether your voice optimizations helped your enterprise SEO.
2. Coordinate with other marketing channels
Multi-channel marketing is a proven digital marketing tactic.
At the enterprise-level, however, it's difficult because many companies maintain separate teams for each channel. This approach can cause uncoordinated marketing initiatives, which can lead to lower performance and poor results.
Working to coordinate your marketing channels, however, can lead to big wins for your business. It can also set you apart from competitors. Start separating yourself from your competition and driving better results with a unified multi-channel marketing strategy.
Why coordinate other marketing channels for enterprise SEO?
Aligning your marketing channels as a part of your enterprise SEO strategy matters for a few reasons:
Limit wasted time and money
Disjointed marketing campaigns can quickly lead to wasted time, energy, and money.
For example, if your company maintains a social media and SEO strategy, you could have instances where your social department creates blog posts to share on social media but doesn't optimize those posts for search, which limits the long-term value of that blog content.
Or, your web design team starts updating your website's design, but doesn't meet with your SEO team to ensure the new design remains (or becomes even more) SEO-friendly. This shift can damage your search engine optimization, internal linking, and more.
A coordinated approach among teams, however, can save your business from these mishaps.
Streamline marketing initiatives
At the enterprise-level, your company can have a range of marketing initiatives going on at one time. From video marketing to conversion rate optimization, your business takes on new challenges and opportunities all the time.
Coordinating all these initiatives, however, can help your enterprise extract the most value from them.
For example, instead of your video marketing team developing and leading all their initiatives, they coordinate with your SEO team. This approach allows the two groups to work together to create and use SEO-friendly videos for content.
Increase marketing results
A coordinated marketing effort across your company can also improve your marketing results and return on investment (ROI). That's because your teams will work together, as well as share information with one another, to create strategies that support one another.
With better marketing results, you can earn a bigger buy-in from company decision-makers. Their support of your marketing efforts can help your team expand your marketing initiatives and deliver an even higher ROI.
While building a unified marketing approach can take time and patience, it's worth the effort.
How do I coordinate my marketing channels for my enterprise SEO strategy?
Start aligning your marketing channels as a part of your enterprise SEO strategy with these tips:
First, your company needs to prioritize information-sharing.
With routine information-sharing, your business can minimize the chances of wasting time, energy, and resources on different marketing initiatives. Instead, critical team members can understand what's happening across channels.
A few tools that can help with information-sharing include:
In most cases, however, your business will have a dedicated communication and collaboration tool.
Summarize quarterly goals and initiatives
In coordination with information-sharing, you also want to understand each team's quarterly goals and programs. Depending on your business and strategy, you may see parallels between every department's plans.
For example, during the fourth quarter, your company may focus its efforts on initiatives that drive end-of-the-year sales, like by offering limited-time promotions. Understanding how each department is approaching this goal can unify your business's marketing efforts.
Silos can frequently cause marketing initiatives to become distant from one another.
That's why your company wants to eliminate any data silos between departments. Removing silos can improve understanding. For example, teams can understand how their dedicated channel and initiatives coordinate with other channels, like search to social or social to email.
Building universal reporting dashboards, like in Google Data Studio, can help your business unify its marketing teams and efforts too. Marketing automation software like MarketingCloudFX can also show the relationship between your marketing and advertising channels.
3. Leverage outreach
As an enterprise company, your brand is well-known to consumers, as well as bloggers, influencers, and journalists. Many enterprise-level businesses, however, fail to leverage outreach because they assume they'll receive coverage due to their brand's size.
Bring outreach back to your enterprise SEO strategy and start seeing the results.
Why use outreach for enterprise SEO?
Outreach deserves attention from well-known brands for a few reasons, including:
Grow your backlink profile
For many enterprises, their backlink profile isn't a significant area of focus, though it matters to enterprise SEO. Depending on your company, you may have plenty of high-quality links from trusted and reputable sites in your sector. A link from another website, however, goes beyond your backlink profile.
That backlink can earn your business traffic, as well as make your brand top-of-mind to readers.
Put your brand front-and-center
Outreach can also help your company stay at the forefront of consumers' and business buyers' minds. A mention of your latest product or share of your newest blog post can remind (or even introduce) readers to your brand, products, services, and unique value.
If your competitors aren't bothering with outreach, you have a tremendous opportunity here.
Increase your word-of-mouth recommendations
Connecting with bloggers and influencers trusted by your target market can also help your business reach its goals for growth. With endorsements from influencers and bloggers, you can experience the benefits of word-of-mouth recommendations.
If you do paid partnerships with influencers, you can also (as a part of your agreement) require your influencer not to endorse any competitor products for a set period. This approach can help your brand increase the value of influencer marketing, as well as get ahead of the competition.
How do I use outreach for an enterprise SEO strategy?
Deciding to re-invest in outreach is a smart decision for your enterprise SEO strategy. It can help you outpace competitors, as well as grab valuable market share. Plus, it can improve your brand and the public's perception of your company, products, or services.
Get started with outreach with these steps:
Research: First, you want to investigate your target audience's preferred news sources, influencers, and bloggers. Once you know where your audience likes to go (and who they trust), you can move onto compiling content to share with these individuals.
Compile: Next, you want to create a list of potential content, products, or services to promote. In most cases, what you offer will depend on the point of contact, outreach goal, and current company focus.
Generate: Now, you can match what you're looking to promote to specific influencers, journalists, or bloggers to contact. For example, you may have a new blog post targeted towards college-aged adults that would appeal to a blogger, but not to a journalist.
Contact: Finally, you can start to reach out to your contacts. When outreaching, remember to personalize your email to that person, like by using their name, as well as mentioning the value that your content would offer the contact and that contact's audience.
While you may have a recognizable brand, not every blogger, influencer, or journalist will respond to you. This is normal. They're likely receiving dozens of requests every day, which is why it's essential to keep your emails short and emphasize your content's unique value.
4. Go after featured snippets
A featured snippet is one of the best ways for your enterprise-level company to earn website traffic, leads, sales, and market share. That's why enterprise SEO strategies should include initiatives that revolve around targeting and winning featured snippets.
Why target featured snippets for enterprise SEO?
Featured snippets offer immense value, and you want to target them for a few reasons, including:
When your site appears in the featured snippet, you get a spotlight on your page that lowers the chance of users visiting a competing site. Plus, capturing featured snippets also coordinates with voice search optimization, as 60% of voice answers come from the featured snippet.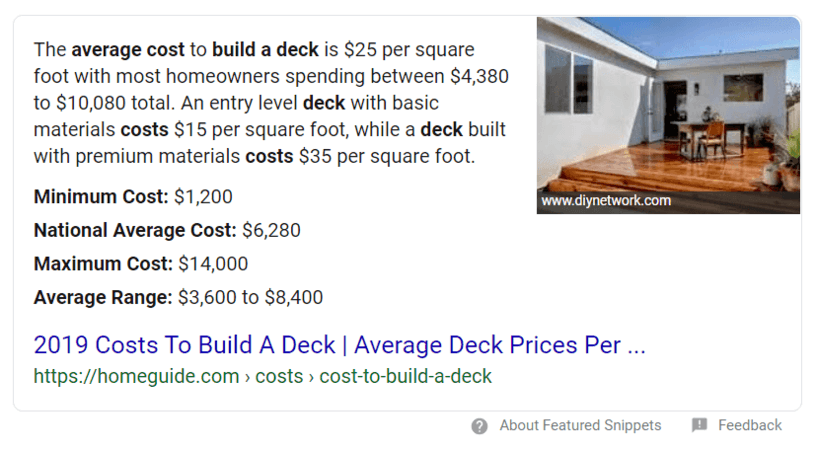 Excluding featured snippets from your enterprise SEO strategy is an easy way to give away traffic, leads, and sales to your competitor. Maximize your real estate in the search results by routinely optimizing pages for featured snippets.
How do I target featured snippets for an enterprise SEO strategy?
You can target and earn featured snippets by following these tips:
Use tables, lists, and short paragraphs
Studies show that tables, lists, and brief paragraphs perform well when it comes to featured snippets. Use these formats to make your content more competitive for the featured snippet. Make sure whichever structure you choose, however, helps readers the most.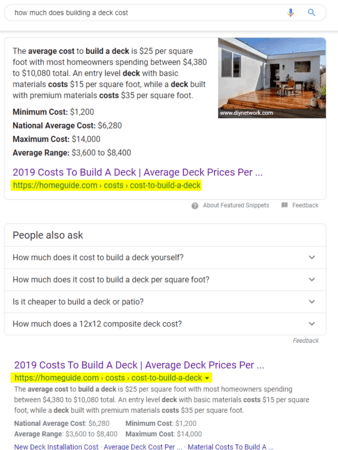 Most featured snippets come from pages ranking on the first page of Google search results. That's why it's useful to start with low-hanging fruit in your enterprise SEO strategy. Optimize pages that already rank on page one for keywords that include a featured snippet.
Created dedicated headings for featured snippets
While you can win featured snippets with headings that don't target the featured snippet, it's helpful to incorporate this tip into your enterprise SEO strategy. For example, instead of answering how much a deck costs randomly in your content, you'd create a specific section for answering that question.
Make Google snip your featured snippet
Winning the featured snippet can sometimes result in fewer clicks to your website, but you can solve this problem. Exceed Google's preferred word count and get your answer truncated — or cut off. Instead of providing users with the entire answer, Google will encourage them to visit your site.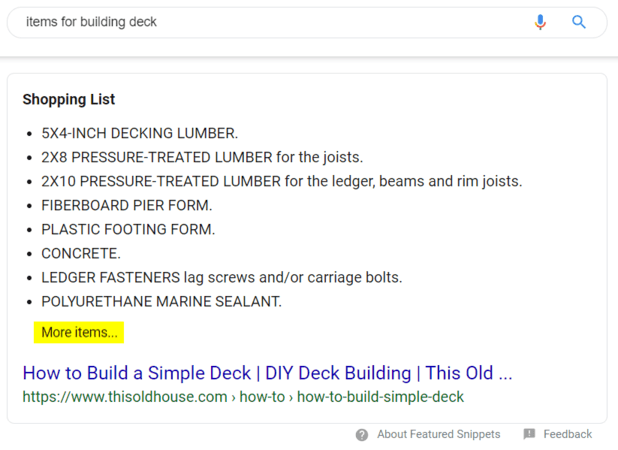 Create a truncated answer for tables and lists by following these guidelines:
Lists: Exceed eight items.
Tables: Exceed two rows.
For paragraphs, you want to keep your answer between 46 to 84 words.
No matter which answer format you choose, from tables to lists to paragraphs, remember your user. You want to provide answers that make sense and help them understand a topic. Put your audience first, not Google.
Optimize content headers for featured snippet keywords
Make your content even more appealing for the featured snippet by updating header tags to match the targeted keyword and snippet. For example, if a featured snippet appears for the search, "cost to build a deck," make the header targeting that featured snippet, "Cost to build a deck."
With these tips, your company can start appearing at the top of more search results.
5. Target striking distance keywords
While it's worthwhile to increase your position on page one, it's also valuable to improve the rankings of pages appearing on page two (or even three) of search results. SEOs refer to this approach as targeting "striking distance keywords," and it's a must-use enterprise SEO strategy.
Why target striking distance keywords for enterprise SEO?
It's easy to understand the value of striking distance keywords when looking at click-through rates (CTRs) for organic search results. As 75% of users stick to the first page of search results, CTR decreases drastically after page one.
Just look at the following findings to see the potential of a page-one ranking:
From the above statistics, you can see that re-optimizing past content (specifically content that ranks on page two) can have a tremendous impact on your traffic, which can improve your bottom-line metrics, like sales, leads, and revenue.
How do I target striking distance keywords for my enterprise SEO strategy?
Get started on targeting striking distance keywords for your enterprise SEO strategy with these steps:
Compile a list of pages ranking on page two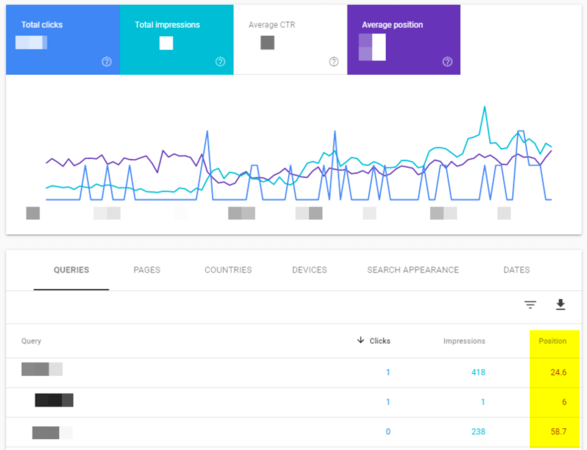 Start by using a tool like Ahrefs or Google Search Console to generate a list of pages that rank on page two. With either of these tools, you can apply filters (like for search volume, clicks, or impressions) to help you focus on the most valuable pages.
Audit pages ranking on page two
Next, you want to investigate your page-two pages. Check critical ranking factors, like mobile-friendliness and page speed, using free Google tools like Mobile-Friendly Test and PageSpeed Insights. Depending on what you find, you may need to ask for help from your development team.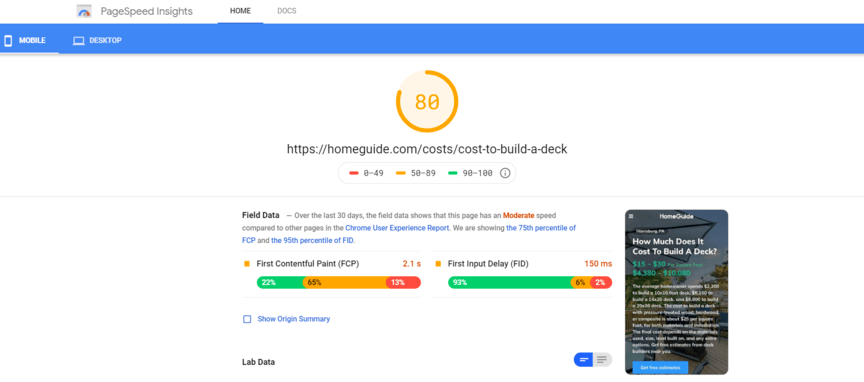 As a part of your audit, you should also look at the pages that rank on page one.
What do they have that your page doesn't? Do they use charts, graphs, and other visuals to make understanding the content easier? Or, do they answer additional and related user questions, like what you'd find in a "People Also Ask" box in Google search results?

Note the differences and where your page could improve, while also checking your page's:
Keyword targeting
Title tag optimization
Keyword insertion
Usability
Keyword density
Backlinks, internal and external
For the best results auditing your pages, use an SEO checklist to discover every possible improvement.
Update pages ranking on page two
Once you compile a list of fixes for your page-two pages, you can start improving those pages.
Create the most significant results and return from your efforts by moving from the most valuable to least valuable pages. For example, you may start with a service or product page and then move onto a blog post.
Monitor your rankings for the next few months and watch for changes.
With this enterprise SEO strategy, your business can continuously update and improve its rankings in search results, as well as its bottom-line metrics. Plus, you can re-emphasize the benefit of SEO to decision-makers.
[Bonus] 3 advanced enterprise SEO strategies to try
If you're an experienced SEO with a dedicated in-house team that features off-page, on-page, and technical SEO specialists, consider these advanced enterprise SEO strategies. These techniques can give you a competitive edge and push you ahead of slow-adopting competitors.
1. Launch a progressive web app
A progressive web app (PWA) operates like a mobile app, but isn't one.
Instead, it's a desktop and mobile shortcut that provides an experience similar to a mobile app. It's smooth, fast, and user-friendly. Plus, users can bookmark or save a PWA to their desktop or mobile device's home screen — like an app or program. They can even receive notifications from a PWA.
With a PWA, your business can expand its enterprise SEO strategy and loyal audience of consumers.
When users arrive on your site, like via organic search, they can have the option to save your PWA to their device. This action makes it easy for them to revisit your website, as well as receive updates about offers, new posts, and more.
Essentially, they become connected to your business through a different and exclusive channel.
2. Optimize internal linking
Internal linking is an often-forgotten enterprise SEO strategy.
While internal linking is usually an easy task for small sites, it can quickly become problematic for bigger sites with lots of content — like an enterprise-level website. When it comes to SEO, a lack of internal linking can make it more difficult for crawlers to find your newest pages and rank them appropriately.
That's why your SEO team needs to audit and optimize your internal linking strategy.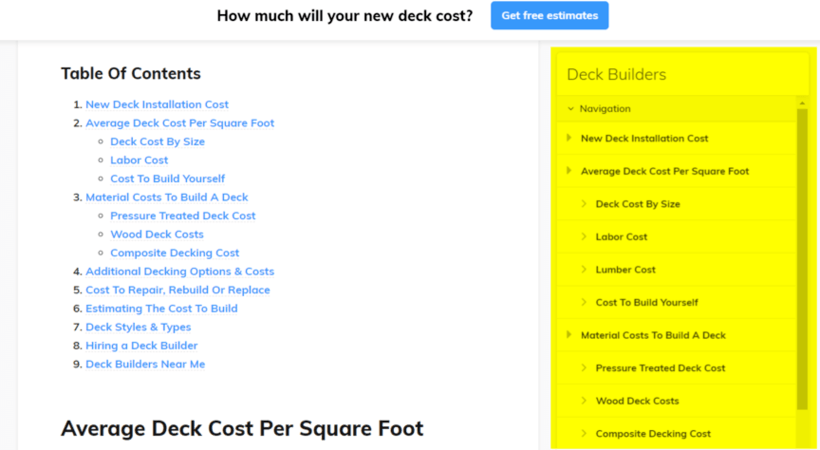 For example, you may implement a policy that every new page should feature five links from relevant pages. Or, you may work with your design and development team to include sidebar navigation menus on select pages to highlight other relevant and related content.
Either way, you can support and expand your strategy by streamlining internal linking.
3. Fix broken links, redirect chains, and more
Large websites can also suffer from broken links (also called 404s) and redirect chains (also called 301s).
Both these errors can hurt your SEO over time. A 404, for example, makes the user experience painful, as it sends users (and web crawlers) to a non-existent page. Meanwhile, a redirect chain alerts web crawlers to potentially spammy, black-hat SEO behavior.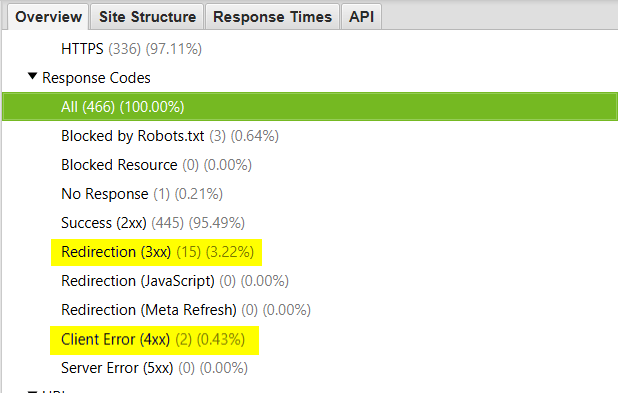 If your team doesn't routinely check for link issues, like 404s, 301s, and canonical URL errors, start now.
Use a tool like Screaming Frog (which will crawl up to 500 URLs for free or unlimited URLs for an annual fee) to check your website for link issues. You can view these reports within Screaming Frog or export them to Microsoft Excel or Google Sheets.
Fixing your site's link issues will help you provide a better experience to users and search engines.
FAQs about enterprise SEO
Do you have additional questions about enterprise SEO? Browse our FAQ!
What is enterprise SEO?
Enterprise SEO encompasses a specific set of strategies for large, enterprise-level organizations looking to increase their visibility in highly competitive search results. While these strategies include core SEO fundamentals, they also use advanced and time-intensive tactics.
How long does enterprise SEO take?
Like any SEO strategy, enterprise SEO takes time. On average, most businesses see results in three to six months from SEO. While some enterprise SEO agencies promote faster results, they often use black-hat tactics that can result in site penalties and even bans from search engine indexes, like Google.
What is an enterprise SEO strategy?
An enterprise SEO strategy is a strategic plan for improving a large, enterprise-level company's visibility in search results. It can include a range of initiatives, from an SEO audit to a pay-per-click (PPC) ad campaign. In most cases, the strategy will feature specific goals to accomplish.
How is an enterprise SEO strategy different from an SEO strategy?
Keyword targeting is the core difference between enterprise SEO strategies and traditional SEO strategies. An enterprise-level strategy will usually target highly competitive, short-tail keywords while a typical SEO strategy will focus on long-tail keywords with less competition.
What are some good tools for enterprise SEO?
A few go-to tools for enterprise SEO include:
Some of these tools, like MarketingCloudFX, can also help with other digital marketing strategies. MarketingCloudFX, for example, is a marketing software suite that features SEO, as well as lead tracking, personalization, and return on investment tools.
Launch a successful enterprise SEO strategy with WebFX
Are you struggling to meet performance benchmarks for your enterprise SEO strategy?
WebFX can help.
With a client retention rate of 91%, as well as a team of more than 500 SEO specialists, we're a leading SEO agency for businesses worldwide. Partner with our award-winning team and use our enterprise SEO services to achieve your company's most competitive goals.
Contact us online or call us at 888-601-5359 to get started today!
How Is Your Website's SEO?
Use our free tool to get your score calculated in under 60 seconds.