What Is SMB Martech? An Introduction to Martech for SMBs
So, what is SMB martech? SMB martech, also known as marketing technology for small-to-midsized businesses, is the use of platforms and tools to build, analyze, and support marketing campaigns across digital channels.
Marketing technology, or martech, is a phrase growing in popularity for small to medium-sized businesses (SMBs). But, what exactly is it, and why is it important for your SMB?
We'll answer those questions and more on this page, including:
Did we mention that WebFX is a top martech agency for SMBs? Our award-winning experts use the latest marketing technology for SMBs to create, implement and manage effective marketing strategies, earning the highest possible return on investment (ROI) for your business in the process.
Do you want to learn more about our martech services for SMBs? Speak with one of our strategists today by calling 888-601-5359 or contact us online to learn more about how we can boost sales and revenue for your SMB!
Our digital marketing campaigns impact the metrics that improve your bottom line.
See More Results

WebFX has driven the following results for clients:

$3 billion
In client revenue

7.8 million
Leads for our clients

5.2 million
Client phone calls
What is SMB martech?
SMB martech, or marketing technology, describes software programs or tools that power and improve marketing tasks. SMB marketing technology can help you create, implement, manage, and optimize your digital marketing campaigns to drive the best results for your SMB.
What is an SMB martech stack?
An SMB martech stack refers to a series of marketing technologies that helps you create and manage several campaigns or strategies. Some companies may use up to 10 technologies to help them manage and implement effective marketing strategies.
Where can you use SMB marketing technologies?
Now that you know the answer to the question, "what is SMB martech" you might be wondering where you can start putting these valuable platforms and applications to use.
Here are a few common areas where you can use SMB martech:
Whether you want to optimize one digital marketing strategy or several, you're sure to find SMB marketing technologies that can do the job.
3 reasons why martech is important for SMBs
From automating your processes to delivering personalized marketing messages, there are several ways that martech can benefit your business.
Here are three more reasons why martech is important for SMBs:
1. Earn a ROI
Martech is one of the best ways to implement and track effective digital marketing campaigns that drive serious results for your SMB.
By receiving essential data about the success of your campaigns, you can focus on the strategies that drive the most revenue for your business.
That means you won't have to worry about wasting resources on the campaigns that aren't driving results, which leads to a better ROI as a result.
2. Gain valuable audience insights
When creating marketing strategies, knowing and understanding your audience is essential. Luckily, marketing technology for SMBs makes understanding your audience a piece of cake.
By using marketing software and applications, you can view valuable insights about your audience, such as:
Their demographics
Their purchasing history
Which content they engage with
Which pages they visit on your website
How much time they spend on your pages
And so much more!
With this data, you can understand what motivates your audience's purchasing decisions and assess their behavior on your website and beyond. You can then use this data to inform your strategies and create campaigns that will boost leads and conversions for your business.
3. Stay ahead of your competitors
If you want to stand out in a crowded market, staying one step ahead of your competitors is a must. Martech for SMBs can help you get a leg up on your competition.
By incorporating marketing technology into your marketing plan, you can ensure you're keeping up to date with the latest marketing trends and effectively communicating the benefits of your brand to your target audience.
Plus, several platforms and technologies can help you outrank your competitors in search engines. As a result, you'll establish your SMB as a leader in your industry and enable more users to find your business online instead of your competitors.
Build your SMB martech stack with these 5 noteworthy SMB marketing technologies
Now that you know why martech is important for SMBs, let's go over how you can start maximizing your digital marketing campaigns with the best tools and applications.
Here are our top five SMB marketing technologies to help you implement and manage revenue-driving strategies:
1. MarketingCloudFX
Are you looking for a marketing platform that can manage your digital marketing campaigns all in one place? Then look no further than MarketingCloudFX.
With MarketingCloudFX, you can:
Track the sources of leads and phone calls
Track the performance of your website in search engines
Receive valuable audience metrics and behavioral data
View which content and website pages are driving the best results
Receive competitor analysis data
And so much more!
From email marketing campaigns to SEO strategies, MarketingCloudFX is your all-in-one ROI-tracking software that can help you get the most out of your campaigns.
2. Google Ads
Google Ads is known as one of the best platforms for PPC. Whether you want to manage PPC campaigns in search results or on YouTube, Google Ads can help.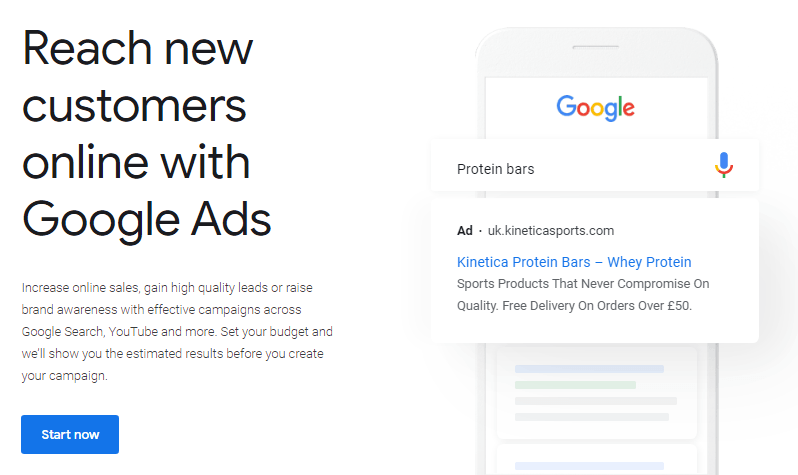 Google Ads can provide you with a plethora of campaign options and data that will suit the needs of your budget and business. And as a result, you can implement effective PPC ads that will display on Google search results and other third-party websites.
With Google Ads, you can simply set your advertising budget and let the platform do the rest or you can opt to have complete control over your ads. Whichever option you choose, you can manage and track the success of your campaigns with ease.
3. Google Analytics
Google Analytics is a powerful marketing tool for small businesses that can help you view valuable data about your audience and website performance.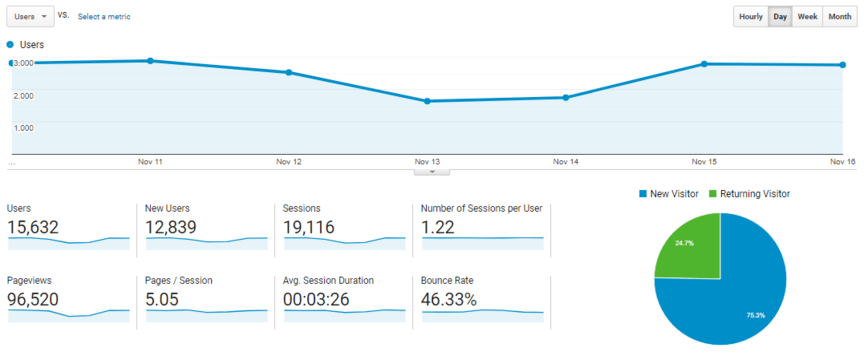 With Google Analytics, you can:
View audience demographics
Analyze important metrics like your bounce rate and click-through rate (CTR)
View the sources of leads and traffic
Analyze which pieces of content and web pages are the most popular
And more!
Using Google Analytics to learn more about your website's performance and audience behavior is an excellent way to implement data-driven marketing strategies that drive serious results for your SMB.
4. EmailMarketingFX
Do you want to streamline your email marketing campaign process? Then EmailMarketingFX is the solution for you.
Whether you want to send emails to 10 customers or 10,000 customers, EmailMarketingFX can help you set up automated emails to stay in contact and build relationships with your leads and current customers.
Plus, you can also use EmailMarketingFX to create custom newsletter templates for your campaign and view audience engagement metrics to analyze how your subscribers respond to your emails.
5. Hootsuite
Another excellent SMB marketing technology for your business is Hootsuite. If you're struggling to keep up with the fast-paced world of social media marketing, Hootsuite has you covered.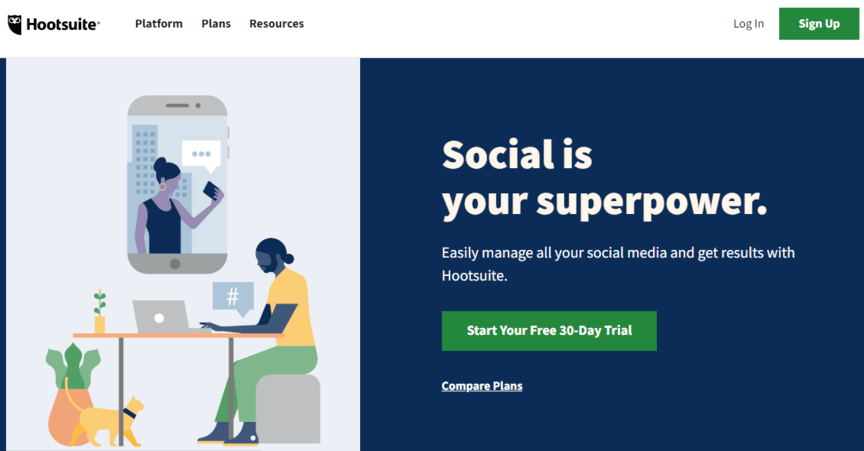 With Hootsuite, you can create various social media posts and schedule them on different social media platforms at once. Plus, you can see an overview of your social media channels all in one place and create a posting schedule to automatically publish your posts on your page.
Hootsuite makes it easy to manage your multiple social media pages and create an engaging online community for your audience.
Upgrade your SMB martech stack with WebFX
Are you ready to take your digital marketing strategies to the next level with SMB marketing technology? WebFX can help!
We're one of the top martech companies in the industry. With our industry-leading SMB marketing technology, MarketingCloudFX, you can easily manage and track the success of your digital marketing strategies.
Plus, you can analyze the sources of your leads and phone calls to know which campaigns drive the best results for your business.
If you're ready to drive more revenue and grow your business, then contact us online or call 888-601-5359 to learn more about how we can help maximize the results of your marketing campaigns.