Businesses in the recreation sector take many forms. Amusement parks, concert venues, movie theaters, campgrounds, RV dealerships, and others in the industry each provide unique experiences and have distinct goals. However, there are a few needs that every business in the recreation industry shares.
Every recreation business relies on customers coming through its doors. But before you can garner customers, you need to generate leads.
Today's internet marketing specialists use their resources and experience to develop online lead-generation strategies. Continue reading to learn how your recreation business can implement and benefit from digital lead generation strategies.
WebFX is happy to help your business boost its lead generation numbers, so call 888-601-5359 to chat about your goals.
37% of marketers say that generating high-quality leads was one of their biggest challenges.
We want to decrease that percentage.
WebFX can help you generate high-quality leads with a customized marketing strategy.
Learn More About Lead Generation Services
Using digital technology to produce leads
There's a vast array of ways your organization can use digital marketing tools and tactics to generate more leads. Let's consider a few of the most effective ones.
1. Search engine optimization (SEO)
Effective online lead generation starts with building a website and ensuring your target audience can find it. And how do internet users find the information they need? Through search engines like Google.
Google gets 70,000 searchers per second, making its result page a competitive arena. Search engine optimization (SEO) seeks to place your site at the top of the search engine results page (SERP) when a person searches for a related topic.
There are a few SEO strategies that convince Google to present your page to users. SEO tactics revolve around relevance and user experience:
2. Social media marketing
Did you know that nearly 75% of people use social media as they search for products and services? Your recreational company's social media pages are powerful digital marketing tools. Use your social media pages to build awareness and direct users to your landing pages, where they can become leads.
Social media pages foster both organic and paid lead-generation opportunities.
Posting to social media pages is free, so your company can create content that naturally attracts interested viewers. Fill your page with a consistent stream of original posts, links to your website's blogs, and content you share from other pages.
You can also capitalize on paid traffic opportunities through social media advertisements. A paid social media ad looks like any other post aside from a tag reading "Sponsored," which informs the reader that it's an advertisement. Paid ads reach social media users in your target demographic.
3. Pay-per-click (PPC) advertising
Online visibility and lead generation go hand-in-hand. While SEO is the most effective organic way to get your website to the top of the SERP, pay-per-click (PPC) advertising can give you an extra boost.
A PPC advertisement is a Google listing that automatically goes to the top of the page. PPC ads target keywords the same way an SEO strategy would. They appear like any other SERP listing, aside from an "Ad" disclaimer beside the URL.
You create PPC advertisements by using a paid advertising platform like Google Ads. You'll create your ad and bid for placement toward the top. You'll pay the amount you bid every time a user clicks on your ad.
Keep in mind, your business will have company in Google's paid advertisement section. Other businesses will bid to have their advertisements appear when users search the keywords.
On Google, you can increase your PPC ad's chances of high placement by achieving a high quality score, which Google measures on a 1-10 scale. The quality score weighs these factors:
Expected click-through rate

Keyword relevance

Landing page relevance and quality
4. Content marketing
You can generate leads by answering the questions that people in your target audience search for. This process, called content marketing, builds organic traffic and generates three times as many leads as traditional marketing strategies.
A content marketing strategy can consist of anything your team can imagine. Common examples include blogs, newsletters, videos, infographics, and podcasts. Link to a relevant landing page at the end of the content to convert readers into leads.
The media you create can cover anything from information specific to your business to top-of-the-funnel content about popular industry topics.
Let's say you run a sports complex. You could target some new leads with a blog about the best exercises for building chest muscles and appeal to others with a video showing off the new machines your facility added.
Ultimately, content marketing will establish your brand as a reliable source of information in the recreation sector and spread the word to potential customers.
5. Email marketing
Last on our list of digital marketing strategies that generate leads is email marketing. Your recreation company can send marketing emails to generate new leads and nurture existing ones.
Start by building a mailing list by collecting email addresses from Internet users who viewed your website, PPC ads, or social media pages. Add an email signup button to your digital content to expedite the process.
The individuals on your email list have already expressed interest in your company, meaning they're more likely to become leads and customers. Target them with personalized content according to their interests.
Some emails can act like newsletters or blogs that keep the reader up to date on topics related to your business. Others may advertise an upcoming sale, promotion, or new product line. Hosting an opening-week discount at your amusement park? Let your subscribers know with an email.
Email marketing generates leads and keeps them engaged with your business. A past customer may become a lead once again for a different offering. Perhaps someone who played paintball at your mountain resort in the summer would be interested in snow tubing in the winter. Use email marketing to keep your business in their thoughts.
Meet WebFX:
Your world-class, tech-enabled marketing agency with over 1.6 million hours of combined expertise.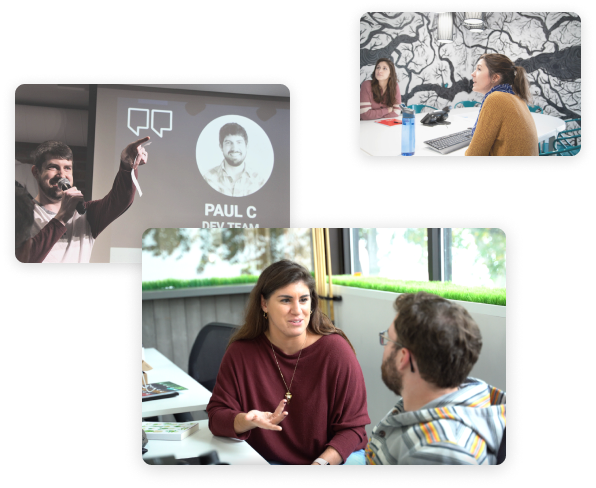 WebFX leads the way
Our must-know digital marketing strategies can increase your recreation company's visibility and boost lead generation. We're ready to tailor a strategy around your goals, so contact us today for a free quote.
Increase your leads, sales, and revenue with digital marketing
Find Us Driving Revenue Nationwide