SEO for Recreation Companies: Boost Your Revenue with SEO
When people want to find something fun to do, they turn to search engines like Google to help them find the right place. That's why it's critical to invest in search engine optimization (SEO) and ensure your recreation company's website shows up in search results.
With SEO for recreation companies, you help your company rank in relevant search results and drive more people to visit your location.
On this page, we'll provide you with everything you need to know about SEO for recreation companies and tactics for helping you do recreation SEO successfully!
Keep reading to learn more!
These are real SEO results driven for a WebFX client.
You're next.
Learn More About SEO Services


260%
increase in organic revenue

198%
increase in organic transactions
150%
increase in organic traffic

3872%
increase in sessions from SEO
What is SEO for recreation companies?
SEO for recreation businesses involves using tactics to improve your website's ranking in search results. By improving your ranking in search results, you help people find your recreation business before your competition, helping you earn more qualified leads that turn into revenue.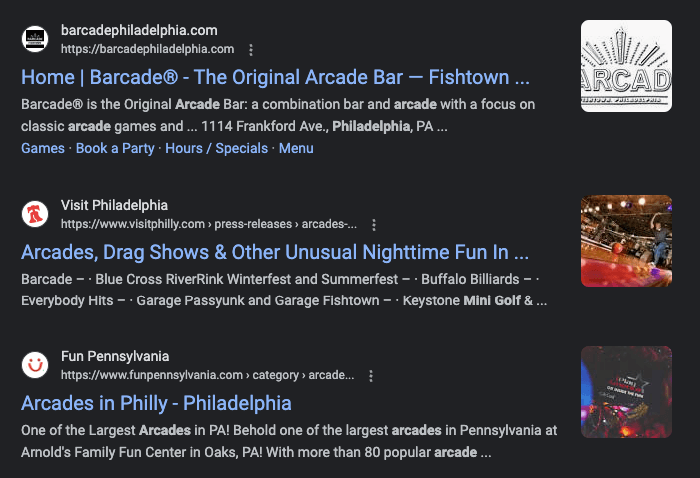 Recreation SEO is pivotal to helping prospects find your company before your competitors. If you don't optimize your website for search engines, you'll struggle to rank highly in search results and lose leads to your competition.
4 SEO tactics for recreation companies
Ready to get started with recreation SEO? Here are four SEO tactics for recreation companies that will help you earn more revenue:
1. Optimize your website for relevant keywords
If you want to succeed with SEO for recreation businesses, start by optimizing your website for relevant keywords. When someone wants to find an arcade, a movie theater, or something similar, they search key terms on Google to help them find the right place.
To help your recreation business appear in those search results, you must optimize your website for key terms related to what you offer. You can use a keyword research tool like KeywordsFX to conduct research and find relevant terms.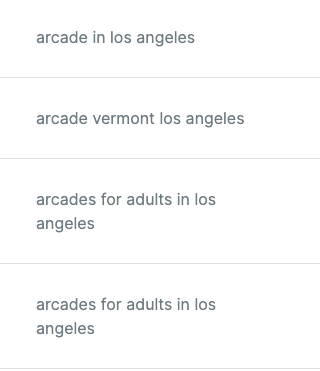 When you search for key terms, you'll find dozens of options available to your business. So, how do you choose the right keywords?
Focus on keywords that contain three or more words, also known as long-tail keywords. An example of a long-tail keyword is "video game arcade in Long Island." These keywords work best because they're specific, so you know what the person searching them wants to find.
Once you identify your keywords, you'll integrate them throughout the page. Integrate your keywords into your:
Integrating your keywords throughout the page will help Google understand the context of your page so it ranks better.
Pro tip: As you integrate your keywords, be mindful of how often you integrate them. If you overdo it, it leads to keyword stuffing, which negatively impacts your rankings.
2. Improve your website's load time
One of the best SEO tactics for recreation companies is focusing on improving your website load time. In today's fast-paced world, people want websites that load quickly. If your website is sluggish, visitors will get frustrated and leave your website for a competitor's.
To prevent this from happening, focus on improving your website's load time. You can use Google PageSpeed Insights to help you identify problem areas on your website. This tool will help you understand why your website performs slowly so that you can improve it.
Some strategies that can help you improve page speed include:
When you improve your website's load time, you keep visitors engaged on your website, so they spend more time learning about your recreation facility.
3. Focus on the user experience
With your recreation facility, you focus on ensuring people have a great experience and want to return. For your website, it's no different. You must create a positive, user-focused experience on your website to keep people coming back.
While user experience is not a direct ranking factor, Google takes metrics like dwell time and bounce rate into consideration when ranking your website. If people have a long dwell time, it indicates to Google that your page is relevant. A high bounce rate, on the other hand, indicates your website is not helpful to the searcher's query or that it provides a negative experience.
When you optimize your website, focus on the user's experience. You'll want to:
Focusing on the user experience will enable you to keep more prospects engaged on your website so that you can turn them into revenue for your business.
4. Monitor your pages to make improvements
The last of the SEO tactics for recreation companies that we'll cover is monitoring your pages to make improvements. Whenever you invest money into any marketing strategy, you want to keep track of your performance to ensure your investment drives results.
Keep in mind, though, that SEO takes time to drive results. You won't see results within a week of optimizing your website –– it may take a month or more to start seeing results.
It's important to track metrics like:
By tracking these metrics, you'll have a better idea of what aspects of your SEO campaign are working and which ones need improvement.
Need help with SEO for recreation companies?
If you want to help increase revenue for your company, you need to invest in recreation SEO. By investing in SEO for recreation businesses, you can help your company rank higher in relevant searches and drive more qualified traffic to your business.
Don't know where to start with SEO? WebFX can help.
We have a team of over 500 SEO experts that will help craft a custom strategy to help your business succeed. Our team knows what it takes to drive results –– we've driven over $3 billion in revenue for our clients!
Ready to boost your recreational business's revenue? Contact us online or call us today at 888-601-5359 to speak with a strategist about our SEO services!
Increase your leads, sales, and revenue with digital marketing