Why isn't my page ranking on Google? Why do my competitors outrank me in search? Is there some sort of on-page SEO checker I can use to understand how to improve my website?
These are a few common questions that businesses ask of their website, and the answer isn't always simple. Except when it comes to checking your on-page SEO. We have that covered with our very own SEO checker tool. For businesses that do have an SEO strategy, an on-page SEO checker is an indispensable tool that you can use to determine how your campaign performs.
Bonus Reading: Why are my Competitors Ranking Higher on Google?
One of the many elements our SEO checker analyzes is on-page SEO, so if you need a quick way to understand how you can improve your website, plug your information into the form below.
Looking for an all-in-one SEO audit tool? You've found it.
SEO Checker provides data on key metrics to give you:
Complete SEO score
Content Grade
Site Speed Analysis
and more.
While you wait for your SEO report (which won't take long), keep reading this page to learn more about on-page SEO:
What information our on-page SEO checker provides
Why every business needs to use an on-page SEO checker
A few on-page SEO checker tools to use
If you still have questions about on-page optimization after reading, feel free to give us a ring at 888-601-5359!
What information our on-page SEO checker provides
Now, let's talk more about what kinds of metrics an on-page SEO checker can provide. Keep in mind that using a different on-page SEO checker may get you different results.
1. Overall grade

Most on-page SEO checker tools will start by giving you an overall grade. At first glance, this gives you a good idea of whether your SEO campaign requires some TLC. This grade is given based on the other metrics outlined in your SEO report.
2. Title tag and meta description score

Since on-page SEO refers to any search efforts that you make directly on your website, title tags and meta descriptions are part of your on-page SEO checker score. Typically, you'll get a pass/fail grade for each element, as well as the length of each, and how they appear in Google.
3. Content analytics
One of the biggest parts of on-page SEO is the content you create. You can't rank in Google without fantastic informational content, so it only makes sense that on-page SEO checkers would provide a content grade. When you use WebFX's on-page SEO checker, your content analysis will tell you how many times you've used specific keywords on that page.
This can help you determine if your content is targeting the terms you intended and if they'll help you attract your target audience.
4. In-page links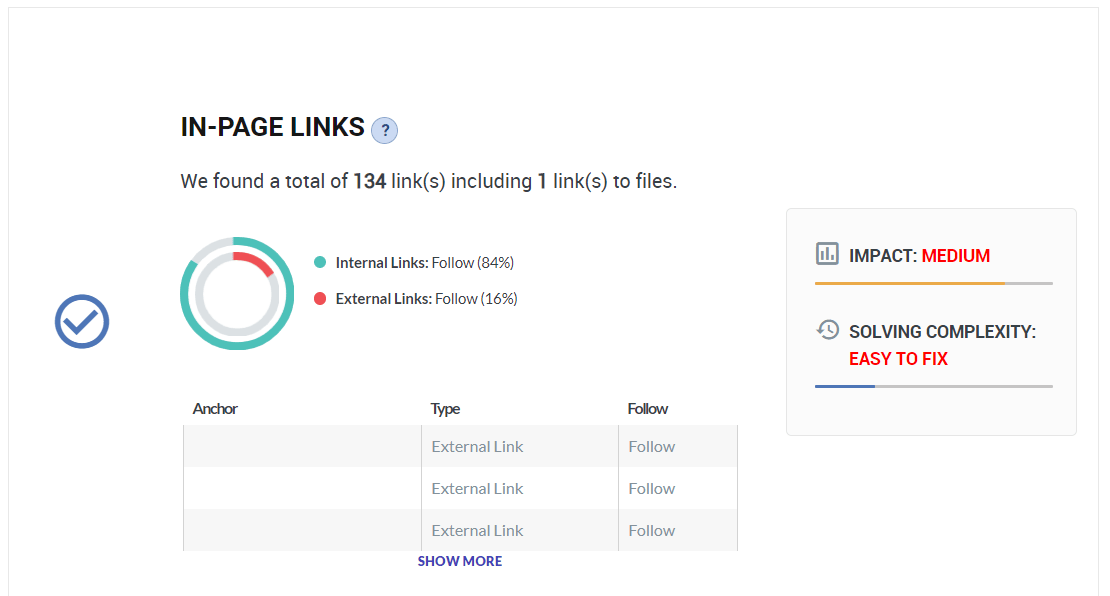 Link juice is important to the health of your SEO campaign. An on-page SEO checker can help you determine the percentage of external NoFollow links, external follow links, and internal links. Since links are so important to the value of your page, it's important to pay attention to this metric.
5. Indexing information

How quickly and easily Google can index your site pages is a big deal. The easier they can access and crawl your pages, the quicker they can index them — which helps pages rank faster. Some site elements that an on-page optimization checker will analyze include:
URL resolve
Robots.txt
XML Sitemap
Validity of sitemap
URL parameters
Hreflang Tags
Broken links
Underscores in URLs
6. Mobile-friendliness

If you want a successful website, you must ensure that it's mobile-friendly. Since 74% of users are more likely to return to a website with a mobile version, it's obvious that the way your site displays on mobile is a big deal — and not just to users. In 2019, Google rolled out its mobile-first index — stating that it would crawl and index the mobile version of websites. An on-page optimization checker will help you determine whether your site is mobile-responsive.
If your site isn't friendly to mobile users, don't forget to check out WebFX's mobile-friendly web design services!
Bonus Read: Why using a mobile SEO checker is crucial
7. Structured data

There are a few different elements of structured data that your on-page SEO checker will analyze. They'll look for things like:
Schema.org items: Schema.org makes the information on a web page easily readable to machines like Google. You can implement them using encoding such as RDFa, Microdata, and JSON-LD.
Open Graph protocol: Open Graph protocol was developed by Facebook to enable the integration of any web page with its social media platform. If your site uses SEO plugins, your plugin might add open graph meta tags automatically.
Microformats: Microformats use code like HTML or XHTML tags to add context to the content of a web page.
8. Security

The security of your site is paramount, especially if you run an ecommerce store. An on-page SEO checker tool will give you a security report that lets you know how safe it is for others to share their information on your website. WebFX's on-page SEO checker will give you insight into the following security features:
Email privacy: Whether you've added plain text or linked email addresses to web pages.
Trust indicators: How trustworthy your domain is based on The Web of Trust.
SSL security: Your site uses HTTPS to provide a more secure experience for users.
9. Performance

An on-page SEO checker tool will fill you in on the overall performance of your site. WebFX's SEO checker tool gives you insight into the following:
Asset minification: If your code is minified (clean).
Asset compression: If assets like images are compressed on your pages.
Asset cache-ability: If your assets are cached.
Why every business needs to use an on-page optimization checker
Before we get into the benefits you can experience from using an on-page optimization checker, let's first talk about why every business needs to use one. Your website's SEO is vital to your business. Not only can a solid SEO strategy help you rank well in search engines for key terms, but it helps you beat out your competition, achieve more website traffic, and even increase your company's revenue.
However, so many people implement SEO without maintaining their campaigns or analyzing their success — which is also why so many businesses are unsatisfied with their company's ranking in search. That's where an on-page SEO checker comes in and helps. Here are three reasons why every business needs to use an on-page SEO checker tool:
It can help you spot shortcomings in your SEO campaign
When you use an on-page SEO checker, it'll provide you with metrics that can help you understand where your website falls short.
For example, if your SEO report says that your site has pages that aren't mobile responsive, that could be a heads up that you need to update those pages. If the SEO report that your on-page SEO checker provides gives you an overall score that you're not proud of, it can encourage you to look a little closer to see how you could improve your site.
It can show you what you're doing right
Just as important as showing you where your site falls short, an on-page SEO checker can also help you see what you're doing right on your website. For example, if your report tells you that all the pages on your site are responsive, that's an indicator that you're doing something right.
Or if your traffic metric has increased with each passing report month after month, you can feel good about your SEO efforts. However, just because you have one or two positive metrics doesn't mean you should let off the gas — it simply indicates areas of your campaign that you shouldn't change.
It can keep your campaign on track
Since an on-page SEO checker can help you understand what you're doing right and what you're doing wrong on your website, it can keep your campaign on track overall. The full SEO report that you'll receive from most on-page optimization checkers will give you insight into a variety of metrics.
Those metrics, when combined, can help you put together a strategy that helps you keep your SEO campaign on track.
If you've recently used an on-page SEO checker tool and received a report that you're unsatisfied with, contact WebFX for help with your SEO campaign!
Bonus Reading: How to Improve On-Page SEO
On-page SEO checker tools to improve your campaigns
If you're interested in gaining insight into your current SEO campaign with an on-page SEO checker, we've got you covered. Keep reading to learn more about our favorite on-page optimization tools.
1. WebFX's free SEO checker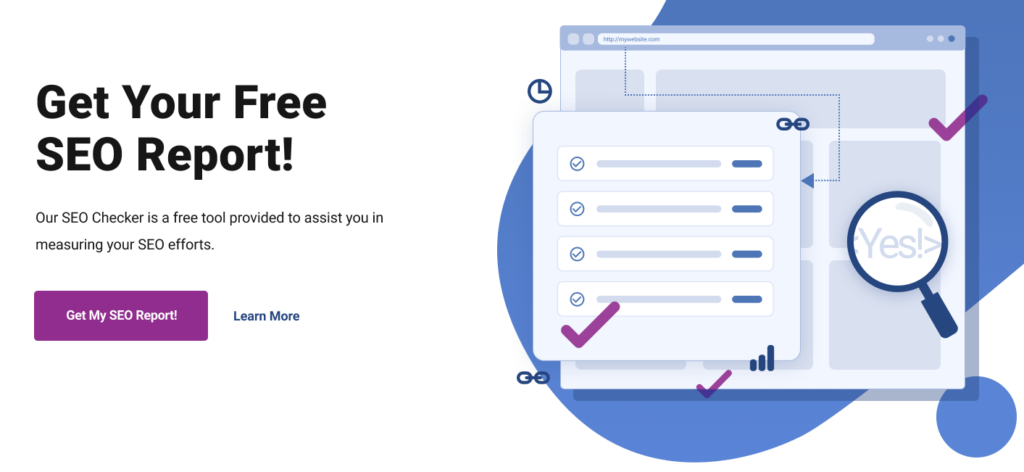 If you skipped over the SEO checker at the beginning of this blog post, this is your chance to go back and try it out! If you want access to all the metrics we mentioned above and then some, our free SEO checker is for you. Not only can you gain valuable insight into your site's on-page SEO efforts, but you can work directly with a specialist at WebFX to improve your campaign.
We offer a variety of SEO services that can help you earn the traffic and sales you've always dreamed of earning.
2. SEO Analyzer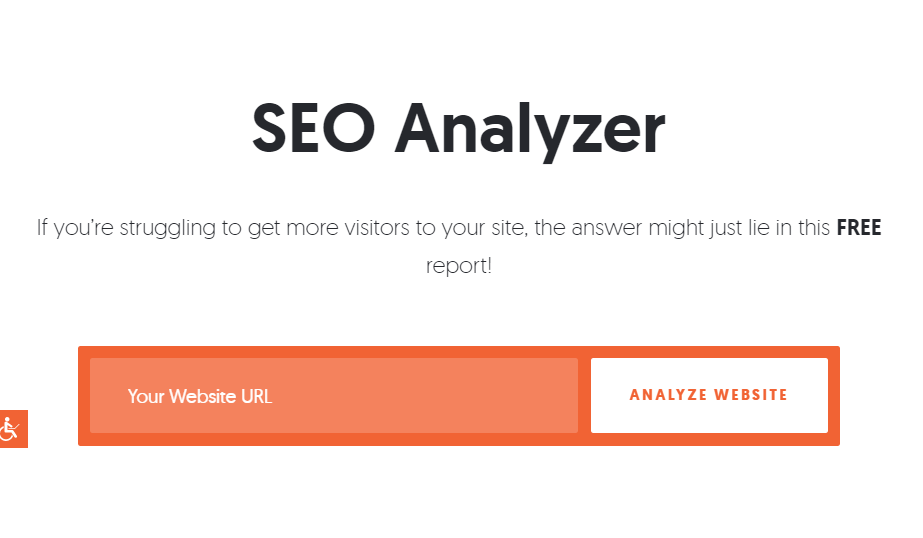 The SEO Analyzer tool is another free offering that helps you understand your current SEO efforts. You'll get information including:
Site speed
Backlink audit
Critical SEO errors
Site health check
3. SEMRush's on-page SEO checker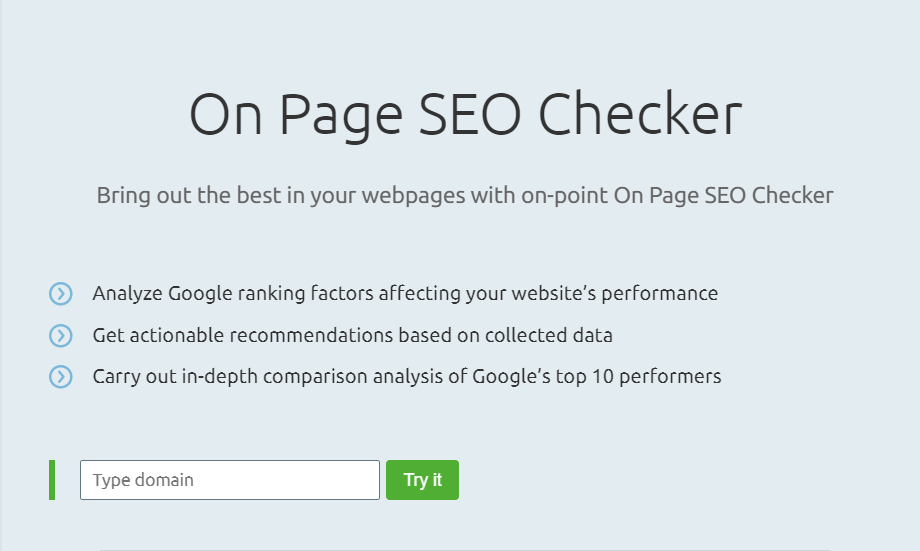 SEMRush also provides users with an on-page SEO checker that provides a lot of valuable information about your site's on-page SEO. You'll get information including:
Semantically-related keywords
Backlink audit
Content length audit
Keyword usage report
Bonus Reading: 14 Chrome Extensions for SEO
WebFX can help take away your SEO report blues
If you're bummed about the results of your SEO report after using an on-page SEO checker, don't worry! WebFX is here for you. We've operated in the SEO industry for over a decade and our team is well-versed in site optimization.
Our team of more than 500 in-house specialists will get to know you and your business, along with your top competitors, before providing you with an SEO audit. From there, we'll be able to craft a custom on-page SEO campaign that speaks to your company's long-term goals. If you're ready to get started, we can't wait to hear from you! Contact us online for a free quote, or give us a call at 888-601-5359 to get started!
WebFX Careers
Join our mission to provide industry-leading digital marketing services to businesses around the globe - all while building your personal knowledge and growing as an individual.