If your not-for-profit organization is looking to reach a wider audience through the use of pay-per-click (PPC) advertising, Google's Ad Grants program is an ideal solution. However, if you're busy running your organization, you may not have time to set up, test, and optimize your PPC ads. You may not have time for Google Grants management, either.
WebFX, a leading PPC agency, offers nonprofit PPC management services at an affordable cost for businesses utilizing the Google Ad Grants program. Refer to our pricing chart below to learn more about how we can help you set up, monitor, and maintain your PPC ads so you can keep your focus on doing what you do best—running your business—while your organization reaches the most people online as possible.
Keep reading to learn how we can help, and give us a call at 888-601-5359.
Google Ad Grant | Nonprofit PPC Management Pricing
Features
Monthly Google Ad Grants management (Up to $10k a month)

✓

Initial campaign development & strategy

✓

Advanced keyword research and selection

✓

Industry analysis

✓

Ad campaign copywriting

✓

Ad copy performance testing

✓

Ongoing keyword development and tweaking

✓

Dynamic keyword insertion into ads

✓

Google analytics integration & goal tracking

✓

200+ SMEs behind campaign driving results

✓

One time setup (1st month):
$2,500
Progressive monthly management cost (After the 1st month):
$800
Need more information?

Call Us: 717-609-1553

Start Today
Google Ad Grants Management Pricing
Please note: Due to limitations set by Google, WebFX cannot make any guarantees for the exact amount of monthly PPC spend within your Ad Grants account. Your account manager will provide their best estimate as to what level of monthly ad spend is possible after an initial analysis of your account.
What is the Google Ad Grants Program?
The Google Ad Grants program provides eligible nonprofit organizations with up to $10,000 each month (or $329 per day) in free PPC advertising through its AdWords program. These PPC ads are intended to attract more visitors and donors to the nonprofit's website. It's important to note that while Google Grants PPC operates similarly to regular ad programs, it is made specifically to help nonprofits extend their reach.
Ads created through the Ad Grants program show at the top and sides of search results on Google. Only nonprofit organizations are eligible for Ad Grants, and there are some restrictions on eligibility, which you'll learn about below.

Which Organizations Are Eligible for Google Ad Grants?
Organizations interested in applying for Google Ad Grants must be an eligible charity or not-for-profit organization. They must meet the following requirements:
Have a current 501(c)(3) status with a valid EIN
Have an operating website
Do not currently use AdSense ads, affiliate advertising, or request non-traditional donations (e.g. property donations)
Must not be a government agency, academic institution, childcare center, or medical organization
These are fairly simple requirements for Google Grants PPC. However, there are a few exclusions to the rules above—for example, philanthropic educational programs (like church-sponsored preschool or early learning programs) are permitted. The best way to determine whether or not your organization is eligible for Ad Grants is to read the eligibility information on Google's website.
If your organization does not meet these criteria, but you are still interested in starting an affordable PPC campaign to attract new donors or leads, you might want to check out our PPC campaign management pricing instead.
Google Ad Grants terms
Google recently announced a few changes and updates to its Ad Grants terms and conditions, which will be effective as of January 1st, 2018.
One of the updates states that single-word keywords are no longer permitted, with the exception of branded words, recognized medical conditions, and words such as donate, donation, and charities. You cannot use keywords including names of places, historical people and events, or keywords with a Quality Score of two or less.
All accounts must maintain a 5% click-through rate. If the account doesn't meet this requirement for two straight months, it will be cancelled. However, Google stated that holders are able to request to be reinstated once keywords are adjusted and the account is in compliance.
Another update lifts the $2 bid cap that currently exists when using Maximize conversions bidding.
The last part of Google's announcement focused on requirements that all accounts must meet, including:
Geo-targeting that shows ads in locations relevant to the nonprofit
A minimum of two active ad groups per campaign, each one containing a set of similar keywords and two active text ads
At least two sitelink ad extensions
We know these updates may sound overwhelming and even confusing. You can contact one of our experts online or call 888-601-5359 to learn more about the updates and what your nonprofit should do to remain in compliance.
Some of our client Successes
What Does WebFX's Ad Grants Management Program Include?
Our PPC management for nonprofit businesses almost exactly mirrors our PPC management for traditional businesses. The biggest difference is that your daily and monthly spend will be limited by Google. (If you would like to supplement your $329 per day and $10,000 per month allowances with your own budget, Google does allow you to do this.)
All of WebFX's PPC management plans include a dedicated Internet marketing expert who will be responsible for monitoring, adjusting, and reporting on your PPC advertising. This account representative will be available to answer questions about the performance of your ads, and will continuously review and adjust your targeted keywords to ensure that your not-for-profit organization is reaching the widest audience possible online.
In addition to a dedicated Internet marketer, your Ad Grants plan will also come with monthly reporting and analysis that allows you to see just how many clicks and conversions your ads drove. This knowledge will allow you to make smarter decisions about the words and phrases to target, and how to better spend your monthly advertising budget.
Additional options, like campaign management for global nonprofit organizations that would like to launch international PPC, or the setup of conversion analysis for your PPC ads, can be done on our aggressive and market leader management plans. These plans are quoted based on a monthly percentage of your PPC spend as opposed to a set amount.
Benefits of PPC for Nonprofits
With Google Ad Grants, you can promote your nonprofit's programs and events on the most popular search engine in the world. And a Google Grant is essentially free advertising.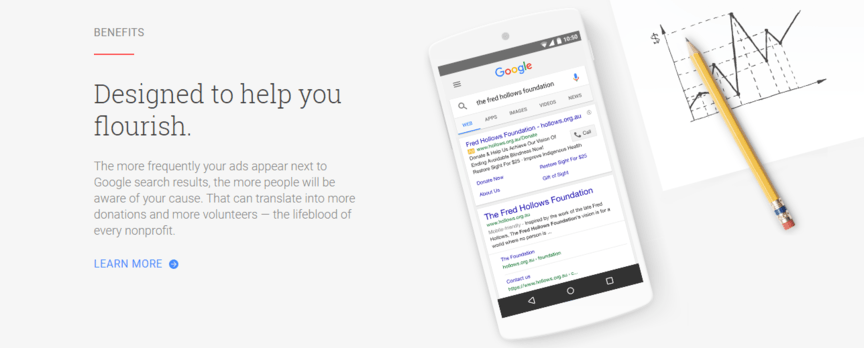 One of the main benefits of PPC advertising is that results are instantaneous. If you're trying to quickly drive traffic to your nonprofit website, PPC advertising is a great option. In fact, if you're approved for a Google Grant, you can begin sending qualified traffic to your website as soon as your ads go live.
PPC advertising also allows you to test a variety of keywords and advertisements to determine what attracts the most traffic to your website. Then, you can incorporate those insights into your website copy and marketing materials to better resonate with your target audience.
By sharing your message with people who are likely to engage with your mission, your nonprofit can achieve greater visibility, more donations, and more volunteers.
Reach a Wider Audience with Google Ad Grants
Google Ad Grants allow you to put Google to work for you, and to grow your nonprofit organization through the use of free PPC advertising. With help from WebFX, you can improve your website's visibility and attract new donors while you remain focused on doing what you do best: running your business.
Contact us today to learn more about how we can help you setup, monitor, maintain, and improve your Google Ad Grants account. We look forward to hearing from you!
Find out how WebFX can create an effective Internet marketing strategy for your website. Call 888-601-5359 or contact us online today for a free evaluation.