What Is Growth Marketing? (What Marketers Need to Know)
In the past five years, interest in growth marketing has doubled in the U.S. This search trend not only demonstrates a heightened interest in this marketing approach but also suggests increased adoption rates by marketers too.
Get that answer and more in this all-inclusive resource on growth marketing.
Keep reading to learn how to scale your marketing efforts. Or, if you're searching for professional help when it comes to using this tactic in digital marketing, contact us online or call us at 888-601-5359 for more information!
What is growth marketing?
If you're looking for a quick summary of growth marketing's definition, here it is:
Growth marketing acquires and retains customers by targeting every stage of the buying funnel with various marketing channels, like search and email. It revolves around creative, data-driven tactics that consider the unique wants, pain points, and questions of users throughout the buying funnel.
How is growth marketing different?
For many marketers, growth marketing is a new challenge. It's different from other marketing strategies, which is why marketing departments continue to ask, "What is growth marketing?" With this section, you can learn what separates growth marketing from other marketing approaches.
Growth marketing vs. traditional marketing
If you're like most companies, your business probably uses some traditional marketing.
With traditional marketing, your team leverages television, radio, and print to reach and convert people in your target audience. While one of the oldest forms of marketing, traditional marketing tends to underdeliver, as more consumers rely on digital channels when researching their next purchase.
In comparison, growth marketing takes a broad approach for reaching and converting your target audience, as well as maximizing your client retention rates. It uses a variety of channels, from traditional to digital, to engage with potential and current clients.
For a quick summary of growth marketing versus traditional marketing, check out this comparison:
Traditional Marketing
Uses traditional, non-digital channels
Focuses on converting users
One of the oldest forms of marketing
Growth Marketing
Uses digital and non-digital channels
Focuses on converting and retaining users
One of the newest forms of marketing
Growth marketing vs. growth hacking
While a familiar term for startups, many companies aren't aware of growth hacking.
With growth hacking, an organization adopts an aggressive approach to growing its business and revenue. This strategy focuses heavily on rapid experimentation across marketing channels. Speed is a crucial factor here, as companies want to uncover the most profitable tactics as soon as possible.
While growth hacking and growth marketing focus on growing a business, they have distinct differences.
With growth marketing, your team creates a data-driven strategy for supporting and improving your company's growth, revenue, and client satisfaction. While your plan may feature different experiments for conversion rate optimization, it's not to the level of growth hacking.
Get a quick overview of the differences between growth marketing and growth hacking:
Growth Hacking
Adopts an aggressive approach for growth
Focuses on rapid experimentation and testing
Emphasizes revenue and sales growth
Growth Marketing
Adopts a data-driven approach for growth
Focuses on strategic experimentation and testing
Emphasizes revenue and client retention growth
Growth marketing vs. digital marketing
Like traditional marketing, digital marketing is also unique from growth marketing.
With digital marketing, your business focuses on attracting, converting, engaging, and retaining users through online marketing channels, like search, email, or social media. It does use data, like growth marketing, to make strategic decisions for your digital marketing campaign.
Compared to digital marketing, growth marketing places a heavy emphasis on not only converting users but also retaining them. Marketers can also go beyond digital channels, using traditional methods to reach users in your target audience.
Digital Marketing
Uses digital channels
Emphasizes conversions and client retention
Leverages data for strategic decisions
Growth Marketing
Uses digital and traditional channels
Emphasizes conversions and client retention
Leverages data for strategic decisions
In comparison to traditional marketing, as well as growth hacking, digital marketing shares several similarities with growth marketing. They both take a short- and long-term approach to your company's success and client relationships, which is why they're valuable tools for businesses today.
Why does growth marketing matter?
For many businesses and marketing teams, growth marketing demands a complete reevaluation of your approach to reaching, converting, and keeping potential and current clients. It's a time-consuming process, as well as a challenging one.
Growth marketing, however, is worth the investment for these four reasons:
1. Consumers take non-linear buying journeys
In the past, consumers followed a linear path to buying, moving from awareness to purchase at a predictable rate. With the rise of the Internet, as well as technology, that's changed. Now, users take a non-linear buying journey across their desktops, tablets, and smartphones.
That's why companies like Google, for example, have developed alternative buying funnels. The model developed by Google focuses on micro-moments, which happen when someone wants to buy, do, know, or go.
If your business wants to succeed in today's marketplace, you need to adapt to how the modern person shops. With growth marketing, you can keep moving your company forward (and your sales upward) by focusing on every step a user takes before and after purchase.
2. High turnover rates decimate revenue
It's expensive to earn a new customer and has been for decades. Even though it costs 10 times more to acquire a new client than to retain an existing one, many companies fail to make client retention a priority, resulting in a high customer turnover rate.
A high turnover rate can impact your business in several ways, including:
Lowering your annual revenue
Decreasing your growth rate
Minimizing your company value
If your company struggles to keep clients, it can also hurt your efforts to acquire more customers. Whether you're in the business-to-business (B2B) or business-to-consumer (B2C) market, people read and listen to reviews. You need raving reviews, as well as brand advocates, to succeed.
With growth marketing, your business can start focusing on your current clients. You can develop strategies for building their loyalty and trust, as well as continued investment in your company. This proactive approach can result in word-of-mouth recommendations, online reviews, and more.
3. Merchandising and marketing now intersect
Today, companies often integrate their merchandising and marketing efforts. It's especially common for ecommerce businesses and tech companies, which use user data to recommend related products, resources, and more.
The combination of merchandising and marketing introduces a new challenge, however. Companies need to think about where users are in the buying funnel when browsing a product or reading an article to provide the best follow-up action.
If your business stays with traditional marketing, it's difficult for you to maximize the full benefits of this integration because you're focusing only on users near the bottom of your funnel. With growth marketing, however, you can start to look at consumers in every stage.
This new approach can help your team recommend products and services to current and potential clients, which can boost your sales and revenue. Even better, accurate recommendations to existing customers can improve their loyalty and satisfaction.
4. Data offers unmatched insight into consumers
Whether your business operates offline or online, data can offer your organization tremendous insight into your target market. It can also provide valuable information on consumers in different stages of the buying funnel, which can inform your growth marketing efforts.
Companies can acquire user data in a few ways, including:
Website analytics
User account activity
User surveys
And more
With growth marketing, you get to make the most of this data.
From tracking the conversion journeys of new customers to monitoring the actions of current clients, you can leverage data from your website, ad campaigns, and email marketing strategy to build a detailed approach to targeting future and existing customers.
How to become a growth marketer
If you want to make growth marketing a part of your company's strategy, then you need to adopt the mindset of a growth marketer. Even if you partner with a full-service digital marketing agency, they should share your perspective.
A few traits that define growth marketers include:
1. Make data-driven decisions
Growth marketers don't rely on guesses or hunches. They use data to inform their decisions.
As a growth marketer, you or your agency needs to use the tools and technology available to learn about your audience, develop your strategy, and measure your success. That's why WebFX created MarketingCloudFX.
This marketing software suite, powered by machine learning (ML) and artificial intelligence (AI), provides our more than 500+ digital marketing experts with essential information about your campaign's performance.
Plus, it delivers valuable and transparent data for your team to share with company decision makers. If you want your growth marketing efforts to succeed, make this kind of data a priority.
Remember, however, that your business needs to interpret this data. While data provides the content, it's your team or agency that provides the context. They can determine what that data means for your campaign, as well as how to modify your strategy to improve that data.
2. Understand your company's product or service
It's not uncommon for companies to have a disconnect between product development and marketing departments. This lack of communication and understanding often results in marketing materials that fail to convey a product's value.
Encourage collaboration between your product development and marketing departments. Have your marketing team sit-in on product development meetings. Or, arrange a training session so that marketing members can learn about the product or service first-hand.
When you understand your company's product, you can market it to your target audience with success.

If you partner with an agency, it's even more critical for them to understand your business, products, and services. That's why it's beneficial to choose an agency that offers a dedicated account manager and custom plans, like WebFX. We build your strategy to you, plus give you a consistent contact.
3. Focus on benefits, rather than features
For the best results from growth marketing, your business needs to emphasize the benefits (rather than the features) of your products or services to users. When you focus on the benefits, your product or service becomes more tangible to users. They see how your business helps them fix a problem.
Let's take a look at the plumbing company example from earlier.
If your business focuses on the features of a toilet, like its fill time, finish, or flush system, that means nothing to most shoppers. But, if you highlight how the fast fill time saves users time or how the finish prevents marks or scuffs, people can understand the benefits of your product.
Whether you're launching a PPC campaign or developing a content marketing strategy, look at how your company can convey the benefits of your products or services to consumers. It's also essential for your team to emphasize the advantages that matter most to your target audience.
WebFX is a partner businesses trust.
Hear from HydroWorx, who saw a 236% increase in organic sessions with WebFX services.
Watch the Video Testimonial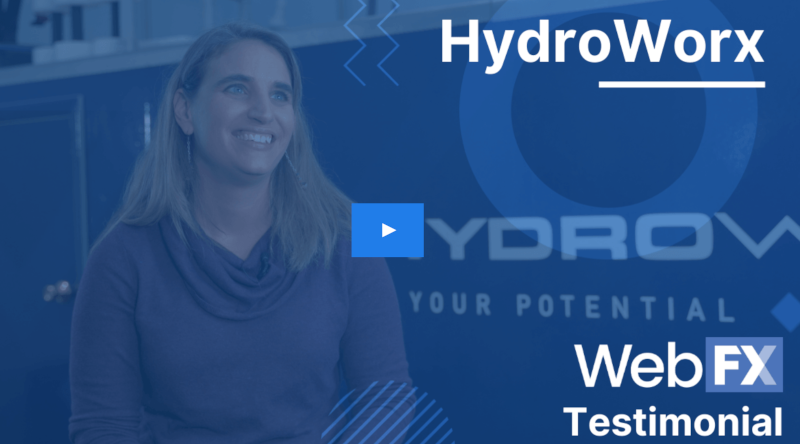 6 common growth marketing goals
If you're looking to make growth marketing a part of your business strategy, you need to know what goals make sense for growth marketing. With growth marketing, your company can set and achieve a variety of goals, which makes the strategy even more likable.
The six most common (and useful) growth marketing goals include:
1. Client retention rates
Companies that adopt growth marketing often focus on their client retention rates. When you decide to improve your client retention rates with growth marketing, you make it possible for your business to increase its revenue and optimize its customer acquisition costs.
If your company focuses on client retention rates, you can use a few strategies, including:
Email marketing campaign to build loyalty and engagement
Loyalty rewards program to encourage repeat purchases and brand loyalty
Survey system to receive customer feedback and gauge customer satisfaction
It's also essential for your team to create a S.M.A.R.T. goal for improving your client retention rates. A S.M.A.R.T. goal is specific, measurable, attainable, realistic, and timely. For example, you may set a goal to increase client retention rates by five percent in 12 months.
2. Customer satisfaction
While some businesses combine customer satisfaction and customer retention goals, it's helpful to separate the two. Even though they're similar, they measure two different things. That's why you want to create individual goals for each.
With customer retention, you're focusing on how many people stick with your company. In comparison, with customer satisfaction, you measure how happy people are with your business, products, and services.
In most cases, companies measure customer satisfaction with surveys.
For example, it's common for businesses to use Net Promoter Score (NPS) as a measurement of customer satisfaction. NPS measures how likely users are to recommend your company to a friend or colleague on a 10-point scale.

The goal is to earn ratings of 9 or 10, which makes the user a promoter of your business.
A score of 7 or 8 indicates a passive user, which means they're likely to switch to a competitor if provided with a better offer. Users that give a rating of 6 or less qualify as detractors and are unhappy with your business.
Once you receive your NPS score, your team can draft a plan for improving your ratings.
3. Brand awareness
As growth marketing focuses on every stage of the buying funnel, brand awareness is another common goal. With brand awareness, your business wants to build user familiarity with your brand, services, or products to move them through the buying funnel.
A few ways you can use growth marketing to boost brand awareness include:
When setting brand awareness as a goal, it's important to remember that brand awareness is difficult to measure. That's why your team needs to get creative when building your S.M.A.R.T. goal. You want something measurable, but also accurate.
4. Company revenue
In addition to customer acquisition rates, businesses also use growth marketing to improve their quarterly and annual revenue. A revenue-related goal can help your company build an effective pricing model, as well as target users that offer the most financial value to your business.

With this type of growth marketing goal, you narrow and refine your target audience. Once you have this target audience, your team can start developing a growth marketing campaign for reaching, converting, and retaining this market.
For example, a software-as-a-service (SaaS) company may move from targeting all users in its market to focusing on users that spend at least $800 per month. This move allows the organization to improve its revenue by targeting users that offer the most financial value.
5. Customer acquisition rates
While growth marketing emphasizes client retention, it also focuses on customer acquisition. With improved customer acquisition rates, your business can drive additional sales and revenue. Both increases can help your organization expand its marketing operations, hire more team members, and more.
Some common strategies for increasing customer acquisition rates include:
If your company uses multiple strategies to improve your customer acquisition rates, it's essential to create an integrated approach. Your web design efforts and PPC campaigns, for example, should coordinate with one another to support your overall goal.
For example, you may measure the brand awareness of an influencer marketing campaign by monitoring how many of that influencer's followers began following your company before, during, and after the campaign.
6. Conversion rates
A conversion encompasses several different actions, including:
A contact form submission
A sign-up for an email newsletter
A follow, like, share, or comment on social media
A purchase
When you make growth marketing a part of your business strategy, you can focus on improving your conversion rates for a variety of actions. All these actions can contribute to your bigger goals, like increasing revenue, client retention, and more.
If you decide to make conversion rates a part of your growth marketing strategy, your team needs to create specific goals for each conversion. For example, maybe you want to increase conversion rates for email sign-ups by two percent and conversion rates for purchases by 12 percent.
Time to Level Up Your Sales
Our long list of services helps you grow every aspect of your business with marketing strategies that are proven to increase bottom-line metrics like revenue and conversions.
In the past 5 years, we've managed more than 12.9 MILLION transactions across our client base.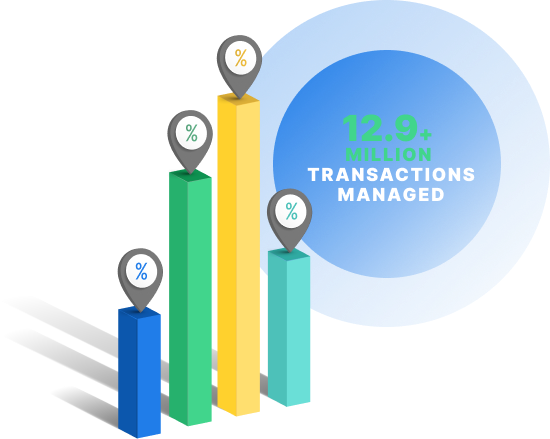 5 growth marketing strategies to try
For your growth marketing initiative to succeed, you need to use the right strategies. While you can rely on a variety of traditional and digital marketing approaches, there are several that offer consistent performance and results for businesses.
These five strategies include:
1. SEO
With growth marketing, you want to reach users in every stage of the buying funnel, which makes SEO the perfect tool. For reference, SEO helps improve your visibility in search results, like on Google, Bing, and Yahoo!
If you operate a plumbing company, for example, it makes sense to appear in these search results:
"24-hour plumbers near me"
"plumbing maintenance plans"
"toilet won't flush"
"when to replace toilet"
When you appear at the top of search results for these queries, you reach users in your target audience. You also reach people in varying stages of the buying funnel, from the top to the middle to the bottom. Not to mention, the top spot in search results earns 33 percent of all search traffic.
Even better, the close rate for search engines (which is the percentage of users that converted by buying a product or service) is eight times higher than traditional marketing channels. This fact makes SEO services even more valuable for businesses.
2. PPC
Whether you use offline or online channels, there is significant competition to reach users ready to purchase. PPC is one way for your business to compete, as well as beat, competitors. With PPC, you can engage your target audience as they search and browse the web.
Companies can also use PPC to reach users in earlier phases of the buying funnel.
For example, your business may launch a PPC campaign to drive email sign-ups, online guide downloads, and interactions on social media. While these actions don't directly result in a purchase, they make your company a touch point in that buyer's journey.
As ads can increase brand awareness by 80 percent, these micro-conversions can serve as a starting point for nurturing a user into a customer. A sign-up for your email newsletter, for instance, allows your business to send relevant and helpful content to a user, which can move them down the funnel.
3. Email marketing
In many cases, companies already use email marketing. This growth marketing tactic offers a tremendous return on investment (ROI), boasting a $44 return for every $1 invested. That's why more than 80 percent of businesses make email marketing a part of their strategy.
With email marketing, your company can connect with a variety of users, including:
MOFU users
BOFU users
Current users or clients
The versatility of email marketing is what makes it so valuable to growth marketing, which emphasizes targeting every stage of the buying funnel. Plus, email marketing often provides your company with valuable user data, which you can use to personalize and improve your campaigns.
4. Content marketing
If your company invests in SEO, you can expect to use content marketing. A valuable strategy, content marketing focuses on creating relevant content for your target audience. It also targets varying stages of the buying funnel, helping you reach every user.
A content marketing strategy does require some work, though.
Your team needs to research your audience in-depth, understanding their problems, questions, and wants, to develop original and valuable content. It's also critical for your business to optimize this content with the appropriate keywords so that it can appear at the top of search results.
That's why many companies partner with full-service digital marketing agencies, like WebFX.
As a full-service agency, we can provide SEO and content marketing services. Even better, we offer copywriting services, making your growth marketing strategy seamless. Not to mention, we've generated more than $3 billion in revenue for our clients in the past five years.
5. Social media marketing
While many strategies focus on your website, like PPC and SEO, social media marketing directs your attention to Facebook, Instagram, LinkedIn, and other popular social media platforms. For many businesses, it's an effective way to reach TOFU, MOFU, and BOFU users, plus current customers.
With social media, you can share helpful and relevant content with your audience, like a blog post. You can also respond to comments and questions, which can help with customer satisfaction. Companies can advertise on social media too, expanding your reach to additional users in your target audience.
If you advertise on social media platforms, like Facebook, you can access advanced targeting options. For example, you can focus your ad on lookalike audiences, which include people that have similarities with your current followers.
The vast number of social media platforms can make growth marketing difficult for this channel. That's why many businesses invest in social media marketing and advertising services, like those offered by WebFX.
With the expertise of our award-winning team, we've generated more than 7.8 million leads for our clients in the past five years. For ecommerce businesses, we've managed more than 12.9 million transactions in that same period.
Need a head start on growth marketing?
Now that you know what growth marketing is, are you ready to use it?
WebFX can help your business get the most from growth marketing. With more than 25 years of experience, plus a client retention rate of 91%, we are a top choice for midsized companies across the globe.
Get started by contacting us online or calling us at 888-601-5359 to learn more about our services!
Earn a 20% greater ROI with WebFX