Hospice is a field that requires compassion, care, and expertise in modern medicine. Patients and loved ones put deep trust in your organization to take care of them, and you're committed to making the rest of the patient's life as comfortable as possible. You understand the importance of your industry, and you want to ensure those who need you can find you, but how?
One strategy is lead generation — the process of generating interest in your services using marketing strategies.
37% of marketers say that generating high-quality leads was one of their biggest challenges.
We want to decrease that percentage.
WebFX can help you generate high-quality leads with a customized marketing strategy.
Learn More About Lead Generation Services
How people may express interest in hospice care
Adult children are often responsible for taking care of their aging parents or loved ones at the end of life. Many children will turn to hospice services for compassionate care for the end of their loved one's life and will explore their options online for more information. Reaching them lets you share your values and helps them understand their loved one would be in good hands in your care.
The people looking for hospice services who express their interest in your care are called leads. They may express their interest in several ways:
Calling your practice

Downloading an informational PDF from your website

Following your accounts on social media or sending you a direct message (DM)

Scheduling a consultation with one of your hospice nurses

Subscribing to an email newsletter for more information
Hospice care lead generation strategies
Consider the following strategies for improving your hospice lead generation:
1. Improving your website
An effective website is key for showing potential patients and their families that your practice is professional and trustworthy. Your organization's website should be:
Easy to navigate:

A website with a confusing layout may discourage visitors, ultimately leading them to look elsewhere. Even though website content is paramount, an interface that's easy to navigate helps ensure users don't leave before finding the information they need. Organize your website in an intuitive and logical way to make it easy to use.

Equipped with an interactive design:

Interactive design elements might include drop-down menus, animations, chatboxes, search bars, buttons, and videos. An interactive website is more inviting and helps users find everything they need.

Trustworthy:

Filling your website with authoritative and helpful information will make your practice more reliable in the eyes of patients and their families.

Optimized for mobile:

People spend

70% of their Internet time

on mobile, and 52% of users are less likely to engage with a website after a bad mobile experience. With these statistics in mind, you'll want to ensure your website is efficient and visible on mobile. People looking for hospice care on their phones should see your services as clearly as if they were on a desktop computer or laptop.
An organized, high-quality website could encourage users to express further interest in your care.
2. Writing compelling and authoritative blog posts
Writing blog posts allows you to share your knowledge, establish a compassionate and caring tone, and give patients and loved ones more information about your services. The best blog posts are well-researched and well-written, with the most accurate and relevant information possible.
You should convey what makes your practice stand out in your blog posts and end them with a call to action (CTA), encouraging readers to take the next step. Common CTAs include filling out a contact form, making a call, subscribing to a newsletter, or enabling notifications for new posts.
To drive leads, you might post content explaining what services you offer, how you care for patients, what the registration process would look like, and features that make your practice stand out. Convey an understanding tone in your posts to help patients and loved ones feel comfortable and at ease during what is likely a difficult time.
3. Diving into email marketing
You can use emails to nurture and convert qualified leads. With email marketing, you can send people content tailored to their needs and concerns. For example, you might send an email to someone hesitant about hospice to explain how it helps while conveying empathy and understanding of the situation.
If you want to pursue email marketing, make sure the content you deliver is high quality and helpful. Otherwise, people may unsubscribe from your messaging and miss out on the services and help you can provide.
4. Putting your practice on social media
Social media is an effective and powerful tool for creating interest in your services. Creating profiles on platforms like Facebook and Instagram helps your practice get noticed by a wider audience who may not have otherwise found you. You can use hashtags to get noticed organically or invest in pay-per-click (PPC) advertising, which lets you use keywords and images or videos to get your posts in front of the people who most need them.
5. Taking a look at search engine optimization (SEO)
SEO is an all-encompassing term for improving how your website ranks on search engines. With a website optimized for SEO, people searching for something related to your services will find your website. SEO helps generate leads by ensuring your search engine visibility.
Effective blog posts and authoritative content are essential ingredients for SEO. You'll also target relevant keywords and build links to your site. All these pieces show search engines like Google that your site is trustworthy and knowledgeable and that you're putting out high-quality, original content.
You can also invest in pay-per-click advertising for hospice to help your site show up in relevant search results. PPC ads appear in search results based on the specific words users search and can help you reach new patients and their loved ones.
Meet WebFX:
Your world-class, tech-enabled marketing agency with over 1.6 million hours of combined expertise.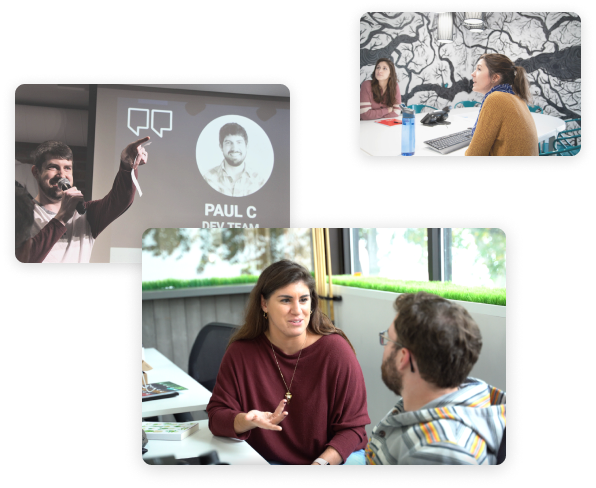 Reach more patients with lead generation services from WebFX
At WebFX, we want to help your organization reach more patients to help as many people as possible. We understand hospice marketing and can help you build an effective lead generation strategy so you can continue pursuing your mission.
For more information, contact us online or call 888-601-5359 today.
Increase your leads, sales, and revenue with digital marketing