When someone's looking for something fun to do with their friends or families on a Saturday afternoon or planning a team-building activity with their coworkers, there's a good chance they'll turn to Google.
In fact, more than 90% of online experiences begin with a search engine.
How can you make sure your escape room is one of the first things people see when searching for something fun to do in their area? A digital marketing method called search engine optimization, or SEO.
Independent research from Clutch has named WebFX the
top SEO company

in the United States.

Clutch has personally interviewed more than 250 WebFX clients to discuss their experience partnering with us.

Read More Clutch Reviews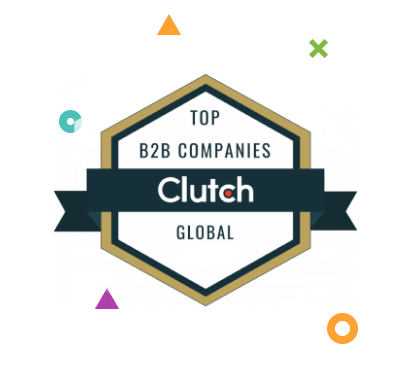 Getting started with SEO for escape rooms
SEO is a collection of tactics that help your website rank well in search results for relevant keywords.
Say, for example, someone searches "escape room in [your city]" or "family activities in [your region]." With the right escape room SEO tactics in place, your website or business information will show up near the top of the search engine results page (SERP).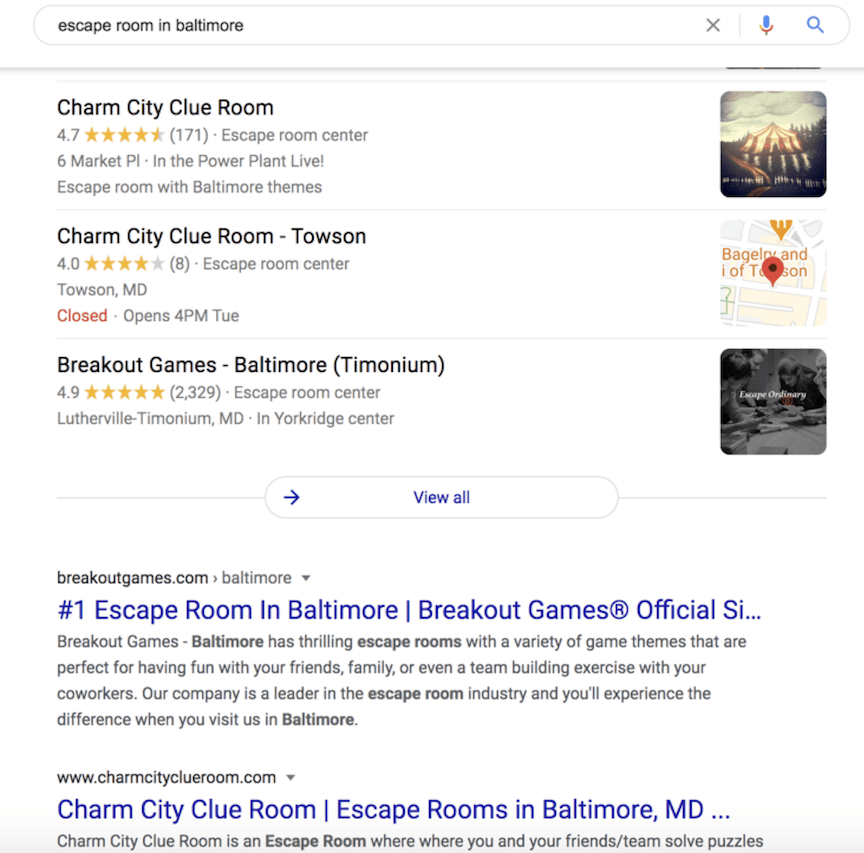 Figuring out how to rank at the top of search results is tricky — Google considers more than 200 factors when considering how to rank a page.
Because of all these factors, SEO for escape rooms is kind of like a puzzle. You have to look for clues about how to increase your search engine rankings and try out different methods to see what works.
You might enjoy working to solve the SEO puzzle, especially once you start seeing increased website traffic and online bookings. In this post, we'll help you get started with SEO for escape room businesses.
Whether in SEO or escape rooms, having the right people on your team is essential to your success. The experts at WebFX know the rules of the SEO game, and we know which strategies get the best results. We'll work with you to understand your goals and help you achieve them.
Call us at 888-601-5359 to speak with a strategist, or request a free quote online to learn more.
Or keep reading to learn about some of the most important aspects of SEO for escape rooms!

Hear What It's Like to Work With WebFX!

"WebFX for us has been much more like a partnership than a client-customer relationship. They really feel like they part of our team. We feel very fortunate to have found them."
Travel And Recreation Company
Keyword research
Keywords are a crucial part of any SEO strategy. What are keywords? They're the terms your potential customers search on Google.
Including these keywords strategically but naturally on your pages helps you show up when people search them.
As an escape room, you might target keywords like:
Escape room in [your city]
Team-building activity in [your city]
Family-friendly weekend activities in [your city]
Most of the keywords you target will include location-related terms, such as the name of your city or region, since you want to reach people in your local area.
To determine which keywords to target, you can use several methods.
Relevant, high-quality content
Another essential element of SEO is creating high-quality content on topics that interest your audience.
You can create many kinds of content, including:
For example, you might:
Write a page targeting the keyword "escape room in Baltimore" that provides basic information about your escape room
Create a video explaining how escape rooms work
Write a blog post about the top things to do in your area to target location-related keywords
Create a blog post and infographic explaining the benefits of escape rooms for team building
An experienced content marketing agency like WebFX can help you create high-quality content that ranks well and appeals to your target audience.
Keyword usage
To get the most out of your keywords, you need to use them strategically but naturally. You can target a core keyword, variations of that keyword, and several related keywords for each page.
Include your keywords in your:
Title tag: The title of your page that shows up on SERPs
Meta description: The description of your page that shows up on SERPs
Headings: The headings you use throughout your pages
Image alt tags: Tags that describe the contents of your images
Body text: The main text on your page

Make sure your keyword use sounds natural. Don't overuse keywords and don't force them into sentences where they don't belong. This practice is called keyword stuffing and can lead to penalties from Google and lower rankings.
Google Business Profile
For locally focused businesses such as escape rooms, Google Business Profile is essential.
GBP is a business listing directory from Google. It's responsible for the map and business listings — called a local 3-pack — that show up near the top of search results pages for Google searches related to local businesses.
Because GBP shows near the top of so many relevant SERPs, being one of the first businesses in a local 3-pack significantly increases your visibility.
To get started with GBP, create a listing for your business or claim your business if a listing already exists.
Then, fill out your information completely. Include all the relevant business information, photos, and a brief description of your business. Include keywords in your description and other fields.
Also, encourage customers to review your business on GBP and reply to reviews when you get them.
Local directory websites
Google My Business is one of the most important online directories for escape room SEO, but it's not the only one.
You should also make sure your escape room is listed on other directory and review sites, such as:
Create listings for your escape room on these sites, or claim any existing listings so that you can manage them and ensure your information is complete and accurate.
Local listing management tools like LocalFX make managing your local listings easier. These tools enable you to manage all of your listings in one place and make changes to multiple listings at once.
Getting reviews on these directory sites can also benefit your SEO and online presence, but make sure you follow each listing site's rules for encouraging reviews.
A professional review management company can help you get more online reviews, as well as manage and respond to them.
Link building
Links are another important aspect of SEO for escape room businesses. Getting backlinks from well-respected websites causes Google to view your website as more authoritative and can improve your rankings.
How can you earn more links to your website? One of the best ways is to create high-quality content that other people naturally want to link to on their site.
For example, if you create an interesting infographic about the history of escape rooms, other websites might want to share it and link to it.
For local businesses like escape rooms, creating local-specific content is an excellent way to earn links. If you mention other local businesses in your posts, for example, those businesses might want to link to your article.
If you participate in, sponsor, or create local events, you can also organically earn links from local news organizations, bloggers, and social media users.
Web design and user experience
To rank well on Google, you also need to make sure your website is well-designed and easy to use.
Google wants to rank high-quality websites so that people have a better experience using the search engine, so improving your website's quality can also improve your rankings.
How can you improve the quality and user experience of your website?
Grow your business with SEO for escape rooms
When people want to find information about local businesses like escape rooms, they turn to search engines. So, to find more customers, you need to make sure you have a strong presence in search.
With SEO for escape rooms, you can establish that presence and grow your business. The tips above will help you get started, but they only scratch the surface of the more than 200 ranking factors that search engines take into account.
If you want to escape low rankings in search and get your business in front of more potential customers, you need an SEO strategy.
Our team of digital marketing experts can create and implement a custom SEO strategy that gets results for your business.
In fact, over the last five years, we've generated 7.8 million leads and $3 billion in sales for our clients. That's one of the major reasons we have a 91% client retention rate.
To speak with one of our strategists, call us at 888-601-5359 or request a free quote online.
Earn a 20% greater ROI with WebFX