There are many reasons and factors that may go into the decision to redesign a website. Here are some of the most common:
Website looks old or outdated
Site no longer functions as desired, or original functionality is now outdated
Site does not display properly in newer browsers or on modern devices
Complaints are being received (from either customers or employees)
Amount of content or products exceeds what current design can support
Current website design is preventing goals from being reached
You may have one of these reasons for wanting to redesign your website, or you may have several that aren't on this list. Whatever the reason, you probably have a pretty good grasp on what the problems are with your current site, and maybe even some ideas about how you can solve them with a redesign.
However, before pulling the trigger on a redesign, you should be absolutely sure that a full site makeover is what you really need. A redesign can be expensive and time-intensive, and you will have to maintain your current website while the new look is developed.
In some cases, instead of a redesign, you can invest in a website "refresh." A refresh involves updating some of the existing site's elements or making minor adjustments that will improve its look and functionality without requiring a full redesign. It may be better to invest in a refresh if:
You aren't receiving complaints about your site
Your site is still functioning well in all browsers
The changes you want can be achieved with simple editing (ex. color changes, switching to a different font, a new logo) or only a few hours of development (ex. adding a sitewide footer, changing part of the homepage design, adding a blog)
Your site is still meeting sales goals
The best way to determine whether or not you can invest in a small refresh rather than a full redesign is to write down a list of what you want to change, then present it to a website development company. They will be able to evaluate your needs, and tell you whether or not you can get what you want out of a refresh.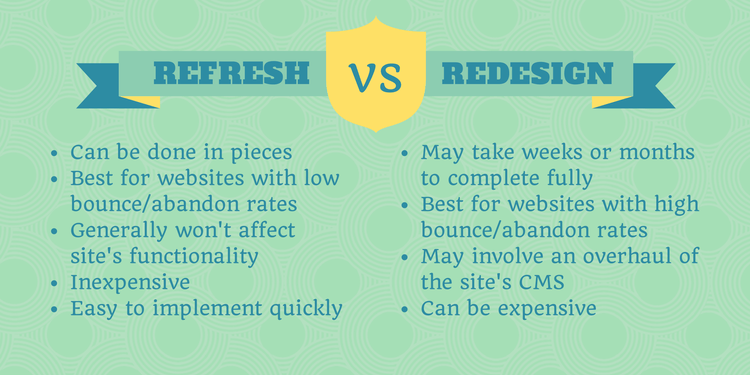 Most websites owners find that a refresh once every year or two helps keep their sites looking current. However, this assumes that the right groundwork has been laid already. If your current site isn't mobile-friendly, or your CMS simply doesn't do what you want it to, it's probably better to push for a full redesign.
Still not sure if a full redesign is what you need for your site? That's fine—keep reading! Over the new few chapters, we'll cover what you should do when preparing for a redesign, what new design costs, and how the process typically goes. This information should help you make a more informed decision.
Now that we've covered the reasons that usually drive redesigns, let's talk about one of the most important—yet most overlooked—parts of the redesign process: strategy.