17 minute read

Sam has been writing for WebFX since 2016 and focuses on UX, crafting amazing website experiences, and digital marketing In her free time, she likes to spend time on the beach, play with her cats, and go fishing with her husband.
By 2040, 95% of purchases are expected to be through ecommerce businesses. Those numbers tell us that ecommerce marketing isn't going away — and as an ecommerce company, that's likely music to your ears. But how can you ensure that your ecommerce marketing strategy is primed to sell more products than ever before?
With our ecommerce marketing guide, you'll be able to gain insight into what makes your online store successful and how to ensure that your ecommerce marketing plan is effective. Keep reading to learn more, or, if you'd like to speak to an ecommerce specialist about your online business, feel free to contact WebFX at 888-601-5359!
There are a few things you should know before continuing with our ecommerce marketing guide. Read on!
Ecommerce marketing guide: The precursor
What is ecommerce marketing?
Ecommerce marketing is the process of bringing awareness to your online store via strategies like:
Building an ecommerce marketing plan is crucial to help you successfully employ the strategies above, and when you rely on an ecommerce marketing guide like ours, it'll be easy to create the perfect plan of attack.
Who is our ecommerce marketing guide for?
If you've landed on this page, you likely fall into one of two groups:
You currently have an ecommerce store and sell your products online
You're looking to open an ecommerce store and want to know more
In our ecommerce marketing guide, we'll give you ecommerce tips that can help you regardless of which category you fall under. Before you continue reading, check out our video on the benefits of ecommerce for businesses.
What is the goal of our ecommerce marketing guide?
In our ecommerce marketing guide, we aim to help online store owners leverage the power of digital marketing to grow their online presence and sell more products. We want to:
If you're ready to get started, keep reading!
Ecommerce marketing guide part 1: Creating the perfect strategy
If you own an online store, selling products is your main goal. However, it's also extremely important to build relationships with your clients, have a steady flow of website traffic, and provide high-quality informational content. Below is a step-by-step ecommerce marketing guide that will help you see real results for your ecommerce store.
1. Know your brand
This step might sound obvious, but before you can successfully market your online store, you must know your brand inside and out. What do we mean by "know your brand?". You should be aware of the following before you begin your ecommerce marketing strategy:
Your brand aesthetics including brand colors, fonts, logo, and style
Your company's mission
What issues you aim to solve with your products
Your target audience
Each of these elements is vital to understanding who you are as a brand.
Your brand aesthetics allow you to become recognizable and build brand recognition.
Your company's mission should be top-of-mind with every marketing strategy you employ.
The issues you aim to solve with your products are important to consider since they can affect the verbiage you use in your marketing.
Your target audience is central to any marketing strategy. After you know and understand these key pieces of information, it's time to move on to the next step.
2. Set goals for your ecommerce marketing strategy
You should never implement a strategy without an end goal in mind. Like we mentioned earlier, as an ecommerce store, you likely gauge success based on the number of units you sell online. This goal is fine to have, but you should set more than just one, and you should be sure that they're SMART.
Each goal that you set keeps you working toward something throughout your ecommerce marketing campaign. You should create a goal for each marketing initiative you plan to take on for your business. Here are some potential objectives you might aim to accomplish with your ecommerce marketing plan:
Increase brand awareness by increasing social media followers by 20% on three key platforms
Create 35 pieces of content for the website and get 20 to rank for top industry keywords
Create 3 pay-per-click (PPC) ads that increase website traffic by 20%
These are just a few potential goals that you may choose to set – and of course, your goals should be based on your own unique company, capabilities, and budget.
3. Decide which ecommerce marketing strategies you plan to use
At WebFX, we believe that the more digital marketing strategies you use for your online store, the more success you'll have. This mantra makes sense since each digital channel works to make your brand stand out in a different space online. For example, search engine optimization (SEO), when done correctly, can help you rank highly in search results — earning you top real estate when someone searches for industry-related keywords.
Another example, social media marketing, can help you connect with and market to customers who are active on social media platforms like Facebook and Instagram. There are a variety of ecommerce marketing strategies you can use that come with their own set of benefits:
After considering the benefits of each of these marketing strategies, you'll want to choose which best fits your ecommerce marketing goals.
4. Implement and test your chosen strategies
After choosing which strategies will be most beneficial to your specific ecommerce strategy, it's time to implement them. We'll talk more about each strategy in the next section. When you implement your chosen strategies, it's important to remember that without testing the results of each, your efforts go to waste.
Imagine scientists developing a vaccine, giving it to people with the disease it's meant to cure, and then not checking back with the patients to see if it worked. Without testing, your ecommerce marketing strategy will fall flat — simply because you'll never know what strategies work, and which don't. Certain tests will also inform you about your campaigns and give you the information you need to tweak them to make them successful.
For example, A/B testing is an assessment that you can run on a variety of marketing strategies. You can run A/B tests on your PPC ads, website features, and even email subject lines. This kind of test provides users with two different variations of the element that you want to test, and the winning variation is the one you'll implement.
You'll also want to analyze your strategies through programs like Google Analytics. You can easily analyze and optimize your SEO efforts by diving into metrics like site traffic, bounce rate, dwell time, and conversion rate on the Google Analytics platform. In the next section, we'll talk about how to successfully use each of the ecommerce marketing strategies above for your online store.
Ecommerce marketing guide part 2: More about ecommerce marketing strategies
Now that you have a better idea of how to go about creating an ecommerce marketing plan, it's time to talk about how you'll implement the marketing strategies you choose.
SEO for ecommerce
SEO is perhaps the single most effective marketing strategy for any industry — not just ecommerce.
That's because the process of SEO allows you to show up highly in search results when your target audience searches keywords related to what you have to offer. For example, if you sell smoothie blenders, and you use ecommerce SEO to optimize your website, you'll rank higher in search results pages when users search for the term "smoothie blenders."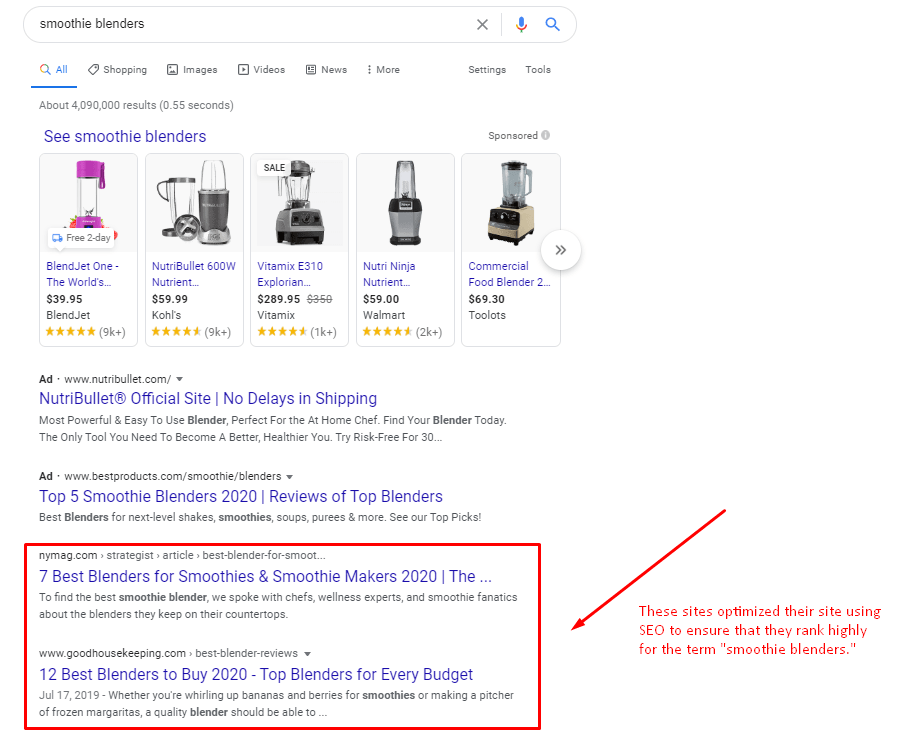 However, many factors play into just how highly you'll rank. In other words, just because you optimize your website with SEO doesn't mean that you'll automatically rank highly for key terms.
The following elements are all important to successful SEO:
Informative content: Your content is what ranks in search engines, so if you don't create informative, high-quality content, you won't be able to rank highly in search.
Keyword targeting: Choosing the right keywords to target with your content is crucial to a fantastic ecommerce SEO campaign. You should be sure to spend some time doing keyword research to understand what terms users search for to find your products.
Fast page speed: Google wants to provide users with the best experience possible, so they'll only endorse websites if they provide a great experience, too. That said, page speed can make a user experience great or subpar, so optimizing your site for speed is a crucial part of SEO.
Internal linking: When you link your site pages to other pages on your site, you create a strong internal linking profile — making it easier for Google to crawl and index your pages quickly.
Fantastic UX: When you create a great user experience for site visitors, you're able to keep them on your site longer — which Google considers when ranking your pages. Not only that, but great UX also means that you provide simplified navigation and multimedia throughout your site pages to keep users engaged.
Link building: Link building is when you get other high-quality websites to link to your website. This strategy can boost your authority to Google over time.
PPC for ecommerce
PPC ads are a great way to advertise your products — especially since they show up above organic results in search. Not to mention, 46% of page clicks go to the top 3 PPC ads.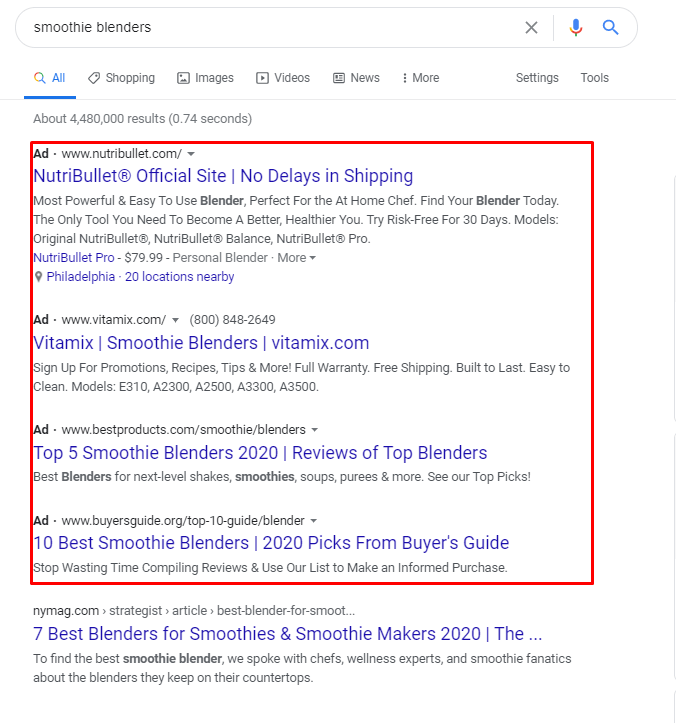 With PPC ads, your products are the first to be seen in search results — if you bid higher than other advertisers, of course.
Ecommerce PPC ads are so successful since they take shoppers directly to your website to buy the product that they want. When they click an ad, they'll arrive on a landing page, which gives users the option to convert on the spot. A successful landing page will include:
The exact product advertised in the PPC ad
An image of the product
Product price
Product description
Materials used
Color and size options
Customer reviews
Call to action button encouraging users to "buy now" or "add to cart"
PPC ads also allow you to granularly target your most qualified audience with targeting options including:
Demographics
Interest
Location
And more
These targeting options mean that you're able to get your PPC ads in front of your most qualified audience — or, the audience that is most likely to convert. PPC is also great for ecommerce because it's extremely cost-efficient. You'll only pay when someone clicks your ad, not for ad space.
Oh, and you set how much you're willing to pay with each click!
Social media marketing for ecommerce
Social media marketing is crucial to your ecommerce marketing plan since it can help you build a strong relationship with your potential customers. Not only that, but social media marketing can also help you build brand awareness. In addition, you can tease new products, inform followers about upcoming promotions, and more.
Check out the way Burt's Bees encourages users to try their lip butter on Twitter!
The first step to implementing social media marketing for your ecommerce store is to create a profile on relevant social channels. Creating a social profile on the following channels is free, and they're all beneficial to your ecommerce marketing strategy.
After you've created your profile, you've got an amazing opportunity to link to content on your website, run social media ads that endorse your products, and connect with users in the comments. Not only that, but most social media platforms feature an integrated direct message platform that allows you to provide a level of customer service to your followers. You should aim to answer these messages promptly.
Content marketing for ecommerce
Content provides a variety of benefits for your ecommerce store.
It informs your audience: The primary focus of your content should not be to sell your products but to inform your audience. When you focus on writing content for your audience, you'll earn their trust — which will lead to purchases in the future.
It helps you rank in search engines: Creating high-quality content on your website means that you'll have a fantastic chance at ranking highly in search results (if you also perform SEO).
It benefits nearly every marketing strategy: Your business can use the content you create in a variety of marketing strategies within your plan. You can share links to your content on social media and email newsletters to drive traffic to your website.
Google loves fresh content: Google loves when you continuously share new content on your website because it shows that you have a lot of information to share and that you're knowledgeable in a variety of areas.
When you create content for your ecommerce website, you should start by doing keyword research so that you can better understand the topics that interest your target audience. After doing keyword research, you'll want to make a content calendar to guide your content creation strategy. This calendar will help you keep track of the content you're writing and keep you on track with posting it to your website.
You can also implement a blog as a secondary place for you to post new content!
Web design for ecommerce
Your website is the hub for your sales — it's where users come to learn more about your company and ultimately, purchase your products. But if your website isn't aesthetically pleasing, organized, and functional, users will bounce quickly. Here are a few important elements of your ecommerce website:
Aesthetics: Nobody wants to shop on a website that looks like it's straight out of the 1990s. That said, you should ensure that your website is fresh, modern, and fits your brand's unique style. You should use the colors and fonts that match your style guidelines.
Organization: If users feel overwhelmed with the elements on your website, they could bounce. That said, you'll want to make sure that your content is organized, your navigation bar is effective, and that you use white space to pad different elements on your page to make it more organized.
Functionality: You should make sure that all the links on your pages work, that your buttons go to the right place and that your form submissions work properly. Most importantly for an ecommerce website, you should be sure that adding items to your shopping cart is seamless, and that checkout is a breeze for customers.
Mobile-friendly: All websites, especially ecommerce ones, should be mobile-friendly. Mobile-friendliness means that users can access and use your site in the same way across all devices — no matter the size. You should ensure that your shopping cart is easily usable on a smartphone screen and that the checkout process is just as easy as it would be on a desktop.
To ensure that your website functions properly and connects users to your unique brand, you might consider working with an ecommerce web design company to help!
Email marketing for ecommerce
Email marketing is not dead — a matter of fact, it's still one of the most successful ecommerce marketing strategies out there. Remember the last time you received an ad for one of your favorite stores via email? It encouraged you to visit the website and take action.
For example, this GAP email that I got in my inbox this morning had me excited to check out this promotion.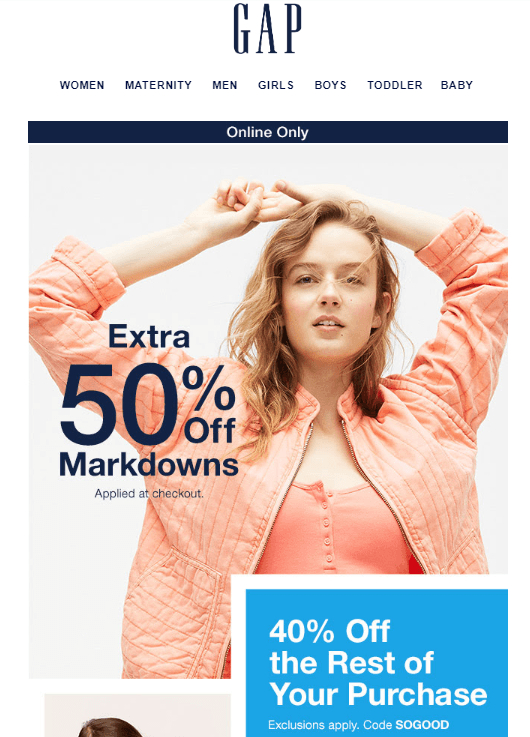 Email marketing is a great way to not only stay connected with your loyal customers but also a great option for keeping your business top-of-mind to new customers. Using email as an ecommerce marketing strategy can allow you to:
Provide special offers to loyal customers
Inform subscribers about a new sale or promotion
Inform subscribers about new products
Update subscribers on new business hours (if you have a storefront)
Provide subscribers with info about your employees or facility
Provide how-to or explainer videos about your products
Include user-generated content to show subscribers how other customers love your products
Reach specific groups of customers by segmenting your emails
When you use email marketing as a part of your ecommerce marketing plan, you'll experience an extremely high return on investment (ROI) — $44 earned for every $1 spent, to be exact — and also keep your business top-of-mind for customers.
Video marketing for ecommerce
Video is all the rage these days, and it's not going anywhere. Videos are a favorite way for users to consume content — making it a great model for showing off your products. Not only that, but you can share your videos on social media, email newsletters, and of course, on your website.
There are a variety of video styles you can use to benefit your ecommerce marketing strategy, including:
How-to videos: Videos that show how to use your products.
Explainer videos: Videos that explain a process or topic related to your products.
Product features: A video that shows off specific details or features of a product.
Tours of your facility: A tour of your storefront or the facility where your products are made.
Background on your employees: Interviews with your employees that help users put a face to the name.
Client testimonials and reviews: Positive insights into how previous customers enjoyed your products.
User-generated videos: Reposting videos that customers post that endorse your product.
Any kind of video on your site pages can help increase clickthrough rates (CTR) by a whopping 300% — so consider video paramount to your ecommerce marketing strategy. Not only that, but users love to engage with video — and they will spend 88% more time on pages that feature one.
Are you interested in your own ecommerce marketing strategy?
If our ecommerce marketing guide got you thinking about your own marketing strategy, WebFX wants to help! We've been in business for over a decade, and we've driven astronomical results for our clients.
We offer custom ecommerce marketing plans for every business and with our full in-house team of more than 500 experts, we're confident that we can help your business grow. If you're ready to get started, contact us online for a free quote, or give us a call at 888-601-5359 to learn more about our ecommerce solutions company!
Sam has been writing for WebFX since 2016 and focuses on UX, crafting amazing website experiences, and digital marketing In her free time, she likes to spend time on the beach, play with her cats, and go fishing with her husband.

WebFX is a full-service marketing agency with 1000+ client reviews and a 4.9-star rating on Clutch! Find out how our expert team and revenue-accelerating tech can drive results for you! Learn more
Try our free Marketing Calculator
Craft a tailored online marketing strategy! Utilize our free Internet marketing calculator for a custom plan based on your location, reach, timeframe, and budget.
Plan Your Marketing Budget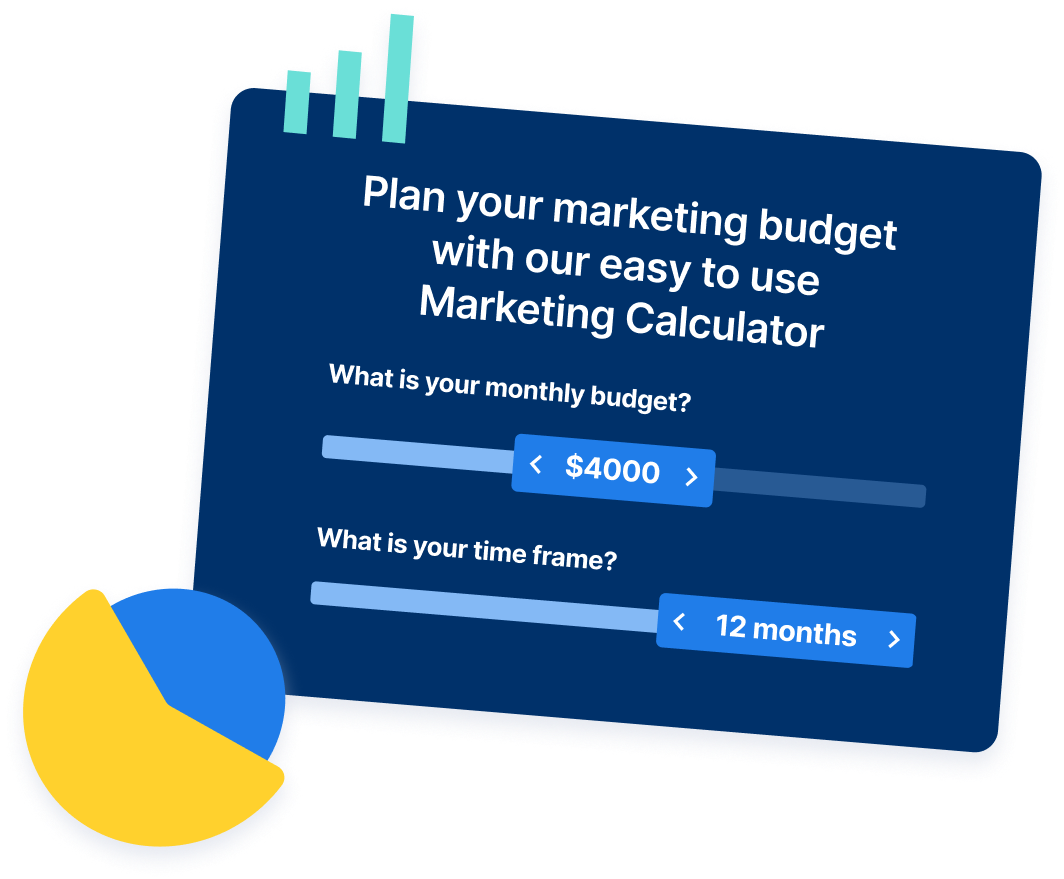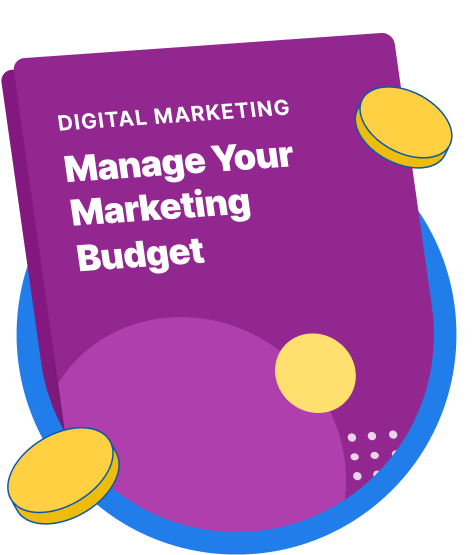 Maximize Your Marketing ROI
Claim your free eBook packed with proven strategies to boost your marketing efforts.
Get the Guide
Try our free Marketing Calculator
Craft a tailored online marketing strategy! Utilize our free Internet marketing calculator for a custom plan based on your location, reach, timeframe, and budget.
Plan Your Marketing Budget