Did you know that 90% of Americans are expected to buy goods and services online by 2023?
The ecommerce sector is rapidly growing, with more businesses moving their operations online to serve customers. But as more companies build an online presence, you must create an ecommerce marketing strategy that enables you to stand out from your competition.
One way to help your business stand out from the crowd is to capitalize on ecommerce marketing trends. On this page, we'll cover thirteen ecommerce marketing trends you can invest in to help grow your business online:
Let's get started!
Ecommerce marketing trend #1: Ecommerce platforms
With ecommerce platforms like Shopify and WooCommerce, it's becoming easier than ever for a business to launch an online store. If you're thinking about selling your products or services online, don't wait to get started because this ecommerce marketing trend is here to stay.
Ecommerce marketing trend #2: Search engine optimization (SEO)
Besides optimizing your product pages for SEO, creating SEO content that targets the other stages of the buying funnel is also worthwhile. For example, how can your business (or website) reach users in the awareness or consideration stage and nurture them to the next stage?
If you need ideas for this ecommerce marketing trend, check out these content type ideas:
Blog post
Guide
Infographic
Video
Producing SEO content involves multiple steps, from generating content edits to writing drafts to publishing. If you're pressed for time, think about investing in content marketing services. Our content marketing services, for example, take care of everything for you.
Ecommerce marketing trend #3: Conversion rate optimization (CRO)
How could your business capture more revenue from its existing traffic? With this ecommerce marketing trend.
Conversion rate optimization is a proven way to capture more revenue from your existing traffic. That's because CRO tests variations of your website, like through new designs, copy, or page features, and measures how those variations perform.
For example, does Variant A generate more sales or Variant B? You can easily find out with CRO.
Some ideas you could test include:
Product page design
Website navigation
Checkout functionality
Additional payment options like PayPal or Apple Pay
More delivery options like buy online pick up in store
With free CRO tools like Google Optimize, it's easy to get started with conversion rate optimization. Like other strategies on this ecommerce marketing trends list, though, you can always partner with an agency to handle your CRO — and yes, WebFX does offer conversion rate optimization services.
Ecommerce marketing trend #4: Mobile
Another item on our list of ecommerce marketing trends is optimizing for the mobile experience. More people are using mobile devices to shop online — over 40% of online transactions happen on mobile. If you want to earn more sales for your ecommerce business, you must start optimizing for mobile.
To ensure you deliver a mobile-friendly experience, start by integrating responsive design into your site. Responsive design ensures your website adapts to whatever device your audience uses. Your website will adjust to fit the user's screen.
Additionally, you can add mobile-friendly elements to your website, like thumb-friendly buttons and a hamburger menu.
By delivering a positive mobile experience, you'll keep prospects engaged with your business and checking out your products.
Ecommerce marketing trend #5: Omnichannel marketing
Next on our list of ecommerce marketing trends is to take an omnichannel approach to marketing.
People are using more channels than ever to help them discover and interact with new businesses. The days of only using one channel to interact with prospects are long gone.
That's why one of the biggest ecommerce marketing trends is to take an omnichannel approach to marketing.
With omnichannel marketing, you use multiple strategies to reach and engage your audience. You create various touchpoints to allow your audience to interact with your business.
You can use any combination of digital marketing strategies, including:
With omnichannel marketing, you create opportunities for your audience to engage with your business through the path that's best for them.
For example, one customer may find your business through SEO, then start following you on social media and engaging with your organic posts before seeing a post of interest and converting.
Another customer may find your business through your content, subscribe to your emails, and receive a personalized email that gets them to convert.
With an omnichannel marketing approach, you create more opportunities for people to find and engage with your business online.
Pro tip: Use a customer relationship management (CRM) platform to keep track of your omnichannel funnels. A robust CRM system makes it easier for you to understand where prospects are in your funnel and engage them.
BONUS READ: Omnichannel vs. Multichannel Marketing: Which is Better for SMBs?
Ecommerce marketing trend #6: Marketplaces
Another item on our list of marketing trends in ecommerce is utilizing marketplaces.
More people are buying online than ever — global ecommerce sales went from $3.3 trillion in 2019 to $5.2 trillion in 2021, and they're expected to reach $8.1 trillion in 2026. With more people spending their money online, you must get your products in front of them wherever they shop.
Enter marketplaces. Marketplaces are a critical medium for helping you sell more products.
You have products your audience wants — it's just a matter of reaching your prospects where they shop. Marketplaces are an excellent medium for helping you get your products in front of people that haven't discovered your business yet.
You can host your products on multiple marketplaces, including:
Facebook Marketplace
Etsy
Which marketplace you choose will depend upon who you're trying to reach and the products you sell. Not sure where you should sell online? Check out our guide on where and how to sell online!
Ecommerce marketing trend #7: Shoppable posts
Next on our list of current ecommerce marketing trends is creating Shoppable posts on social media. These posts will allow you to access the growing number of social media users who shop on the platforms — an estimated 97 million U.S. shoppers in 2022.
For example, you can create Shoppable Instagram posts, which are regular Instagram posts that feature products and have links to those products in the post. These posts are a great way to get more people to buy your products. When you sell through Instagram, you want to ensure you use high-quality product photos on your page.
You can feature multiple products in your photo and link to each product page.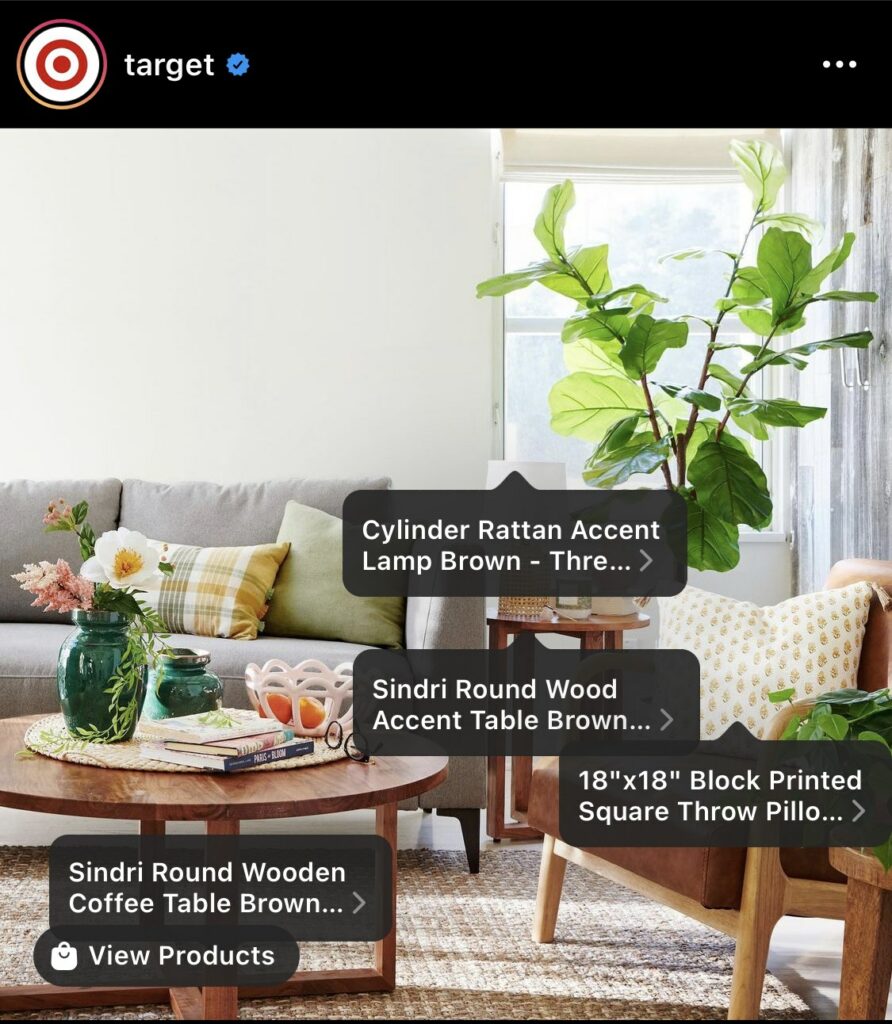 If someone sees a product they like from your listing, they can click on it and visit your Instagram store to see more information about the product.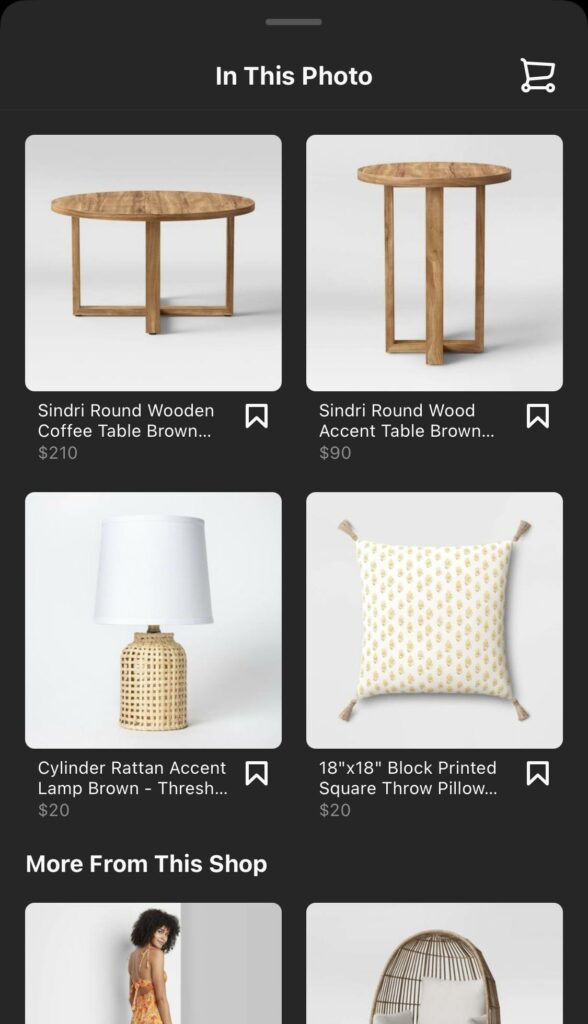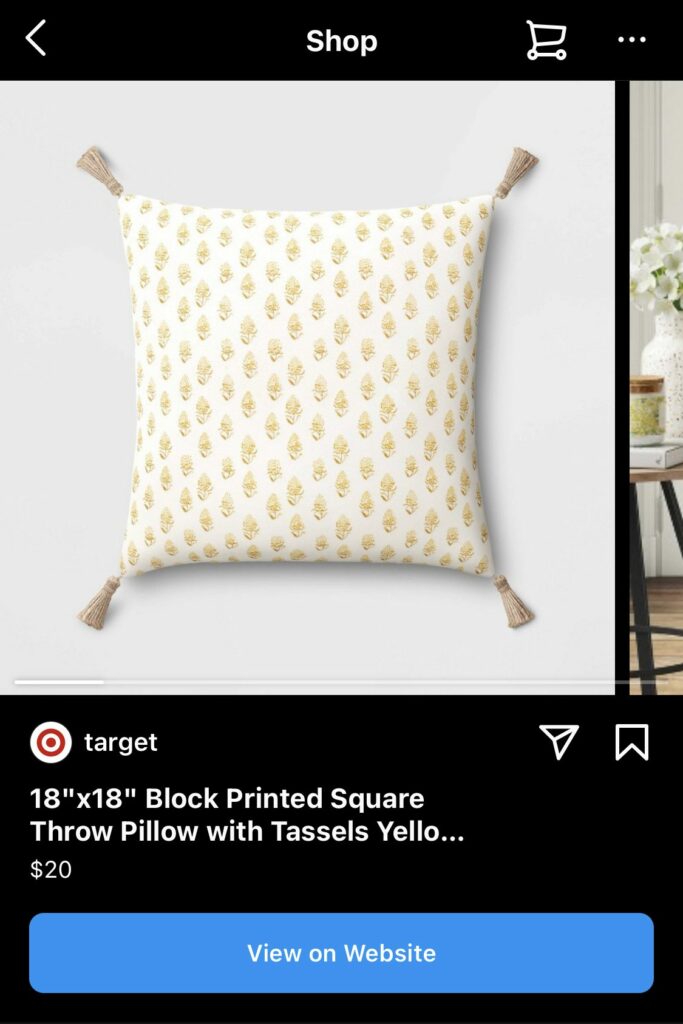 They can see other products you offer, too. Then, if the visitor ultimately decides to buy your product, they can click a button to visit the product page on your site and buy it.
Ecommerce marketing trend #8: Personalization
Some trends in ecommerce remain relevant as the years go on, and personalization is no exception.
Dozens of businesses are vying for your audience's attention to get them to buy their products. People don't have time to waste on promotions, offers, and advertising not relevant to them. With personalization, you can provide your audience with the information they want and deliver an experience unique to your audience.
One of the best mediums for doing personalization is email.
When people subscribe to your email list, you can personalize their experience by delivering content tailored to their interests. So, for example, if you own a clothing boutique and have a subscriber interested in your shoes, you can send tailored emails about new shoe arrivals.
You can also personalize emails by adding the subscriber's name to your email. It's a small touch, but it's a great way to show your subscribers that the content in your email is tailored to them.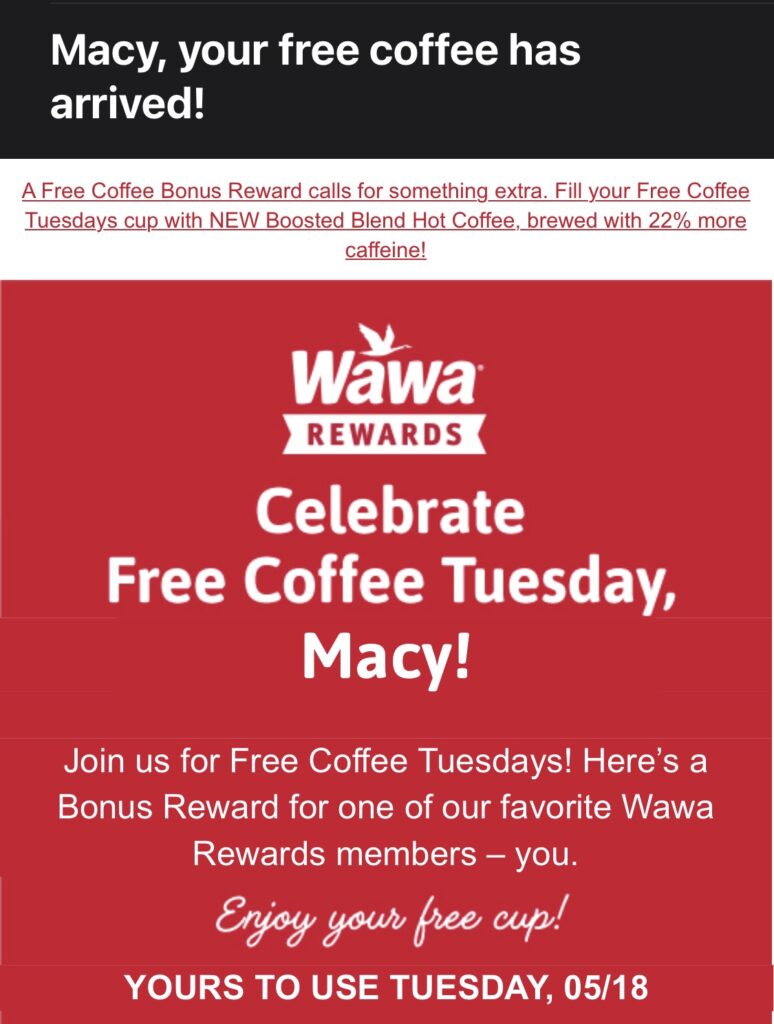 Ecommerce marketing trend #9: Video
Next on our list of ecommerce marketing trends is creating video promotions.
Video promotions are an excellent way to catch your audience's attention and get them interested in what you offer. Videos significantly impact your business — videos increase brand awareness by 139% and increase conversions by 86%. You can create videos on your products, information related to your industry, or a behind-the-scenes look at your business.
Your videos should be informative and engaging, so you can keep your audience engaged. When you create your videos, you can share them on multiple digital platforms, from email to social media. It's a great way to promote your content so more people can get to know your brand and business.
Ecommerce marketing trend #10: Micro-influencers
Next on our list of current ecommerce marketing trends is to connect with micro-influencers. A survey conducted by Influencer Marketing Hub found 91% of respondents deemed influencer marketing to be an effective strategy.
While connecting with influencers continues to be a trend, a new rising trend is to connect with micro-influencers. Micro-influencers are still influencers but on a smaller scale. Essentially, they appeal to a small niche audience.
These influencers can have anywhere from a couple thousand followers to a couple hundred thousand followers. Many micro-influencers have a strong-knit community of people who enjoy their content.
When you partner with micro-influencers, you can reach the people who you know are most interested in your business. It's a great way to connect with your target audience and get your products in front of them.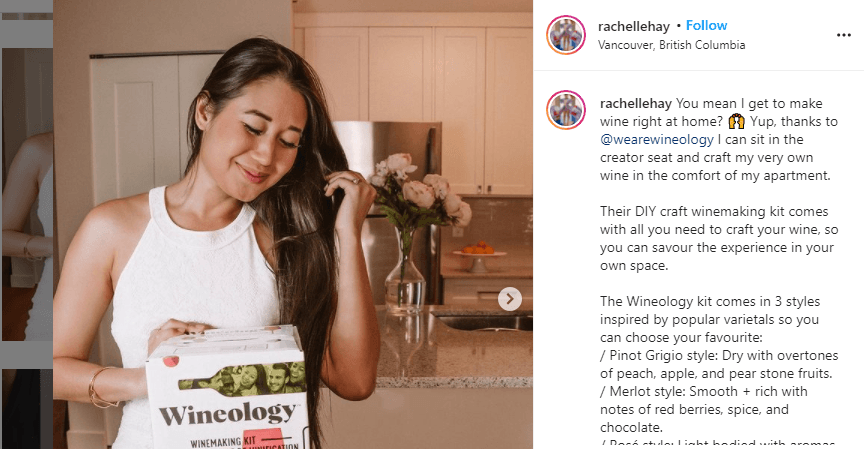 So, how do you find micro-influencers for your business?
You can search on different social media platforms and look for people posting about topics related to your industry. Try searching for related hashtags and see who is using them. You can also look at your business's followers and see who they follow to find potential influencers for your business.
Ecommerce marketing trend #11: Retargeting
Next on our list of current ecommerce marketing trends is retargeting ads. Retargeting ads, which are display ads, are a great way to bring back leads who showed interest in your products prior. These ads appear on websites leads visit after leaving your site.

Retargeting ads are an excellent option for getting people to reconsider your business and ultimately convert. Many people will leave your site because they get distracted or aren't ready to convert. By putting a retargeted ad in front of them, you get people to think about your brand again and reconsider the purchase.
When you craft retargeted ads, make sure you use high-quality visuals to entice prospects to click. You'll also want to make sure you prepare your ads with clear information and a call to action (CTA) to guide people on how to take the next step.
A key trend to keep in mind while planning your retargeting campaigns is the move towards first-party data. First-party data is any information that you collect directly from your audience. With Google planning to phase out third-party cookies, you'll want a first-party data strategy to fuel your retargeting campaigns.
Ecommerce marketing trend #12: Google Shopping ads
Another strategy that makes it on the list of marketing trends in ecommerce is Google Shopping ads. These paid ads appear at the top of search results and feature products related to the person's search.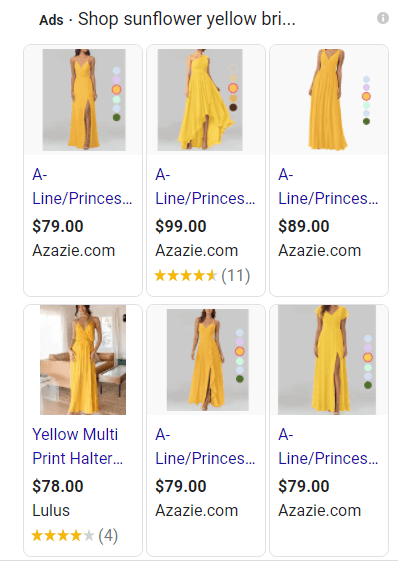 These ads feature multiple components, including:
Product photo
Product title
Price
Your listing may also include special offers, free shipping, or a star rating for your product.
With these ads, you can appear at the top of search results for relevant product searches. It's a great way to give people a preview of your product and entice them to click on your ad and learn more.
Ecommerce marketing trend #13: Augmented reality (AR)
Coming in at number 13 on this list is a rising trend in ecommerce — augmented reality (AR). With AR technology, your business can bring virtual products to life wherever your customers are. AR displays virtual elements in the user's real-world surroundings.
In an online world full of content for people to consume, adding a layer of interactivity is one way to help yours stand out — and AR provides an exciting opportunity to do so.
You might have seen furniture stores giving users the option to see the furniture in their space, or clothing retailers allowing customers to virtually try on outfits. These examples are just a couple of ways ecommerce stores can use AR to engage their audience and increase sales.
If you want to keep your business at the forefront of developing trends, consider ways AR might enhance your customers' experience. Not only do 56% of shoppers report that AR has encouraged them to buy something, but 40% of people expect AR to be available when shopping in the near future.
Start optimizing for these ecommerce marketing trends
With so many trends in ecommerce, it can feel overwhelming trying to figure out where to start and how to implement these strategies. If you need help building your ecommerce marketing plan, WebFX can help. We have a team of over 500 experts that can help you optimize your marketing strategy.
Our team knows how to craft campaigns that drive results — we've driven over $3 billion in revenue and managed over 12.9 million transactions for our clients over the past five years. Ready to drive more revenue for your SMB?
Contact us online or call us today at 888-601-5359 to speak with a strategist about our ecommerce marketing services!
How is your website's SEO?
Use our free tool to get your score calculated in under 60 seconds.
Get posts by email
Join 200,000 marketing managers and subscribe to Revenue Weekly!
"*" indicates required fields
WebFX Careers
Join our mission to provide industry-leading digital marketing services to businesses around the globe - all while building your personal knowledge and growing as an individual.