When it comes to search engine optimization (SEO), off-page SEO offers the most challenges — and the fewest volunteers. If your business wants to earn a top spot in search results, and the traffic, leads, and revenue that comes with that top spot, you need to optimize your off-site presence.
If you're looking to get started with off-page SEO, this off-site SEO checklist provides a trusted roadmap. A faster way to see your off-page SEO status, however, is to enter your URL here.
Use this checklist to learn:
How to prepare your website for off-page SEO
How to optimize your website for off-page SEO
How to automate your website's off-page SEO
And more!
Start working through this off-page optimization checklist to begin improving your rankings! P.S. Curious about where your off-page SEO stands? Get an instant assessment with our SEO checker!
12-step off-page optimization checklist
This off-page optimization checklist includes 12 critical steps:
1. Evaluate your backlink profile
Summary: Check your backlink profile using a tool like Google Search Console, Ahrefs, or Moz. Look at which domains link to your site the most, as well as which pages earn the most links. If you use Ahrefs or Moz, check your domain authority (DA) or domain rating (DR) for an overall backlink profile score.
Before you start optimizing your off-page SEO, you need to assess your backlink profile, like with one of these free tools:
You can also use a paid tool, like SEMrush, to investigate your backlink profile.

For the fastest results and analysis, you'll probably want to use a tool like Ahrefs, Moz, or SEMrush. Keep in mind that the free versions of some of these tools, like Moz, will limit how much data you can view and investigate.
No matter which tool you use, you should have access to information like the following:
Number of links to your site
Number of domains linking to your site
Number of pages with the most links
Anchor text
For convenience, export this data to an easy-to-access location, like a Google Sheet. If you use a tool like Moz or Ahrefs, you'll also receive a DA or DR score for your site. These scores measure your website's authoritativeness based on its backlink profile.
A higher score equals more authority. It's critical to mention that while Google does consider a site's overall authority or trustworthiness, it does not use DA or DR when determining a website's ranking in search results. These metrics are unique to Moz and Ahrefs and are useful when evaluating you and your competition's backlink profile.
Once you finish checking your backlink profile, move onto the next step in this off-page SEO checklist.
2. Check your competitors' backlink profiles
Summary: Get perspective on the strength of your backlink profile by evaluating competitor backlink profiles. Look at the backlink profiles of online and offline competitors using a tool like Ahrefs, Moz, or SEMrush, and then export and save that data to a Google Sheet.
Next, analyze the backlink profiles of your competitors. You can use a tool like Ahrefs, Moz, or SEMrush to check your competition.
Google Search Console, however, is not an option for researching a competitor's backlink profile. That's because Google Search Console data is only available to the site owner or webmaster.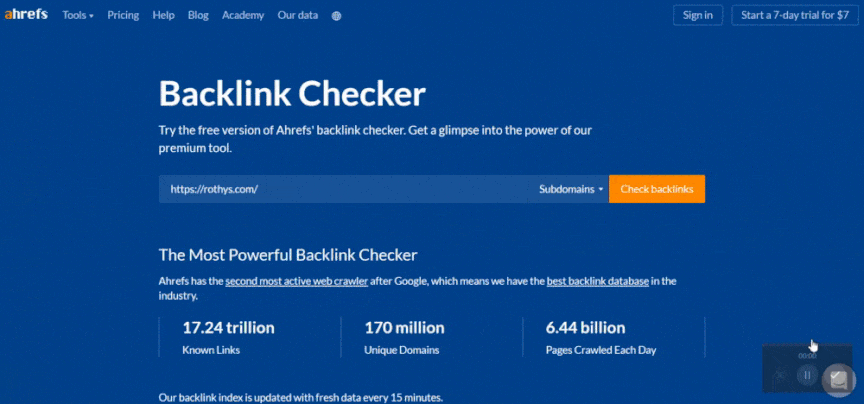 While you should check the backlink profiles of your direct competitors, you also want to investigate the backlink profiles of your online competition.
These are competitors who you will compete against in search results. In some cases, you will have an overlap between your direct competitors and online competitors. Like the previous step in this off-site SEO checklist, you want to export this data to an easy-to-access location or document, like a Google Sheet.
Once you export this data, you can start to evaluate it and compare it to yours. You'll then use this data in step six!
3. Improve your internal linking
Summary: Set your off-page SEO strategy up for success by updating and improving your internal linking. Aim for every page on your site to have three links (with optimized anchor text) from existing pages linking to it. Use Screaming Frog to determine which pages need links, and then get started!
Before you start investing your time in content creation, promotion, or outreach, you must optimize your website's internal linking.
This on-page SEO task matters to your off-page SEO efforts because internal linking helps with content discoverability. If you practice proper internal linking, you help search engine crawlers find, understand, and index your content, which can help pages rank higher in search results. Plus, you pass link equity (also called link juice) from high-authority pages, which can contribute to better rankings too.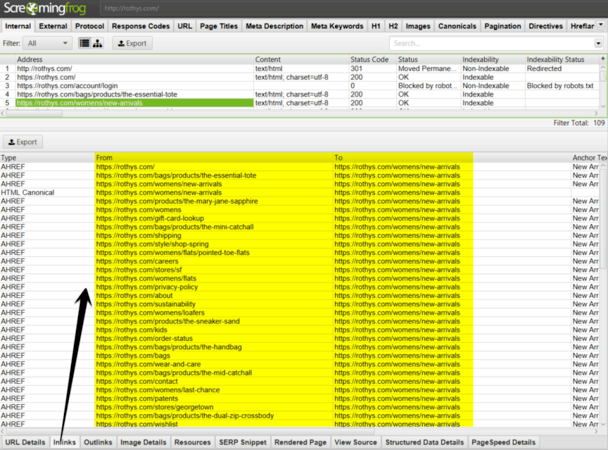 Start improving your internal linking with these tips:
Aim for every page to have three internal links to it
Use relevant, keyword-optimized anchor text when linking to internal pages
Add a website footer with links to appropriate pages, like product or service categories
If you have a small website (think 25 pages or less), this part of the off-page SEO checklist shouldn't take long. You can use Screaming Frog, which will crawl up to 500 URLs for free, to see every page and its internal links, which will help you get started. For the best results with this update, though, don't force internal links.
Make every internal link valuable and relevant to the user. You want someone to click on those links and get something that's valuable and helpful.
4. Fix your 404 errors
Summary: Broken links can impact your user experience and off-page SEO, which is why finding and fixing 404 errors is an essential part of any off-page SEO checklist. Crawl your website with Screaming Frog, and then work through its list of 404 errors to make your site seamless for crawlers and users.
Besides internal linking, your business will want to focus on broken links, also called 404 errors. When you have a broken link, it doesn't lead anywhere on your site, except a 404 page.
While these pages can keep users on your website by providing a list of relevant pages on your site, they offer little value to a user and serve as a red flag for web crawlers. Not to mention, having broken links can affect your off-page SEO. If a competitor spots a domain linking to your site via a broken link, it gives that competitor an outreach opportunity.
That outreach opportunity can cost your business not only a link but also future customers. That's why you need to find and fix broken links.

Broken links tend to happen for the following reasons:
Deleted page
Mistyped URL
Screaming Frog provides the easiest solution to finding and fixing broken links. The free version will crawl up to 500 URLs and provide an easy-to-export list of URLs with 404 errors, including the broken URL. You can even see the anchor text for the broken link, which makes your work even easier.
In addition to fixing these errors now, you also want to establish a habit of checking for 404 errors. Internal linking audit can help you spot 404 errors. Depending on how much content you produce, as well as how many people work on your site, you may want to run Screaming Frog every week, month, or quarter.
5. Optimize your site's on-page SEO
Summary: Complete on-page optimizations in coordination with your off-page efforts to maximize your return on investment (ROI) from SEO. Follow SEO best practices (and use the checklists included here!) to get started on improving your search engine rankings.
Off-page SEO and on-page SEO work together to help your website achieve high rankings in search results. That's why both require your attention.
If you optimize one, but not the other, your site won't reach its full potential when it comes to website traffic, online leads, and revenue. For on-page SEO, you can follow this checklist and focus on the following practices:
Bonus Reading: How to Improve On-Page SEO
The following checklists can also help your business improve its on-page SEO:
Once you finish your initial on-page optimizations, you can move forward with link building!
Check this out: On-Page SEO Checklist
6. Assess your link building options
Summary: Decide which link building strategies offer your business the most valuable, as well as which strategies you can do with your available time, resources, and experience. Aim to focus your efforts on two or more approaches, like guest blogging, broken links, or paid advertising.
Link building is synonymous with off-page SEO. While it's one of the most common strategies for improving off-page SEO, it's often the most difficult as it requires time, experience, and the cooperation of people outside your influence.
Luckily, you have a few options when it comes to link building, and they include:
Broken links
Outreach
Local citations
Paid advertising
Guest blogging
Social sharing
In most cases, your business will use more than one link building strategy. Which ones you use, however, will depend on your company and you. For example, maybe you don't have the time or resources to guest blog, so you focus on broken links and outreach instead.
Use this part of the off-page SEO checklist to weigh your options. Think strategically about which strategies will offer you the most value. Stay realistic, though, when it comes to what you can do.
Maybe you would like to guest blog, but with your existing responsibilities, it's not a feasible strategy — unless you decided to work with a digital marketing agency.
7. Steal your competition's links with broken link building
Summary: Get started with broken link building by checking for broken external links on sites you'd like to earn a link from, like an industry blog. Then, find content on your site that can replace that broken link. Next, reach out to that website.

Repeat this process for other sites linking to that same broken link.
Broken link building offers your business one of the easiest ways to build your backlink profile. You can summarize broken link building into the following steps:
Find a domain you'd love to earn a link from (or check a competitor's backlink profile)
Check for broken external links with tools like Xenu, Ahrefs, and Check My Links
Find a page on your site that would work as a substitute to a broken link
Send an email to the writer, editor, or webmaster about the broken link and your page
The best part about broken link building is that you can target broken links in bulk. If you find one broken link, you can check what other sites link to that same broken link, and approach them with your fix.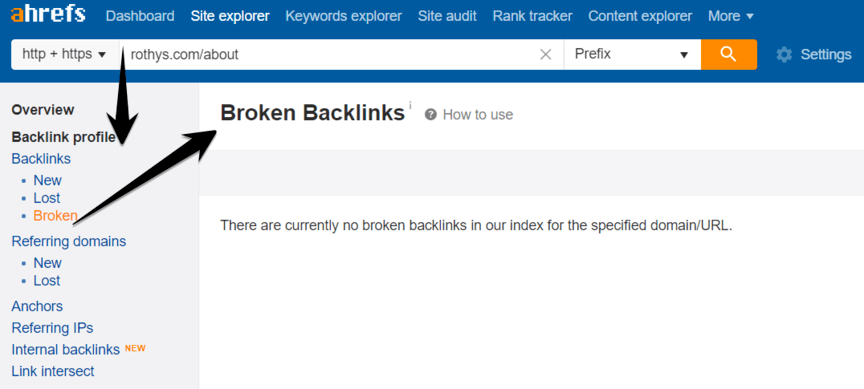 Some helpful tools you can use for this link building strategy include:
Generally, you'll want to start with a tool like Xenu or Check My Links to find your first broken link. Once you find that first link to target, however, you'll want to use Ahrefs to discover all the websites and pages sending users to that broken page. In addition to using these tools, you'll also want to compile some templates to support your outreach efforts.
In Gmail, for example, you can create email templates, which you can use to speed up this link building strategy.
8. Get your content found with outreach
Summary: Earn the most value from outreach with tools like BuzzSumo and Inkybee, as well as a reader mindset. Think about what problem your content solves, then use your answer to power your pitch for a link when writing to bloggers, editors, and webmasters.
Outreach is another powerful link building strategy, though it requires more time and skill. This link building strategy involves the following steps:
Determine what piece of content you want to earn a link for, like a blog post
Research potential blogs or sites where your content would offer value
Pitch the writer, editor, or webmaster about sharing or linking to your content
For the best results with this strategy, consider researching blogs and topics before writing content. This approach can help you curate content that bloggers will already want versus trying to find an angle for existing content.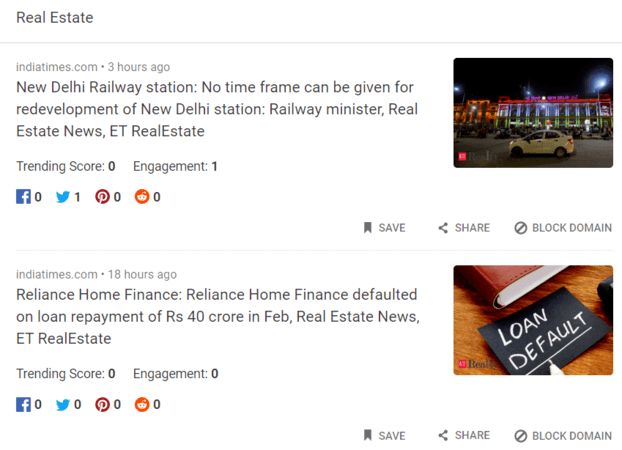 A few tools you can use to get started with this link building tactic include:
With these tools, you can research popular topics, as well as find bloggers to pitch. Plus, with a program like Pitchbox, you can streamline, track, and monitor your efforts, which can help you save time and measure the results of your work. No matter what tools or tactics you use for this link building strategy, remember your readers.
You want your content to offer a reader value. If your content doesn't, a writer, editor, or webmaster won't link to it, which doesn't help your off-page SEO efforts. Think of what your content gives to a reader and use that as the basis for your pitch.
9. Update your local citation and directory profiles
Summary: Use trusted local citation sites and directories, like Google My Business, to improve your off-page SEO. For the best results, stay away from spammy directory sites and use citation management tools like LocalFX to keep company information updated across directories.
Local citations and directories serve as a gray area in off-page SEO. Many companies, especially those new to off-site SEO, will unintentionally misuse and abuse this link building strategy, like by submitting their website to spammy and untrustworthy directories.
That doesn't mean you shouldn't incorporate local citations and directories into your off-page SEO.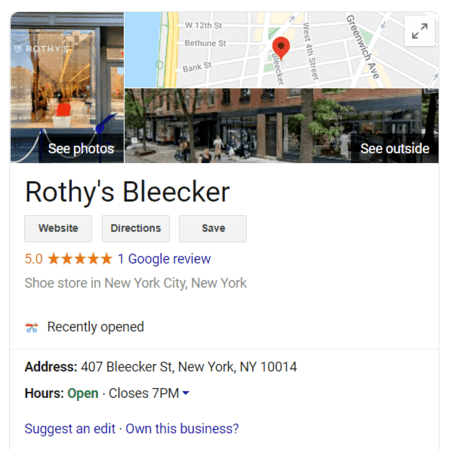 You want to use directories like Google My Business, for example, because that is a trustworthy directory and one that plays a massive role in local SEO, or your company's appearance in local search results. If you decide to make this strategy part of your off-page SEO checklist, use these tips to get started:
Compile a list of trustworthy directory and local citations sites
Create a profile or submit your website for consideration
Provide the latest information about your company's name, address, and phone number (NAP)
Update directory and local citation information regularly
In most cases, your business will stick to the most well-known lists, like Google My Business, Yelp, and Apple Maps. Depending on your industry, though, you may discover some reputable industry-specific directory sites, which could help your off-page SEO. One challenge with this link building strategy, however, is that it requires maintenance.
You don't want your listing, like on Google My Business, to become outdated and inaccurate. If your listing, especially one that gets a lot of traffic like Google My Business, shares wrong information, like your hours, it can lead to unhappy customers and lost leads. That's where a local citation management tool, like LocalFX or Moz Local, can help.
These tools will auto-update your company information across hundreds of local directories. You only enter your details, like your new hours, once, and then these tools do the rest, which saves you a tremendous amount of time.
10. Promote your content with paid ads
Summary: Advertise on ad platforms like Google Ads and Facebook to promote your content, like an infographic, tool, or research study, to drive links to your site. Get the most value from this off-page optimization checklist item by proactively monitoring and improving ad campaigns regularly.
Your business can also improve its off-page SEO with paid ads.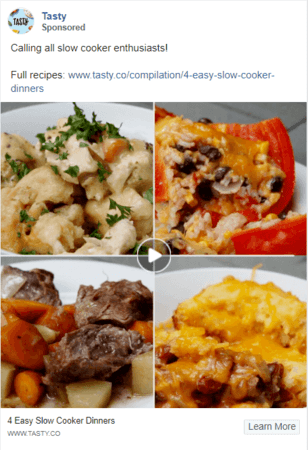 Keep in mind that this link building strategy recommends advertising your content to attract links, not buying links to promote your content.
With paid advertising, you can help great content, like a data-backed study, handy tool, or must-share infographic, gain exposure and traction. A few platforms you can use to promote your content include:
This off-page SEO checklist will require a budget, as you'll need to set a budget for ad spend. In most cases, you'll pay every time someone clicks on your ad, as most ad platforms follow a cost-per-click (CPC) payment model. For information about average advertising costs, check out these platform-specific pricing guides:
If you decide to use this link-building strategy, make sure to create compelling ads. Write ad copy that engages your audience and offers them value. How will your content help them?
You should also use visuals that capture attention, whether it's a striking photo, custom graphic, or professional video. Monitor the performance of your ad campaigns regularly too. Frequent monitoring, like every week in the beginning, can help you spot trends and targeting opportunities.
You may notice, for instance, that a lot of people see and click your ad on mobile but don't stay on your site as long as desktop users, so you exclude mobile devices from your audience.
11. Share your knowledge (and site) with guest blogging
Summary: Use guest blogging to help your company spread brand awareness, as well as generate valuable backlinks. Research niche and well-known blogs in your industry. Then compile a list of topics and pitch them.

Depending on your pitch, you may have the chance to write a guest blog post.
Guest blogging is another worthwhile, though optional, addition to your off-site SEO checklist. You can breakdown guest blogging into the following steps:
Compile a list of industry sites that accept guest bloggers or third-party articles
Research each site's content, tone, and audience
Brainstorm a list of content topics that would match that blog's brand, audience, and needs
Contact the site's webmaster or editor and pitch one of your topics
If your idea gets approved, you'll move forward with writing and revising the content. Depending on the blog, your post will feature an author biography and link to your website. Some blogs, however, will mark this link as nofollow, which tells crawlers not to follow that link.
Either way, getting to blog on another website introduces your brand to a new audience. Over time (and when appropriate), you can likely insert links within your content back to your website. For example, if you write a blog post about how to clean gutters, you could potentially link back to a blog post on your site that talks about why cleaning gutters is important.
No matter how you approach this strategy, focus on building a relationship with these blogging sites. Establishing relationships with bloggers and site owners in your industry can help your company build brand awareness and brand trust. The fact that these people like working with your business can also lead to other opportunities and even natural links.
12. Post your content on social media
Summary: Use social media platforms like Facebook, LinkedIn, and Instagram to your advantage. Post and promote high-value content, like studies, tools, and quizzes, to generate shares, chatter, and links to your website.
Social media offers your business a free avenue for sharing content. If you want to make the most of this link-building strategy and off-page SEO checklist, you'll probably want to invest some time in social media marketing and social media advertising.
These two tactics can help build your online following, which can lead to more shares and backlinks. Creating an online social media following is difficult for companies because of social media algorithms. Most algorithms now prioritize content from a user's friends versus the businesses a user follows.
That's why many brands advertise on social media and boost organic posts, like on Facebook.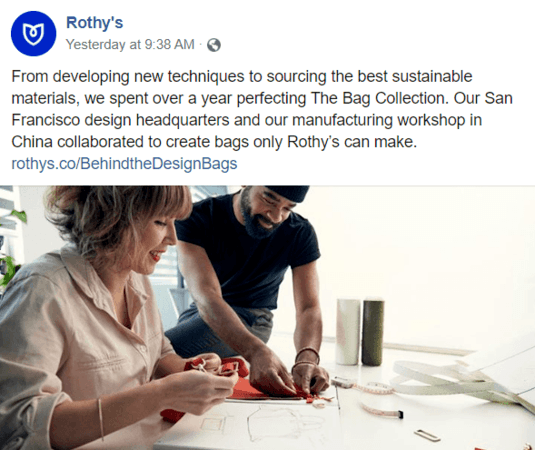 Whether you have an established online presence or need to build one, you can use advertising and boosting to expose your content and brand to a larger audience. Your success, however, will depend on the quality and value of your content.
Promoting the following content, for example, can work exceptionally well:
Study
Tool
Quiz
Guide
Infographic
If you have an online following, you can also call on your followers to share your content. Posting about your newest tool, like a calculator for estimating the cost of a new roof or gutter, could result in website traffic, shares, and links because you've created and offered something of immense value to your target market. Congrats!
You've reached the end of this off-page SEO checklist. Now, are you ready to get started?
FAQs about off-page SEO
Do you have some questions about off-page SEO? Browse our FAQ!
What is off-page SEO?
Off-page SEO, also called off-site SEO, is an umbrella of strategies that help improve your ranking in search engine results pages (SERPs).
These strategies, however, focus on enhancing signals off your site, like shares on social media and links from other websites.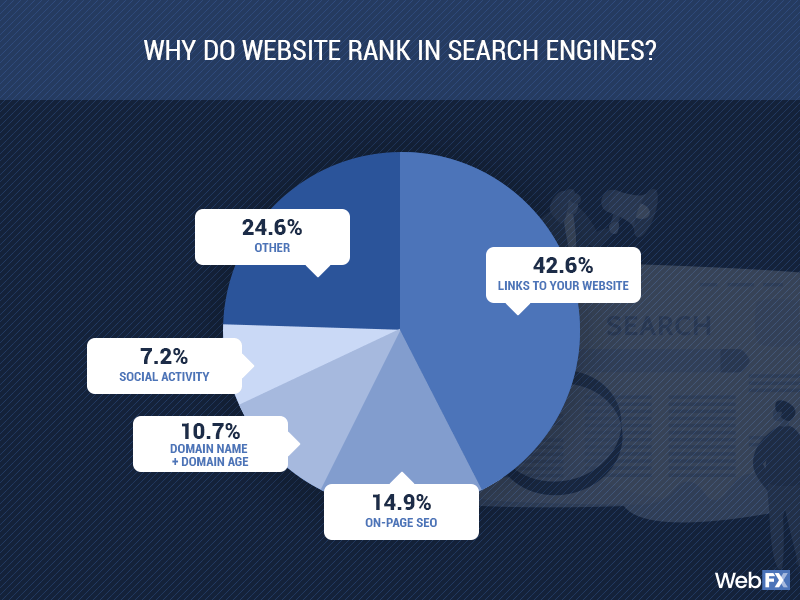 What are off-page SEO ranking factors?
Ranking factors for off-page SEO generally focus on the features of a backlink, including the following:
Number of linking domains
Quality of linking domains
Recency of link
Relevance of link
Link anchor text
Additional factors can include:
Brand mentions, both linked and unlinked
Guest blogging
Social media shares
In most cases, off-site SEO checklists will focus on how to earn backlinks because backlinks tend to have the most impact on your website's ability to rank well in search results. That doesn't mean, however, that social media shares, guest blog posts, and online mentions aren't valuable.
Why is off-page SEO important?
Off-page SEO matters because it helps your business:
Rank higher in relevant search results
Become an authoritative figure in your industry
Build brand awareness
Support a comprehensive SEO strategy
Generate website traffic
Attract leads
Close sales
If you're looking to grow your business, as well as use SEO, then you need to include off-page SEO in your SEO plan. Without off-site SEO, you will struggle to achieve the kind of rankings, traffic numbers, and revenue you want. That's why off-page SEO matters.
How good is your off-page SEO?
Check it for free now!
No matter your (or your website's) experience with off-page SEO, it's essential to benchmark your current status. Do you have a strong link profile, for example, and how does it compare to your top competitors? Find out with our free SEO checker, which will analyze your backlink profile instantly!
P.S. If you need help understanding your results or improving your score, WebFX provides off-page SEO services, which can help you implement the above off-page optimization checklist and achieve the kind of results you want. Check those services out now or browse our case studies to see our clients' results!
How is your website's SEO?
Use our free tool to get your score calculated in under 60 seconds.
WebFX Careers
Join our mission to provide industry-leading digital marketing services to businesses around the globe - all while building your personal knowledge and growing as an individual.